【Dotonbori sightseeing】From when do you dive into the river? Introducing Osaka Dotonbori, famous for Glico
【Dotonbori sightseeing】From when do you dive into the river? Introducing Osaka Dotonbori, famous for Glico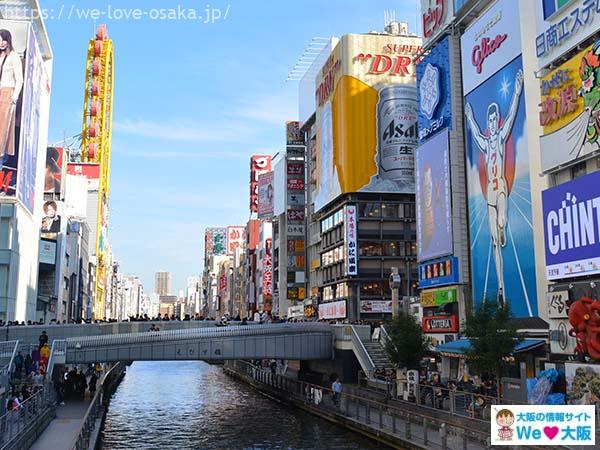 Speaking of Osaka sightseeing, it is Ebisubashi. And the signboard of Glico seen from there. Osaka's Namba is also a tourist destination, but Dotonbori River has a slightly unusual annual event where people jump into the river. If you are sightseeing in Osaka or Dotonbori, it is fun to know the history!
This time, I will introduce the history of this Dotonbori to everyone. Please refer to it when you come to sightseeing.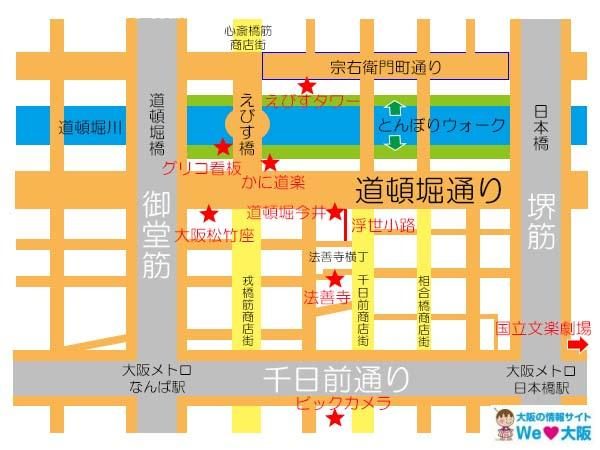 This is sightseeing map of Doutonbori .
1.What is in the city of Dotonbori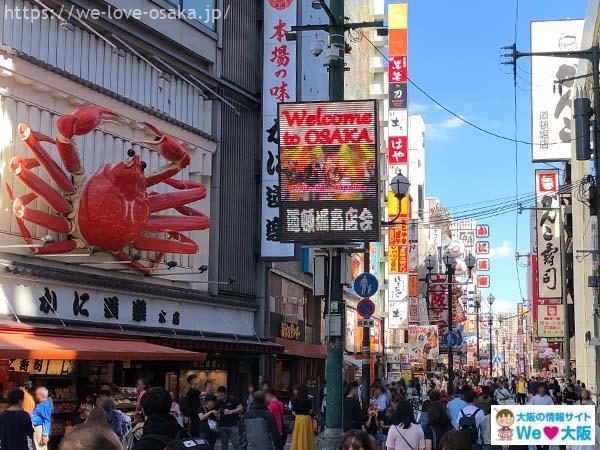 What kind of town is Dotonbori town? A standard tourist attraction is temples, etc…but  downtown is a tourist attraction in Doutonbori. I think that it is only Dotonbori in Japan.
▼If you want to buy souvenirs at Dotonbori

・Shinsaibashi suji shopping street
There is a shopping street called Shinsaibashisuji shopping street in Osaka.(Minami). Minami means Namba. By the way, Kita means Umeda.
It is a long shopping district connecting Namba Station to Shinsaibashi Station, and shops began to increase when Daimaru opened stores, and the area around Shinsaibashi prospered in the Meiji and Taisho eras, and it was called "Ginza in the East, Shinsaibashi in the West". Osaka residents use for dating a lot.
▼Gourmet of Shinsaibashi is here

・Ebisubashi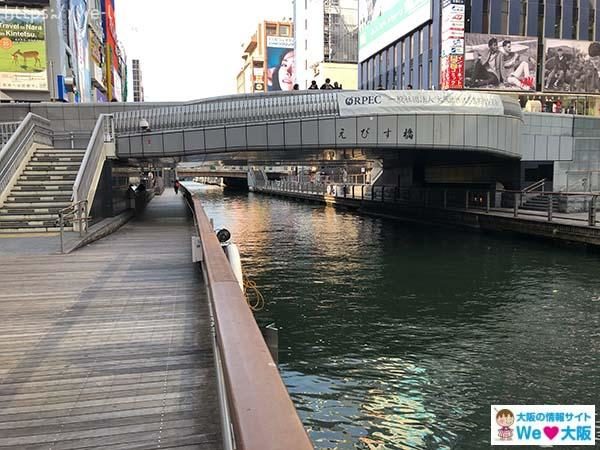 Speaking of Dotonbori, it is a signboard of Glico. Taking a photo shoot in front of Glico's sign has become a staple of tourists in Osaka. It is the ebishi that hangs over Dotonbori River to photograph. People who take commemorative pictures here are often seen at any time of the day.
However, this enisubashi is also known as the "Hikkake Bridge" and is a famous spot for touting and hitting on girls. Please be careful strange man if you are a woman.
▼Directions to the signboard of Glico

▼If you will meet up at Dotonbori

・Issunboshi daimyougami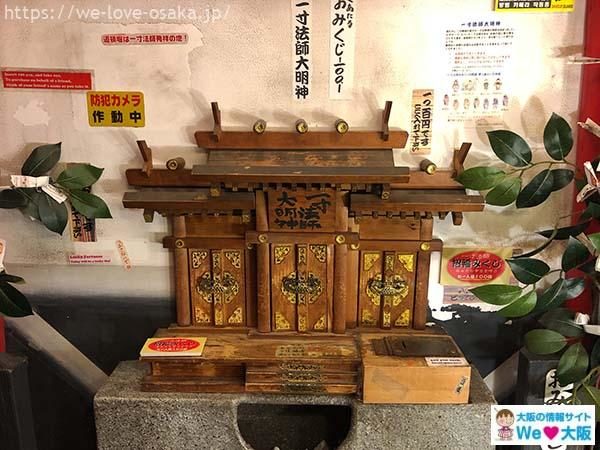 Everyone, do you know the old story of Issunboshi? He was in Osaka.The story begins grandfather and grandmother were not blessed with children. so they pray to Sumiyoshi Taisha and receive a small child.
When he who was small but well grew up went to miyako, it is the Dotonborikawa that he left on the boat and left.
he took down demons, became a good young man, married with a beautiful princess.
▼Article about sumiyoshi Shrine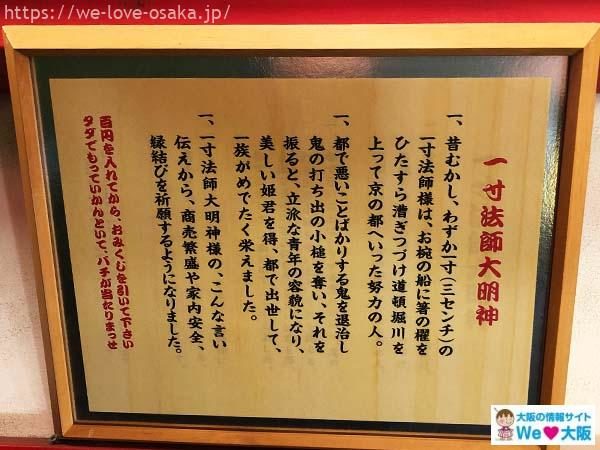 Issunboshi Daimyojin is "business prosperity" "family security" "marriage " A lot of restaurants owner visit there before going to work.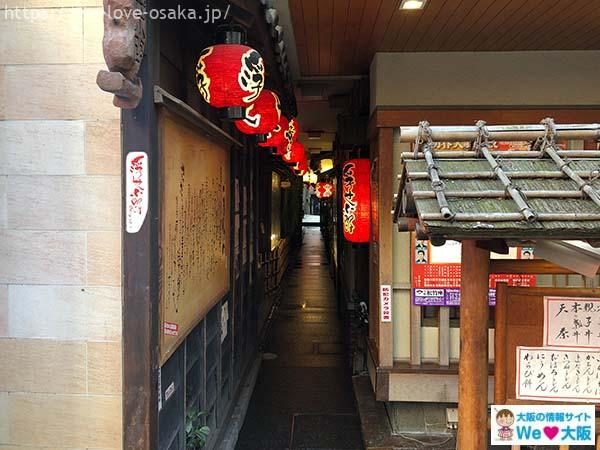 He is located in a small alley in the Ukiyo-syoji.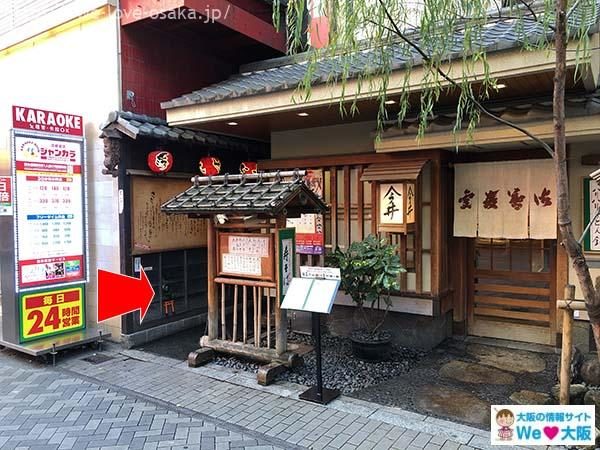 Next to Dotonbori Imai is the entrance to the alley.
Here you can see the appearance of Dotonbori from the Edo period to the early days of Showa, and displays that reproduce Yoshimoto , "Hanatsuki-dori" and so on.
2.History of Doutonbori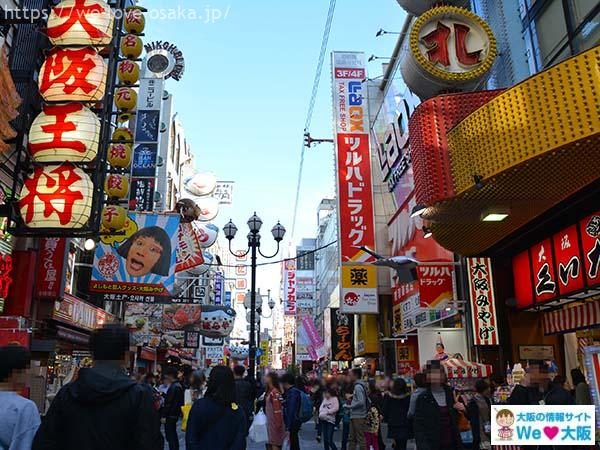 It is now Dotonbori, a tourist attraction in Osaka, but do you know why did it become a tourist attraction.
・ Play town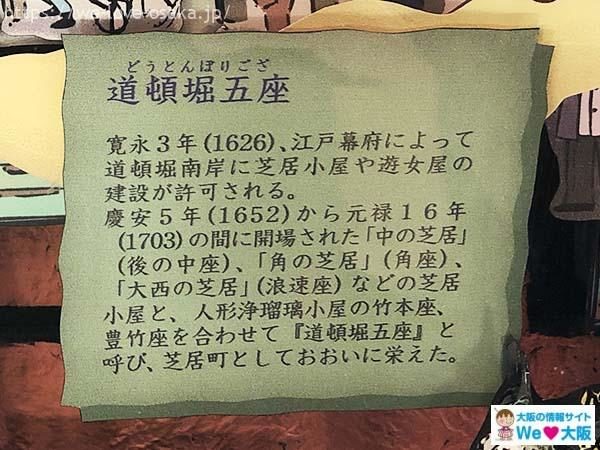 The south side of Dotonbori Dori along Dotonbori River was old, there were many playhouses, and there was a play chaya on the north side.Its history was deep in the Edo period, and it was called Dotonbori Goza at the theater representing Dotonbori.
Kabuki used to popular but after the war its popularity gradually disappeared, and after the bubble burst, all the theaters were closed. However, the entertainment culture is still keeping and you can see Ningyo Joruri at the National Bunraku Theater at Nihonbashi Station.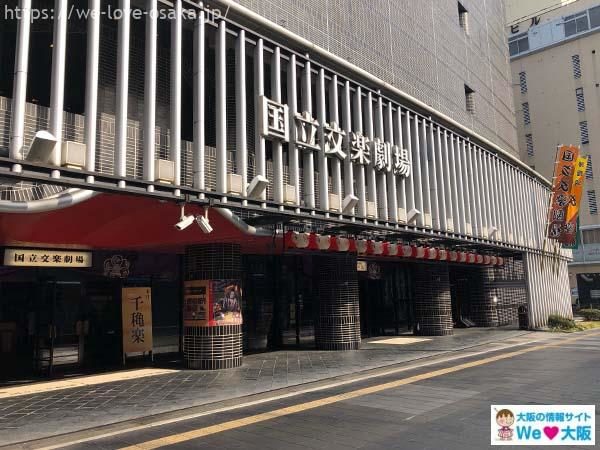 This is the National Bunraku Theater. It is on the Sennichimae dori.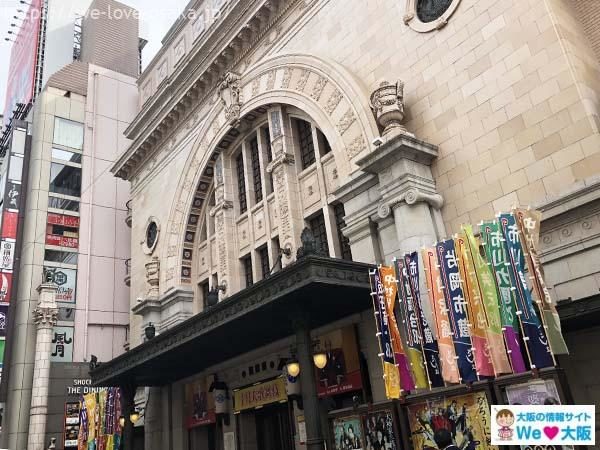 Osaka's Shochikuza is still performing Kabuki and Shingeki, Shochiku Shinkigeki and Musicals. Idol performances are also often performed here. It is high-class theaters.
・ Construction of Dotonbori Rive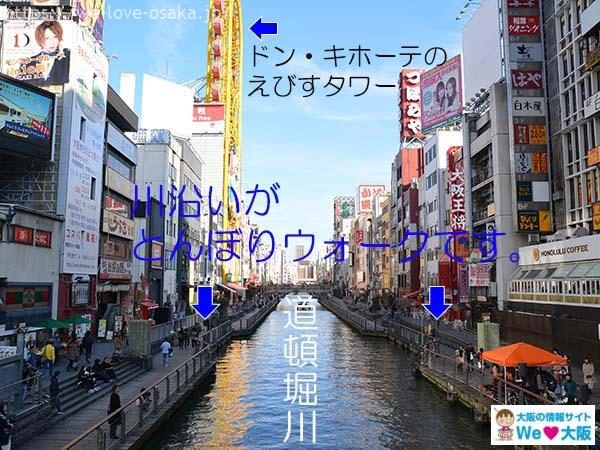 In the past, Dotonbori River was not as narrow as it is now. Construction work was carried out from 2004 to 2013, and a sidewalk called "Doutonbori River Walk" was maintained.In front of the Don Quijote Dotonbori branch, the "Tazaemon Terminal Funabashi" has been set up. And it turned into a tourist attraction like now.
In the past, the water quality was also very bad, but Osaka City is still conducting activities to clean the water in order to improve the Dotonbori River into a river where people can swim.
▼Click here for the Ferris wheel of Don Quijote Dotonbori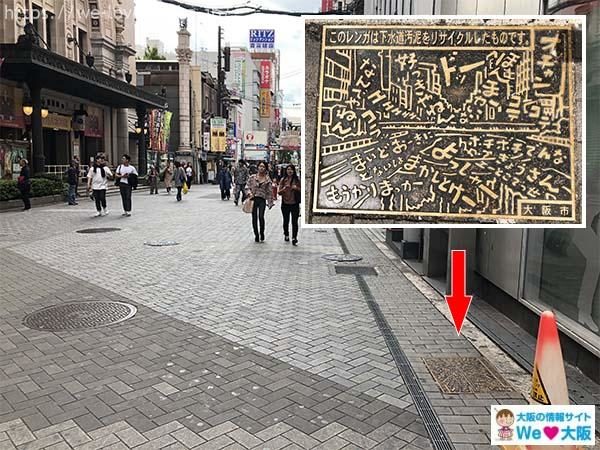 This is the street in front of Osaka Syochiku-za. The bricks are paved nicely. In fact, it recycle( bricks) sewer sludge. In addition to cleaning the water of the Dotonbori River, we are also working on ECO activities.
3.Namba's long-established store "Dotonbori Imai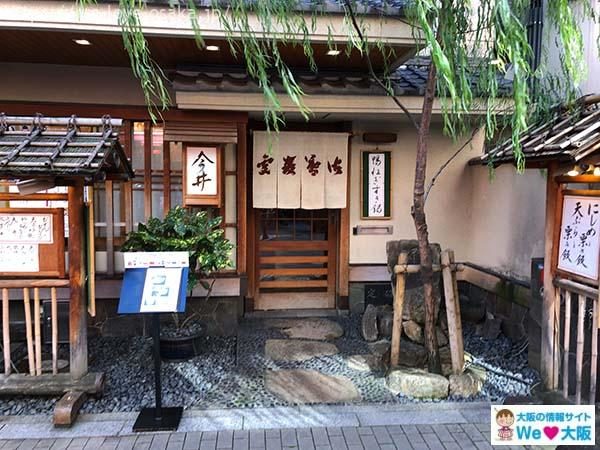 Speaking of Osaka specialties, It is okonomiyaki and takoyaki, but if you come to Dotonbori, I recomend thst yoi go to Dotonbori Imai Main Store"
There are many delicious shops in Osaka. Okonomiyaki and Takoyaki are also delicious, but why not try some authentic Kansai-style udon noodles.
▼Click here for gourmet information on Dotonbori including Imai.

4.Signboard of Glico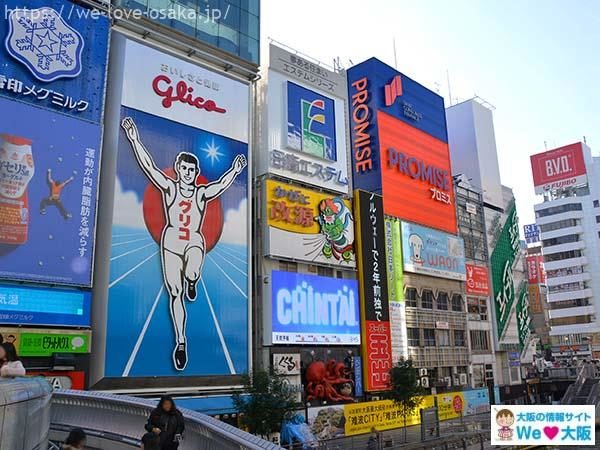 Signboard of tourist attraction Glico of Osaka sightseeing. Glico's current signboard is the sixth generation.
In 1935, the first billboard was not a billboard, but an advertising tower was built. From around this time it was a famous advertising tower in Osaka.
The second generation had a special stage under the advertisment tower, and the third generation had a mechanism to spray water like a fountain. It became a present signboard from the fourth generation.
The runner who is running is famous, but the background behind is a building that represents Osaka. The sixth generation is equipped with 140,000 LED lights.
5.Mysterious culture to dive into
On the Dotonbori River,The  unusual event of jumping into the river has become the norm.
I have actually seen it that when Hanshin Tigers won.
・The rakugo was jump in first time.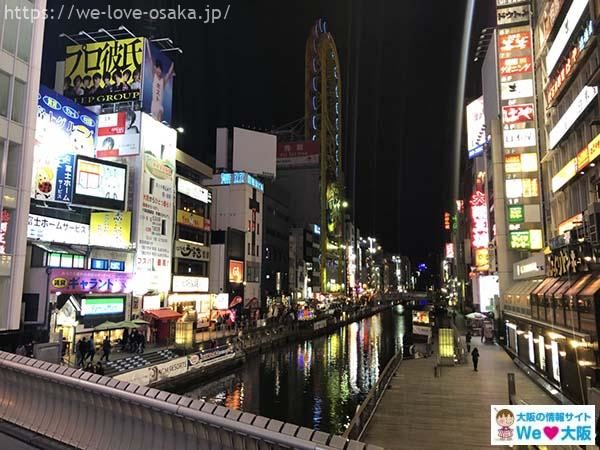 It is Rakugo's Katsura Fukuwaka who made history of this Dotonbori river dive. The first jump was when the 1985 Hanshin Tigers won. Hanshin Tigers fans who won for the first time in 21 years were overjoyed and made a fuss in Dotonbori.
Katsura Fukuwaka was not a Hanshin fan. But he said that if Hanshin won, I would dive there. So he did !
・He(kernel ・ Sanders) was sink !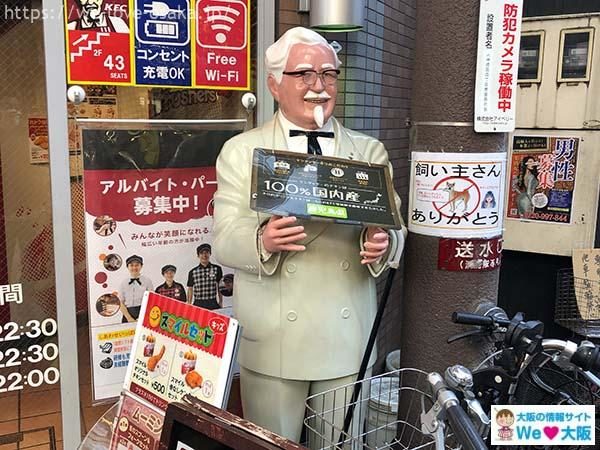 ※ The picture is kernel sanders of KFC Tenma station store
It is not only people who jumped into the Dotonbori River when Hanshin won in 1985.
The kernel sanders standing in Dotonbori has been thrown into the river. it was not discovered even they cleaned up several times. but it was finally discovered in 2009, which is 23 and a half years later.
Unfortunately, currently there is no Kentucky Fried Chicken shop in Dotonbori, and it is said that Kernel Sanders is located in the company's Kansai office in Osaka City.
・It is habit that dive into the river
After 1985, there were also people jumping into the river at the 2002 FIFA World Cup. And when Hanshin won in 2005 and  2003.In fact, there are many people died. Even  though they are drunken, their behavior is regarded as a problem. It is not a very good habit.
6.The Dotonbori River changed great tourist destination
Dotonbori which took time to become a shightseeing spot in Osaka. We are  trying to evolve this city into a better city.
Dotonbori has a livey and unique atmosphere.
When you come to Osaka sightseeing, please enjoy not only sightseeing , also meeting with people in Osaka.
As an aside, Osaka dialect are strong, but don't worry. They do not angry.
7.Summary
・ Dotonbori used to be a theater street
・ Glico's signboard is the sixth generation
・ Dotonbori dive started from the 1985 Hanshin championshi
Related article
Speaking of Osaka sightseeing,……

2020.09.29

Everyone defiantly buy souveni……

2020.04.03

Speaking of Osaka, there are m……

2019.11.22
Introduction of writer

nata-sha
I was born and grew up in Osaka. I've worked as an entertainer. I will introduce information about Osaka, I would like you to know how to enjoy Osaka.
Instagram
#weloveOsaka
Please introduce your "we love Osaka" (Only gourmet of Osaka and spot of Osaka)