【Osaka souvenir】 You must be want to it ! Popular souvenir ranking at Osaka doutonbori
【Osaka souvenir】 You must be want to it ! Popular souvenir ranking at Osaka doutonbori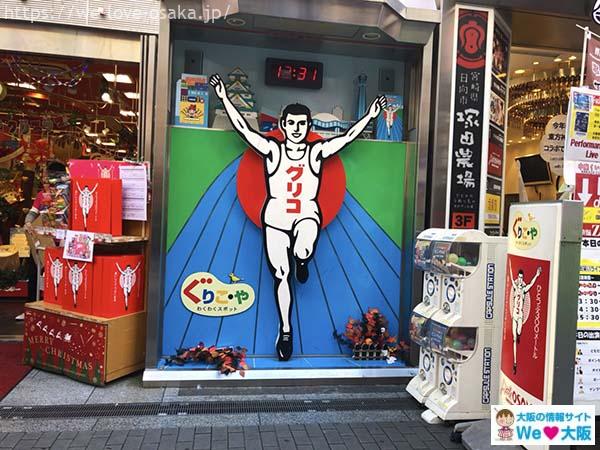 Everyone defiantly buy souvenirs when come to Osaka. Osaka is sightseeing spot. So there are a lot of souvenir shop at Osaka castle and around doutonbori. I introduce it for "I don't know what should I buy souvenir".Let's check it !
1.Poplar snack souvenir ranking at doutonbori
Speaking of Osaka there are downtown like Umeda,Namba but Most popular sightseeing spot is Glico signboard at Doutonbori of Namba.It is between Namba station and Shisaibashi station.
There are many local residents. So you can hear Osaka dialect.
First place "Glico man candy"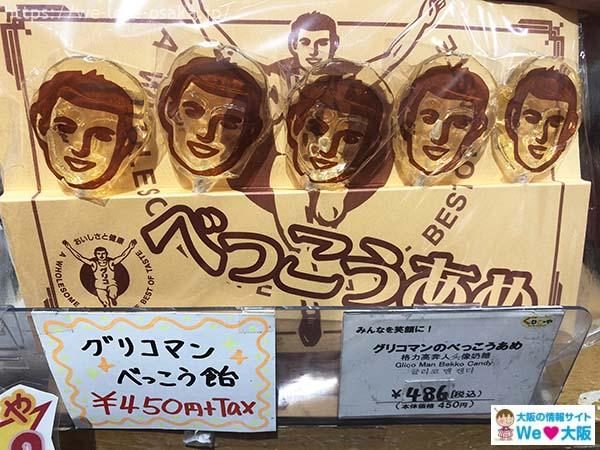 Speaking of doutonbori is "guriko signboard"It became candy! It has strong impact. Osaka dialect want to buy it too.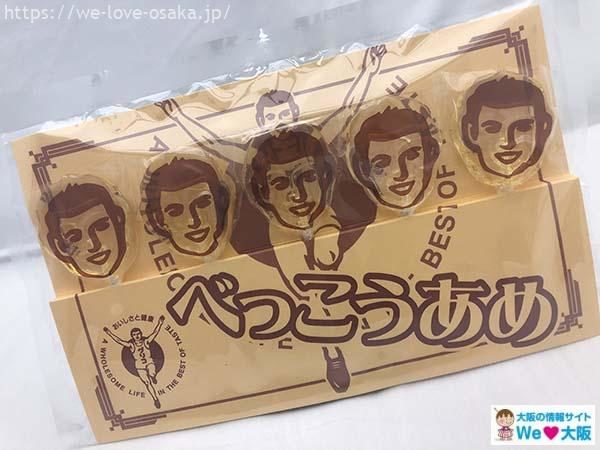 You can hands out it. It must be happy people who get it.
Second place"Mayokoro"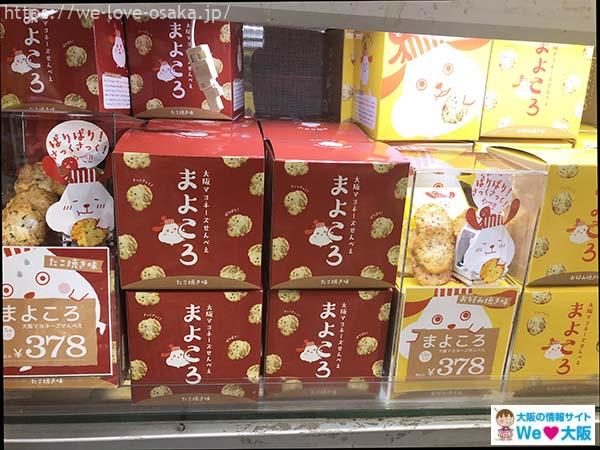 It is mayonnaise senbei into the cute box. There are 2 tastes "takoyaki taste" and "okonomiyaki taste"just to be Osaka.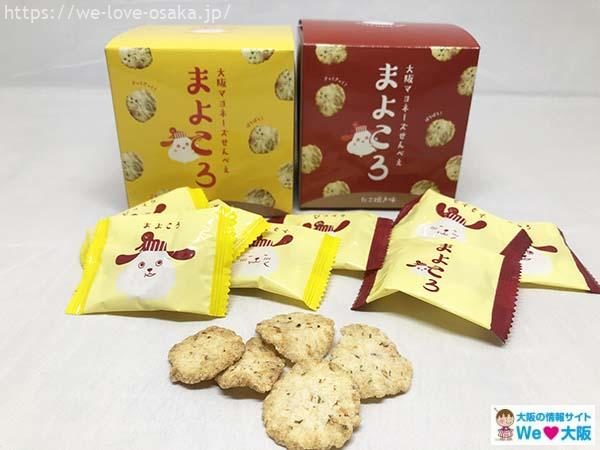 It's bite size and easy to eat for woman. There are 15 bags in one box.
Third place "Fuwan toron"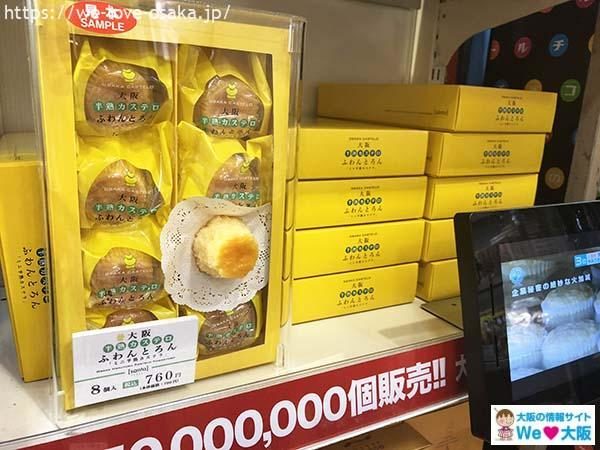 It's over easy castella. What's over easy castella? It use fresh eggs and bite size and easy to  eat.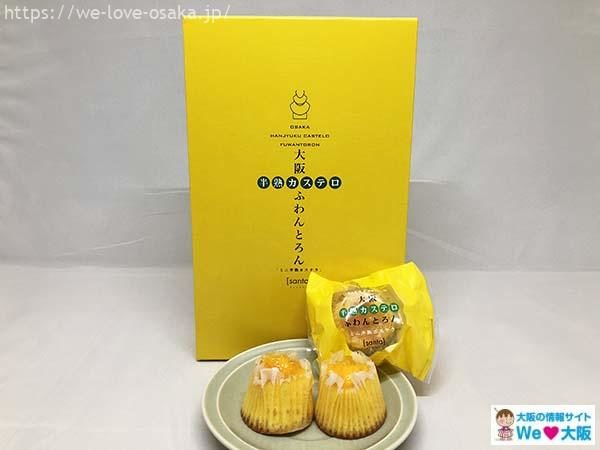 It's fluffy and thick and creamy.
4th place "Yoshimoto sinkigeki purittu"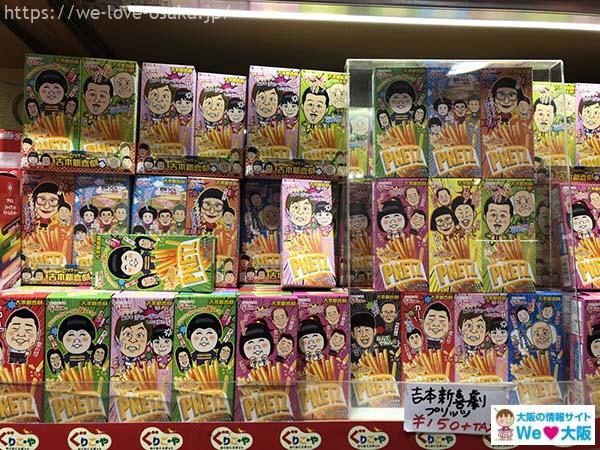 Speaking of Osaka is comedy. And speaking of comedy at Osaka is Yoshimoto. There are many shops for sale Yoshimoto guts at Namba.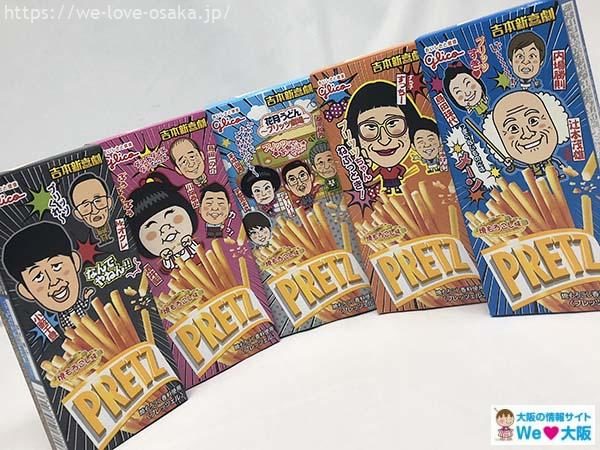 It's collaboration product with Yoshimoto shinkigeki famous character. The price (150yen) is also reasonable.
5th place "Selection the Glico"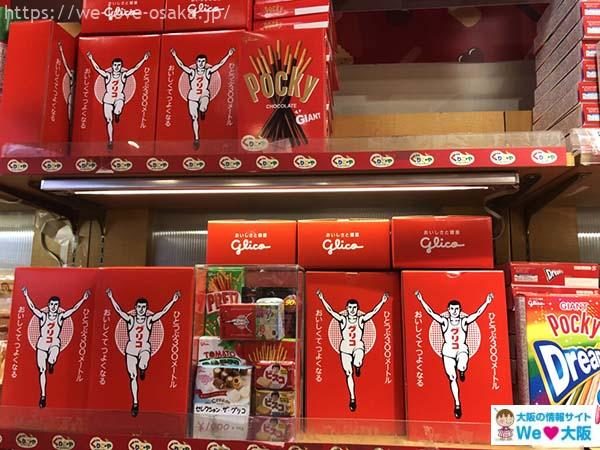 Speaking of doutonbori is glico signboard. You should take a picture like this pause from buried of doutonbori river when you come to Osaka.
Glico's product "Selection the Glico" is characteristic by a large Glico package.
Contents are glico products. The large caramel was not into the box.The box can also be used for something.
6th place "Kappaebisen takoyaki taste"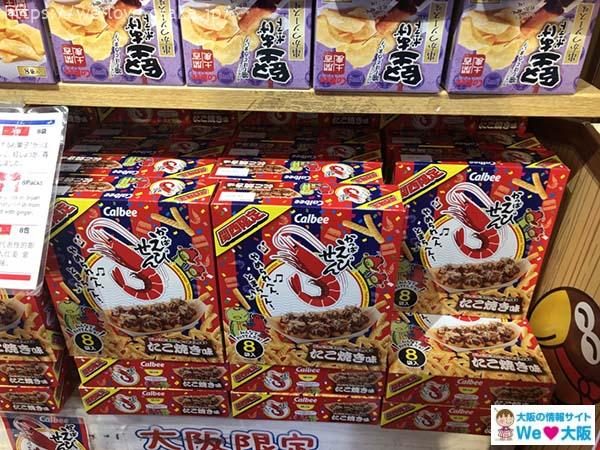 Speaking of Osaka is takoyaki! There are many souvenir of takoyaki.Recommend souvenir of takoyaki is takoyaki taste product.
2.Souvenir ranking of Dotonbori specialty Kuidaore Taro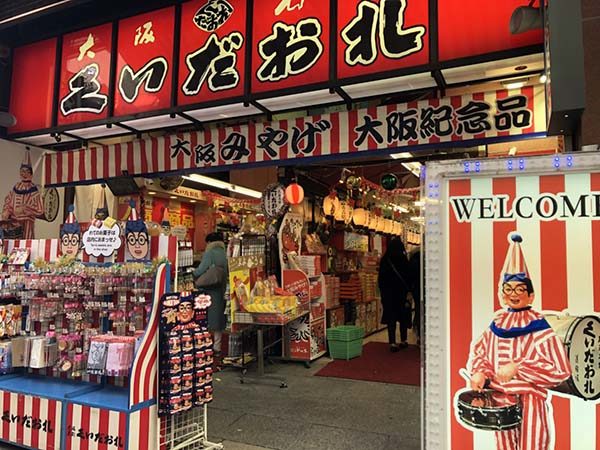 "Kuidaore taro" is most popular doll in Osaka.
It is placed in front of a cafeteria.It called "Kuidaore " . After the cafeteria is closed, it is said to be one of the representative symbols of Osaka. Check the souvenir items of Kuidaore Taro.
First place "baby star ramen taro Osaka takoyaki taste"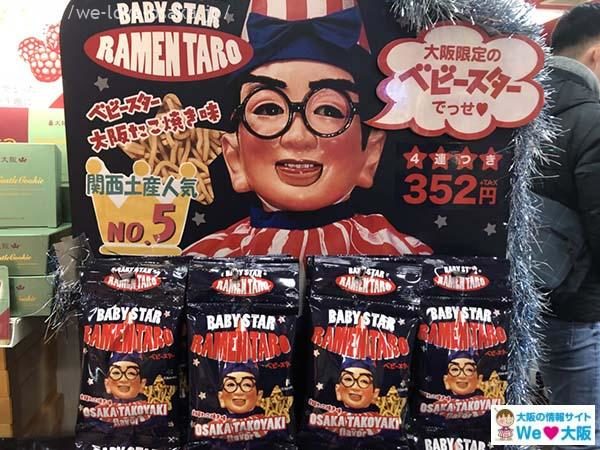 Osaka exclusive products" baby star ramen" The name is "Baby Star Ramen Taro Osaka Takoyaki Taste".
Kuidaore Taro printed on the package and taste of Takoyaki sauce. Kuidaore Taro's face is written realistically.
There are teeth ,long eyelashes, thick eyebrows and large eyes.
Second place "Honey cake"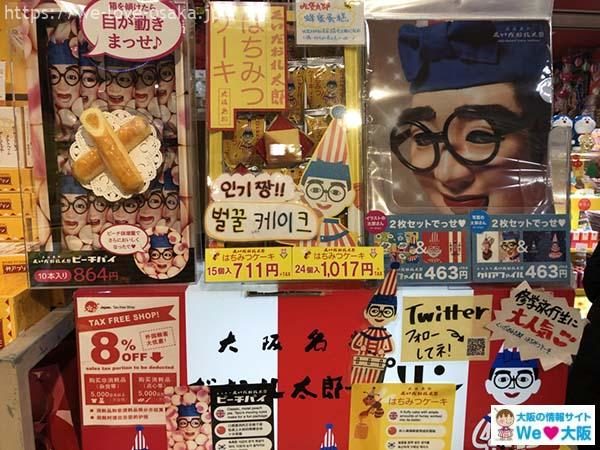 Honey cake of Kuidaore taro.It paint "Kuidaore taro"so everyone know that you go to Osaka ! There are two kinds including 15 pieces and 24 pieces, it is recommended as a souvenir of the work.
There are many delicious food except souse taste.
3rd place "Taro sable"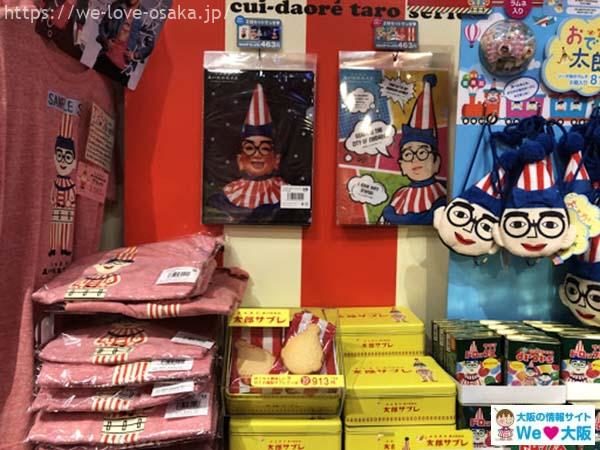 I think many people want to put a souvenir box as memorial If you go to sightseeing spot.  So I want to recommend "Taro sable". for you .
Crisp texture and sweetness. After all it written "Taro sable"and illustration of "Kuidaore taro" I want to put something in this box after I eat. You can use any situations if you have like this box. I recommend that you update it on instagram.
3.You can get only Osaka ? Little bit strange souvenir ranking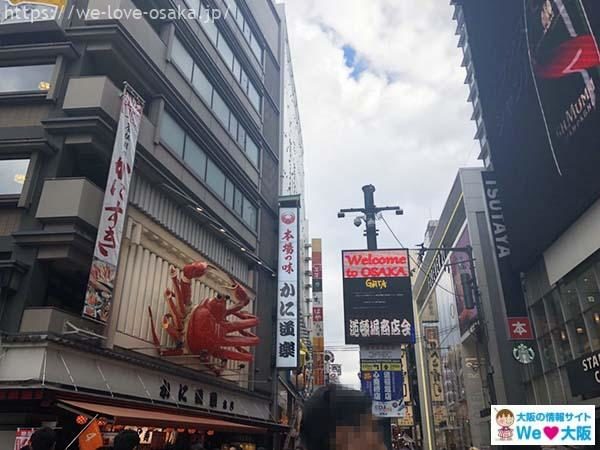 You should buy Osaka exclusive products when you come to Osaka. Osaka is comedy town so how about buy funny goods ?
First place "Takoyaki key ring"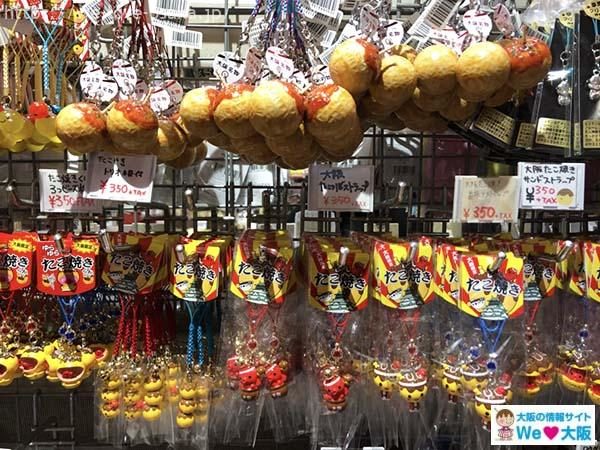 Takoyaki key ring of Osaka speciality.
It's not standers good of takoyaki character, Osaka castle, the tower of sun .It is just simple key ring of takoyaki.I want to eat Takoyaki.
Second place "Osaka dialect towel and baby sty"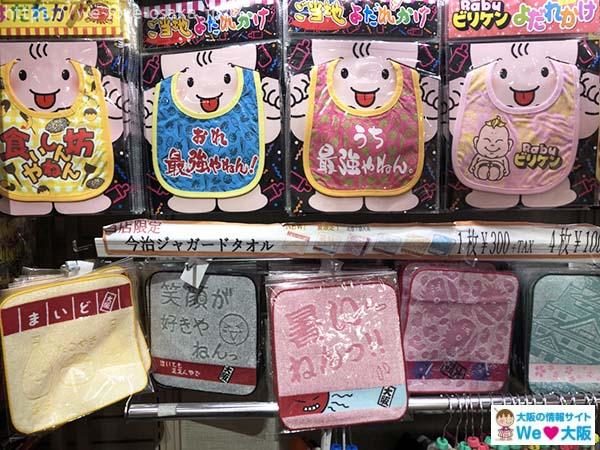 Comments are written on the towel and baby stay in Osaka dialect. There is no scary thing if you wear it. Everyone think "You are strong" that if you wear it.
3rd place "Kansai dialect band aid"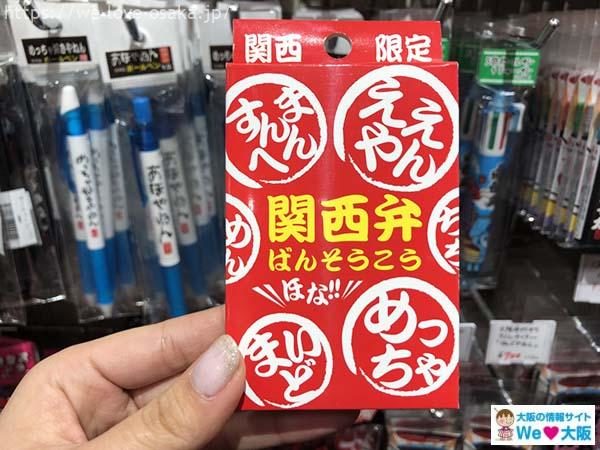 This souvenir is also written Kansai dialect. Moreover, a bandage.
As various Kansai dialects are written, it seems that there are plenty of variations
4.You should buy this shop if you buy souvenir in Doutonbori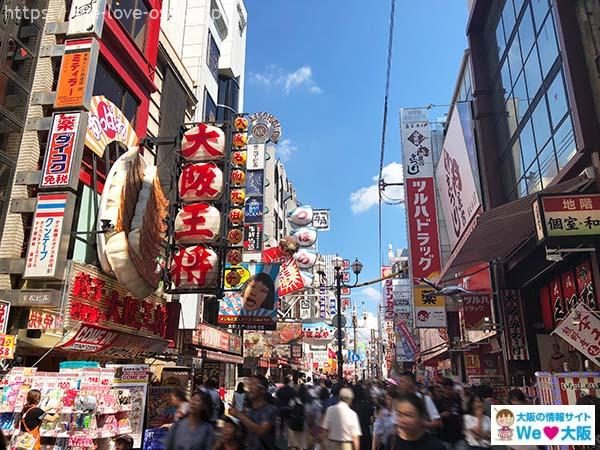 It's not only souvenir of food in Doutonbori. I think that many people want to buy miscellaneous goods. I introduce recommend souvenir shop for you.
4-1.Naniwa specialty Ichibrian Doutonbori Shop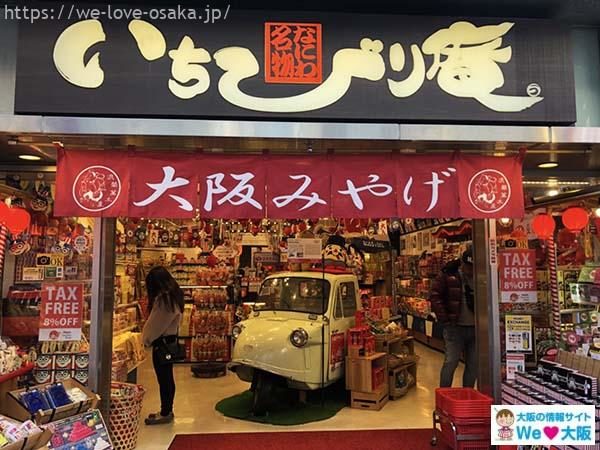 This shop has over 4000 products. So you must be choose hard. There are many original products and you can buy taimeshi of Osaka speciality .You can know trend at Osaka when you go to here.
Why don't you go to here when you come to Doutonbori?
Store name:
Naniwa specialty product Ichibiri Dotonbori
Address:
1-7-21 Dotonbori, Chuo-ku, Osaka Nakaza Kuidaore Building 1F
TEL:
06-6212-5104
Opening hours:
10: 00-22: 00
Regular holiday:
None
4-2.Osaka specialty Kuidaore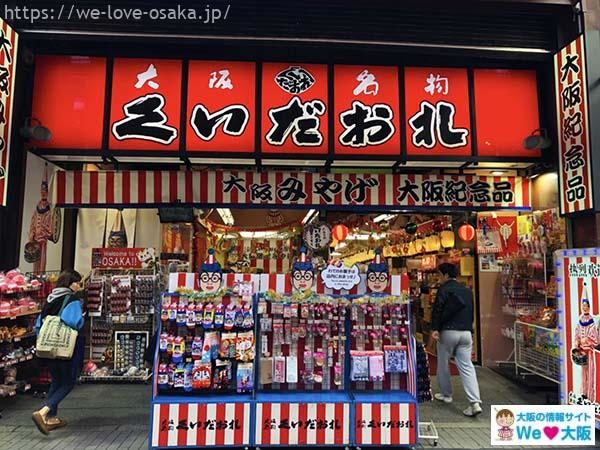 Speaking of Osaka is Kuidaore taro.
Unfortunately Main shop already closed but Same manger is management this shop.
You can get specialty products in shop. Osaka residents love it so why don't you buy it ?
Store name:
Kuidaore
Address:
1-8-25 Doutonbori, Chuo-ku,Osaka
TEL:
06-6211-5300
Opening hours:
9:00~22:00
Regular holiday:
None
4-3.Little Osaka (Glico・ya) Doutonbori Shop
"Glico signboard" is mark of this shop. There are many Glico souvenirs and there are many specialty product too.
Store name:
Little Osaka "Glico ya "Dotonbori
Address:
1-7-21 Dotonbori, Chuo-ku, Osaka Nakaza Kuidaore Building 1F Little Osaka Dotonbori
TEL:
06-6484-0240
Opening hours:
10: 00-22: 00
Regular holiday:
None
Many specialty Osaka products is sale around Doutonbori.
Osaka has special culture so everyone said town of trader.
Food is delicious, many sightseeing spots and they always make new products. There is chocolate shop at only Osaka. Why don't you go to souvenir shops around Doutonbori except famous sightseeing spots ?
Remarks
How was it ! There are many personal souvenir shops at Doutonbori.
Symbol of Osaka "Kuidaore taro" has many souvenir  but also has shop. Everyone must be like it !
Related article
Speaking of Osaka sightseeing,……

2020.09.29

Everyone defiantly buy souveni……

2020.04.03

Speaking of Osaka, there are m……

2019.11.22
Introduction of writer

nata-sha
I was born and grew up in Osaka. I've worked as an entertainer. I will introduce information about Osaka, I would like you to know how to enjoy Osaka.
Instagram
#weloveOsaka
Please introduce your "we love Osaka" (Only gourmet of Osaka and spot of Osaka)