【Osaka Power Spot】The five great power of Sumiyoshi Taisha Shrine and the prayer for better fortune with Omokaru Stone
【Osaka Power Spot】The five great power of Sumiyoshi Taisha Shrine and the prayer for better fortune with Omokaru Stone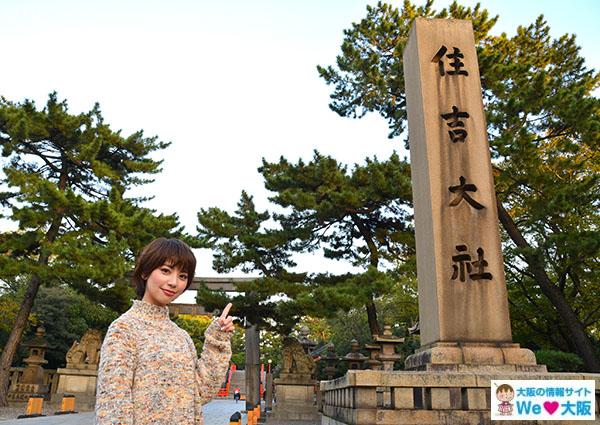 At New Year's Eve Night after finishing watching the NHK Kohaku singing contest, they say "Let's go to Sumiyoshi Shrine".The shrine "Sumiyosi Shrine" that is located in Sumiyoshi-ku Osaka city,it begins to be crowded by many New Year's visitors at the time of the New Year's Eve.People in Osaka, for the New Year visit to shrine, a lot of people think of visiting Sumiyoshi Shrine,and on the news in New Year's Day, more than 2 million New Year's visitors went there.
Sumiyoshi Shrine is suitable for New Year's visit,and also recommended for the visit on a daily basis.Those who think "Why?",you must read this article as below. After reading, you will say "Let's go to Sumiyoshi!!" definitely.
Please check the latest information of the Sumiyoshi Taisha Summer Festival and access by train here.
【2018 latest】 Summer festival of Sumiyoshi Taisha and access information (illustrated)
1.Access
You can visit there by 30 minutes ride from Osaka station via Osaka loop line and Namkai line,from Nanba station 9 minutes ride via Nankai line and 3 minutes walk for east.
From Tennoji Station,it takes about 16 minutes by tramway train of Hankai Railway to Sumiyoshi Triimae station.Or 5 minutes walk for west from Sumiyoshi Higashi station of the Nankai line.Many people visit since it is very convenient to go.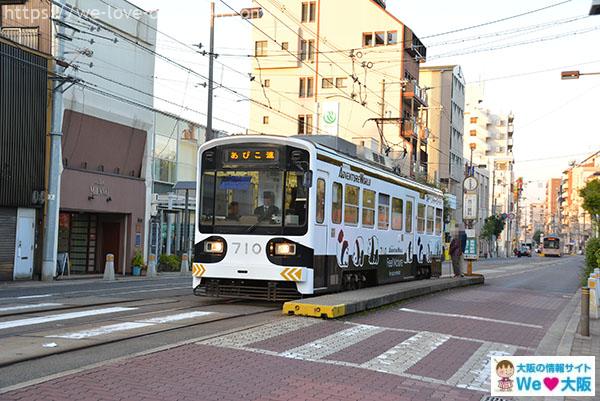 Trams are very rare,aren't they?You will be very surprised that the stations? Stops? are very close to the cars.
1-1.From the downtown of Osaka city
■ Osaka Station→(Inner Loop of JR Loop Line)→ ShinImamiya Station/Transit(Nankai Line)→Sumiyoshi Taisha Station
■ Namba Station→(Nankai Line)→Sumiyoshi Taisha Station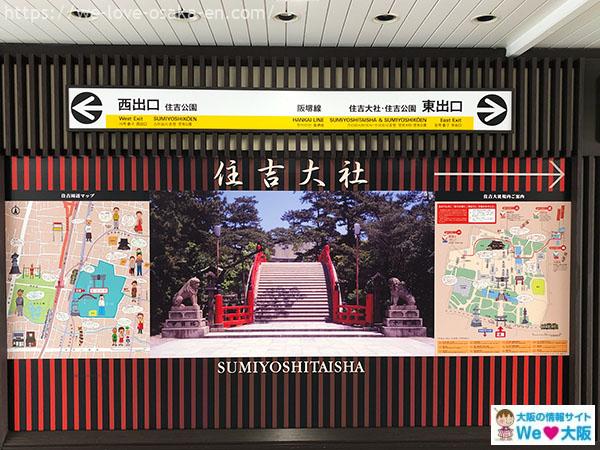 When you leave the ticket gate of Nankai Sumiyoshi Taisha station,there is a guide board in front.Please goes down the stairs on the right to Sumiyoshi Taisha.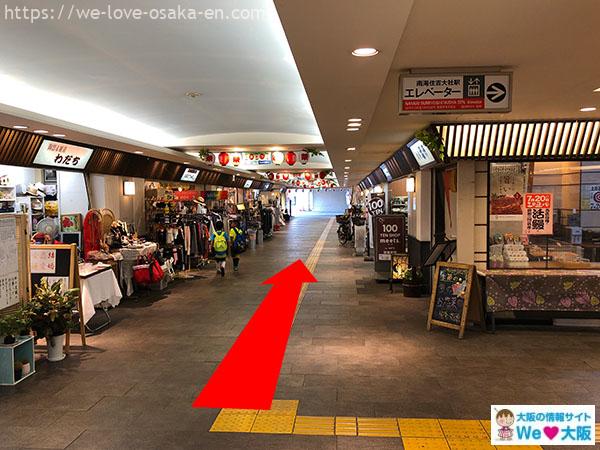 As you go down the stairs,there is a little shopping street so you will go out.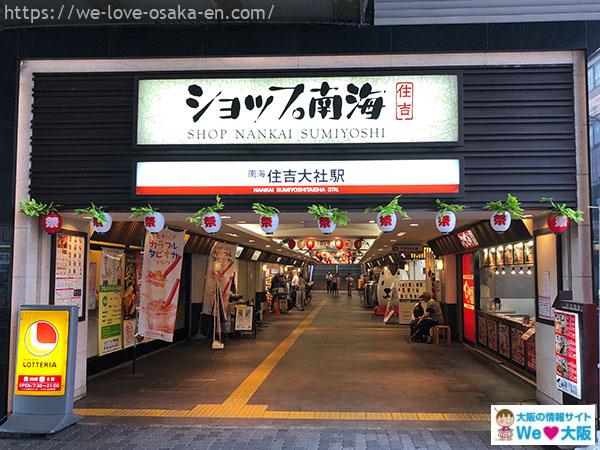 You will come out from here.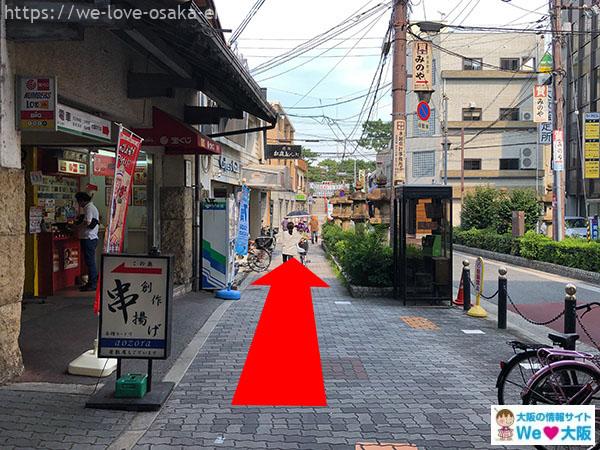 Leave the station and turn left.Go straight and you will find Sumiyoshi Taisha.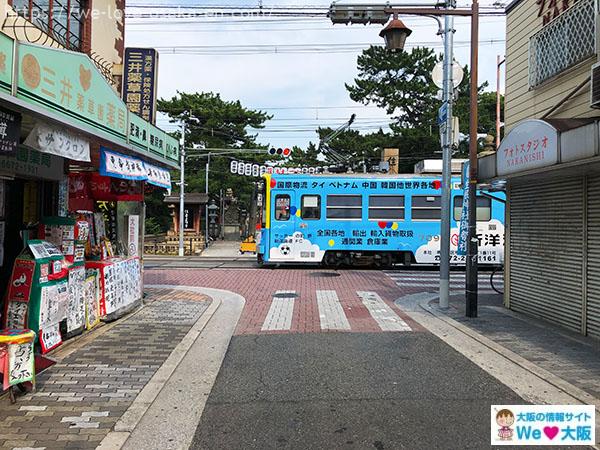 Beyond the rails of the tram,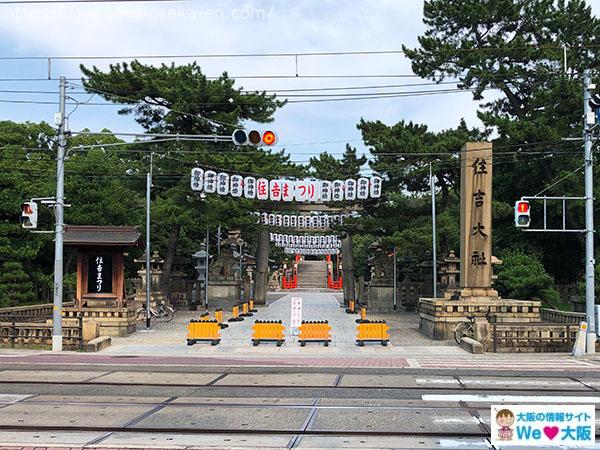 It will take you to Sumiyoshi Taisya.
■ Tennoji Ekimae station→(Tramway Hankai Line)→Sumiyoshi Triimae Station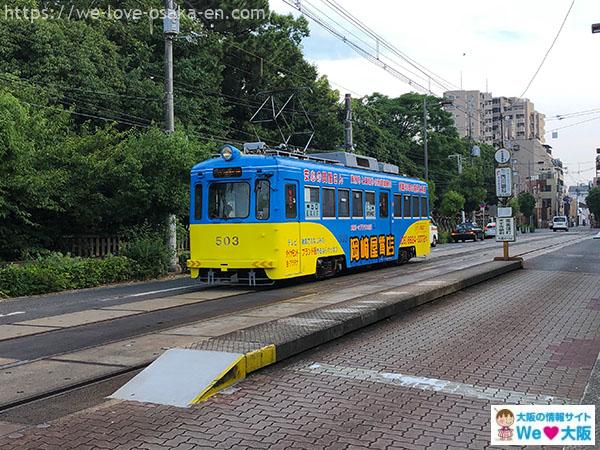 From Tennoji station,go to Sumiyoshi Taisha on the Hankai Railway(Tram).It is very tasteful ride!"Sumyoshi Triimae station"is just in front of the gate of the shrine.
1-2.From the Kansai International Airport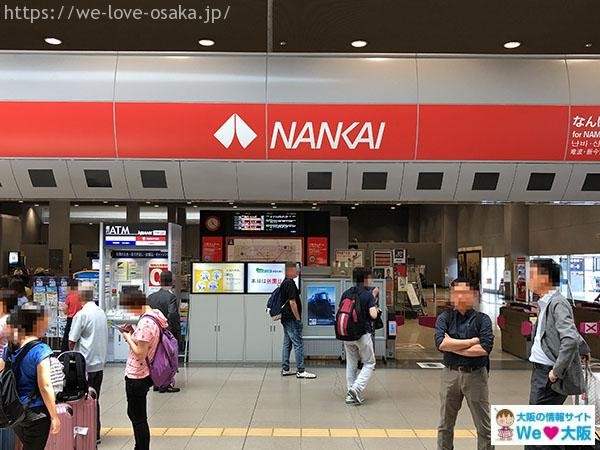 ■ Kansai International Airport→(Nankai Line)→Sakai Station→Sumiyoshi Taisha Station
Go to Sakai station by Rapito or Airport Express of the Nankai line and change trains at Sakai for local line to Sumiyoshi Taisha station.The route on foot is the same as the one from downtown of Osaka city.
Facility Name:
Sumiyoshi Taisha Shrine Office
Address:
9-89 Sumiyoshi 2-chome Sumiyoshi-ku, Osaka-city 558-0045
TEL:
06-6672-0753
Office hours:
9:00-16:30
Opening time:
6:00 AM(April-September) 6:30 AM(October – March)
Closing time:
Outer gates 16:00  Inner area:17:00
access:
3 minutes on foot to the east from "Sumiyoshi Taisha Station" of Nankai Line(Nankai Railway)
5 minutes on foot from west from "Higashi Sumiyoshi station" of Nankai Koya line
Near Nankai Torii Mae station of Hankai line(Hankai Tram)
2.What is Sumiyoshi Taisha?
Sumiyoshi Taishin,enshrined in Sumiyoshi Taisha,is said to be a god of the sea,and that of preventing the evil and a god to protect diplomacy,trade and industry long time ago.The old books such as Nihon Shoki and Kojiki says that kind things.According to the books,when Izanogi No Mikoto performed his ablutions,Three gods ( Sokotu No Onomikoto, Nakatu No Ono Mikoto and Uwatsutsu No Onomikoto)were born from the ocean.The god are collectively called "Sumiyoshi Taijin".
Empress Shinkou ,the wife of Emperor 14th Tyuai, invited the Sumiyoshi Taijin to Japan in 211 AD.
After that,the Empress herself also wanted to live with Sumiyoshi Taijin,they were enshrined together,thus the four Gods were made.They are enshrined in Sumiyoshi Taisha.
There are 2,300 Sumiyoshi Shrines throughout the country,and Sumiyoshi Taisya is the main shrine.
3.Sori Hashi(Sori Bridge)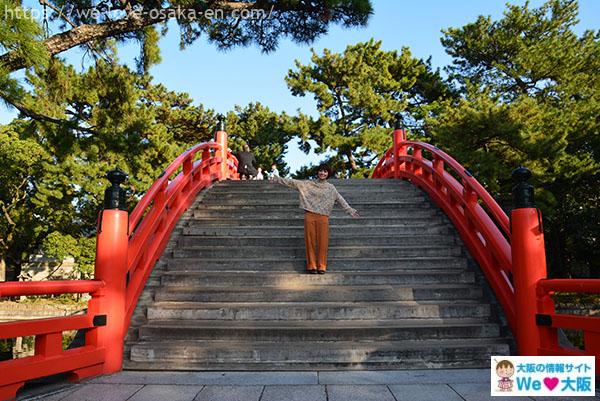 Walking along the approach to the Sumiyoshi Taisha Shrine,The bridge"Sori Hashi"welcome you which is very famous in Sumiyoshi.It looks like a stair of steep slope as seen from the front,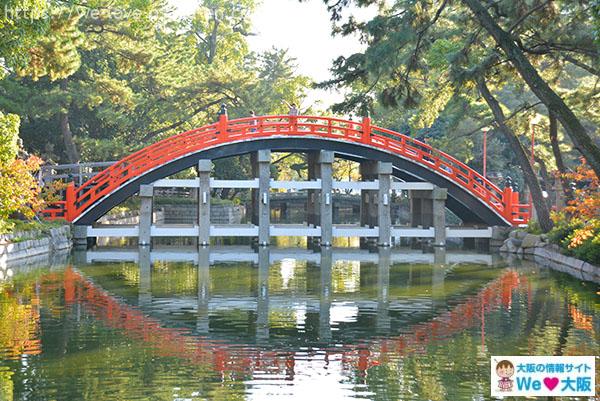 Looking from the side,it is so drum shaped bridge!It is also a great shooting point.The shape of the bridge is beautifully reflected on the water surface.Crossing this bridge seems to have been likened to a rainbow as a bridge to connect the country and the heavenly god's country in order to approach God by cleansing and purifying sin and dirt(injury)in the human body.
It is also known that Yasunari Kawabata wrote the novel"It is better to go up than going down the bridge".
When getting down,the steep angle is really scary,so please take care by paying attention!The bridge is lit up until 21 o'clock in the evening,and it has been selected as 100 Kansai Night Scenes.
4.Kaku Torii (The gate of shrine)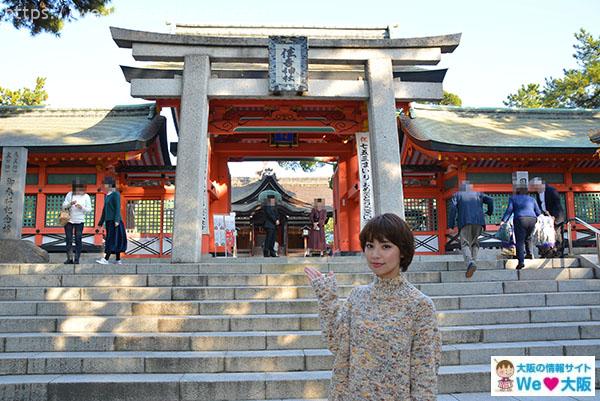 The Torii of the Sumiyoshi Taisya shrine consist of very rare stones and square pole,also known as a Kaku Trii.These square pillars are very rare in old style,and the wooden vermillion gate,located between each main hall and the hall of worship,is the original shape.
5.The Main Hall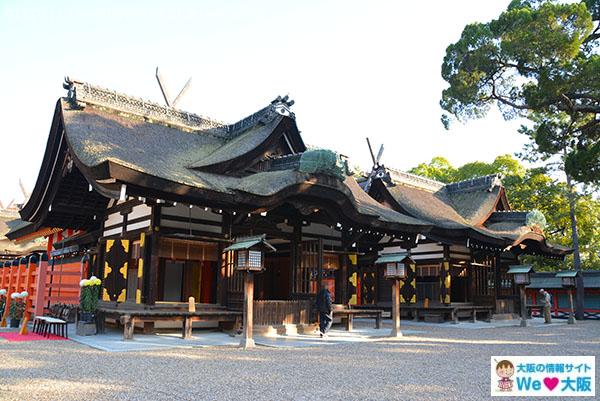 You can see the main shrine through the Torii.The current main shrine was built in 1810(7th year of Bunka Era),it is designated as a building of national treasure.The main halls of the four buildings where the four gods were enshrined are all looking toward the south(Osaka bay),the hall from 1 to 3 has serial in series and the fourth main shrine and the third main shrine are arranged in parallel.It is a rare architectural disposition.The figure that stands like a fleet going through the ocean is amazing!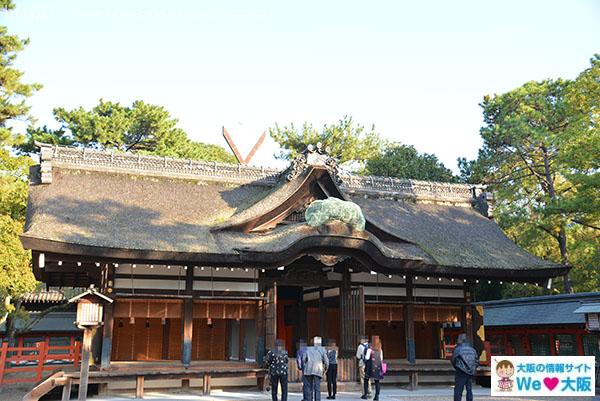 All main hall structures are said to be "Sumiyoshi Tukri",the roof is a Hiwadabuki (covered with cypress bark shingles)hinoki roof,and it is a straight gable build.The roofs that have both sides of the building also appear to have opened the books.The entrance is called "Tsuma Iri",which is characterized by the both ends of the roof facing the front.
6.Ise Shrine worship space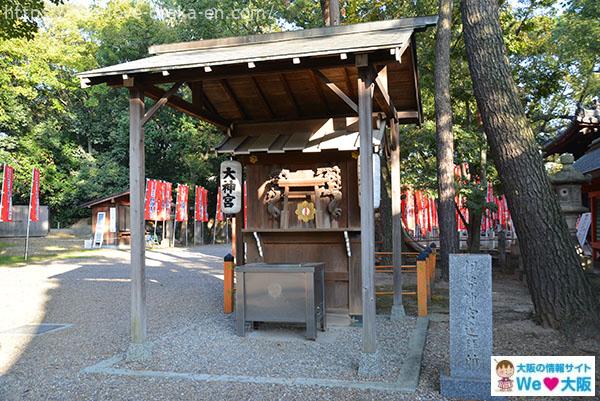 This is a spot we also recommend. You can find it passing through the gate on the left side from the 1st Main Hall soon.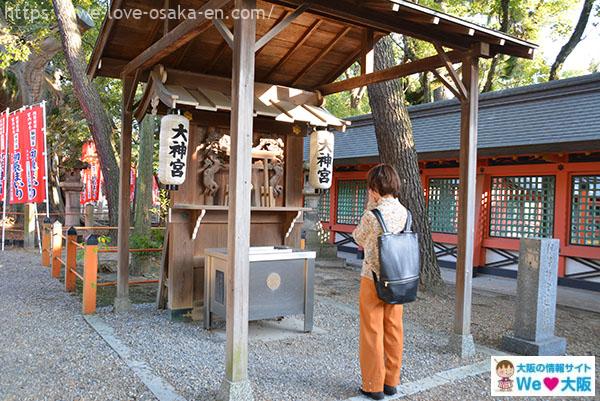 A place of worship is a place established to worship Gods and Buda far from far away. Then worshipping here,that means to visit Ise Shrine.The direction is for Ise Shrine.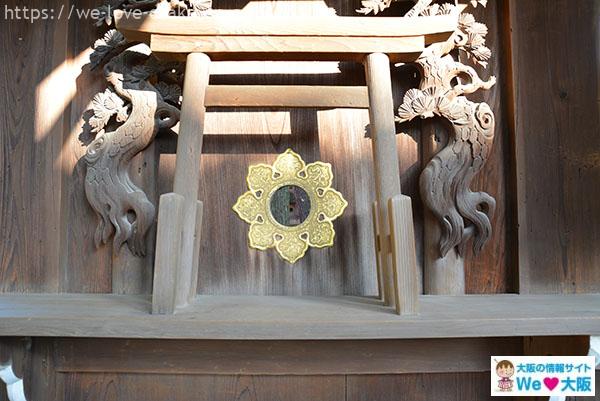 Things like a mirror in the middle are actually pierced through and you can see the back of it.It seems that it is really connected with Ise Shrine by a single line.
7.Gosho Gozen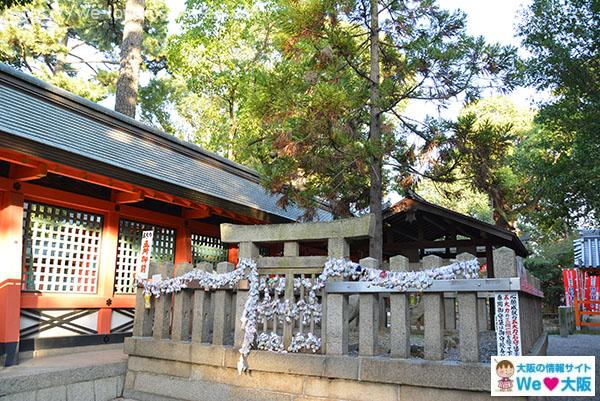 This place is called Gosho Gozen.It is a place where cedar stands inside the stone's Tamagaki(fence).It is on the right side of the 1st Main Hall.
Long ago,when the Shinkou Empress asked for a land to festival Sumiyoshi Taisya,three white feathers came and stopped on this cedar tree.They thought it is a sacred place and had a festival.Every May at the Sumiyoshi shrine founding memorial festival,Unoha Shinto priests,the sprig of the sacred tree leaves is offered.
7-1.Godai Riki(Five large power)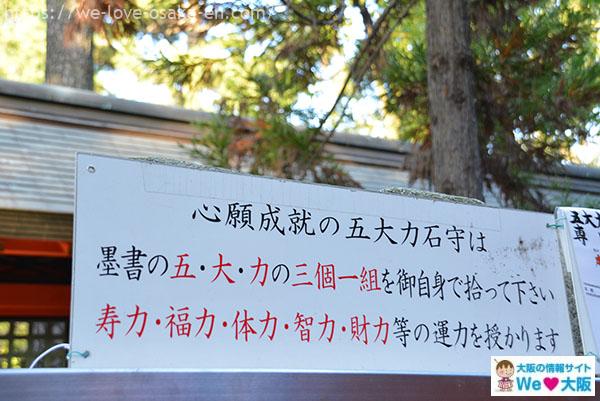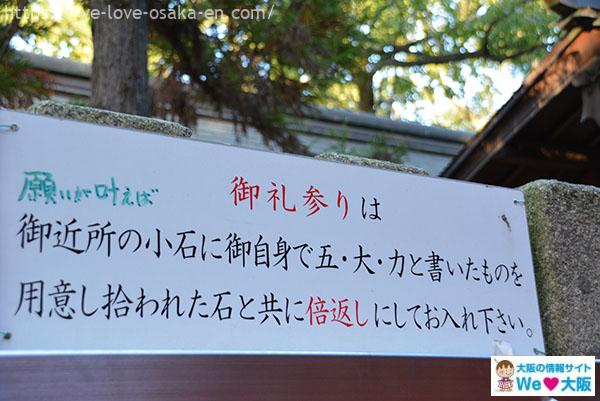 There are three pebbles written as"five, large, power"in the stone's fence,and it is said that you can have a benefit of fulfillment of the heartfelt by using it as a charm.Five large power means sprit,happiness,physical,intelligent and financial power.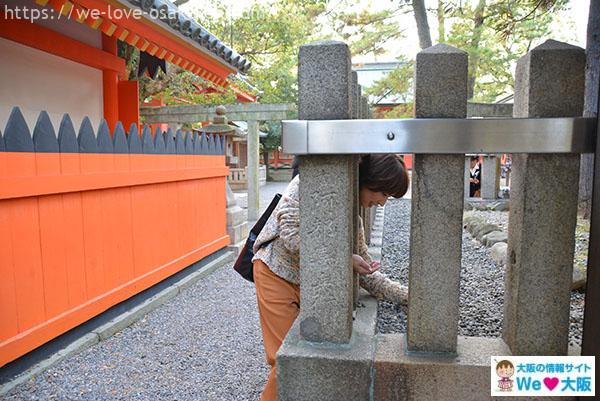 As you can see,please thrust your head between the stone's fence.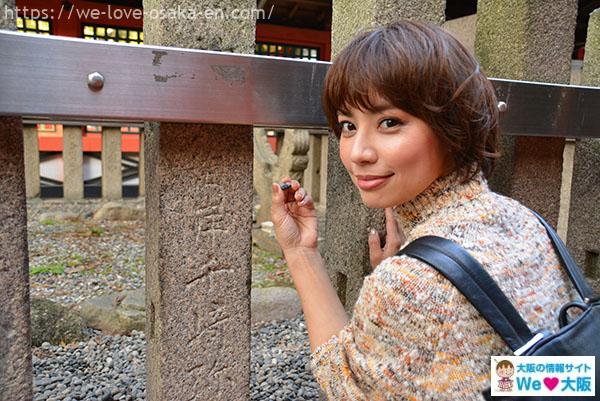 It looks like a treasure hunt.We found it.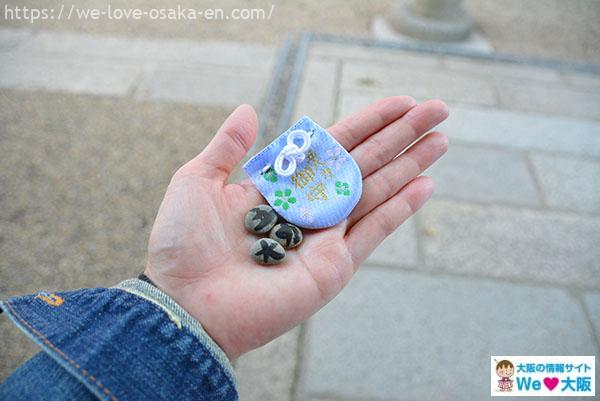 It is said that you can get luck by putting three stones in your charm sac which you purchased(you can purchase at main hall reception desk·Nanku shrine for 300 yen) and put it in a bag or room.And if your wish has come true,then you wish to give back the stone, you have to add more tree stones on which you write "5" "large""force".The stones will be given to the next person for realizing the wish.Many people were picking stones when they visited Sumiyoshi.
You will find them quite easily, please come and get the five great power!
8.Typical festival
8-1.Ota Ue Shinji(event)
Then,we will introduce a representative festival to be held at Sumiyoshi Taisha.
In June before summer, Ota Ue Shinji festival designated as an important intangible folk culture will be held.It is said that this festival started from the establishing the paddy field of Jinkou Empress.And it is held in the sacred paddy field on the south side of the precincts of the shrine.
The seedlings planted in Mother Earth are thought to have powerful gods for crops,so they will grow rich.The ritual is meant to welcome the autumn full harvest.That festival is still being held rigorously.
8-2.Sumiyoshi Festival
Every summer, Sumiyoshi Festival will be held from 30th July to 1st August.
The Sumiyoshi Taisha Shrine,which is also popular as a god of purifying,was said to be able to purify the city of Osaka by taking a shrine mikoshi(carrying the portable shrine),and the festival was also called "Oharai".The mini shrines in which god's spirit(Omitama) of Sumiyoshi Taisya is transplanted,make a queue and transfers it to the Shrine"Syukuin Tongu".
The shrine mikoshi is revived in Heisei era 2005 which is the first time in 45 years,now you can enjoy the climax of the festival.
8-3.Hatsutatu Worship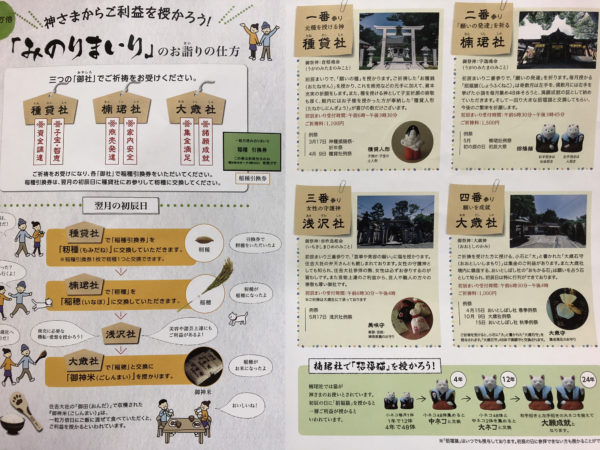 Tap a photo to enlarge
It is Hatsutatsu worship that is held on the Hatsutatsu day of every month.
As the worship is familiar with business development and family safety which is called"Hatatsu-san",many people visit from the distance when the first dragon's day comes every month,and the shrine is crowded with many visitors from early in the morning.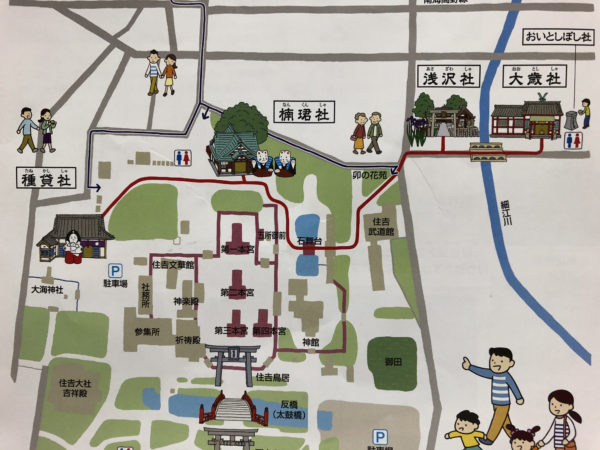 Tap the photo to enlarge
It is a habit to visit the four shrines related to Sumiyoshi Taisha,"Tanekashishiya" "Nankunsha","Asazawasha" and "Otosisya".
It has been believed that if you worship on the first Dragon Day every month,it will give you more power,will protect and help.If you visit 48 times in 4 years it will be the fulfillment of your wish which came from the meaning of "48 dragons","development from the beginning to the end."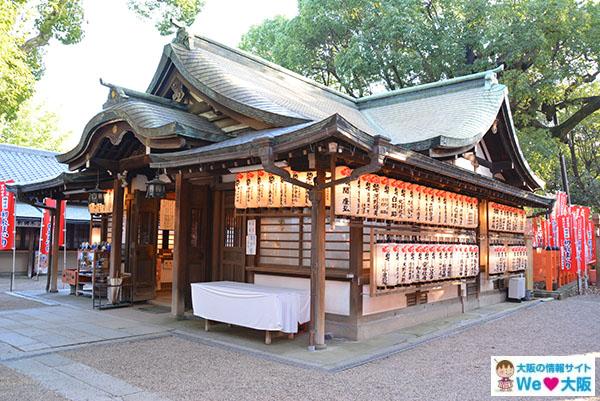 This is Nankun Shrine.It is the God for business development and house safety.In Nankun Shrine,cats are said to be the messenger of God,and it is said that you will be awarded more benefit when you get"Shoufuku cat"(the cat which can invite happiness)on the day of first dragon.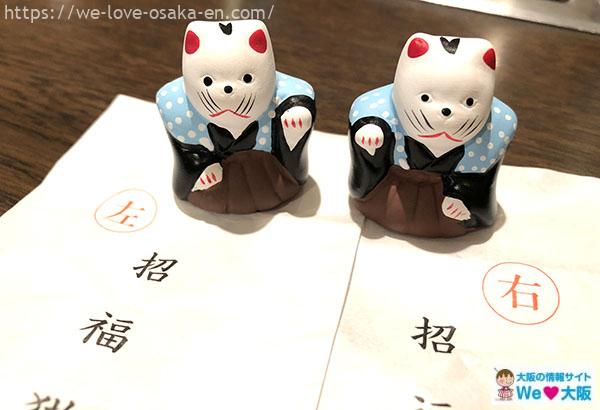 "Shoufuku cat" can be collected at any time other than the first dragon's day.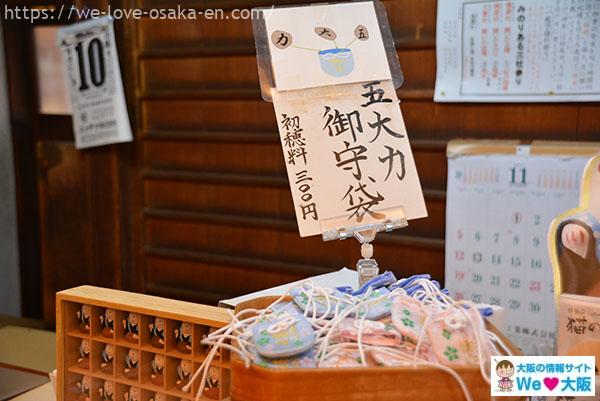 Amulet bags of the five great forces can also be purchased at Nankun Shrine.
Besides, Sumiyoshi Taisha's main hall and subordinate shrine are dotted outside the precincts,so you can get various happiness.If you visit each one carefully you may have a chunk of power when returning home.
9.Omokaru stone fortune telling(Ootoshisya Shrine)
"Omokaru Stone"which located in Ootoshisya Shrine is known as a stone that fulfills wishes.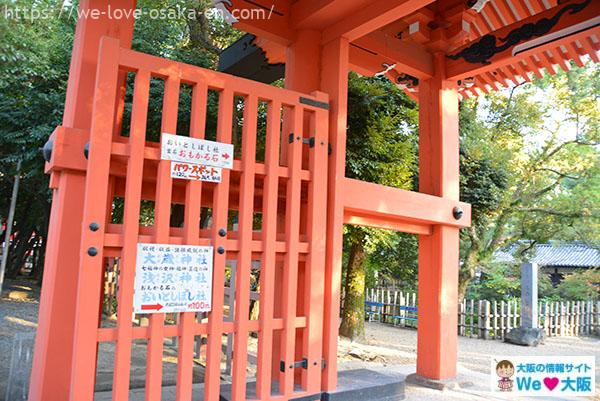 As to the way to get there,there is a red gate near"Gosho Gozen Mae"of the five-great power.There is"Omokaru Stone" in Otobosi Shrine in the stone to look for in"Otoshiboshi Shine"in the"Ootoshisya Shrine"outside Sumiyoshi Taisha.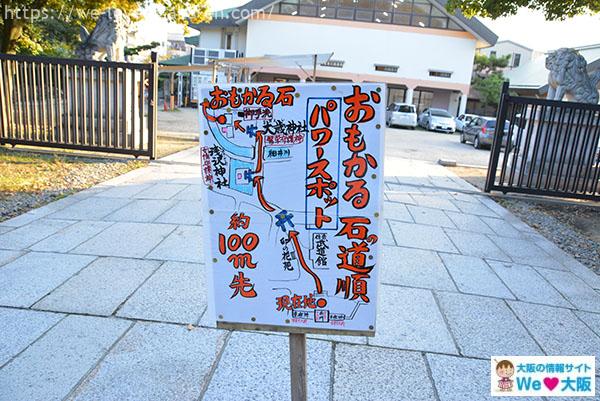 You can fine the hand-written map.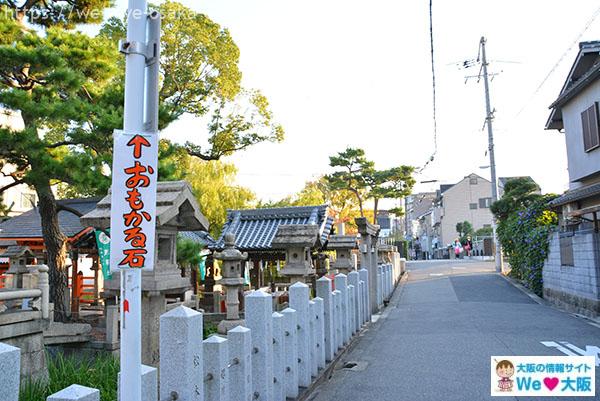 Also,there is a guide along the way.The shrine which is at the back of the picture is,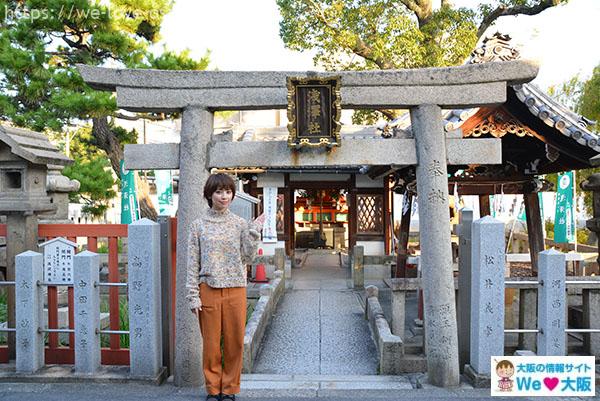 It is Asazawa Shrine.We have already introduced in the first dragon worship.Asazawa Shrine is a guardian god for women for beauty,entertainment,quick-wittedness and affection.Women must certainly want to visit,don't they?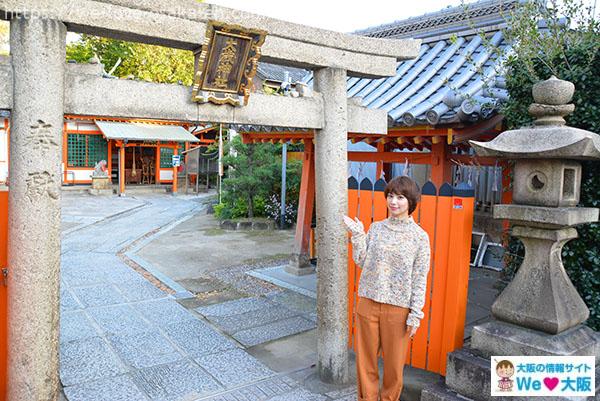 After passing by Asazawa shrine you can find Ootoshi shrine.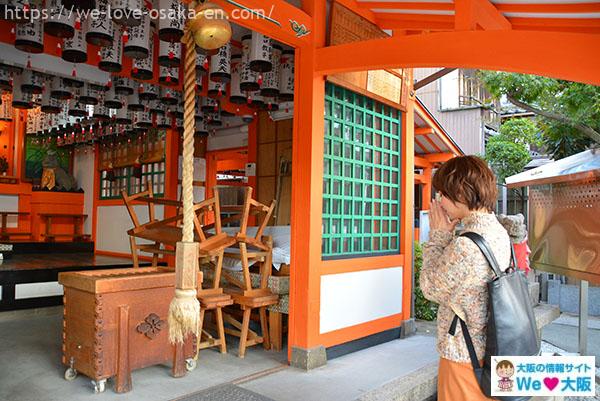 First of all,after visiting Ootoshi shrine,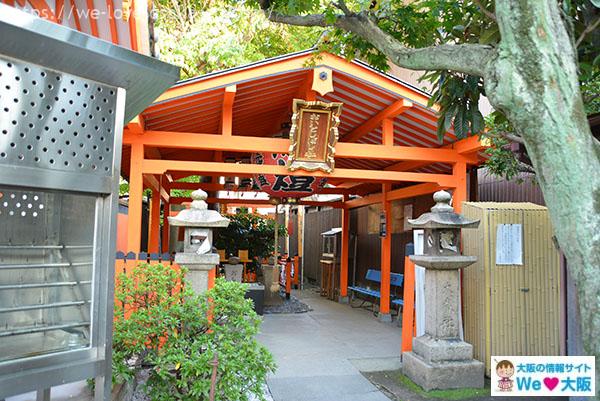 Turning to the right will take you to Oitoshiboshi Shrine.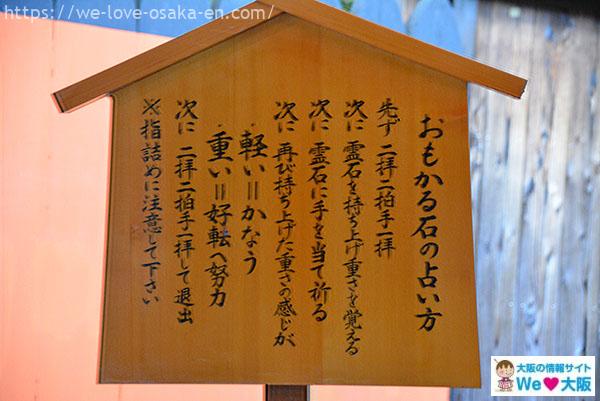 On the signboard,"How to tell your fortune using Omokaru Stone"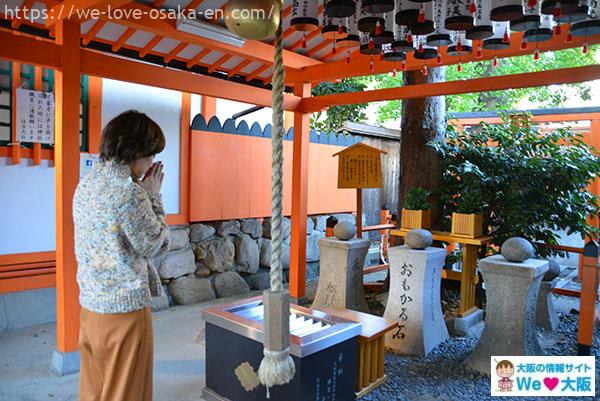 First of all,two bows,two handclaps and one bow
Lift the spirit stone and learn the weight
Next,pray with your hands on the spirit rock
Next,the feeling of the weight when you lifted again
· Light=your wish will come true
· Heavy=need efforts to improve
Next,you worship with two applaudes and exite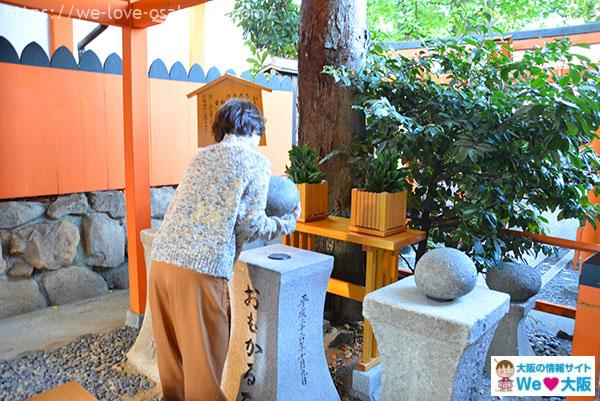 How is it?Do you want to try it?
By the way,I(the photographer in above picture)felt that the weight of stone became lighter.And the model,Mis."Mana" who appears many times in this article,said "It is Heavy!" when she carried it…(means need effort to become happy)
10.Foodie destinations nearby
It is a foodie destination at Sumiyoshi Taisha Monzen Machi that we want to step by before we get home.
10-1.Western food "Yaroku"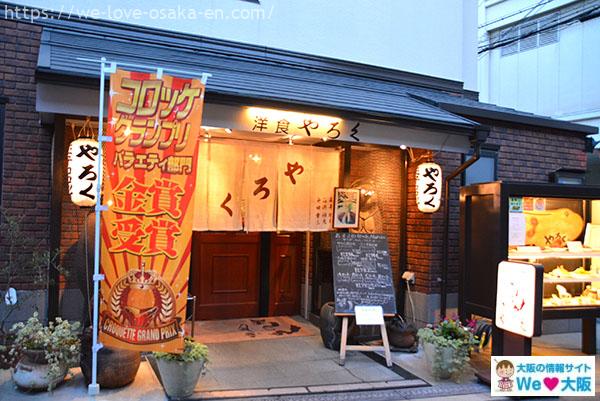 This is the restaurant for western food "Yaroku".
It has been continuing since 1954,and a lot of shrine guests of Sumiyoshi Taisha go to eat there.Among the dishes,"Egg croquette"is famous,and the egg cream with flavor of butter is really delicious!It is a luxurious croquette with fresh and big shrimp in it.You can really enjoy it.Please visit by all means!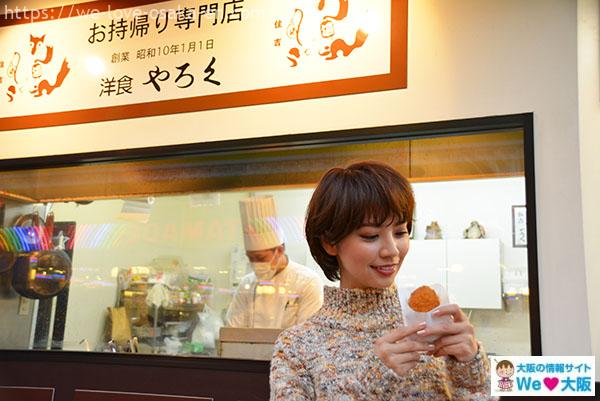 Near the restaurant,under the overpass of Nankai line,there is also a"to-go"store.Recommended when you want to eat freshly at ease while walking.
Shop name:
Western food Yaroku main store
Address:
3-30-16 Higashi Kohama Sumiyoshi-ku Osaka-city 558-0051
TEL:
06-6671-5080
Opening hours:
11:00-13:30/16:30-20:00(close as soon as the dish sold out)
Closed holiday:
Wednesday/4th Tuesday(only lunch time open)
10-2.Okonomiyaki Shirakaba
Okonomiyaki restaurant "Shirakaba" has the appearance of the shop which reminds you the Showa era.
As for the exteriors of the shop,they made you feel Showa's nostalgia,like stuck in-time.It has only about 10 seats around the steel plate, it is very comfortable!I would like to order pigs and grilled beer and beer!It is fluffy dough with plenty of yam harvest at a low heat.You can finish with Worcester sauce,Tonkatsu sauce,mayonnaise,ketchup, spicy beans.When you eat it with making the sound"Hafu Hafu"and cutting with the metal spatula,your mouth will befull of happiness.And drink cold beer at the same time."It's cool!"You must visit and eat!
Store name:
Shirakaba
Address:
3-28-15 Higashi Kohama, Sumiyoshi-ku, Osaka-city 558-0051
TEL:
06-6671-1127
Opening hours:
11: 00-14: 00 · 16: 30-20: 00
Closed:
Wednesday
10-3.Suehiro Do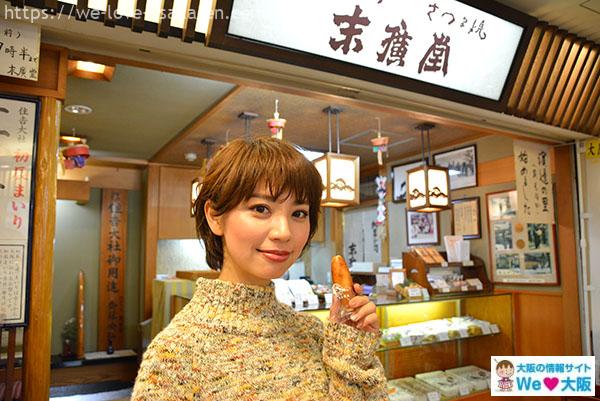 The last recommendation of the restaurant is Suehiro Do of Satsuma Yaki.
When going to visit Sumiyoshi Taisha,it is a shop of Japanese sweets that is said to have many people to buy.The foundation dates are said to be back to Genroku era.Satsuma-Yaki is a baked sweet recipe wrapped in Tokachi azuki bean paste with its unique skin.It is not too sweet,too much quantity,it's just an elegant Japanese sweet.
That is a sweet that we want you to take home by all means as the souvenir after visiting.
Store name:
Suehirodo
Address:
3-12-14 Higashi Kohama, Sumiyoshi-ku, Osaka-city 558-0051
TEL:
06-6678-8130
Opening hours:
9:00-19:30
Closed:
Open all year round
Summary
How is it?Sumiyoshi Taisha, we bet you want to go.
It is good for New Year's prayers of course,but it is also the good place for you to pay a casual visit.Sumiyoshi Taisha has an auxiliary shrine(which is deeply related to Sumiyoshi Taisha)and a subordinate shrine(a shrine related to Sumiyoshi Taisha),and there are many places to visit.
Let's go to Sumiyoshi Taisha to receive power,such as Ise Shrine worship place,the five great power and Omokaru stone!
Related article
Do you remember how excited yo……

2019.09.30

Speaking of the shrine in Osak……

2019.09.27

Speaking of downtown of Osaka,……

2019.09.10
Introduction of writer

Kinta
I am doing video production and event production for 30 years in Osaka. I love okonomiyaki! I will introduce the unknown secret of Osaka.
Instagram
#weloveOsaka
Please introduce your "we love Osaka" (Only gourmet of Osaka and spot of Osaka)