A new landmark in Dotonbori! VR gondola of large ferris wheel "Ebis tower
A new landmark in Dotonbori! VR gondola of large ferris wheel "Ebis tower
Hello everyone. When I looked around to see the tourist attraction "Glico" of Dotonbori … it was more prominent than Glico!
I thought that the specialty of Dotonbori is Glico. But it is specialty of Dotonborius too! So this time we introduce ferris wheel "Ebis Tower"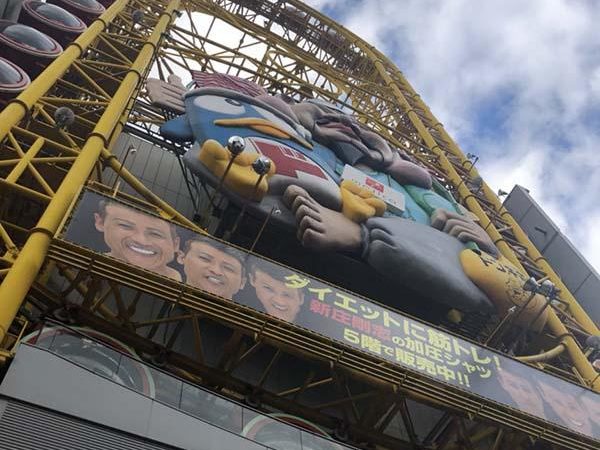 A ferris wheel in such this place? ? And above Don Quijote … in the middle of the city! Besides, Bill is also adjacent.
(This ferris wheel was found cracked in 2008 and closed. It was reopened for the first time in 10 years in 2018. It seems that there were many voices asking for a resumption because it is along the Dotonbori River.
1.Resumed in 1.2018! Dotonbori Ferris wheel "Ebisu tower" VR gondola.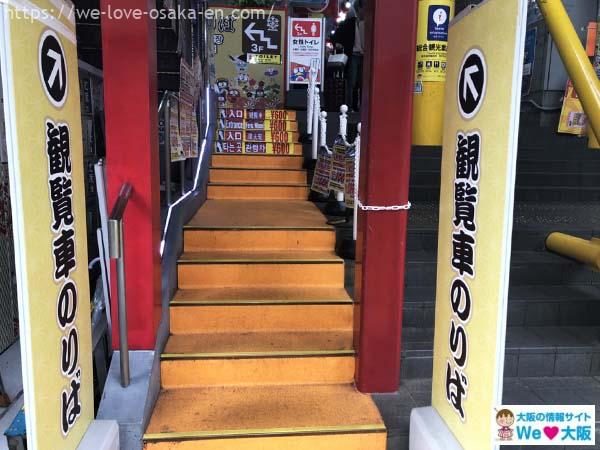 Ebisu Tower is located above the Don Quijote Dotonbori Store. The stairs next to the tax-free cash register on the first floor is the entrance.
Even so, I think that japanese no one get on it. Except me?
The guides are all written in English and Chinese. Dotonbori has many foreign tourists. The announcements in the city are also in foreign languages, and the shop staff  are also overseas.
However, here I want to move down the courage and climb the stairs as a Japanese representative.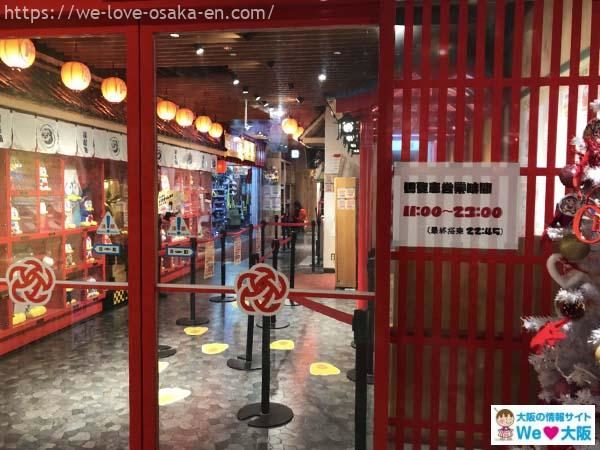 The entrance looks like this! It is a Japanese atmosphere that incorporates Japanese culture.
Opening hours are 11:00 to 23:00. (Specially, New Year's Day is also open for the first sunrise)
As it is 11:30 am in the morning, it has just opened.
2.Price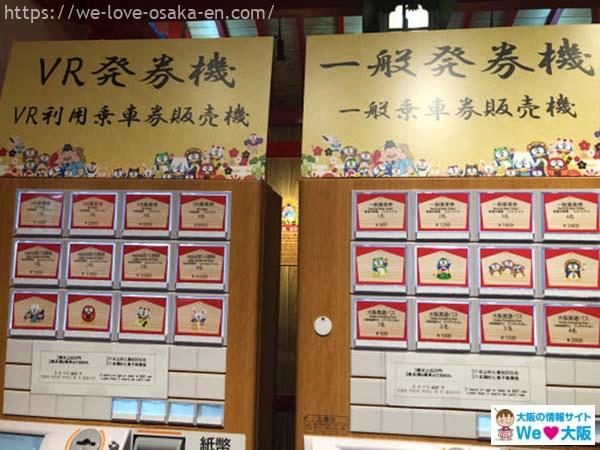 I lined up for buy regular ticket.But the  VR ticketing machine was next to a regular ticket vending machine! !
Apparently this 360 view can be enjoyed with this VR goggles.
The fare is 600 yen for a regular ticket, but 1600 yen for a VR ticket! It is expensive.
I've thinking about it for a while , but shop staff recommended VR ticket so I decided buy it !
Explanation of goggles from the staff  before boarding. It is basically how to put it on and how to operate it, but you can enjoy the video linked to the background by turning on this VR switch at a good timing.
3.First experience !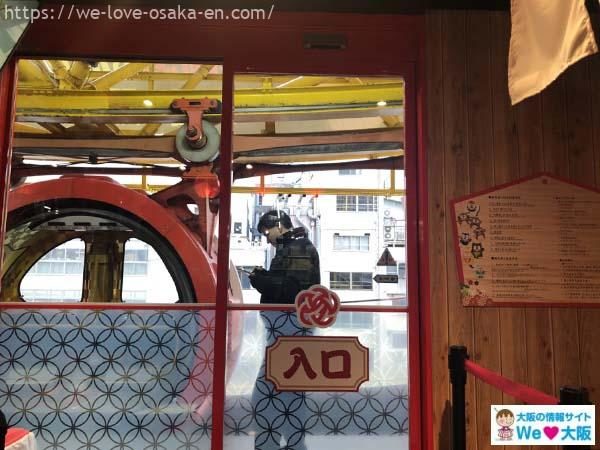 Staff was bringing me to the boarding gate soon.
But I'm not ready yet….Lol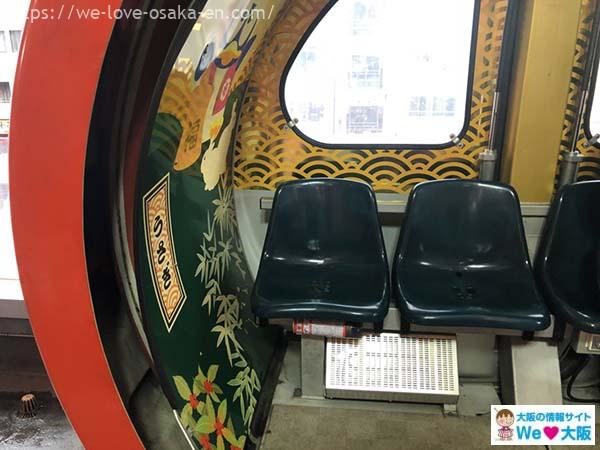 The window is open, isn't it? What does this mean? (Lol)
I did lower the safety bar after I go inside.After that suddenly leaves.
me "Is this really ok ?"
Staff "….."
I couldn't say anything because of fear!
Then, 5 seconds after the ride … slowly rotated.
The gondola has finally regained its original shape Lol..
Even so, I could not imagine the gondola turning and the door closing.
This type is the first in the world (I checked after). Ebisu Tower is great!
The gondola was going up.The weather was good in the daytime so I could overlook Dotonbori and it was a good view.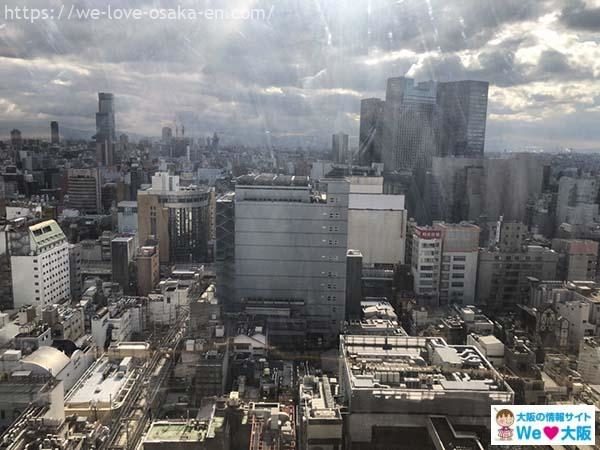 The view is excellent, but I was scared because the gondola shook.
I could not look down anymore.
Please don't shook anymore ..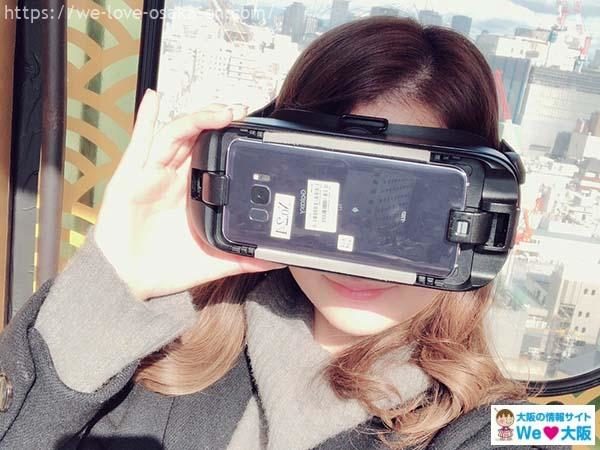 I was scared, so I switched on VR. It was really great! I could see the night view. You can enjoy it like this when you ride at night. After a while, VR switched to the daytime mode.
Now gradually rises in conjunction with the background seen from the ferris wheel. Takoyaki shops and facilities around Dotonbori are also reflected in the video
As expected Osaka! There is only konamon(like okonomiyaki etc…) shop as far as I can see. Lol
In the past, Dotonbori River was dirty, but now it is very beautiful.
What should i eat lunch? I wonder if  shop of the procession delicious? 15 minutes passed while I was thinking.
I want to get on it  one more time!
By the way,They take a phot for your commemorate the trip.
Why do not you float in the air for the first time in life at a new landmark in Dotonbori
How was it?
If you come to Osaka Dotonbori, it's quite new to see a Ferris wheel (VR gondola) next to Glico. If you're a couple, you're sure to be thrilled with the new situation.
You should also try to experience once with the world's first oval-shaped ferris wheel.
You should be get  good memories
Facility name:
Dotonbori large Ferris wheel Ebisu tower
Address:
7-13 Soeemoncho, Chuo-ku, Osaka
Opening hours:
11: 00 ~ 23: 00 (final ride 22: 45)
Boarding time:
15 minutes
Access:
Subway "Lines" "Namba 5 minutes walk from station "Exit 14
Related article
Hello everyone! I'm Natsu of ……

2020.03.24

Hello everyone. When I looked ……

2020.03.24

Hello everyone. I'm Natsu, th……

2020.03.23
Introduction of writer

NATSU
I love Ramen. I ate more than 100 cups of annual ramen in 47 prefectures a year. For delicious ramen,I go to anywhere in Japan. Recently I involved in production.
Instagram
#weloveOsaka
Please introduce your "we love Osaka" (Only gourmet of Osaka and spot of Osaka)