【Hotel Bali Tower at Osaka Tennoji】 Great for the luxurious interior and hospitality!!
【Hotel Bali Tower at Osaka Tennoji】 Great for the luxurious interior and hospitality!!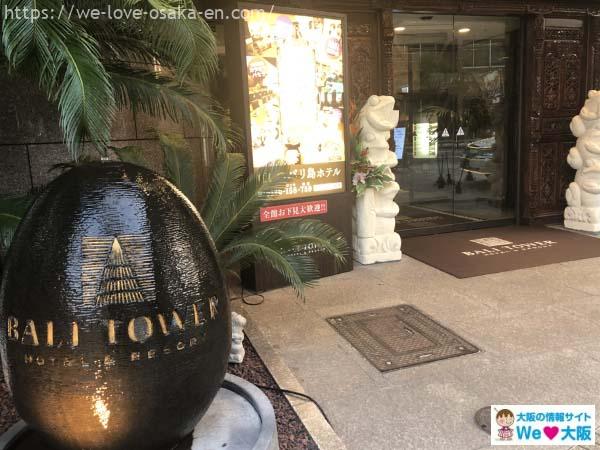 Hello everyone.
I'm Natsu, the writer for Osaka travelling.
This time, I visited the popular accommodation called BALI TOWER Hotel in Osaka Tennoji.
It is the hotel that is often used for women's associations and weddings, but according to the information of those who have stayed here, the service is especially wonderful, so I decided to try and stay.
What kind of hospitality they offer?
Let's go!
1.Villa-style hotel that can be used for girls-only gatherings and year-end parties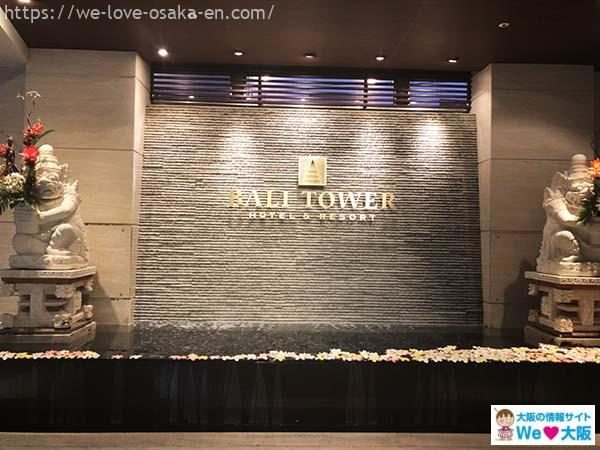 It looks like an Asian hotel in Bali as its name suggests.
Frog figurines (it is believed that frogs carry happiness to people in Bali) and Bali-conscious accessories are placed throughout the hotel, and the music is played with Balinese classical music "Ramadan".
It is the healing space like a massage salon or beauty treatment salon.
2.Introducing 120% hospitality!
Now I would like to introduce the free services that cannot be enjoyed at other hotels.
2-1. Welcome drink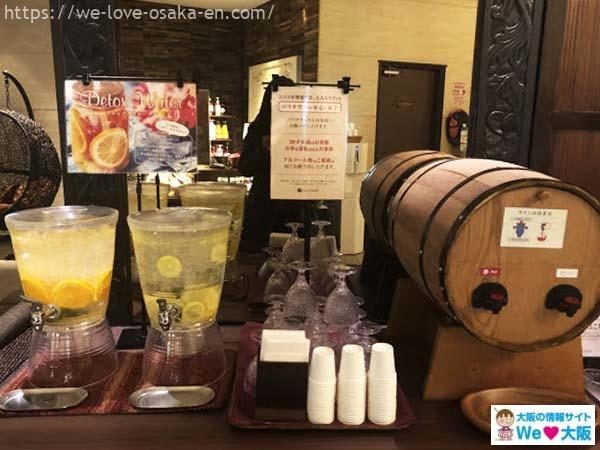 The first service is welcome drink.
Detox water and wine are served for free of charge at the drink space next to the lobby on the first floor of the hotel.
Of course, you can drink in your room or drink while waiting for check-in / check-out.
It's nice to have a free alcohol service.
2-2. Bath salt to decorate the bathroom gorgeously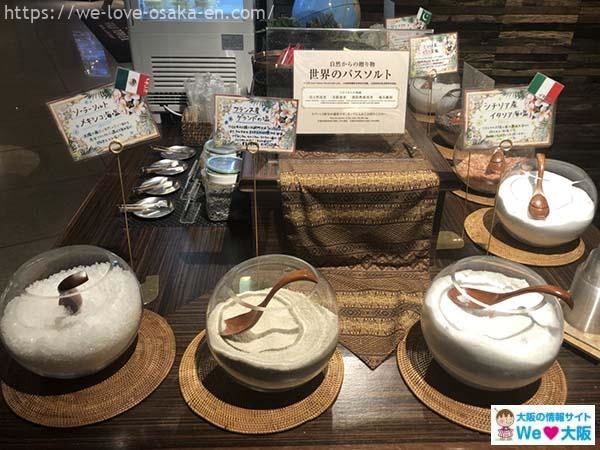 The second service is the bath salt to suit your preferences!
You can use as many kinds as you like, with a wide variety of bath salts from all over the world.
It's hard to understand with this picture above, but they have the ones using black bath salts and red rock salt in the back, so I was wondering which one to choose because they are something I do not usually use.
Then I chose the black bath salt and the Mexican solar salt shown at the left of the above photo.
I chose for the night and the morning but ended up using both at one night.
With a very relaxing scent, it was a perfect item to heal the tiredness of the day.
2-3. Free amenity service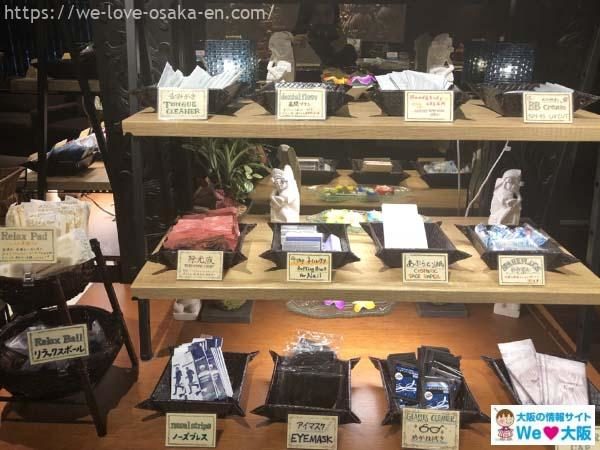 You can experience the other services.
In addition to the hotel's built-in amenities, you can select the three of these and bring them to the room.
I've never seen a hotel with oil blotting paper, nail polish and a relaxing ball service.
By the way, you can not see in the picture, but you can get the great hospitality such as before entering the room, the service of handmade cakes and puddings, the service of candy, the service of choosing your favorite item from 20 types of the shampoo and treatment!
Now, let's go to the room with a lot of service goods.
3.Can we get a good deal with online reservation such as "Jalan"?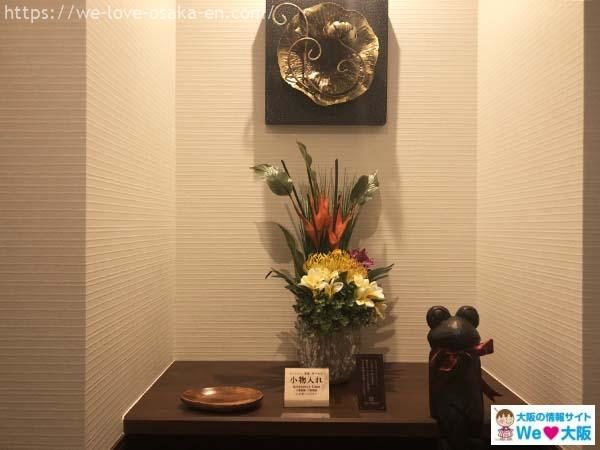 The entrance with a calm atmosphere.
Here too, frog figurines welcomed me.
By the way, the room price of Bali Tower is like this as below. (Tax included for two people per room)
Stylish shower double
8,800 yen~
Standard double
9,800 yen~
Standard Queen
10,800 yen~
Deluxe
14,800 yen ~
Deluxe Theater King
15,800 yen~
Royal Suite
20,800 yen~
Platinum suite
25,800 yen~
Deluxe Panorama Twin
17,800 yen~
Royal panorama living
23,800 yen~
Deluxe Sky 4 Head
29,400 yen~
If you book online such as Jalan or Rakuten Travel, the plan outline includes early-discount plans, online reservation-only plans, and plans with free breakfast are available.
This time, I reserved two rooms, "Deluxe Theater King Room" and "Royal Panorama Living Room" for this article.
3-1. Deluxe Theater King Room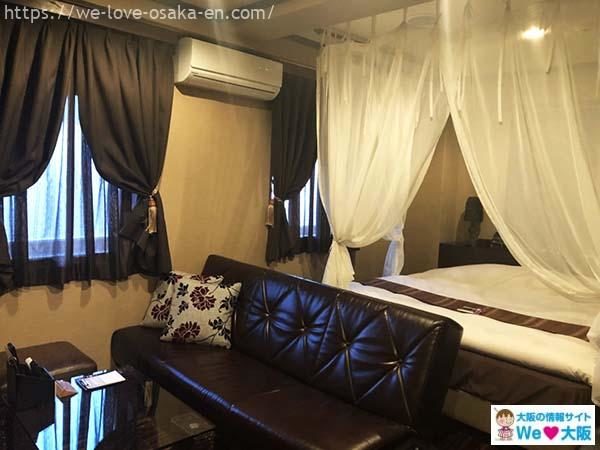 Here is the Deluxe Theater King Room.
This room with a stylish canopy features a large-sized bed.
It's big enough to sleep alone.
In the room, various types of free VOD service and free Wi-Fi, as well as the hotel chef's special room service are well prepared.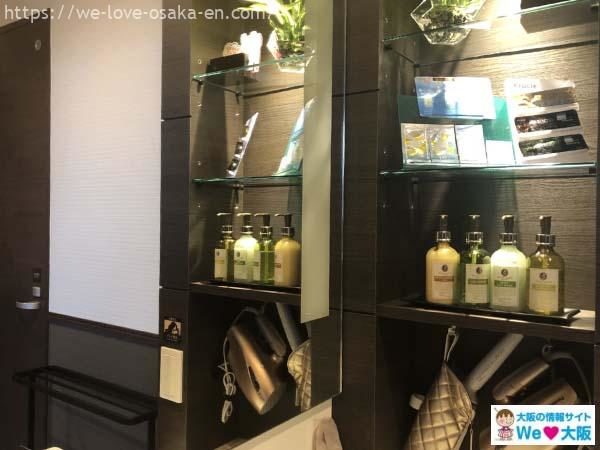 The service is wonderful here, too, and items that are nice for women such as hair dryer with anion, hair iron, facial equipment, complete set of basic cosmetics, body cream, hand cream etc. are prepared.
With all these, you don't have to carry the travel set.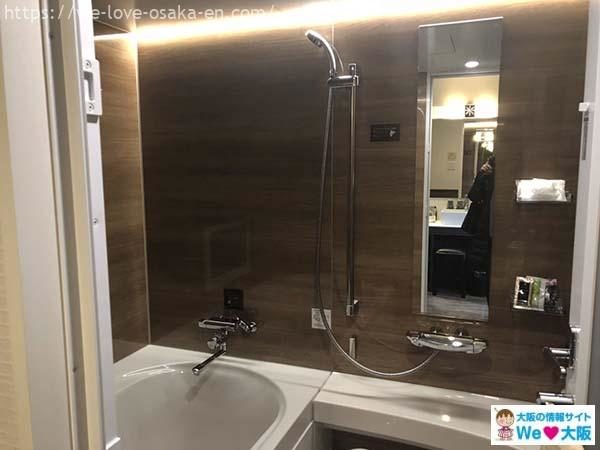 The bathroom is also clean and has a stylish atmosphere as if you were in the show apartment.
You can spend a special time with listening to your favorite music or watching TV in the bathroom.
It is perfect for those who want to enjoy the time which is different from always!
3-2. Royal panoramic living room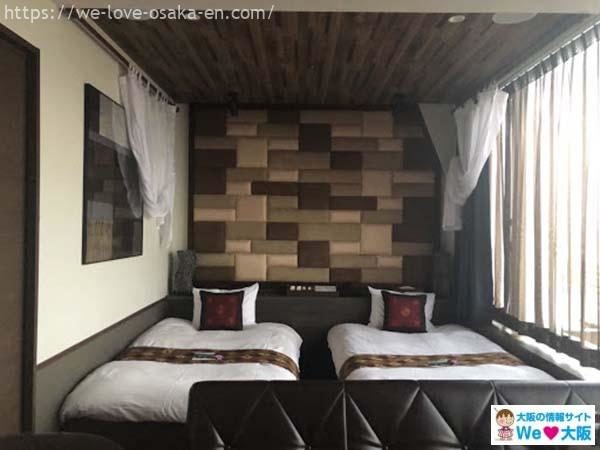 Another room which I reserved is the spacious "Royal Panorama Living Room".
This room is equipped with a massage chair, which gently heals the tired body.
And the biggest feature of this room is the panorama which has in the name!
You can enjoy the superb view of the city of Osaka.
You must be interested in it?
You can see the picture below!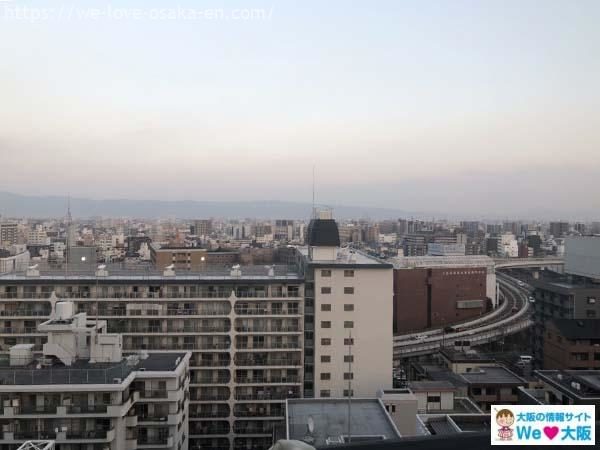 This above picture is the noon version!
The view from the top floor and the 13th floor of the Bali Tower is very good, and the windows are large, so it has open feeling.
By the way, the night version is here below.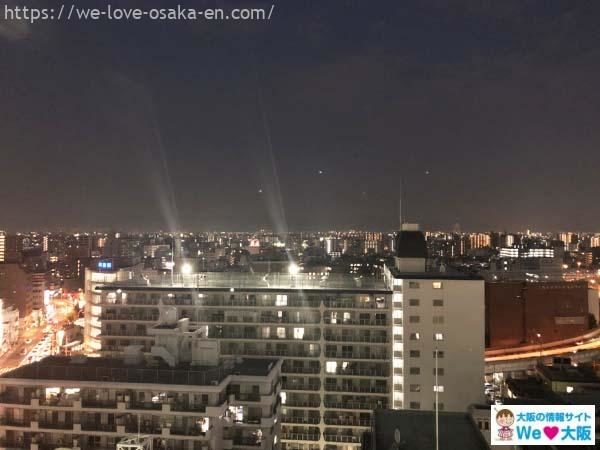 At night, the indirect lighting near the windows illuminates fashionably, giving you a fantastic atmosphere as if you were in a resort place while you are in Osaka.
By the way, I enjoy watching movies on a huge TV screen while watching the night view!
It's a one-day celebrity experience with the free drink of wine which was provided at the entrance.
I have never stayed in such a large room, so I enjoyed my first experience while getting smaller in the back (lol)
4.This is the ultimate breakfast for the start of the day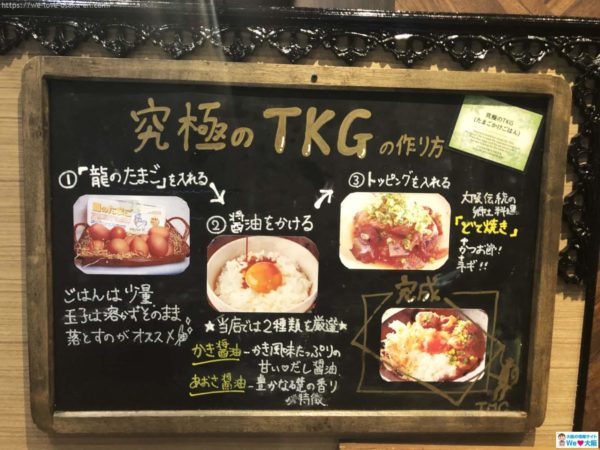 I woke up at 9:00 the next morning.
That's right! What I was most looking forward to was the breakfast of Bali Tower.
The breakfast of the hotel is almost the same everywhere, but especially this Bali Tower is exciting since morning because I can enjoy a special breakfast that you can not taste elsewhere.
And the breakfast that you can't taste anywhere else is this "Ultimate TKG (raw egg mixed with white rice)!"
Drooling comes out just by watching … (tears)
Let's have it!
Breakfast is served at the cafe on the third floor of Bali Tower.
This tropical restaurant, rented as the largest party room in Osaka with a capacity of about 100 people, also has a bar and playroom, so that the small children who have finished eating will not get tired.
By the way, breakfast was buffet style, so I thought what if I didn't have that TKG, but I could eat the ultimate TKG!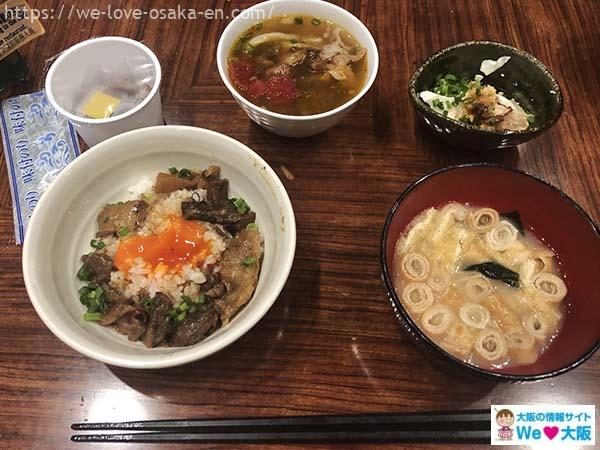 And here is the Japanese breakfast set I chose!
In the middle are the "ultimate TKG" (the eggs couldn't be broken well … lol), my favorite natto, curry Udon noodles and Tofu, and miso soup with lots of  Fu (wheat gluten cake).
Of course, there were too many other delicious dishes to choose them all.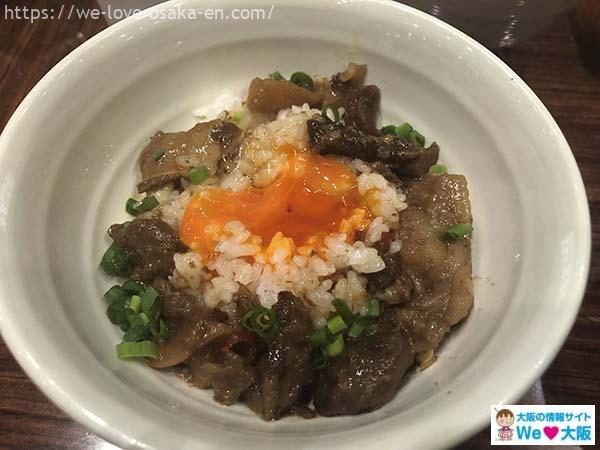 It's the TKG taste that you're interested in, but it's just a masterpiece!!
The meat around the egg is a local dish of Doteyaki, so the moderate sweetness and saltiness were mixed with the egg, and it was the ultimate combination!
I added Natto to this and made the ultimate natto egg over TKG, but this is also exquisite.
That made me buy Doteyaki in the Shinkansen on the way back because they were so delicious. (lol)
If you stay at Bali Tower, please try it once.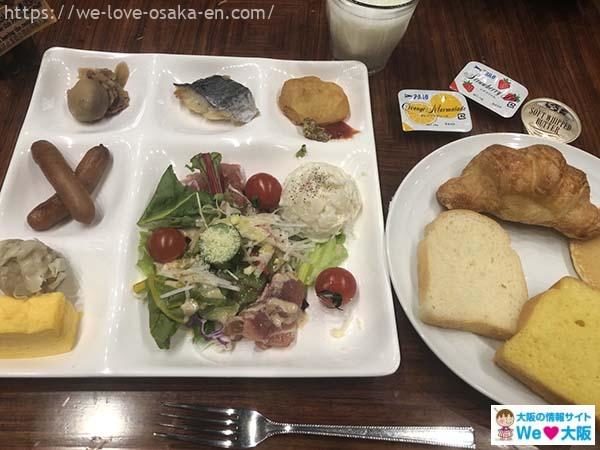 Western breakfast set is above photo.
There are many kinds of menus here, so I just tried to put them as many as I can on the plate because I could not choose what to eat!
One of the most impressive things about me was the variety of breads here!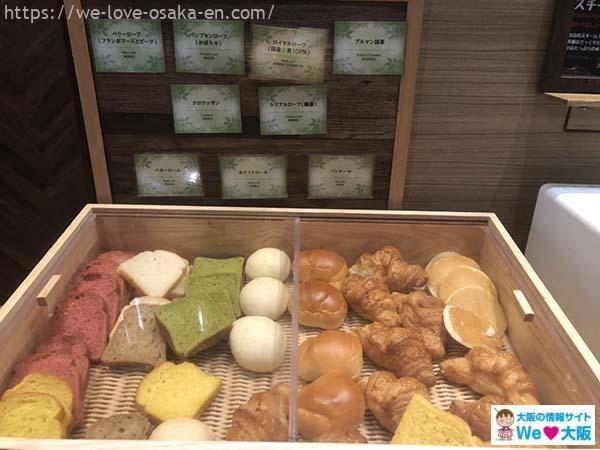 Wow! Nine kinds of cute bread are prepared, from colorful bread to pancakes.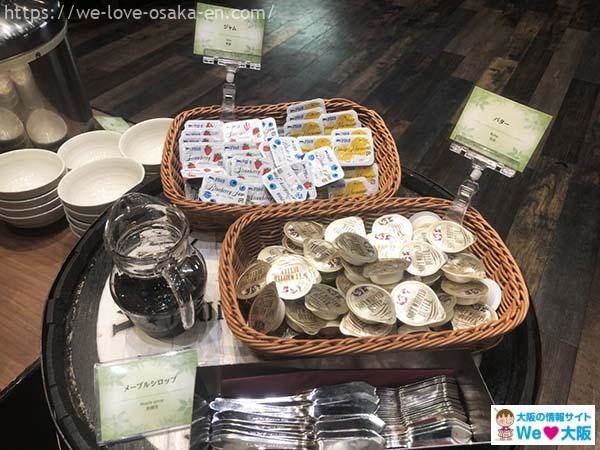 Jam (3 types), maple syrup and butter are also available, so it's grateful for those who like bread.
By the way, I love marmalade, so I put jam on the surface of the baked bread and ate it in an instant.
I enjoyed eating enough to say how much I eat from the morning (lol)
I love eating very much!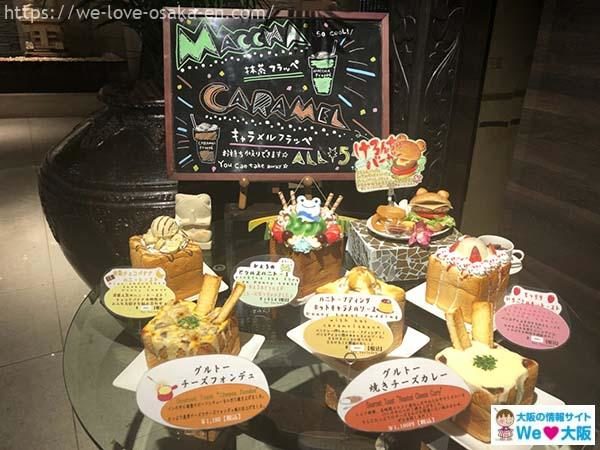 They also have a cafe on the first floor where you can eat such cute honey toast.
Have you seen this delicious honey toast somewhere??
Yes! This Bali Tower is a family of that karaoke company "Pasera".
It is the nice point that the honey toasts, which have been popular as one of the popular menus for many years, have the same quality as Pasera.
5.Darts, karaoke and banquets are also eligible for discounts!
You imagine the cafe space where you can eat such honey toast in the above photo.
There are many customers who come to Bali Tower just for girls' party without staying at the hotel in order to enjoy that honey toast.
Certainly, it's the best that you can have a girls' party while eating sweets on the first floor of a stylish hotel.
Hopefully I'd like to stay at the hotel after the party… (lol)
Oh yes, I forgot to say that those who stayed at this hotel can use the playroom next to the cafe where they had breakfast earlier for free.
Free use of table tennis, air hockey, racing games and a manga library, including Taiko- Masters (video games), and a 20% discount on karaoke boxes and darts restaurants on the first basement floor.
If this is included in the accommodation plan, I would definitely like to make the plan of the girls-only gathering and stay at the hotel!
I have to plan that project immediately … (lol)! !
After all, we enjoyed playing games, singing karaoke, and watching movies on a large monitor at night. And eat a delicious breakfast in the morning and have sweets at the cafe!
Isn't it fun?
Of course, not only women's associations but also families can enjoy the same way, so it seems that you can make wonderful memories other than sightseeing.
6."A dreamlike time in a wonderful hotel!"
How do you like our article?
A new space like a hotel and amusement facility that overturns the conventional concept of a hotel.
This is a hotel where you can enjoy extraordinary living, a date with your boyfriend, a girls-only gathering or a family trip.
If you are interested in Bali Tower after reading this article, please visit the hotel.
Store name
Hotel Bali Tower Osaka Tennoji
Address:
8-1 Hidein-cho, Tennoji-ku, Osaka
TEL:
0120-158-759
access:
・2-minute walk from JR Tennoji Station North Exit (Central Gate)
・3-minute walk from Midosuji Line Tennoji Station (West Gate 7)
・3-minute walk from Tanimachi Line Tennoji Station (South Gate Exit 15)
・6-minute walk from Kintetsu Minami-Osaka Line Osaka Abenobashi Station (west ticket gate JR direction
Related article
Hello everyone! I'm Natsu of ……

2020.03.24

Hello everyone. When I looked ……

2020.03.24

Hello everyone. I'm Natsu, th……

2020.03.23
Introduction of writer

NATSU
I love Ramen. I ate more than 100 cups of annual ramen in 47 prefectures a year. For delicious ramen,I go to anywhere in Japan. Recently I involved in production.
Instagram
#weloveOsaka
Please introduce your "we love Osaka" (Only gourmet of Osaka and spot of Osaka)