【Osaka Castle Sightseeing】it is one of the landmark's.Osaka people are most proud of that. Let's take a trip to Osaka castle of Hideyoshi toyotomi
【Osaka Castle Sightseeing】it is one of the landmark's.Osaka people are most proud of that. Let's take a trip to Osaka castle of Hideyoshi toyotomi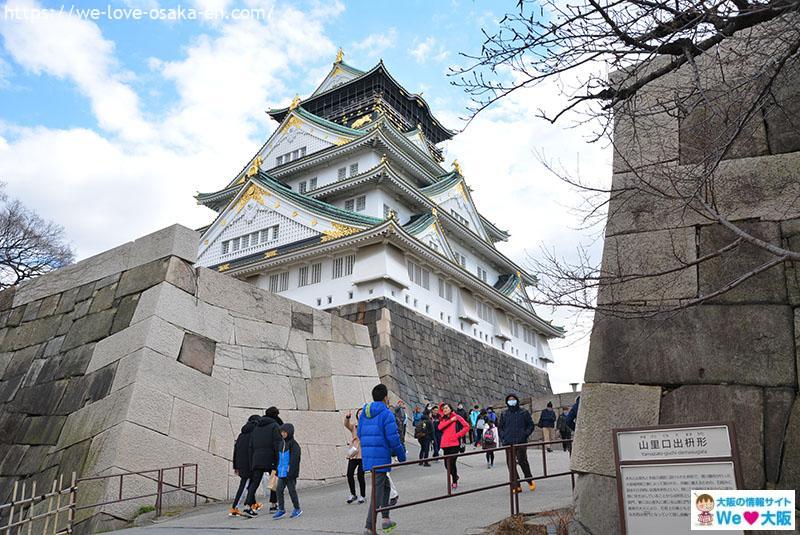 「Osaka Castle was built by Toyotomi Hideyoshi.」 This history is drummed into Osaka people's heads from childhood.
There was an earthquake in Kumamoto prefecture a while ago and at the time Kumamoto Castle, located in middle of city, was greatly damaged. The earthquake was reported on TV and many people in Kumamoto prefecture were in deep grief and commented on the castle.
If something like this happened to Osaka castle and if it was damaged, Osaka people would react the same. Osaka castle has no become engulfed by the growing city and people in Osaka don't usually pay much attention to its existence but deep down, they know that the castle is their pride and joy, a significant symbol of Osaka. This is Osaka castle.
Beautiful Mizukagami (The water mirror), the engraved seal on the stone wall of the castle, and tragic traces of aerial bombing which we must not forget about…I will show you how Osaka castle has many stories to tell from different areas of history.
1. 4-chome Tanimachi along the Tanimachi Subway Line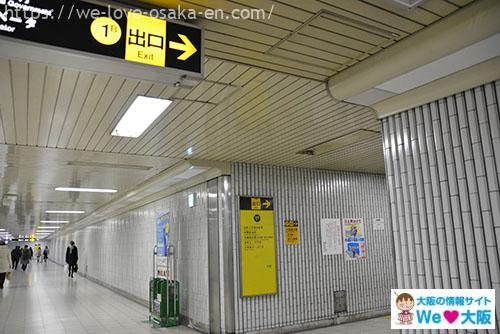 There are several different ways to get to Osaka castle, but this time I choose to introduce the way of walking to east direction from Tanimachi 4-chome station of subway Tanimachi line and enter Osaka castle from the main entrance.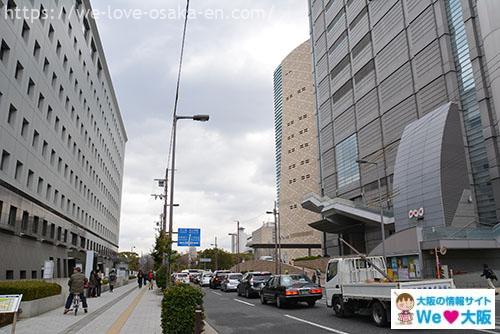 On the way to Osaka castle from the station, you will see Osaka NHK broadcasting station on the south side, and on the north side, you will see Osaka Prefectural Police station. Moreover, on the north side of the police station, there is the Osaka Prefectural government building. You will notice that this area is the center of Osaka.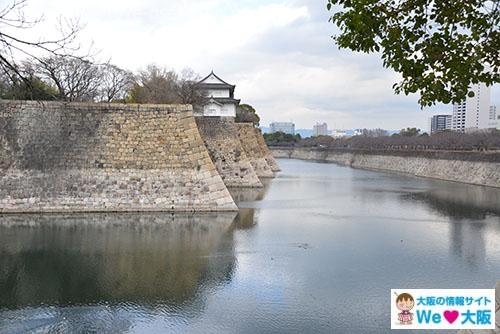 After crossing the Uemachi Highway to the east direction, you will see the west outer moat of the castle and get to the castle tower.
Osaka castle was constructed over a period of 3 years by Toyotomi Hideyoshi from 1583 (Tensho 11) on the former site of the Ishiyama Honganji Temple, and it was burned to the ground during a battle in 1615 (Gennagannen). The castle building was reconstructed during the Tokugawa Shogunate but destroyed again in 1868(Miji Gannen).It was not reconstructed until 1931 (Showa 6) that the present castle tower was built and major repair work was  carried out for 3 years from 1995 (Heisei 7).
As being one of the most important cultural properties was built in the Edo period, Osaka Castle tower is popular among people as a city oasis park, as it is surrounded by nature like Ume Grove and Nishinomaru Garden. It is visited by people especially who enjoys jogging and walking.
The outer circumference of the park is 4.2km in distance, and there are three different courses set up offering the perfect places to exercise.
2.Otemon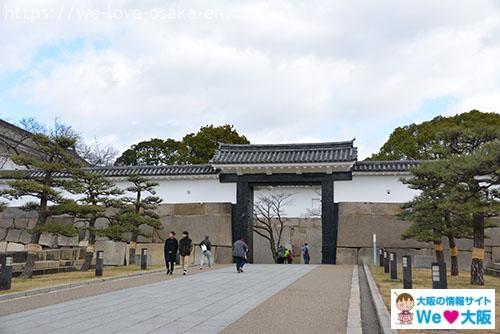 The first thing that you will see is Otemon, the main gate of Osaka Castle, one of the nations important cultural properties,.
It was reconstructed by Tokugawa Shogunate in 1628 (Kanei 5), and was restored at the end of Tokugawa government period, and finally, entirely dismantled and repaired in 1956 (Showa 31). Just looking at this substantial building, you can imagine the intimidating air that used to drive enemies away in Warring States period.
3.Tamonyagura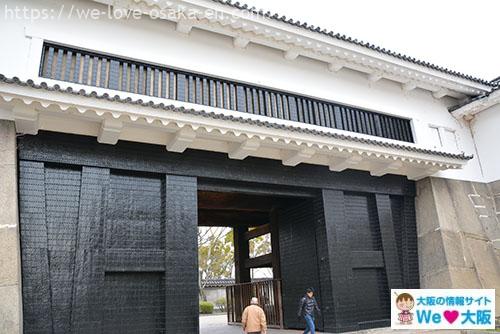 Next is Tamonyagura. This is also designated as an important national cultural property.
It was built in 1628 (Kan-Ei 5) and was destroyed by lightning in 1783 (Tenmei 3), and later again reconstructed in 1848 (Kaeigannen).Finally it was dismantled and repaired entirely in 1956 (Showa 31). All other Yagura (Turrets) were burnt down, therefore this is the only Yagura left here.
You can see some other Yagura at different castles in different places in Japan, but this existing Tamonyagura in Osaka Castle, at a height of 14.7 meters, is the most picturesque in regards its scale and its size.
4.Nishinomaru Garden
There is a place called Nishinomaru Garden on the way to the Castle. It was said that this place used to be the residence of Kitanomandokoro, who was the lawful wife of Toyotomi Hideyoshi. In 1965, it became a lawn garden of 64000㎡ size, and was opened as a charged admission park. It became a popular viewing spot from where you can also see the Castle and stone fence. Moreover, in Spring, people are attracted by the over 300 Sakura trees, with Someiyoshino flowers, who's bloom provides the perfect setting for Sakura season.
Also this place is often used as space for different kinds of event, for example, in 2017, when I visited they were using 3D Projection Mapping to cover the castle with the motif of 'Sanadamaru', an NHK long-running drama.
5.Houkoku Shrine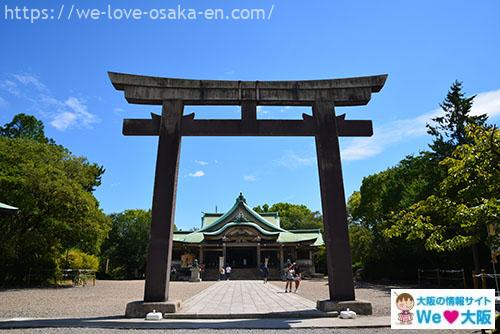 As you proceed, you can see the castle tower across the inner moat. Houkoku Shrine is the place where I want you to visit before entering the inner keep of the castle tower.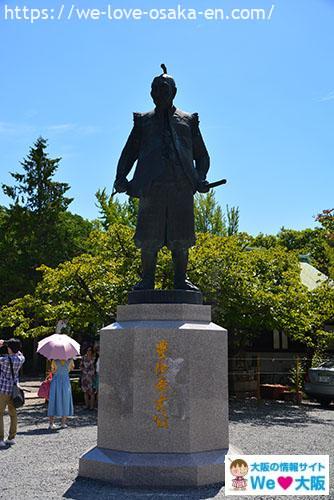 After you go through the Torii, you will see an impressive Statue of Toyotomi Hideyoshi. In this Shrine, the main Deities are Toyotomi Hideyoshi, Toyotomi Hodeyori and Toyotomi Hidenaga
It was established separately from Toyokuni Shrine in Kyoto in 1879 (Meiji 12). When it was established, it was enshrined at Nakanoshima in Osaka, and after repeat relocations, it ended up to be enshrined here at Osaka Castle in 1961 (Showa 36). Every Year of August 18th, the "Taiko Festival" will be held as memorial service of Toyotomi Hideyoshi who passed away on that day.
6.Sakuramon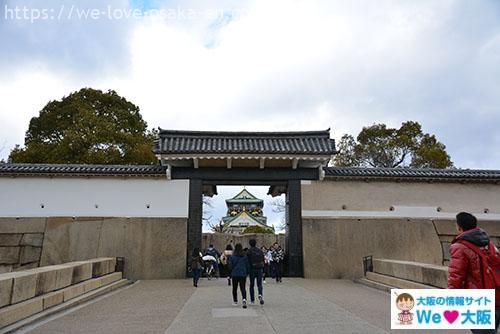 Across the Shrine, you will see Sakura Gate which is a main entrance to the inner keep of the castle. This is also designated as an important cultural property.
The Sakura gate is the main entrance, and you can see the castle tower with the gate as a framed picture. In Toyotomi era, there were stunning cherry blossom trees; therefore it is said that they named this gate as Sakura Gate.
7.Megalith~Takoishi~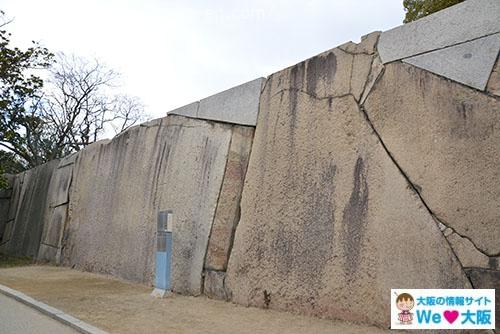 As you pass through Sakuramon, you will see the biggest Megalith named Takoishi (Octopus Stone) inside of the castle. As for its size, it is estimated to be about 5.5m in height, about 11.7m in width. Its area covers 36 Tatami mats and its weight is about 130 tons.
It is named as 'Octopus Stone' because there is brown colored octopus shaped stain on the left side of stone`s surface.
8.Japanese Garden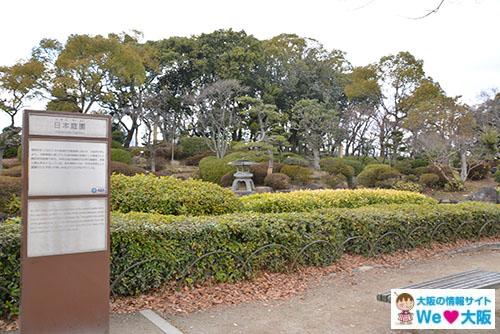 Along with reconstruction of Osaka Castle in 1931 (Showa 6), the garden of Kishu Goten that was built in the east side at the time was repaired as a pure Japanese garden by Osaka municipal authorities. Some people do bird watching here too.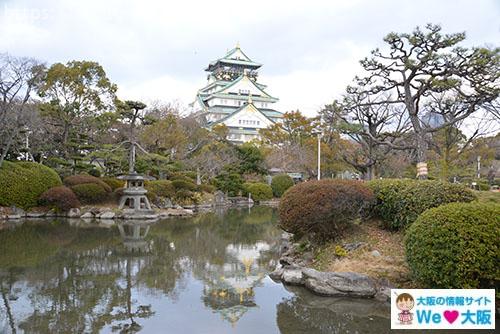 There is a pond in the center of the Garden and from the south side of the pond you can see the castle tower is reflected in the water. It is an upside down Osaka castle.
It is time to visit Castle tower next!
9.Castle tower of Osaka Castle.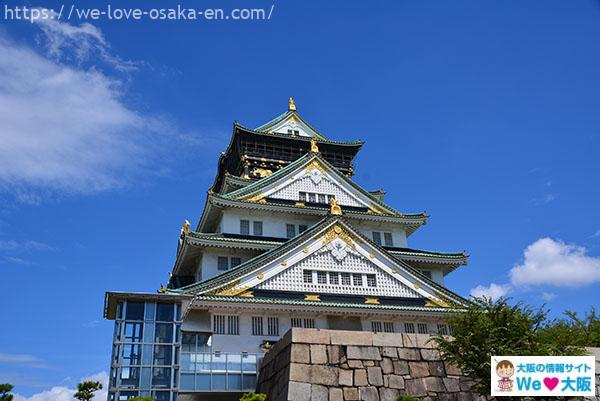 Eventually you will see the commanding presence of Castle tower. At the public square in front of Castle tower, you can see the tower very closely.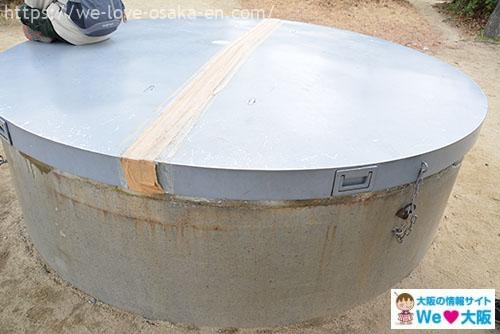 Osaka Castle, built by Toyotomi Hideyoshi, was felled during the Summer battle in Osaka in 1615, and now everything has been buried under the ground. There seems to be a stone wall from Toyotomi era under this a water well-shaped manhole.
There is Osaka Castle Toyotomi Stone wall disclosure project and it is concerned with revealing Toyotomi stone-wall activities.
All the stone wall and moat that you have seen so far were built in Tokugawa era. As for this Castle tower, it took 3years from 1928 to be rebuilt.It was started from first generation of Toyotomi Hideyoshi era, second generation of Tokugawa era and finally now is third generation.
Moreover, from 1995 (Heisei 7) there was "Heisei fundamental reconstruction" of the castle tower.
Reborn as an earthquake resistant and a high durability historic structure, it was designated as registered tangible cultural property in 1997. Castle tower is also reborn as historical museum since the time of reconstruction in Showa era, and it offers facilities where you can study many historical materials.
10.Let`s go up the Castle tower.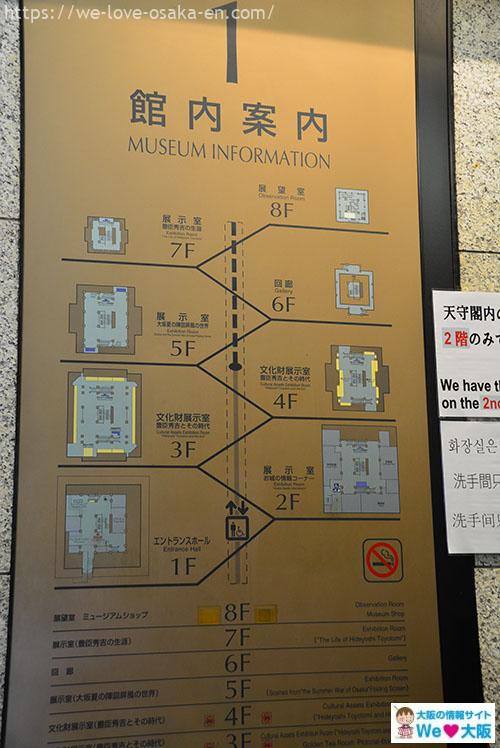 Castle tower has 8 floors and the 8th floor is the viewing platform. An elevator is installed in this castle tower so that visitors who are in wheelchairs and the elderly feel easier to visit
On the first floor, there is a theater room where you can watch 5 different types of images depicting the lifetime of Toyotomi Hideyoshi who built Osaka castle and achieved unification of the whole country. These images are displayed with Japanese, English, Chinese and Korean subtitles.
On the second floor, there is an exhibition panel displaying the basic knowledge of Osaka castle, and for deeper understanding, they exhibit full-sized replica of plastic arts such as killer whale and tigers embellishing the Castle tower.
On the third floor, there are reference materials noted in connection of Toyotomi Hideyoshi and Osaka castle. A replica golden tea room is the masterpiece of all here that was made by Hideyoshi. It is absolutely worth to visit. Also, there are Honmaru (the keep) displayed as miniature models, from each Toyotomi and Tokugawa era. You would forget the time if you study them comparing ones with the other.
They change the exhibits every two months on the fourth floor, but exhibits mainly focus on the materials of Warring States period where Toyotomi Hodeyoshi fought.
On the fifth floor, they exhibit miniature plastic models and folding screen to display the Summer battle in Osaka which is the last battle of Toyotomi era at Osaka Castle. From the miniature model, you can see the fierce battle between Sanada Yukimura and Matsudaira Tadayasu corps is reproduced in a very real way.
In addition, the panoramic vision is set up here to fully understand the history of Osaka Natsu Battle which was displayed in the folding screen. It is displayed with four languages of Japanese, English, Chinese and Korean.
n the seventh floor, a diorama of Toyotomi Hideyoshi`s life time is shown, furthermore, it explains easy-to-understand way Hideyoshi`s living history as a historical fact and the true story of Taikoki.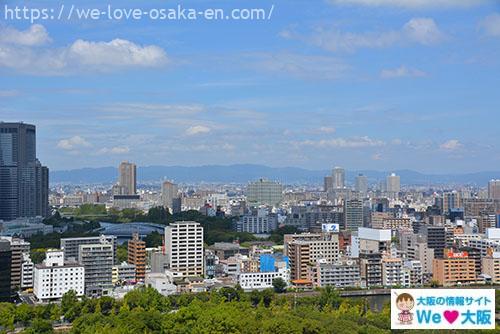 Finally, on the eighth floor, there is the observatory which is 50 meters above the ground and from where you can see Osaka castle and Osaka town.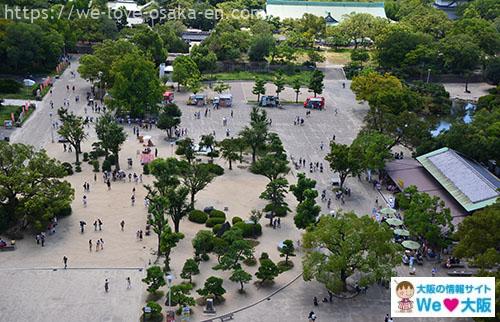 You would feel the same way that Hideyoshi felt when he was seeing the Osaka town from here. The funny thing is that you can see the gold killer whale embellishing in the Osaka Castle. People who are in wheelchair are able to come out to observatory. Moreover there is stereoscope of Naniwa scenery that can show you old days of Osaka.
11.Hidden Kuruwa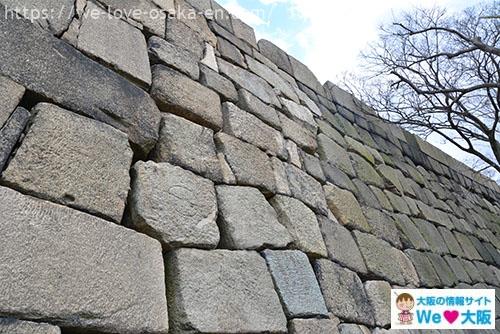 If you go to left side after passing through Yamazato-guchi-demasugata, you will see hidden compound (kuruwa). It's entrance is very small, and most people will pass by it. It is an only linear compound built in inner keep of the castle; it was reconstructed in Edo government era.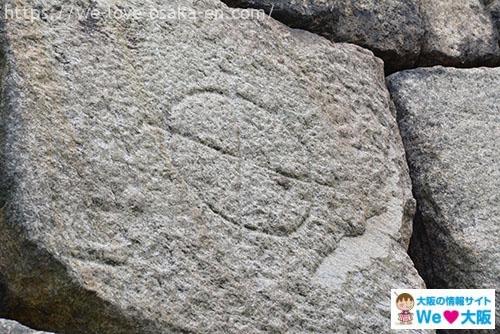 You can see engraved seals very closely of Iyo Ozu-clan (a cross in side of circle), Tanba-Sonobe clan and Tajima-Izushi clan (Japanese character of eight under two inside circle), who were in charge of building stone fences.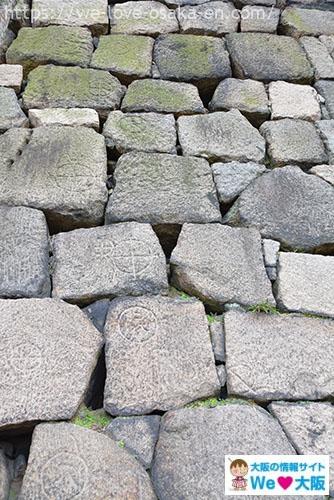 You can see engraved seals were lined up near the center.
12.Marked Stone Square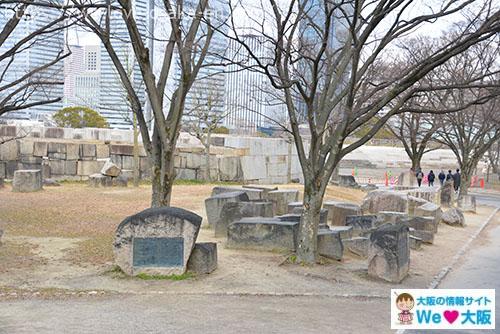 In this marked stone square, you can see many different engraved seals on the stones such as seals of crests of daimyo, and marks indicating origin places of the stones, and also names of magistrates of history.
13.Strafe traces of Yamazato Maru Stone fence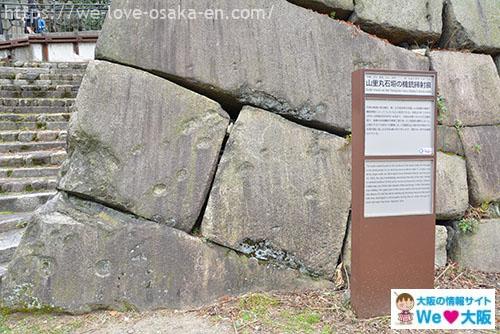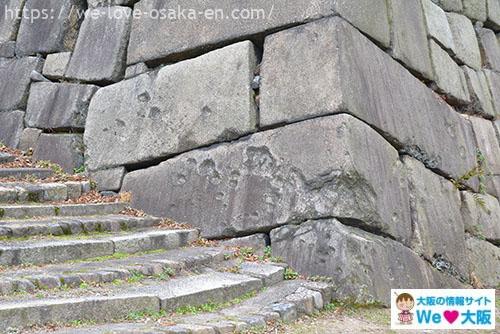 From the Explanation written on the signboard;
The damage left on the surfaces of stone fences are traces of the air-raids at the end of Second World War, presumed to be caused by strafe. From March to 14th August of 1945 (Showa 20), Osaka was subjected to 8 times of air-raid attacks, at then, Osaka Castle where the military central organization and war plant were located also became the target of this war. In Yamazato Maru, the upper part of the stone fence, located in south, was blown away by bomb attacks and the North side of inner moat which is facing the Stone fence was also damaged in several places. Both have been restored.
Such explanation above is written on the board, but there is not enough evidence to assume that damages of both Castle Tower and stone fence were also caused by air-raid at the time.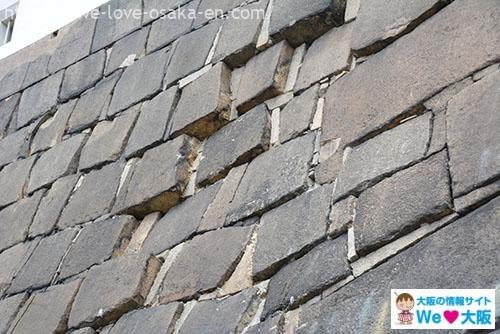 14.Places where Hideyori Toyotomi and Yodo-dono committed suicide.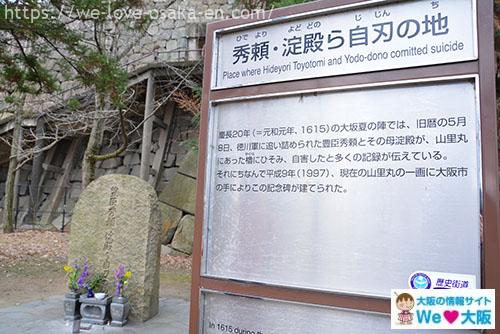 The last place I want you to visit is the North side of Castle tower where Hideyori and Yodo-dono committed suicide. They were cornered by the Tokugawa army so Hideyori Toyotomi and his mother Yodo-dono hid themselves in the turret that was in Yamazatomaru and eventually committed suicide. The stone monument was placed in here Yamazatomaru in 1934 (Showa 9).
Summary
Osaka Castle used to be thought of  as an impregnable castle, but it was finally defeated by Tokugawa troops. Do not forget that people in Warring States period fought fiercely to protect Osaka and its castle… And by handing down this sad history from generation to generation…Osaka people might still love and be very proud of Osaka Castle. Besides what I have introduced in this article, there are still many ancient remnants which are telling the history at the time. Please visit Osaka Castle where you can time travel to Warring States period.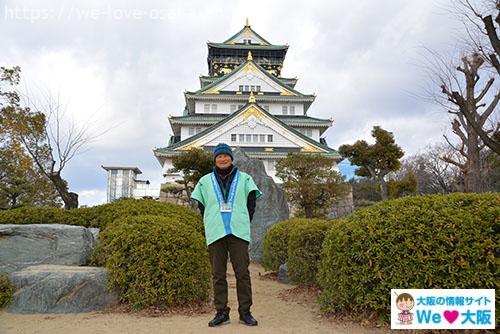 This time I had all this historical study explained from a guide who is working in Osaka Castle as volunteer guide. Thank you very much. You can meet these volunteer guides in many places in Osaka Castle. I hope you can find one to have further knowledge about the history that you want to know. You will find new discovery from the history.
Access
■Osaka Castle
address:〒540-0002  1-1 Osakajo1-1, Chuo-ku, Osaka
Tell: 0081-6-6941-3044
Openning hours: 9:00-17:00
http://www.osakacastle.net/
■Osaka Park Center
address:〒540-0002  3-11 Osakajo1-1, Chuo-ku, Osaka
Tell:0081-6-6755-4146
Inquiries:9:00-17:30
http://osakacastlepark.jp/
Related article
On New Year's Eve, people acro……

2022.09.26

If you ask most people in Osak……

2022.09.05

Osaka has two main downtown ar……

2022.09.04
Introduction of writer

Kinta
I am doing video production and event production for 30 years in Osaka. I love okonomiyaki! I will introduce the unknown secret of Osaka.
Instagram
#ういらぶ大阪
  Please introduce your "we love Osaka" (Only gourmet of Osaka and spot of Osaka)