Minoh Otaki, the best waterfall in Osaka
Minoh Otaki, the best waterfall in Osaka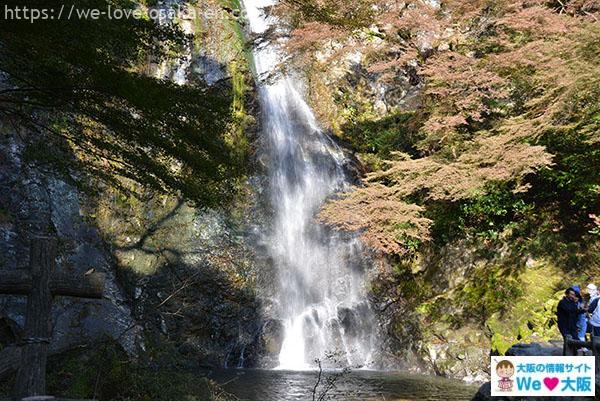 Osaka is well-known for its rich culture, delicious foods, and exciting nightlife. But as Japan's third most populous city, it can also feel extremely crowded, especially on the weekends.
If you need an escape from the packed streets and shops of downtown Osaka, why not visit Minoh Otaki? In less than 30 minutes, you can go from crowded downtown Umeda to the pristine natural beauty of Minoh Park.
Minoh Park is located just north of central Osaka, in the quiet residential city of Minoh (pronounced ME KNOW). Designated a National Park in 1967, the forested area's main attraction is a 33-meter-tall waterfall known as Minoh Otaki, or Minoh Waterfall.
This area is a popular spot in Kansai to enjoy fall foliage, known as Momiji in Japanese. The autumn colors usually peak towards the second half of November.
The hiking trail from Minoh Station to Minoh Otaki is a gently sloping paved road about 2.7 km long, and takes about 45 minutes to walk.
On the right side runs the gently gurgling Minoh River, while the left side is dotted with traditional style Japanese houses.
Although it gets quite hot in the summer months, buildings and trees provide plenty of shade along the path.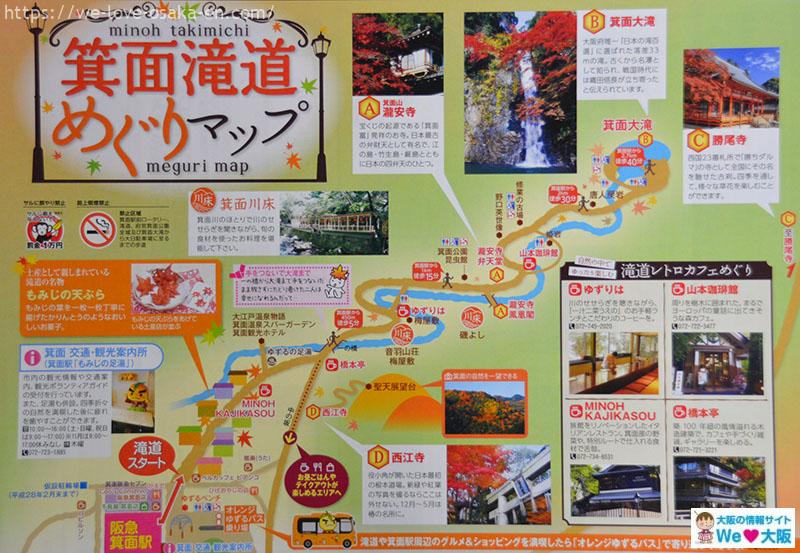 Above is a map of the hiking trail, called Taki-michi.
1.Hankyu Minoh Station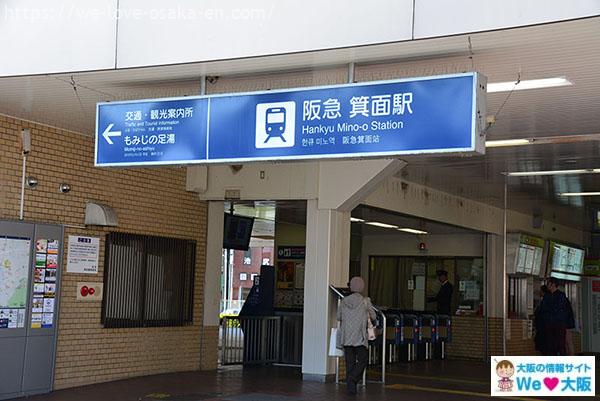 To get to Minoh Station, take the Hankyu Takarazuka Line from Hankyu Umeda Station to Ishibashi handai-mae Station. Then transfer to the Hankyu-Minoh Line to Minoh Station. A one-way ticket costs 270 yen and will take about 25 minutes.
2.Maple Tempura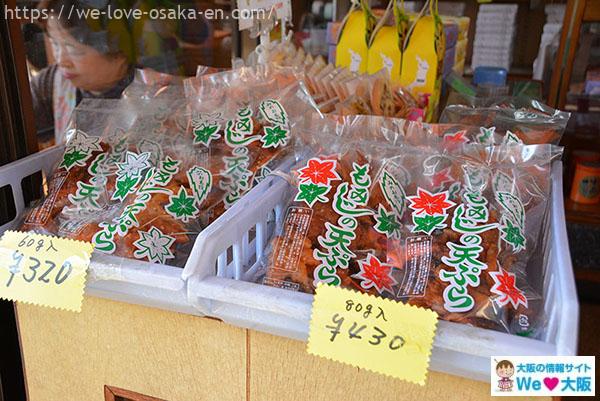 After exiting Minoh Station and starting along the trail, you will immediately see souvenir shops along both sides of the road.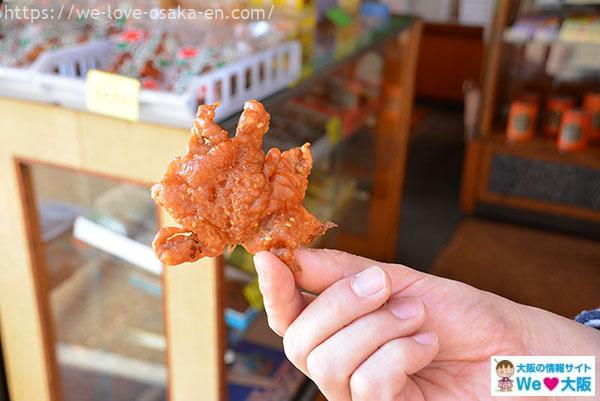 Their signature snack is deep-fried maple leaves, or Momiji Tempura. They are salted for one year, coated in a batter with flour, white sesame, and sugar, and then fried in rapeseed oil. They are slightly sweet and really crunchy!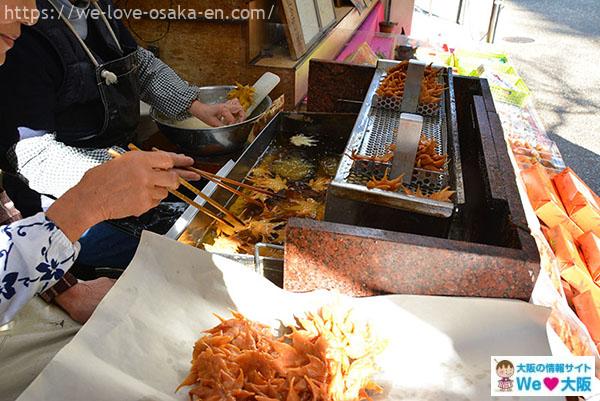 1,300 years ago, monks practicing their austerities at Minoh Mountain praised the beauty of the maple leaves around the waterfall and tried making tempura.
These maple tempura are not as delicious if they are kept for long, so the ones you see lined up at the shops are made fresh that day. Hiking while enjoying fresh Maple Tempura is the best way to enjoy Minoh Waterfall.
3.Minoh River and Hashimoto-tei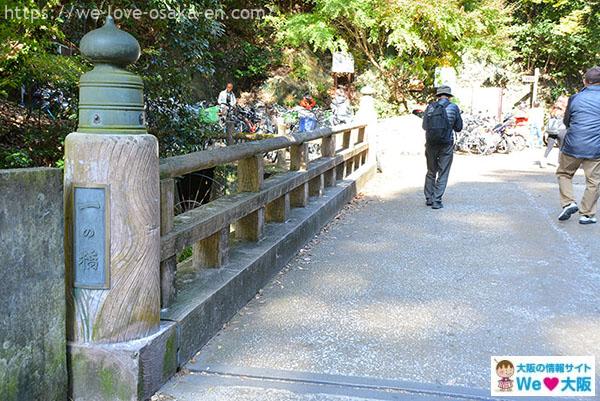 After passing the souvenir shops, you can see the Mino river babbling gently. The bridge over the Mino river is called Ichinohashi.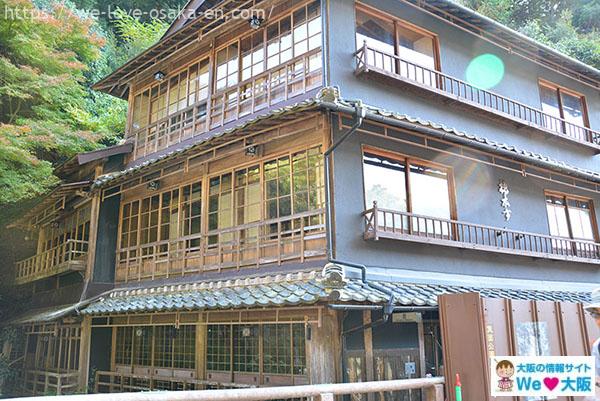 At the foot of Ichinobashi Bridge, there is an old renovated building called "Hashimoto-tei. The inn was built in 1908 and closed down, but was reopened in November 2004 as a town development center.
Hashimoto-tei has a cafe-restaurant and gallery on the first floor, rental rooms on the second floor, and is attracting attention as a new tourist spot in Minoh. Visitors can easily drop in before or after hiking to Minoh Waterfall.
Ghibli fans might say it resembles the bathhouse in "Spirited Away."
In January 2019, it was dismantled and removed due to a landslide on the hill behind it. However, there were many who wanted to see the symbolic Hashimoto Pavilion on Takido restored, so plans were made to build a new one! We are looking forward to the new Hashimoto-tei.
4.Shotengu Saikoji Temple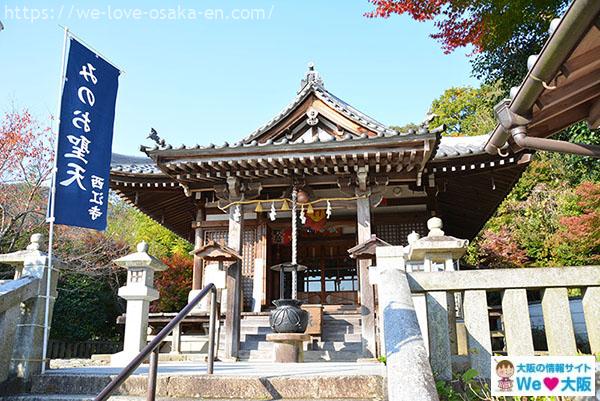 A little south of Hashimoto-tei, in the opposite direction from Minoh Otaki, you will find Shotengu Saikoji Temple. This area of Mt. Minoh has been a fundamental center of mountain worship since ancient times, and there are still temples with a long history here. One of these temples, Saikoji Temple, was established in 658 during the Asuka period (710-794) by En no Gyoja as a place to practice Buddhism.
In this temple, there is a legend called "Kesoufumi" (a love letter). The Kesoufumi sold in the temple is an omochidashi, a type of money order, and it is said that if you take it home, you will be blessed with a good marriage.
5.Taki-michi and Autumn leaves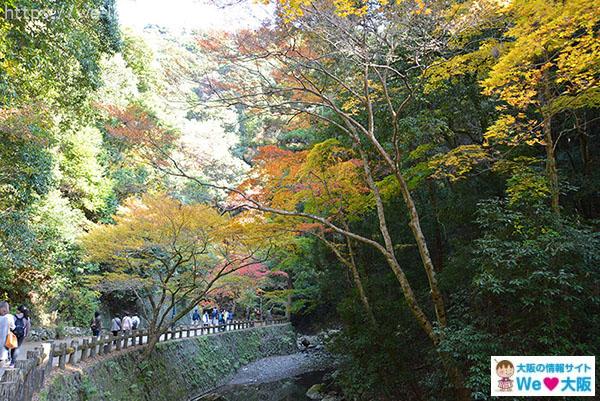 The path to the waterfall is nicely paved.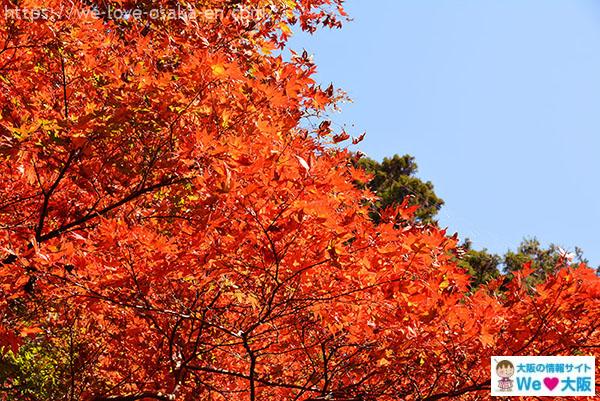 It was November 18, 2017, and the leaves were gradually changing colors. The maple and ginkgo trees in red and yellow were very beautiful.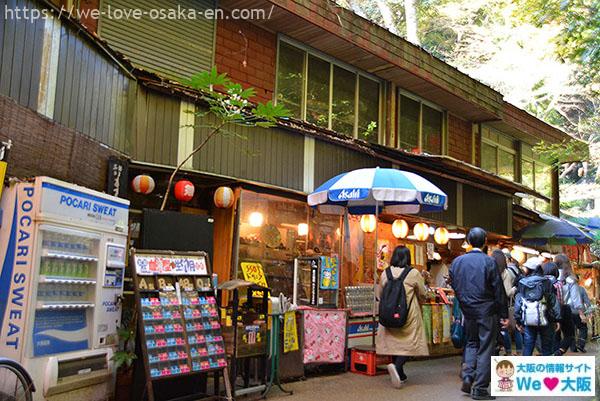 There are stores along the Taka-michi. You can take a break while heading to the waterfall.
6.Minoh Park Insect Museum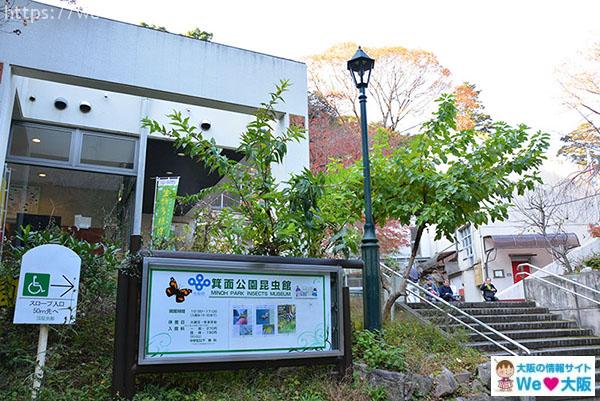 Minoo Park is known for being rich in nature and hosts more than 1,000 species of plants and 3,000 kinds of insects. If you're interested in learning more about all the different bugs that inhabit the area, visit the Minoo Park Insect Museum.
There are permanent and seasonal exhibitions, and the facility also houses a butterfly garden with both local and foreign species.
Mino Park Insect Museum
Address:
2-5-27 Minoh, Minoh City, Osaka
TEL:
072-721-7967
Business Hours:
10:00~17:00 (Admission ends at 16:30)
Regular holidays:
Tuesdays (Wednesday if Tuesday is a holiday), New Year holidays
Admission Fee:
High school students and older: 270 yen per person
Junior high school students and younger: Free
Groups larger than 30: 190 yen per person
Persons with disabilities and their caregivers may enter free of charge
7.Ryuanji Temple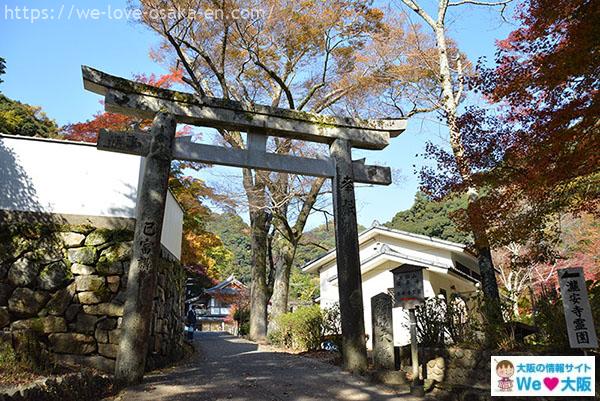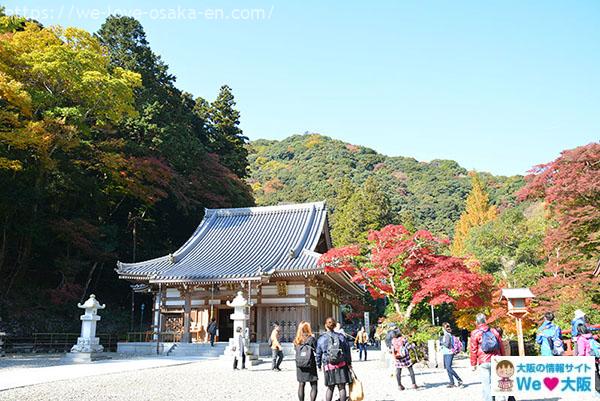 Continuing along the waterfall path, you will see a torii (gateway). This is the entrance to Ryuanji Temple. The temple is said to have been founded by En no Gyoja in 650 during the Asuka period (710-794), and even today it is one of the head Shugendo temples of mountain asceticism, so it attracts ascetic practitioners from all over the country.
The Benzaiten enshrined in the main hall is said to be the first and oldest in Japan. The temple is also known as the birthplace of the lottery (fukuji).
Minoh Ryuanji Temple
Address:
2−23 Minoh Park, Minoh City, Osaka
TEL:
072-721-3003
Business Hours:
9:00~17:00
8.Hideyo Noguchi Statue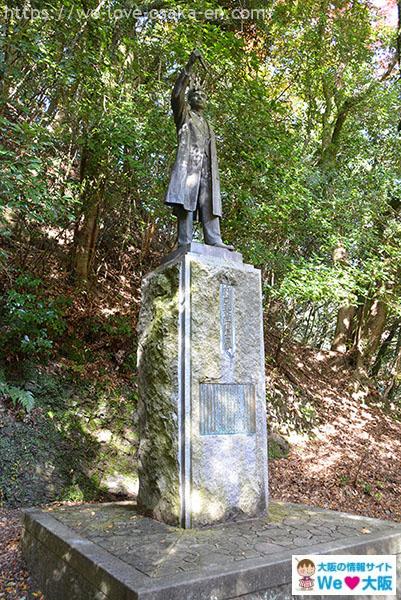 A little further down the waterfall path, there is a statue of a man with a beard on his face and his right hand raised. It is a bronze statue of Hideyo Noguchi, famous for his research on infectious diseases such as yellow fever.
What is Hideyo Noguchi's connection to Minoh? He temporarily returned to Japan after 15 years of study in the U.S. and stopped by Minoh with his mother, who was waiting for him, to comfort her in her old age.
At a welcome banquet held at a restaurant "Koto-no-ie" by the Taki-michi, Hideyo Noguchi's filial devotion to his elderly mother is said to have moved the guests to tears. The people of the restaurant and of Minoh, raised money and erected the monument in 1995 in honor of Hideyo Noguchi's great achievements and noble character during his lifetime.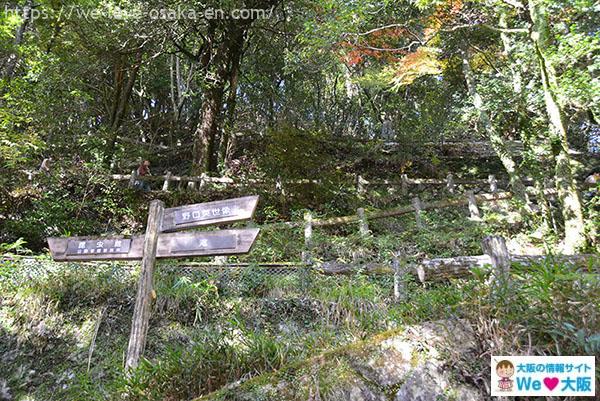 Climb the stairs built beside the waterfall path to find the statue. Don't miss it!
9.Toujin Modori Iwa – The Rock that Returns From the Dead
As you approach Minoh Waterfall, you will see two large rocks on the left side of the Taka-michi. Legend has it that long ago, during the Tang Dynasty in China, a messenger heard of Minoh Waterfall and rode in a palanquin to this huge rock, but was frightened by the steep mountain path and turned back. Since then, the rock is said to have been named Tojin Modori Iwa (meaning "the rock that returns from the dead").
When you see it up close, you will be amazed at its size! Maybe the legend is true after all!
10.Minoh Falls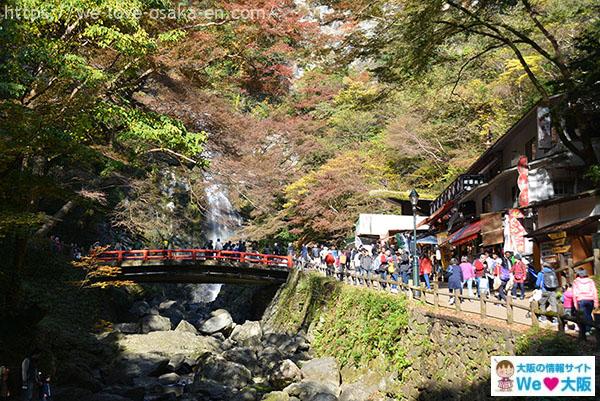 As you pass by Tojin Modori Iwa, you can faintly hear the sound of cascading waterfalls. You have arrived at Minoh Otaki, one of the top 100 waterfalls in Japan.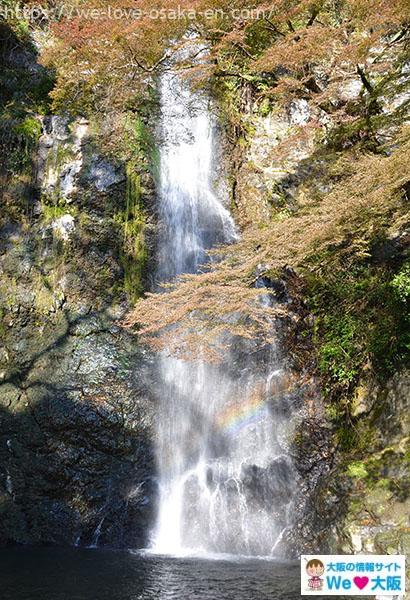 The waterfall has a 33-meter drop, and the sight of the water crashing down into the pool below is very soothing.
The name "Minoh" comes from the fact that the falling water resembles  a farming tool, which is also called a "minoh."
The area surrounding Minoh Falls is a beautiful natural setting, and is popular for its vibrant green maple leaves in spring, cool spots in summer, blazing red autumn leaves in fall, and snow-covered waterfalls in winter. The natural scenery of each of the four seasons beautifully complements Minoh Falls.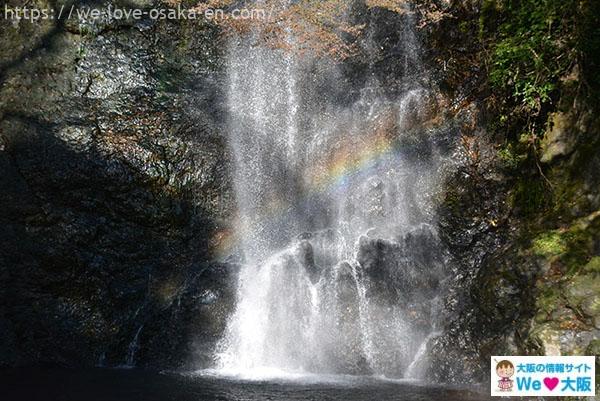 On sunny days, you can even see a rainbow over the falls. Enjoy the healing power of the forest and the negative ions of the rushing water.
From Hankyu Minoh Station, it takes about 40 minutes to reach Minoh Otaki at a leisurely pace. However, it could take a whole day if you take your time to enjoy the natural scenery and want to see the many spots along the way. There are many hot springs and lodging facilities in the area.
12.Minoh Otaki Access Map
Related article
On New Year's Eve, people acro……

2022.09.26

If you ask most people in Osak……

2022.09.05

Osaka has two main downtown ar……

2022.09.04
Introduction of writer

Kinta
I am doing video production and event production for 30 years in Osaka. I love okonomiyaki! I will introduce the unknown secret of Osaka.
Instagram
#ういらぶ大阪
  Please introduce your "we love Osaka" (Only gourmet of Osaka and spot of Osaka)