【Menkoubou Sanku】Popular in Fukushima, Osaka ramen selection district! Seafood system that can be queued
【Menkoubou Sanku】Popular in Fukushima, Osaka ramen selection district! Seafood system that can be queued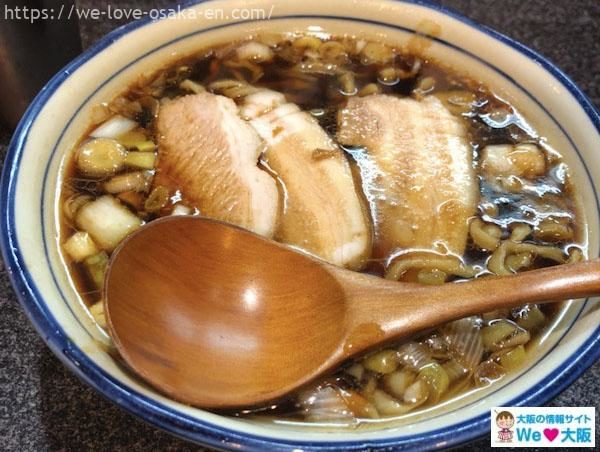 Osaka Fukushima is famous for a hotspot for ramen.
Because I wanted to know which ramen restaurant is the best one around here, so I, a woman who eats more than 100 bowls of ramen a year, went on a walk-and-eat tour here to research. I have decided to post a series of articles about ramen, because I believe it is a must to write an article for a restaurant! It is me who is most pleased about this news, because I can just eat ramen as much as I want….
The first one of this series introduces this restaurant called"烈志笑魚油 麺香房 三く(Resshishouyu Menkoubou Sanku) ."
I wonder what kind of ramen is waiting for me…? Let's start the tour!
Also check out those articles "Natsu's Ramen Report" as well.
1.Resshishouyu Menkoubou Sanku, Ramen restaurant that makes you absolutely amazed
At first I didn't know how to read the Chinese characters…but anyway, they must have the perfect ramen with seafood and oil.
I left Tokyo at 8 p.m., and I arrived at 10 p.m. in Osaka. I was tempted to eat something on Shinkansen, but I did not cave in so that I can enjoy the ramen!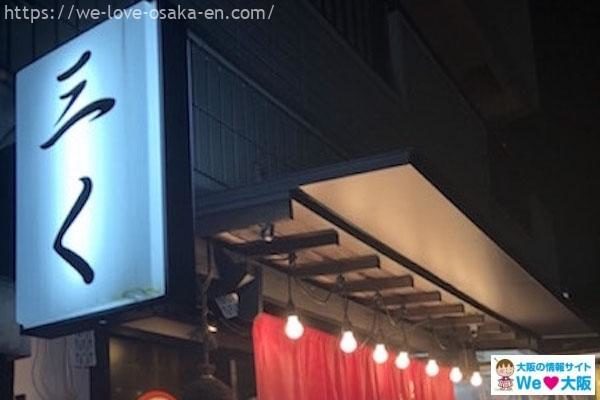 You can find the red shop curtain just five minutes on foot from Fukushima Station on JR Osaka Loop line and Shin Fukushima Station on JR Tozai line. This area is always filled with students all day, but there are few ramen restaurants open until late at night.
I could smell the seafood ramen when I turned at the corner of Naniwasuji Line. I bet many people came to this restaurant following the smell!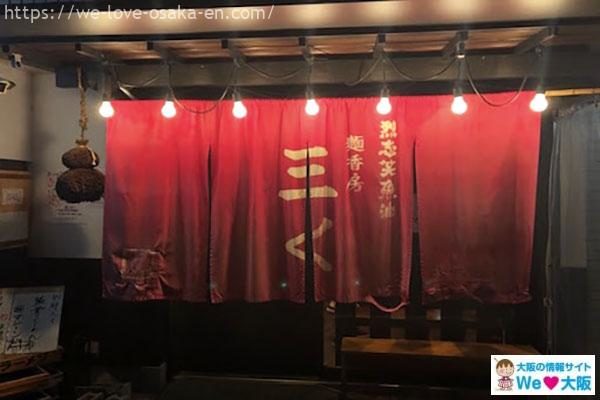 I like the antique look of this restaurant. In Tokyo, this kind of restaurant would be traditional one in downtown.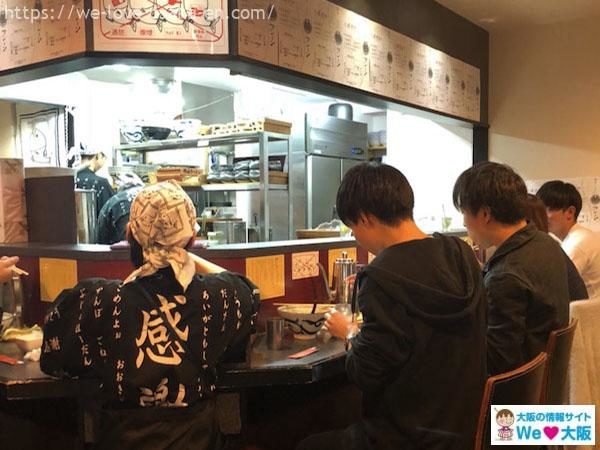 Let's get right into the restaurant! It is hard to tell from this picture, but there are fifteen counter seats and they were all occupied even though it is pretty late at night. I even saw five people waiting. At this kind of popular ramen restaurant, I cannot leave without eating the most popular ramen.
I researched on the Internet, and it said they have "Otoshitsubo Ramen," but they only serve ten bowls a day. Of course I could not eat this one this late at night, so I ordered Kurotsubo Ramen and Kake Ramen. Surprised to hear I eat two bowls? A piece of cake for me, because I just love ramen!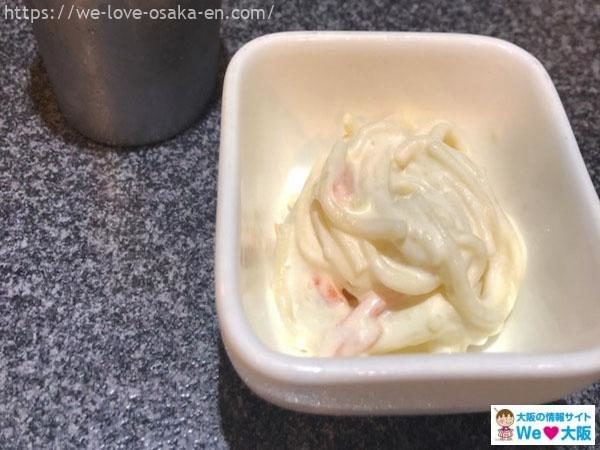 This one is the appetizer. Like they know my taste. Salad ramen before ramen (I'm not really sure if it is ramen or pasta, though). I just loved this, and this appetizer made me even hungrier!
2.Kurotsubo Ramen with umami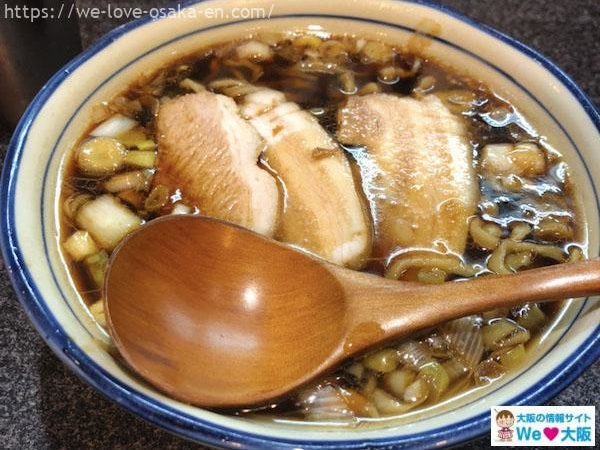 The ramen was served in less than 10 minutes. This is one of the recommended ramen here at Menkoubou Sanku, Kurotsubo Ramen (kuro means black).
It IS black! By the way, the person sitting next to me was eating Shirotsubo Ramen (shiro means white), but it was not white so much as transparent.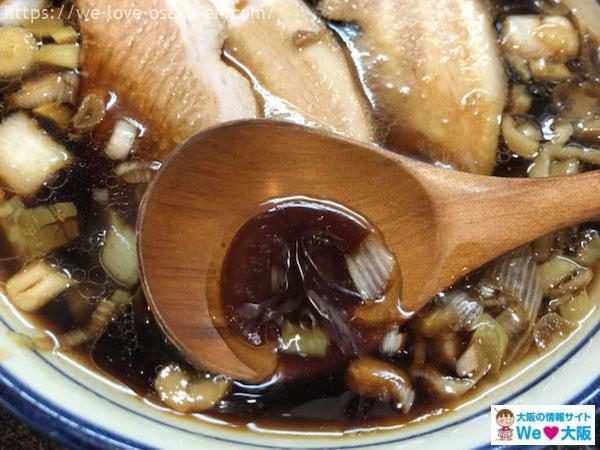 I first had the soup.
I loved the balance between the soup and the oil. It cannot taste bad. Even the smell of the  soy sauce goes well with rice.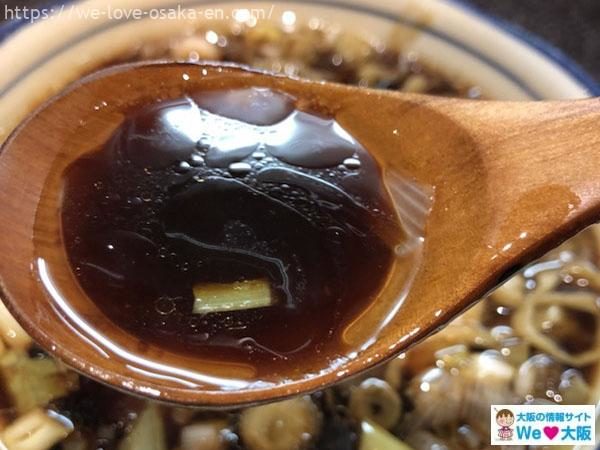 I had the soup…
What the heck, this is not just a simple say sauce ramen…
The umami and the rich flavor stay on my tongue, and drives me to eat more. The rich flavor is kind of oily at first but you cannot get tired of it. The flavor and umami come after this very unusual feeling. This is so good that you are even moved. I could not help but ask the staff here, "is the soy sauce used in this ramen a simply one?"
I regretted asking this question, probably I should have kept the mystery behind this soup secret. Plus this kind of popular restaurant does not use ordinary soy sauce.
I thought asking this kind of question makes the staff angry and they would not answer it.
The staff then said, "That, I soak the beans in dark soy sauce and tamari soy sauce."
For a moment I could not believe they answered the question without any problem.
I understand the umami peculiar to this ramen comes from this! I thank them for kindly answering my question.
But, if the soup and the noodles do not go well with each other, the ramen would not be on my ranking of my favorite ramen. I will strictly check if the ramen is really good or not.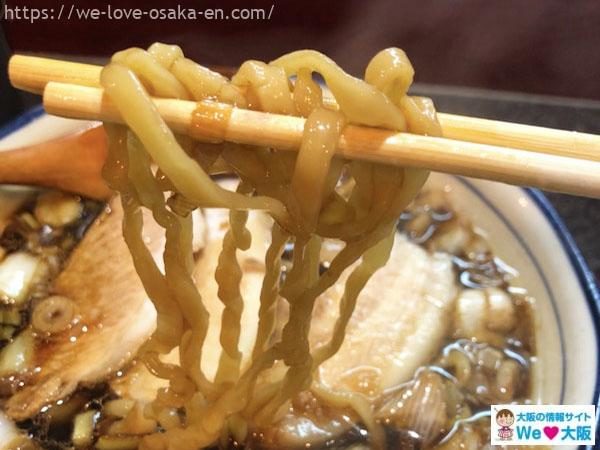 Look at these middle thick curly noodles. I can't wait to eat.
…How chewy are the noodles!
The surface of the noodles is very smooth, and it is easy to suck in but the chewiness is just amazing. You will not forget the taste because the noodles are well coated with soup. I forgot the fact that I had to write about the taste, and kept eating. Halfway through, A post on the wall caught my sight.
It says "the spice of Sanku is Shichimi (seven flavor chili pepper), if you want, don't hesitate to ask for one."
What is this?
I first hesitated to say but I asked for one.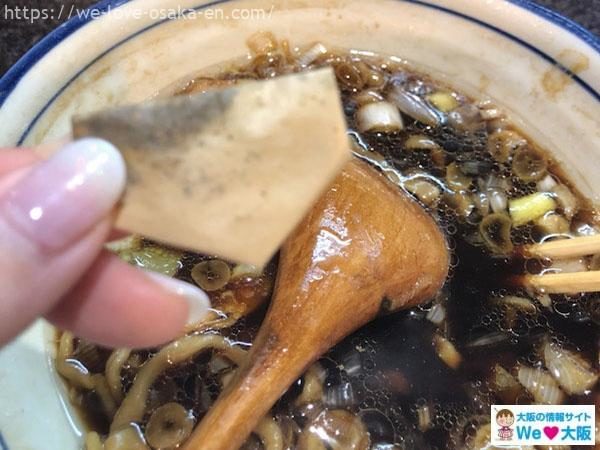 Here it is, this is the spice of Sanku.
It turns out that this shop called "Yamatsu Tsujita" mixed seven ingredients in perfect balance. I put it in the soup.
Ah, the flavor of the ramen changed. By putting this when you are almost finished, you never get sick of the taste. Everything is calculated. You rarely find a ramen restaurant which puts a lot of thought into one bowl of ramen. This makes me want to eat the next ramen!
"Excuse me, can I have Kake ramen?"
3.Kakeramen which make the most of the full flavor of each ingredient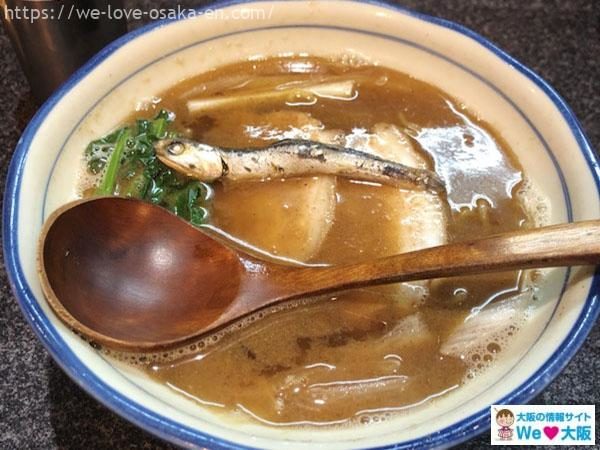 It is totally reasonable that you are surprised. A girl is eating two bowls of ramen alone at 10 p.m. Students around me looked at me curiously. I wish they had at least smiled at me…anyway, I kept eating.
This one is Kakeramen. I hardly ever see a dried sardine on ramen.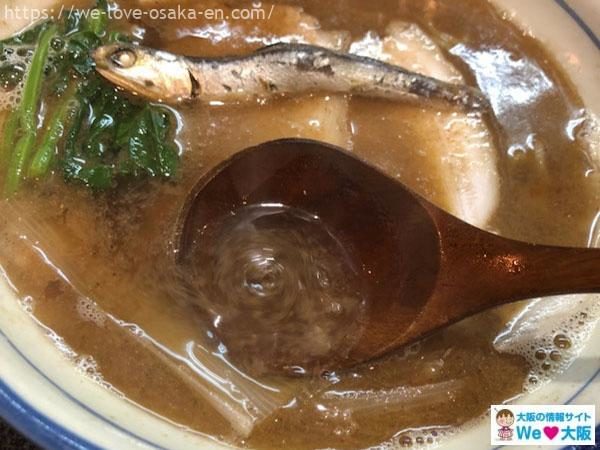 This looks less oily than the Kurotsubo ramen I just had.
I wonder why the surface of the soup is a bit shiny, maybe because of the umami oil in it? Fish meal is in the soup, and underneath it is transparent soy sauce soup.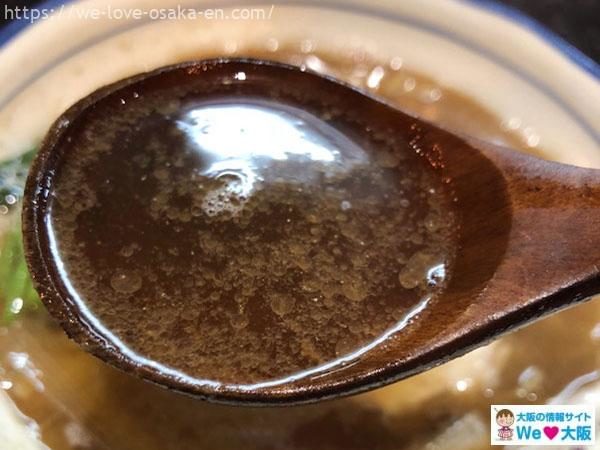 What does it taste like?
As soon as I had the soup, the umami of the dried sardine and bonito stock spread in my mouth, and the perfect balance of the ingredients was totally different from that of ordinary fish ramen. You will find such a good ramen only at very popular restaurants!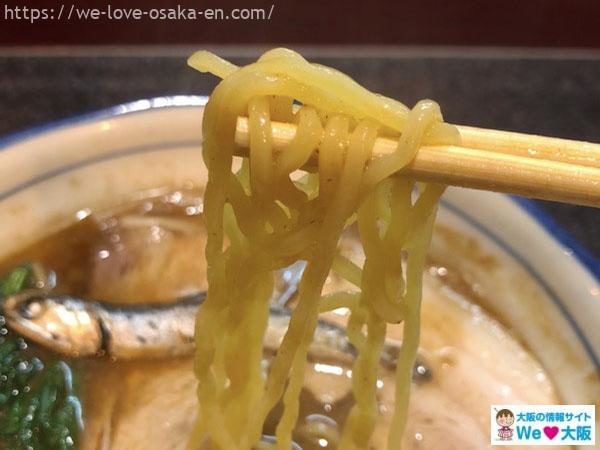 I was particularly surprised at the noodles.
The noodles in Kurotsubo ramen were flat, middle thick curly noodles but this ramen had thinner curly noodles. They use two kinds of noodles so that they can keep the sensitive balance between noodles and the soup. So let's have the noodles.
The noodles in this ramen were as chewy as those in the Kurotsubo ramen. The more you chew on it, the more flavors spread in your mouth, which makes you feel so happy. You might be interested in the dried sardine. I wonder what it tastes like.
The fish was an ordinary dried sardine. I am sorry but there was nothing special about it.
However, I was surprised when I broke up the fish meat and mix it with the soup. The flavor of the whole ramen completely changed, making the soup taste more like seafood and less heavy. Only those who had this ramen will know the combination of the flavor and the taste of the dried sardine and the noodles, which stimulates your appetite.
The soup was not heavy, so I finished up all the soup. This restaurant is definitely at the top of my list of ramen restaurants in Osaka even though this is the first place I visited. What if ramen restaurants in Osaka were all this good? I am such a happy person to worry about this…
A little bit after I finished the ramen, I looked around in the restaurant, and I found a happi coat that says "thank you." It is me who need to thank them! A staff was kind enough to see me off outside the restaurant (I felt their appreciation).
I was able to have the "best" ramen, which was far better than I had expected. I wish I could have the ramen that they serve in a limited number, but I will have that one next time I come to Osaka. Thank you, Resshoushouyu Menkoubou Sanku!
When I was wandering thinking that I should do some research about ramen I will have beforehand and then actually have the ramen, I found a very attractive ramen restaurant.
Tsukemen Misawa: A soup of both pig head/seafood
I am so attracted!
But I am full today, so I will come here tomorrow at 11 a.m. when it opens, even though I have little time until I have to take a shinkansen back.
Look forward to the next article!
Name

:
Resshoushouyu Menkoubou Sanku
Address

:
AK Building 1st floor, 2-6-5 Fukushima, Fukushima Ward, Osaka City
TEL

:
06-6451-4115
Hours

:
11:39 a.m.~2:39 p.m., 6:39 p.m.~11:39 p.m.
Closed on Tuesdays (When it is a national holiday on a Tuesday, they are closed on the next day.)
Access
:3 minutes on foot from Shin Fukushima, JR Tozai line (Exit no.2), 5 minutes on foot from Fukushima on Osaka Loop line.
Related article
Hello everyone! I'm Natsu of ……

2020.03.24

Hello everyone. When I looked ……

2020.03.24

Hello everyone. I'm Natsu, th……

2020.03.23
Introduction of writer

NATSU
I love Ramen. I ate more than 100 cups of annual ramen in 47 prefectures a year. For delicious ramen,I go to anywhere in Japan. Recently I involved in production.
Instagram
#weloveOsaka
Please introduce your "we love Osaka" (Only gourmet of Osaka and spot of Osaka)