Ride the Hankai Railway (Chin-chin Densha) and visit historic landmarks in Osaka
Ride the Hankai Railway (Chin-chin Densha) and visit historic landmarks in Osaka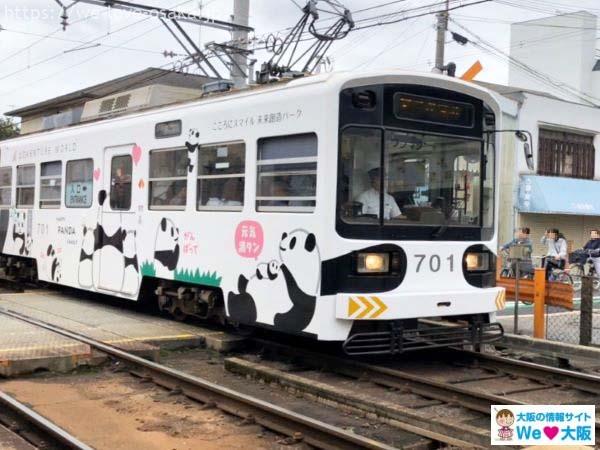 This time we will travel along a tour of the recommended lines of the Hankai Railway. Follow along my visit to the Showa-era retro townscape, scenery, history and culture by riding the Hankai Tramway, in Japanese, Chin-chin Densha, commonly known as Chin-den.
1. What is the Hankai Electric Railway (Chin-chin Densha)?
The Hankai Tramway (Chin-chin Densha) is the only streetcar in Osaka and runs through the city on two lines. One is the Hankai Line connecting Ebisucho Station, where Tsutenkaku Tower is located, to Abikomichi Station, and the other is the Uemachi Line connecting Tennoji Station, where Abeno Harukas and other landmarks are located, to Hamadera Station in Sakai City. Both lines connect the southern part of Osaka City to Sakai City.
This tram has been a town spectacle since it was first opened in 1911, and is known by the nickname Chin-den. In recent years, Hankai Railway has gained popularity with tourists and children, as well as the introduction of uniform fares for all sections.
Various types of trains are in operation, including advertising-painted cars, chartered cars, cute panda-patterned cars, and the latest cars that are flat and easy for the elderly and strollers to get on. Panda-patterned paint can be fun for small children.
I wondered if the panda from the Tennoji Zoo was depicted, but there are no pandas in the Tennoji Zoo!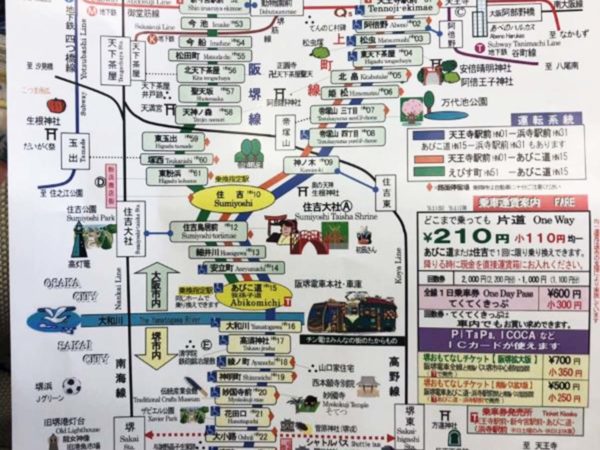 *Click on the photo to enlarge
This time I will ride from from Tennoji Ekimae Station to Hamadera Station. When I purchased an unlimited-ride ticket at the office, I received an informative Chin-den map that makes it easy to find the stops at a glance and also describes popular spots. In addition to the places I am planning to visit this time, there are other free spots and even the World Heritage Site of Emperor Nintoku's Mausoleum if you go a little further.
We recommend a plan that does not involve going back and forth, so you can do plenty of sightseeing without wasting time.
This time I took my wife and child (with a stroller, of course!) on a one-day tour. If you want to spend more time sightseeing, I recommend you to stay at a hotel in the Abeno area and do the Chin-den tour in two days and one night.
2. Recommended sightseeing along the Hankai Railway line
Let's take a ride from Tennoji Ekimae Station and take a look at some of the recommended sightseeing spots along the line.
2-1. Seimei Shrine: Higashi-Tengachaya Station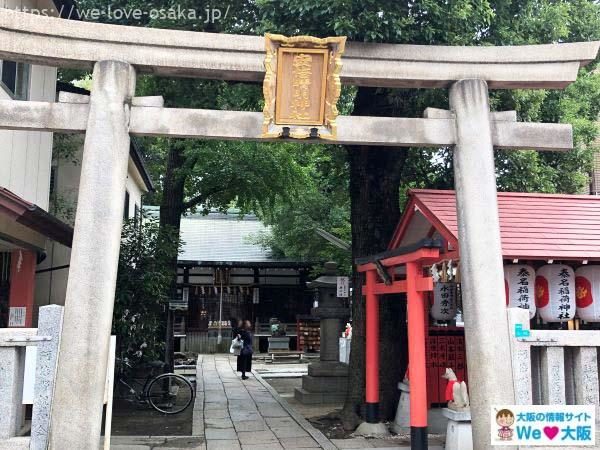 The first stop is Higashi-Tengachaya Station. Here you can check out Seimei Shrine, the birthplace of Abe no Seimei, the famous Yin-Yang master! As a Yin-Yang lover, this is not to be missed!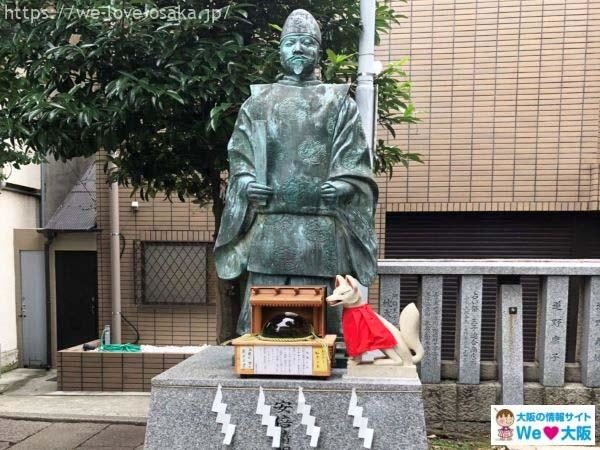 Abe Seimei is on the shrine grounds. He looks so dignified! At the feet of Abe Seimi, there is a "Osasuri Wisdom Ball"…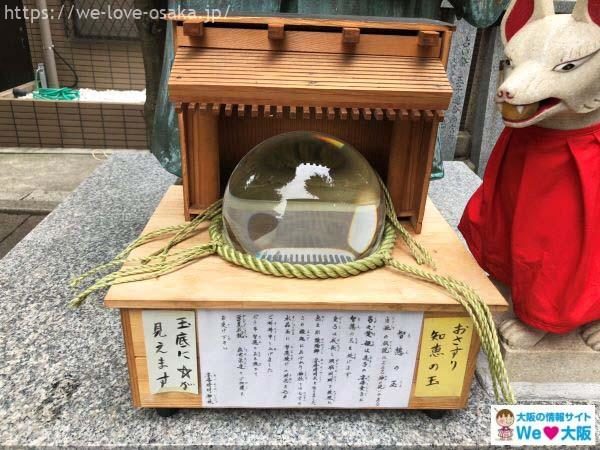 There is a sign that says "You can see a pentagram on the bottom of the ball. This makes me want to take a peek.
I peeked in firmly to see the pentagram, and after receiving wisdom, I prayed to Lord Seimei Abe to rid me of evil spirits!
[Access to Abeno Haruaki Shrine]
Higashi-Tengachaya 3 min. walk
2-2. Sumiyoshi Taisha Shrine: Sumiyoshi Torii-mae Station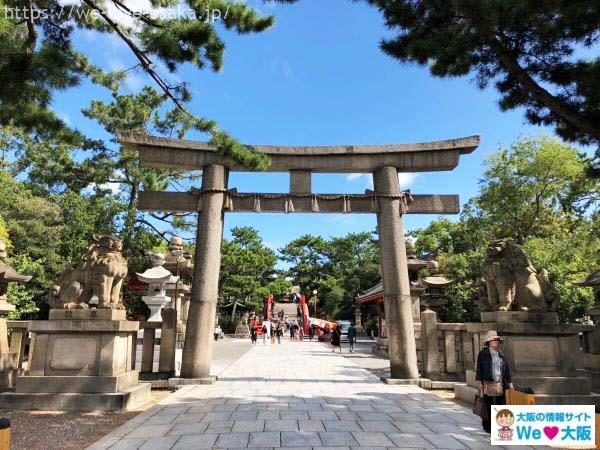 Next stop is Sumiyoshi Torii-mae Station, right in front of Sumiyoshi Taisha Shrine. The four main buildings are designated as national heritage sites.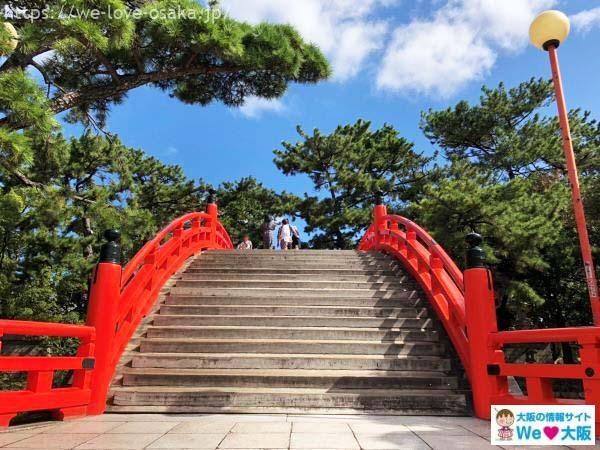 A large, beautiful red bridge greets you.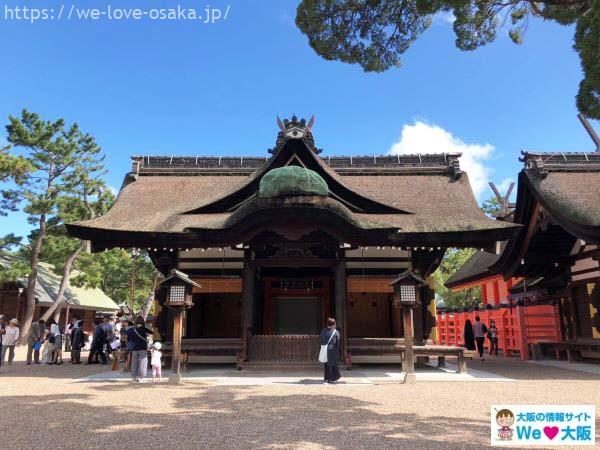 After crossing the bridge, we found a very large site. Since it was this time of year, there were many families having their Shichi-Go-San (seven-five-three) ceremonies and visiting the shrine. I too have been praying for my daughter's health.
[Access to Sumiyoshi Taisha Shrine]
1 minute walk from Sumiyoshi Torii-mae Station
▼For more information about Sumiyoshi Taisha, click here

2-3. Restaurant Yaroku: Sumiyoshi Torii-mae Station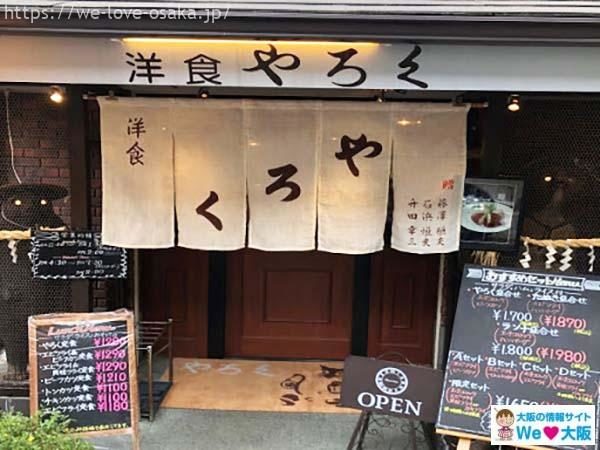 It's time for lunch here. We came to Yoshoku Yaroku near Sumiyoshi Taisha Shrine.
This restaurant has been in business for 80 years and is famous for its egg croquettes.
As someone who loves croquettes as much as I love croquettes, I can't miss this one!
Passing through the door between two raccoon dogs with their eyes glaring at you, you are guided through the door by an affable waitress. They had children's chairs and served children's plates. I was very impressed.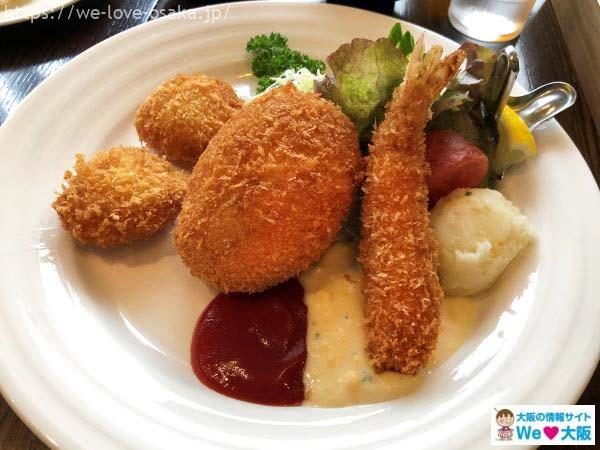 The food has been delivered. Oh! I'm so excited.
I ordered the "limited set" which includes the famous egg croquette, fried scallops and fried shrimp.
The egg croquettes are huge and very hearty!
I had heard that they were famous for their egg croquettes, so I was expecting to find a boiled egg inside…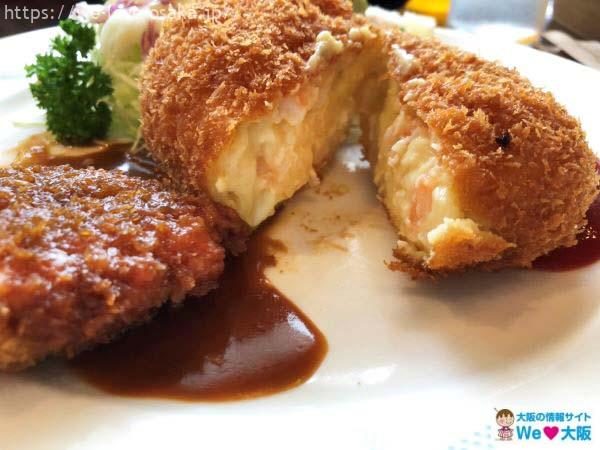 I was surprised. It's like a cream croquette.
The creamy egg was very creamy. The creamy egg was very creamy and the shrimp was very tasty with a nice texture.
My daughter was also chomping down on her first taste. Thank you very much for the food.
[Access to Yoshoku Yaroku]
3 minutes walk from Sumiyoshi Torii-mae Station
2-4. Seigakuin: Takasu Shrine Station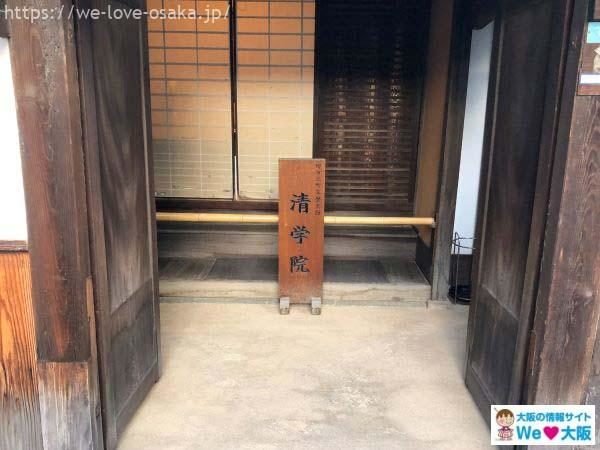 Next, get off at Takasu Shrine Station.
Note that the Hankai Line goes to Abikomichi Station, so if you take the Hankai Line, you will have to transfer to the Uemachi Line. There is also the historically famous Seigakuin here, so we would like to stop by.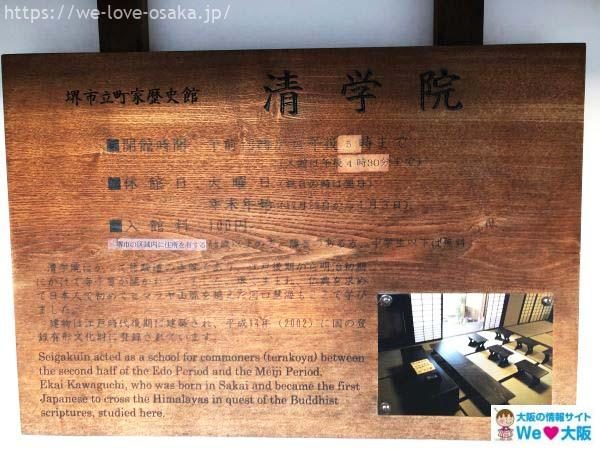 Kawaguchi Ekai, the first Japanese to cross the Himalayas, also studied at this temple hut.
In the hospital, textbooks and items related to the Kawaguchi Comet Sea are on display, and it seems that volunteers are available to give explanations to those who are interested.
[Access to Seigakuin]
4 minutes walk from Takasu-jinja Station
2-5. Gunsmith house: Takasu Shrine Station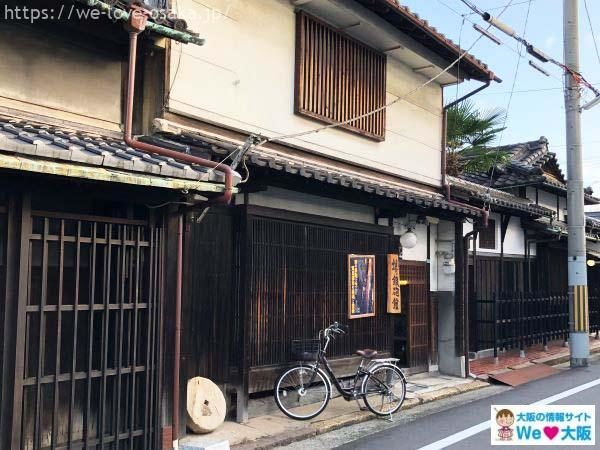 Nearby Seigakuin is the residence, workshop and store of Inoue Sekiemon, a Sakai gunsmith from the Edo period, and the only existing gunsmith house in Sakai from that time.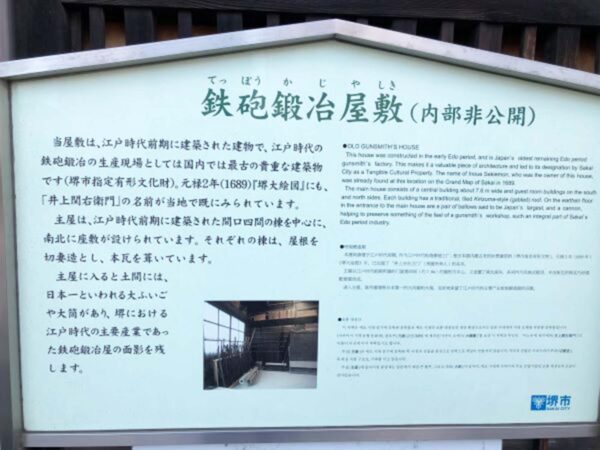 *Click on the photo to enlarge.
I would like to take a peek inside, but it is not open to the public.
The atmosphere of the old days is still there, even if only from the outside, so please visit.
[Access to the gunsmith house]
3 minutes walk from Takasu-jinja Station
2-6. Yamaguchi Family Residence: Ayanocho Station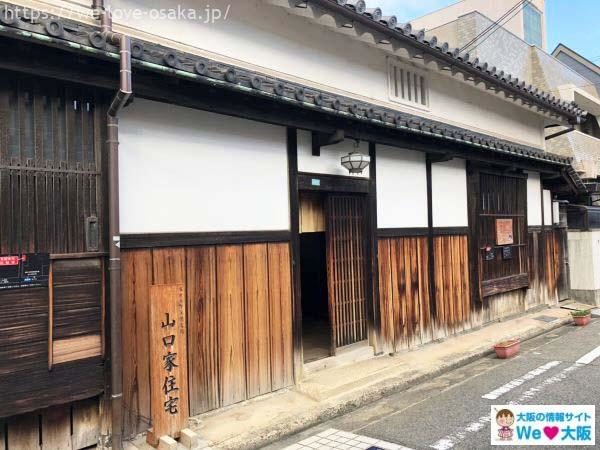 Checking the line, the next stop is Ayanocho (綾ノ町) Station, one stop away.
The Yamaguchi Residence in the photo has been open to the public since 2009 as Sakai Municipal Machiya History Museum, Yamaguchi Residence. The house was built immediately after the Osaka Summer Battle, when the entire city area was destroyed by fire, and is designated as an important cultural property as one of the few remaining early Edo Period townhouses in Japan.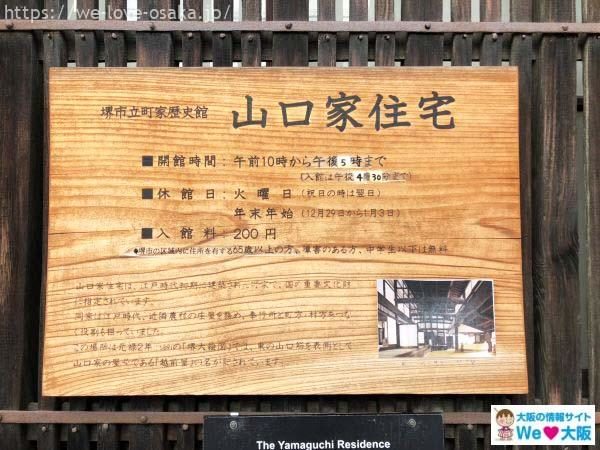 This one also has the atmosphere of a time slip to the Edo period.
The inside was also beautifully maintained. They have volunteer guides here as well.
It will be one of the most valuable houses in the country, so please stop by.
[Access to the Yamaguchi Family Residence]
3 minutes walk from Ayanocho Station
2-7. Myokokuji Temple: Myokokuji-mae Station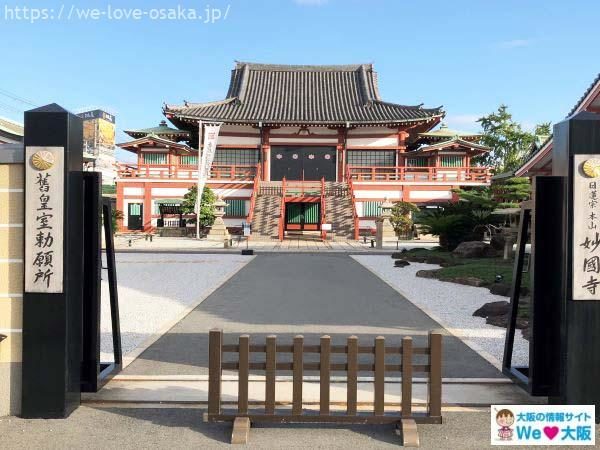 Now, the next stop is Myokokuji Temple at Myokokuji-mae Station.
Myokokuji Temple, located in Zaimoku-cho Higashi, Sakai-ku, Sakai City, Osaka Prefecture, is the head temple of the Nichiren sect of Buddhism and is known as the temple associated with the Sakai Incident that occurred at the end of the Edo period.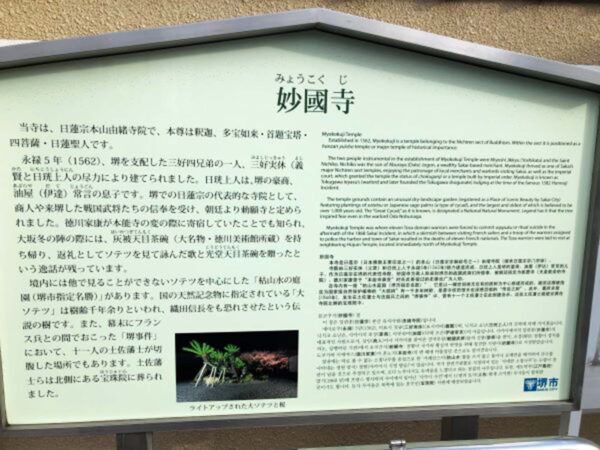 *Click on the photo to enlarge.
The highlight is a large cycad that even Oda Nobunaga feared.
It was also the site where 11 Tosa clan warriors committed seppuku (ritual suicide) during the Sakai Incident.
I knew very little about the history of Sakai, but as I tour the city like this, I see traces of its history everywhere, and I realize that it is a city that has accepted the times and lived with the people of each period.
[Access to Myokokuji Temple]
4 minutes walk from Myokokuji-mae Station
2-8. Sakai's specialty Keshi Mochi Honpo Kojimaya: Shukuin Station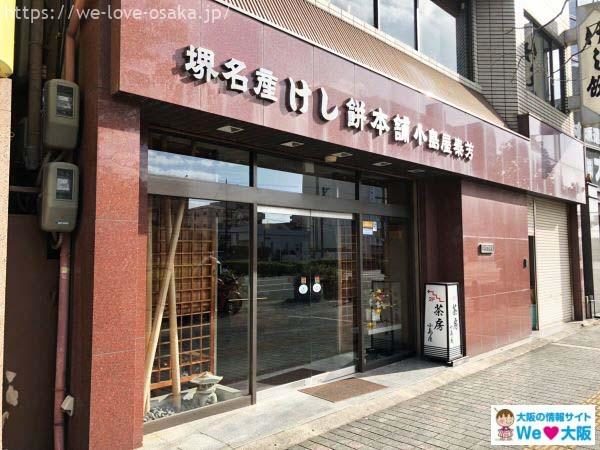 We'll take a little break here. Let's go for something sweet.
We visited the Sakai specialty Keshi Mochi Honpo Kojimaya. The second floor here is an eat-in space.
When you go up the stairs, you will see an atmosphere like an old coffee shop. A woman is working alone.
We were served the famous Keshi Mochi (poppy cake). The surface is covered with poppy seeds.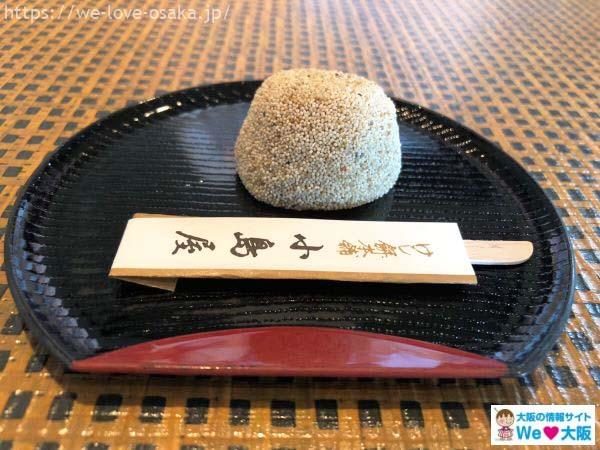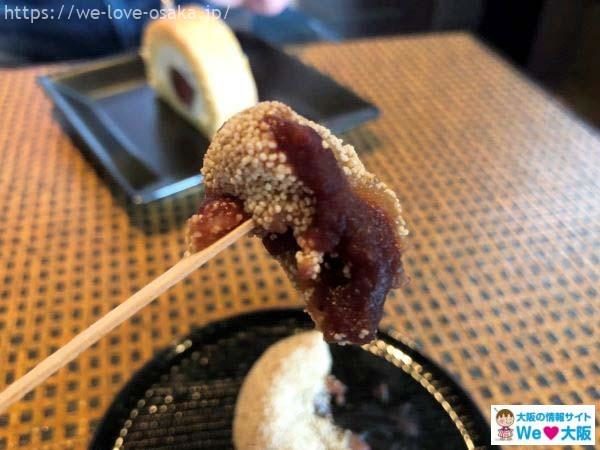 The soft rice cake is filled with red bean paste.
The sweetness was just right, and it was so good that I wished I could have another one.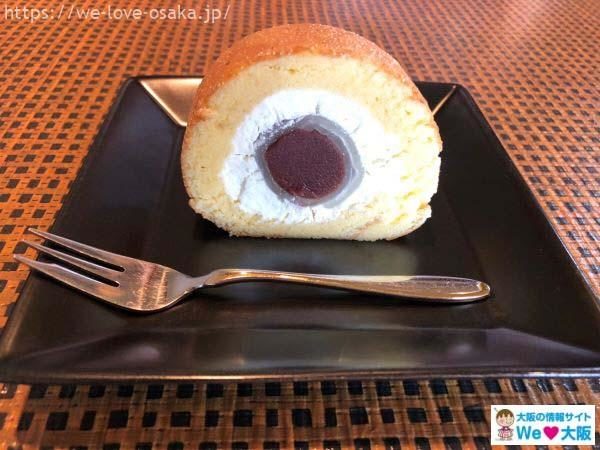 I also ordered something called Keshimochi Roll.
This was even better than expected. The keshi mochi inside is delicious, of course, but the roll cake around it is absolutely delicious!
It was fluffy and melted in my mouth. I would definitely come here again!
[Access to Sakai's specialty Keshi Mochi Honpo Kojimaya]
4 minutes walk from Shukuin Station
2-9. Sakai Plaza of Rikyu and Akiko: Shukuin Station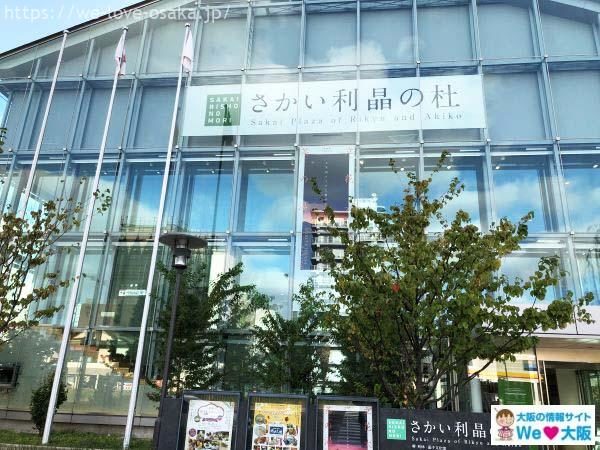 This one is located across a large street from the Kojimaya mentioned earlier.
Sakai Plaza is a sightseeing facility that opened in 2015 and focuses on Sen no Rikyu and Yosano Akiko.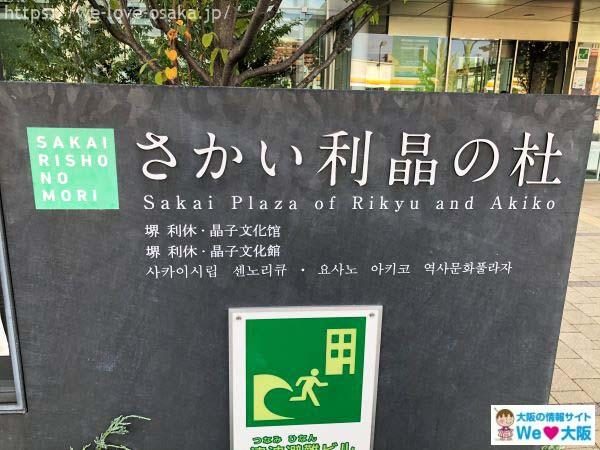 I didn't know that the famous Sen no Rikyu and the famous Japanese poet Akiko Yosano were from Sakai City…
It features a beautiful glass-walled exterior.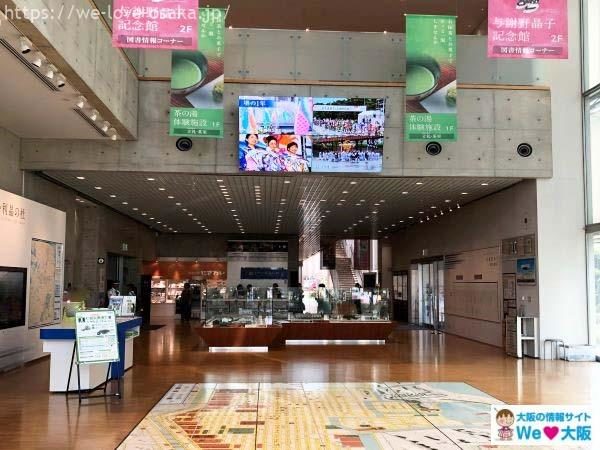 Inside there is a theater and digital panels showing Sakai in the Edo period.
There is also a facility for experiencing the tea ceremony, so you can enjoy the experience of tea ceremony.
It is good to see the exhibition and study Sen no Rikyu and Yosano Akiko again.
[Access to Sakai Plaza of Rikyu and Akiko]
1 minute walk from Shukuin Station
▼For more information about Sen no Rikyu, click here

2-10. Nanshuji Temple: Goryomae Station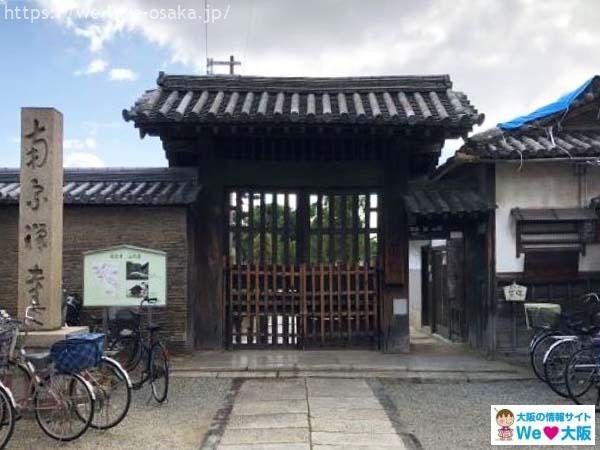 Nanshuji Temple, located at Goryomae Station, is said to be the temple associated with tea masters Takeno Shao'o and Sen no Rikyu, who trained at the temple and contributed to the development of Sakai's town people culture.
Moreover, it is said that it was at Nanshuji Temple that Ieyasu Tokugawa died during the summer campaign in Osaka.
According to the official history, Ieyasu died at Sunpu Castle in Shizuoka the year after the Summer Campaign, but according to the Nanshuji History, "Ieyasu was defeated in the fierce battle of the Summer Campaign, and while fleeing in a palanquin, he was speared by Matabei Goto, but managed to escape to Sakai, but when his retainers opened the palanquin, he was already dead. When his retainers opened the palanquin, they found that Ieyasu had already died.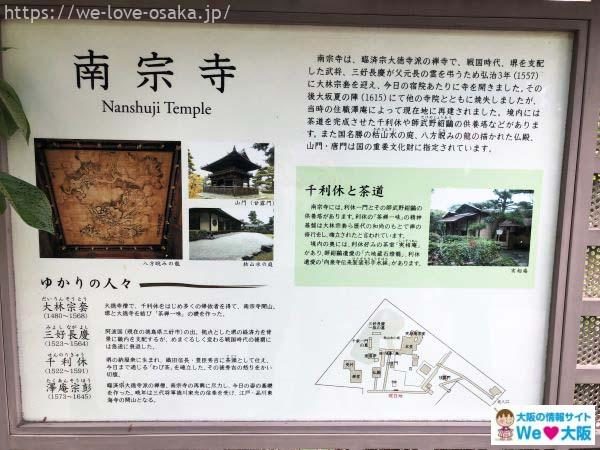 *Click on the photo to enlarge.
When you visit inside, a narrow but beautifully landscaped garden-like path leads all the way to the house.
The temple had a calming atmosphere that made me want to walk quietly and calmly.
[Access to Nanshuji Temple]
5 min. walk from Goryomae Station
2-11. Fukakiyozushi: Goryomae Station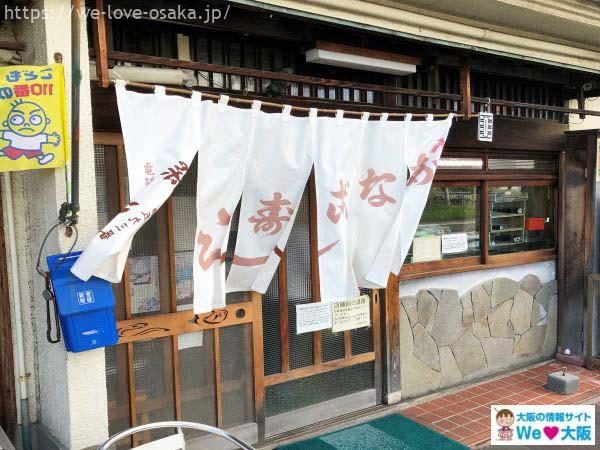 I stopped by for a short visit to a famous sushi restaurant in the vicinity of Goryomae Station.
From a distance, huh? I wondered if they were open for business. I was worried, but was relieved to see craftsmen working through the window. Thank God, it is open.
I pulled the door open and went inside. There was space to eat in, but it was a very small restaurant.
Take home some delicious and well-reputed conger eel sushi.
Order and it is ready in a little over 5 minutes.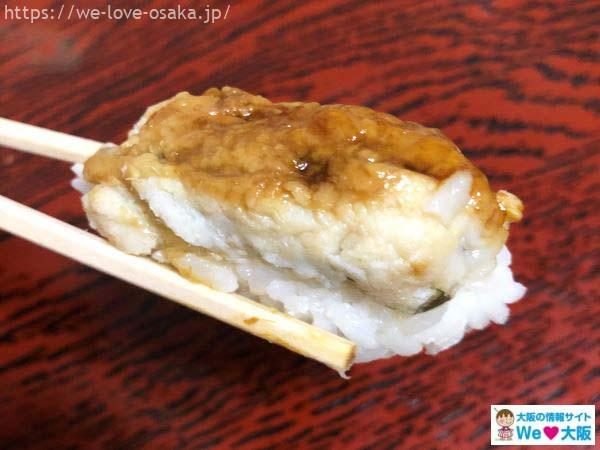 When I got home and had it for dinner, the conger eel was so soft and fluffy that it disappeared in my mouth! I have never had such soft conger eel before.
It is so good that if it were in my neighborhood, I would go there.
It's a bit of a walk from the station, but please stop by. It is very delicious.
[Access to Fukakiyo-zushi]
6 minutes walk from Goryomae Station
2-12. Hamadera-koen Station: Hamadera Ekimae Station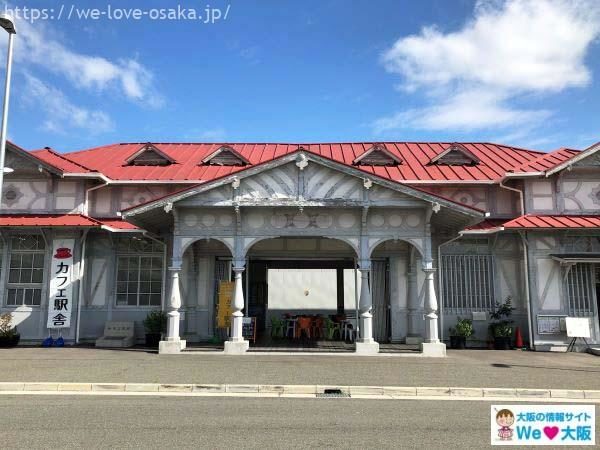 We finally arrived at the last station Hamadera Ekimae after riding from Tennoji Ekimae station.
Nankai Hamadera-koen Station, located near Hamadera Ekimae Station, is a wooden station building built in 1907, registered as a Tangible Cultural Property of Japan in 1998, and was selected as one of the 100 best stations in the Kinki region.
It is very retro and gives the impression of being a building from the Meiji period itself.
Inside, a café called Café Ekisha was open for business.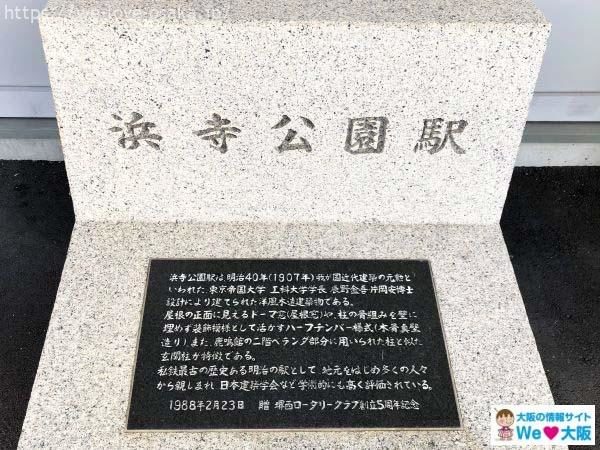 [Access to Hamadera Koen Station]
Hamadera Ekimae Station 3 min. walk
2-13. Poire – Himematsu Station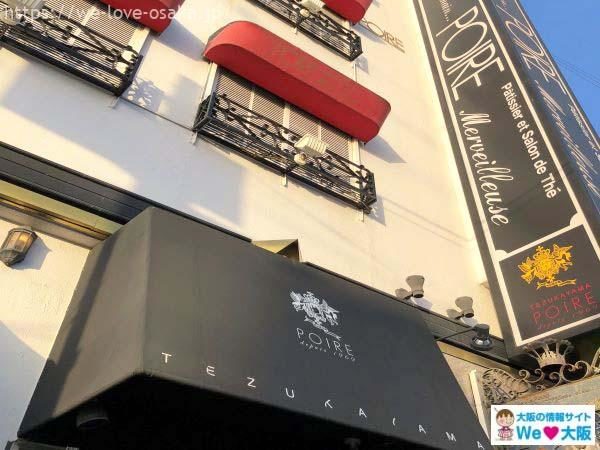 Finally, I would like to get off at Himematsu station and go to Poire Tezukayama store.
Poire is a store that originated in Tezukayama. It is the main branch of a long-established confectionery shop that has been making authentic cakes since the days when there were only a few confectionery stores in the Kansai region.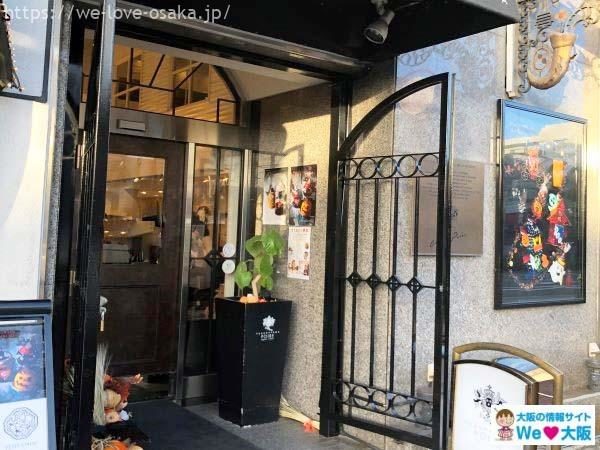 Located right in front of you when you get off at Himematsu Station, we recommend that you stop by if you ride the Chin-den!
The store is on two floors, with takeout on the first floor and cafe space on the second floor.
It was almost 5:00 p.m. when I entered the restaurant, and the interior was crowded with people waiting to take out or eat in.
There are already only about five types of cakes in the showcase, indicating the high popularity of the event.
If you really want to eat something, you might want to make a reservation.
After a short wait, we were called to the café space, where we had to choose a cake from the showcase and tell the waiter before going up to the second floor.
By the way, they took care of my stroller.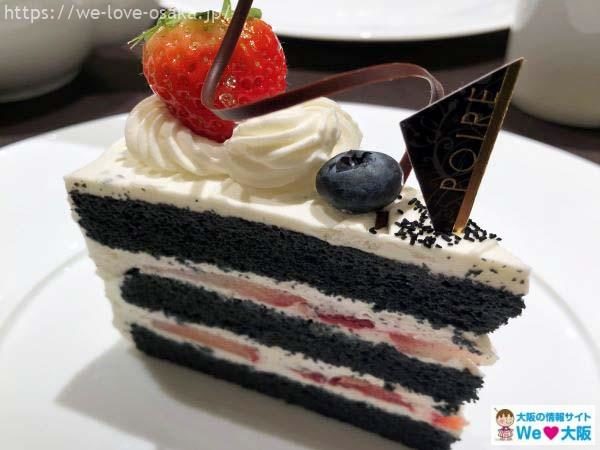 I ordered the Charcoal Shortcake.
The sponge cake portion is black because of the use of activated charcoal.
It tasted sweet and tasted like charcoal, so even though I have a slight sweet tooth, it was easy to eat and delicious!
The lemon squash I ordered with it was sour and delicious.
The cake selection was limited this time, but I hope to be able to come earlier next time.
[Access to Poire]
Himematsu Station 1 min. walk
3. Access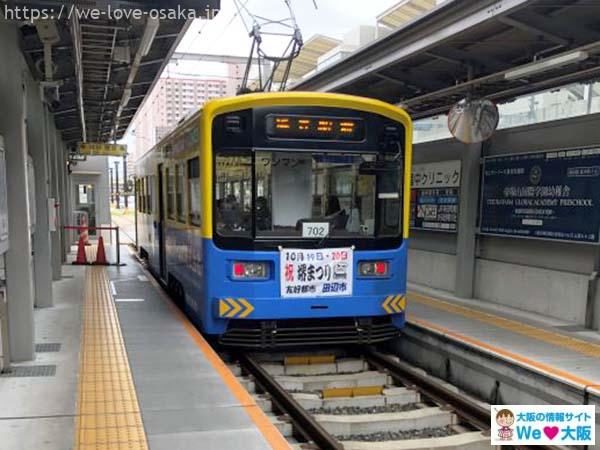 The stores and tourist attractions along the Hankai Railway that we have introduced here are recommended, but we will tell you how to get there.
We recommend riding from Tennoji Station
This time we took the train from Tennoji Ekimae. All the spots and stores we introduced are located between Tennoji Ekimae and Hamadera Ekimae, so you can enjoy a stopover on the Hankai Railway without having to change trains.
The One-day pass is super convenient
If you want to go sightseeing, we recommend the Tekkutsu Ticket, a one-day free ticket for all lines, which costs only 600 yen for adults!
In addition to trains, there is also the Sakai Omotenashi Ticket, which offers unlimited rides for one day in designated areas of Nankai Buses and special offers at cooperating stores, tourist facilities, and hotels in Sakai City, so you can take this opportunity to visit cultural and historical spots in Sakai City!
I have researched and found that apparently Sakai City issues several types of tickets called "cheering cards" that are very economical for using such public transportation.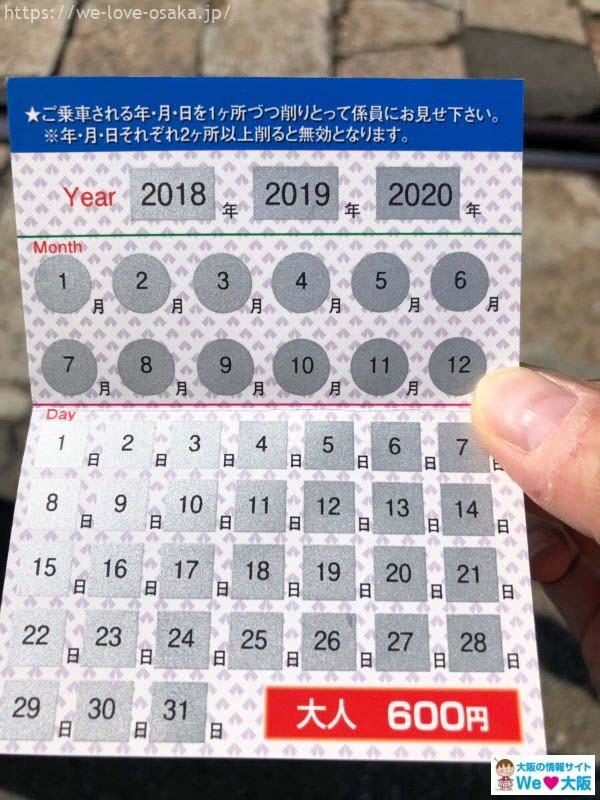 Here is an image of the pass.
The scratch-off system is used to shave off the year, month, and day of your ride and present it to the attendant when you get off the bus.
Incidentally, the number of seats felt just right for the Chin-den we used this time.
We had a stroller, but although it was possible to get on, it was difficult to get off because the exit was too narrow when it was open. Fold it up and get off!
However, I rode the newest Chin-den once, and I think it was the only one. It is non-step, and it is possible to both get on and off the train, which made the ride very comfortable.
4. Summary
This was the first time I rode the Chin-den train and took the time to explore the southern part of Osaka City and Sakai.
Sakai, in particular, was an important stage in the history of the time, and was a spectacular city with historical buildings scattered throughout. I never thought I would be able to visit such a historic place by Chin-den… I had a more fulfilling day than I had imagined.
There's a lot of good eateries, and I hope you all give the Chin-den trip a try because it's a great experience!
▼If you want to go sightseeing in Osaka

▼Click here for information on the surrounding area
Related article
This time we will travel along……

2023.03.20
Introduction of writer
MAL
Lives in Hyogo prefecture. I would like to introduce some spots in Osaka that children can enjoy.I'm a dad of one child.
Instagram
#ういらぶ大阪
  Please introduce your "we love Osaka" (Only gourmet of Osaka and spot of Osaka)