Places where you should to take a picture of Osaka Castle.
Places where you should to take a picture of Osaka Castle.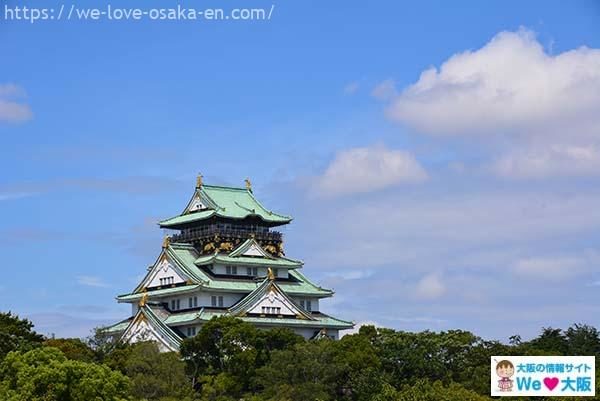 Osaka Castle is cast, and covers an area of 105.6ha, which is equal to 1056,000 m².
The total area of Koshien Baseball Stadium is 38,500 m².
This means that the Osaka Castle Park is 27 times as big as Koshien Baseball Stadium.
It is so vast that you will get exhausted from walking around the park, and the size makes it difficult to locate places other than Nishinomary Garden from which you can take pictures of Osaka Castle.
This article will introduce good places to take pictures of the castle.
If you take your kids to Osaka Castle Park, see.
1. Tamatsukuri-guchi
Tamatsukuri-guchi (means mouth) is one of the Osaka Castle Karametemon Gates, and called so because it opens its mouth to the direction of Tamatsukuri. It is also called Tamatsukuri-mon Gate.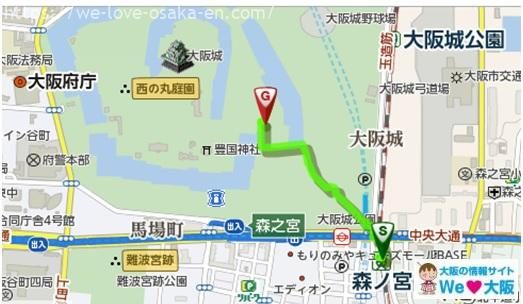 7 minutes on foot (approximately 500m) from JR and Subway Morinomiya Station to Tamatsukuri-guchi.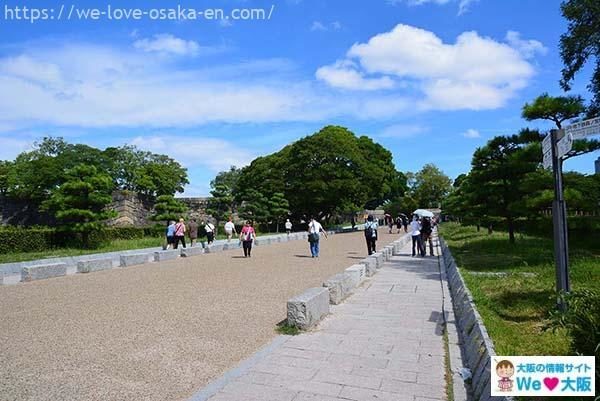 Go across the bridge to Tamatsukuriguchi.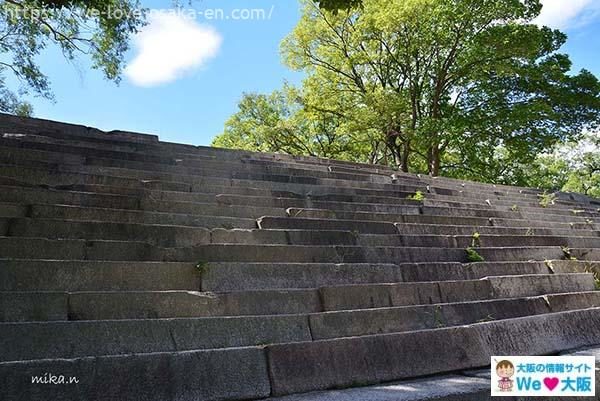 and after that you will find stone stairs on your left, so go up to the top.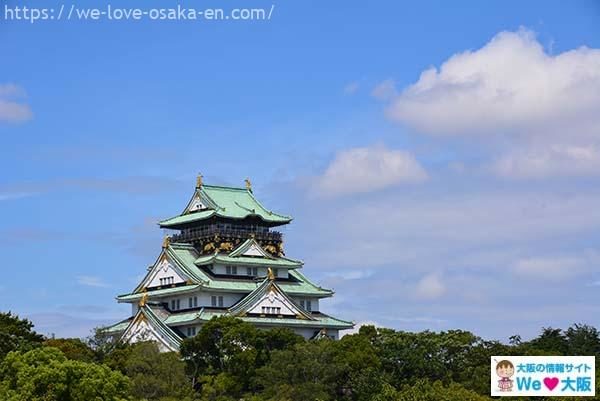 Then you can see the beautiful castle against sky. This is one of my favorite places.
2. Nishinnomaru Garden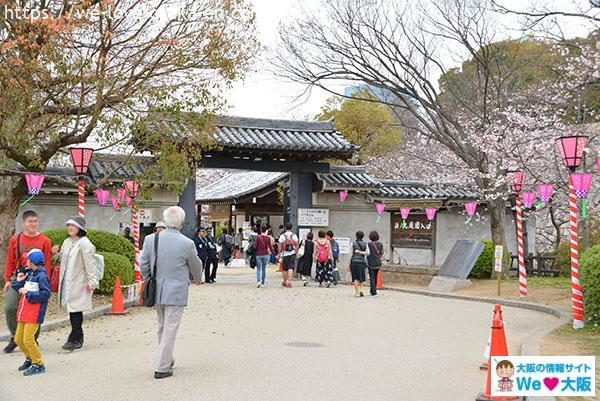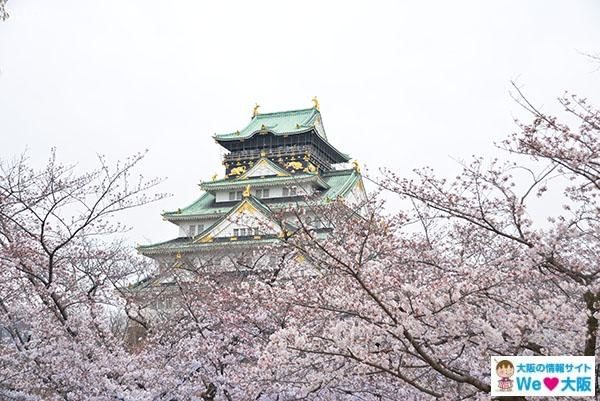 Nishinomaru Garden covers an area of 6.5ha and is located in the west of the castle tower. The half of it is covered with grass and is known for cherry blossoms. More than 300 cherry blossoms are there including Yoshino cherry, and every year this garden is filled with people who enjoy hanami (cherry blossom viewing).
In Nishinomaru Garden, you can shoot beautiful Osaka Castle from various places.
Hours:9:00a.m.~ 5:00p.m. (March to October), 9:00a.m.~4:30p.m. (November to February) Open until 9:00p.m. during cherry blossom season.
The garden is closed on Mondays (when a national holiday falls on Monday, the next day is the day off), and on the end and the beginning of the year (December 28 to January 4).
Admission fee:Adults 200 yen (350 yen during cherry blossom season)
※Those who are under 13 years old, those who live in Osaka and are 65 years old (required to show ID), and those who have Disability Notebook, can enter with no admission fee.
3. Sakuramon Gate to Plaza in front of Osaka Castle
・12 minutes (900m) on foot from JR, Subway Morinomiya Station to Sakura-mon Gate (See NAVITIME)
・14 minutes (1km) on foot from Subway Tanimachi 4-Chome Station to Sakura-mon Gate.
(See NAVITIME)
・17 minutes (1.3km) on foot from JR Osaka Castle Park Station to Sakura-mon Gate.
(See NAVITIME)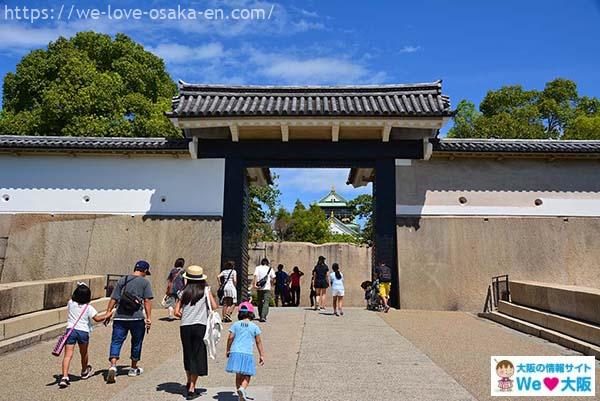 From Sakuramon-Gate to the Plaza in front of Osaka Castle.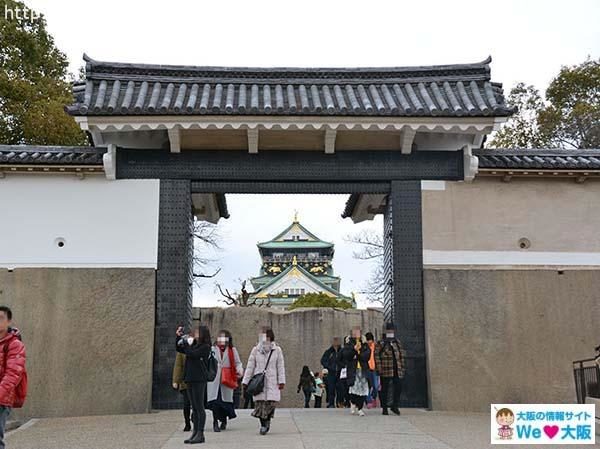 Sakura-mon Gate is the main gate to the inner citadel, and is located directly south to Osaka Castle.
It is said that the gate is called Sakuramon (sakura means cherry blossom, and mon means gate) because there were great cherry blossoms in front of the gate. However, the current gate is rebuilt in the Tokugawa era, including Masugata enclosure and Tsuchihashi Bridge. The Sakura-mon Gate in Toyotomi ear was located a slightly more west, than the current one, and the south part of the inner moats between which is the Tsuchihashi Bridge was dry, and was shallower and narrower back then.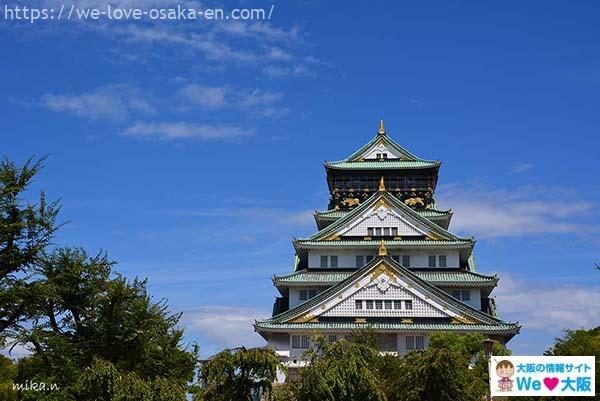 The plaza is the closest place to Osaka Castle and it is spectacular.
4. Water Mirror in the Japanese Garden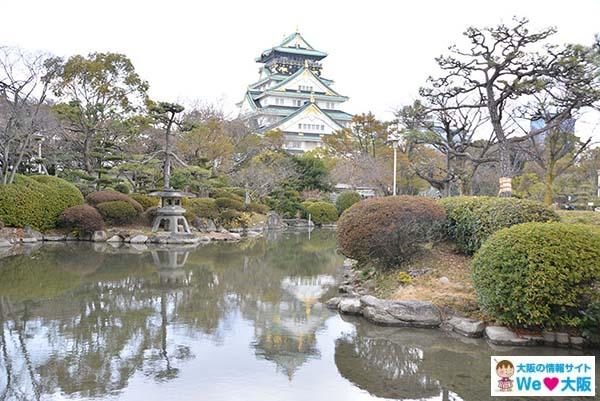 The Japanese Garden in front of the plaza. You can see the reflection of Osaka Castle on the pond, which is called Water Mirror. It was a bit windy on the day, but you can see more clearly when there is no wind.
5. Yamazatoguchi-Demasugata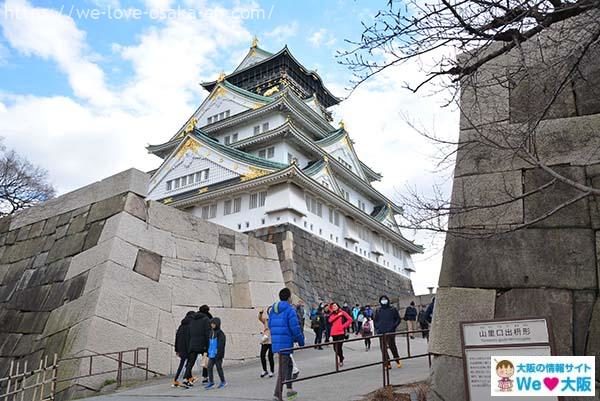 You can go behind the castle tower from the left side. Look back, and you will see the amazing castle tower on the castle wall. The back side of it is also spectacular.
6. Katamachibashi
It takes three minutes from JR Osaka-jo Kitadume Station to Katamachibashi Station (300m).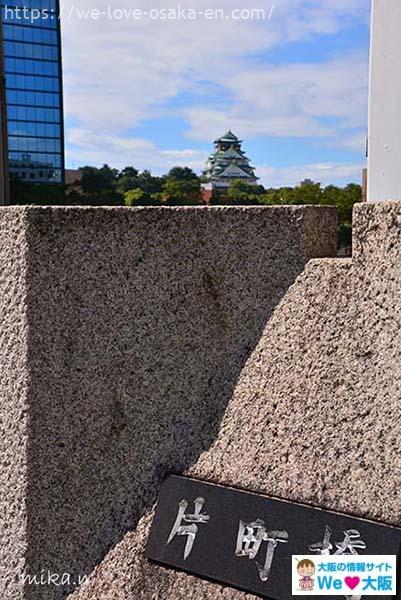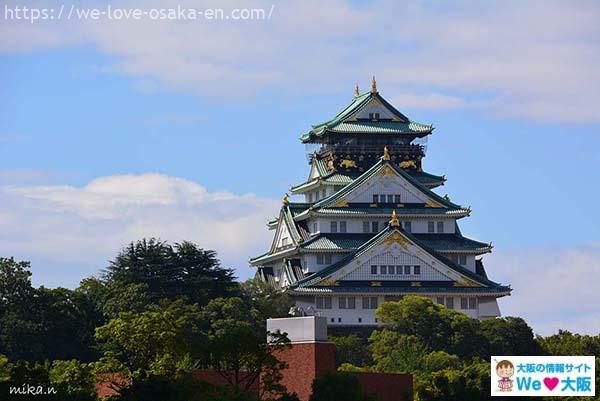 It is a little far, but you can see Osaka Castle from here.
7. Osaka Castle Park Guide Restroom/Shops Guide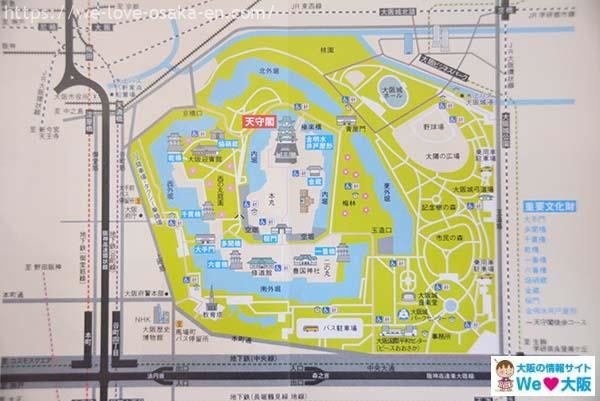 You have to check where restrooms and shops are in the park.
8. Osaka Castle Park Jog Map
You see many joggers in the morning and in the afternoon. If you like jogging , refer to the map.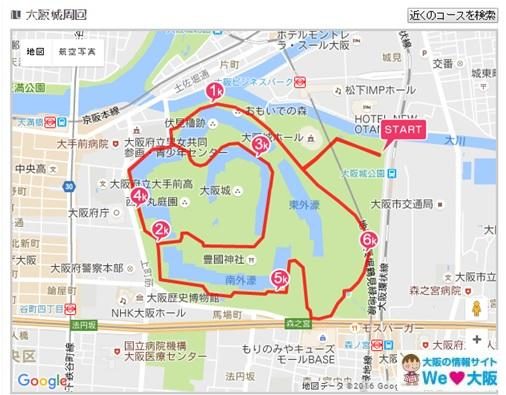 The lap around the Osaka Castle is approximately 7 km, which is the perfect distance for joggers. There are always many people running around this lap.
9.

Summary
There are many places you can see the beautiful Osaka Castle from. Why don't you go to those spots and take pictures of Osaka Castle?
Check these out as well!
Related article
In Suita City, Osaka Prefectur……

2019.09.30

Osaka Castle is cast, and cove……

2019.09.06
Introduction of writer

mikan
I've been living in Osaka around 20 years. I would like to tell you useful information to you.
Instagram
#weloveOsaka
Please introduce your "we love Osaka" (Only gourmet of Osaka and spot of Osaka)