【Osaka Tenmangu Shrine】The benefits of the deity of Academics. The gateway to passing examinations!
【Osaka Tenmangu Shrine】The benefits of the deity of Academics. The gateway to passing examinations!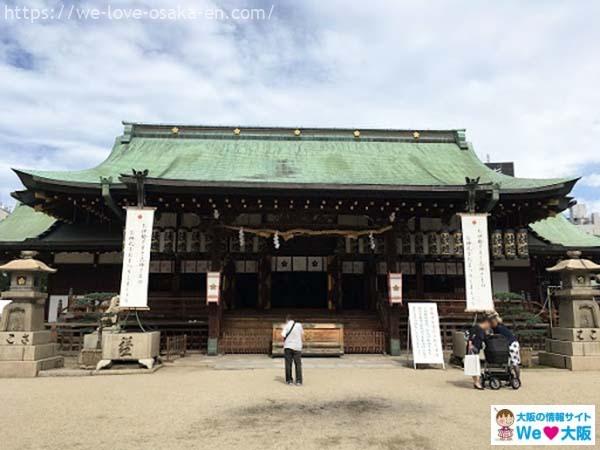 What comes to your mind when the New Year's holiday is approaching?
I am always excited about year-end parties and New Year parties because I just want to drink, but most people wonder which shrine to visit for the first time in the year, which is called Hatsumode.
So, I asked to people living in Osaka about recommended shrines for Hatsumode. I wouldn't be able to actually perform Hatsumode, so I went to shrines now!
1."Tenmangu shrines" are dedicated to Sugawara no Michizane
You have probably heard shrines named "Tenmangu" somewhere in Japan. Those Tenmangu shrines have something in common, all of them enshrine Sugawara no Michizane. I knew this after actually visiting them. I kind of knew Sugawara no Michizane is the deity of Academics, and those shrines are popular because these are where many people pray for success in examinations. Remember that Sugawara no Michizane is enshrined in Tenmangu shrines.(Sorry if this is not new information.)
So I will introduce Osaka Tenmangu, which I strongly recommend to students who are going to take entrance exams!
2.Even parking lot of Osaka Tenmangu is spectacular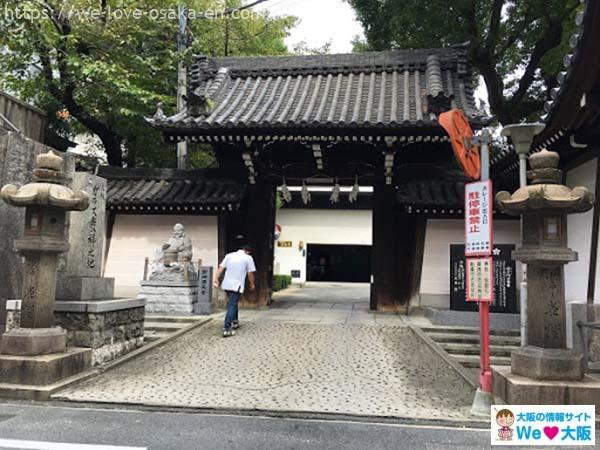 I thought this gate was the entrance, but I couldn't see the main shrine. It turned out that this was the entrance to the parking lot. This gate is called "Ebisu Gate". On the far left, you see the statue of cheerful "Omiki Eebisu", which has a glass in his hand. Just looking at it makes me happy.(Let's watch the car carefully).

This is the real entrance "Omote Daimon". The size was different, and you can see the main shrine through this gate. The Japanese traditional buildings make you refreshed. Let's take a look! First off, you need to bow when you go through gates in shrines.
Here is a brief description of Michizane's life.
[Infancy]
He was good at learning since he was young and showed his prodigy of composing Waka(a traditional Japanese poem of thirty-one syllables) at the age of five.
[Adolescence]
He became "Monjo hakase", the highest rank among scholars. He was also a master of Japanese archery and was famous for "Bunbu Ryoudou"(both literary and military arts)
[Late middle age]
He played an active role in the center of politics, keeping in mind that people and the nation would become better, such as(In view of the decline of the Tang Dynasty) which advocated the restoration of Sanuki Province and the suspension of Kento-shi. Later, he was appointed to Udaijin "Dazaifu" by Emperor Uda, but FUJIWARA no Tokihira, Sadaijin, made him commit a crime he didn't know and he was demoted to Jogokukan, a local administrative organ of Kyushu and Chikuzen Province.
[Later life]
Although he was forced to lead a hard life, which was difficult to put on and eat, he ended his life praying for the peace of the Imperial family and the nation. His life was like a model of "The stake that sticks out is struck." but his innocence was later recognized by the Imperial Court, and the "Kitano Tenmangu Shrine" which was the head shrine of all Tenmangu and Tenjinsha shrines in Japan, was built and became its enshrined deity. Many people also visit "Dazaifu Tenmangu Shrine" in Dazaifu City, Fukuoka Prefecture.
3.Michizane dislikes roosters
Let's go back to Osaka Tenmangu Shrine. Looking up at the ceiling from under the front gate, I saw a large rope and something round.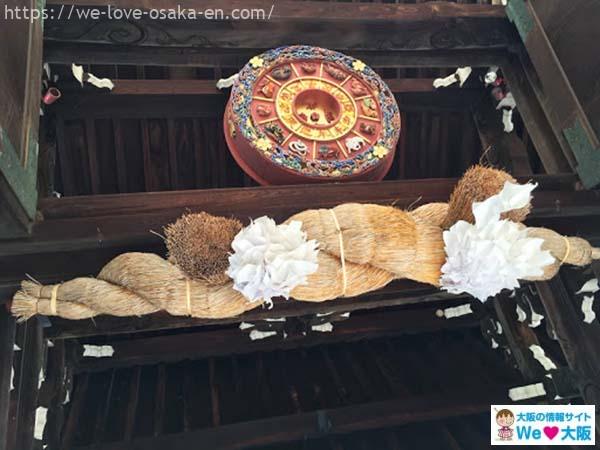 The round one is the azimuth board where the twelve signs of the Chinese zodiac indicate directions. At the position of the rooster, there is a phoenix, not a chicken. The reason why the rooster is not a chicken but a phoenix is that, when Michizane leaves for Dazaifu with regret, if the rooster cries, he must leave Kyoto. There is a theory that it was because he hated it.
You can feel the sorrow of Michizane. It's a sad thing.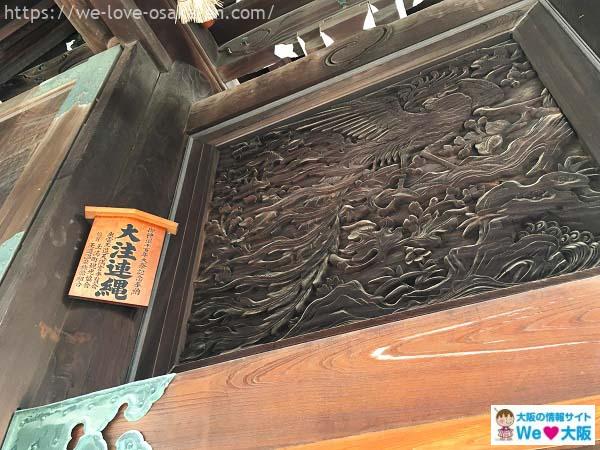 There is also a phoenix sculpture on the right side. On the left side is the word "Oshimenawa" which means a large rope hung over the gate. In the picture above, it is the rope under the azimuth board. The words "Izumo Tamatsukuri Tenmangu housaikai(Izumo Tamatsukuri Tenmangu Shrine Service Association)" and "Goshintai 1100 nen daisai kinen hounou(Dedicated to commemorating the 1100 year anniversary of the retirement of the gods)" are written on this wooden plaque. As for the birthplace of Michizane, there is a theory that Izumo(Shimane) in addition to Nara and Kyoto, so was it dedicated due to that connection?
So, let's get into the shrine!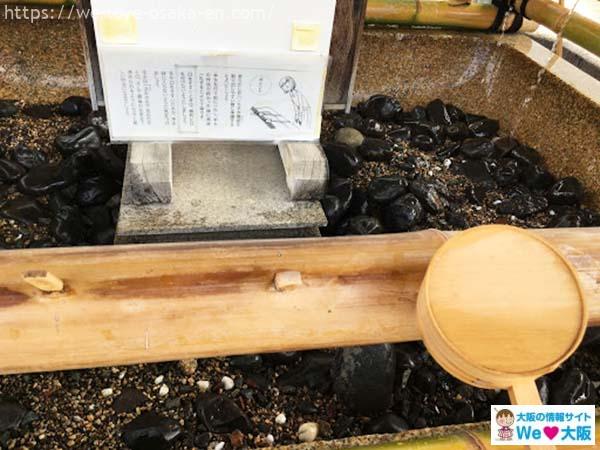 First you need to purify your hands at the Chozuya. There is also an explanation of manners. The only way to visit a shrine is Hatsumode, so it's safe for people who always get lost.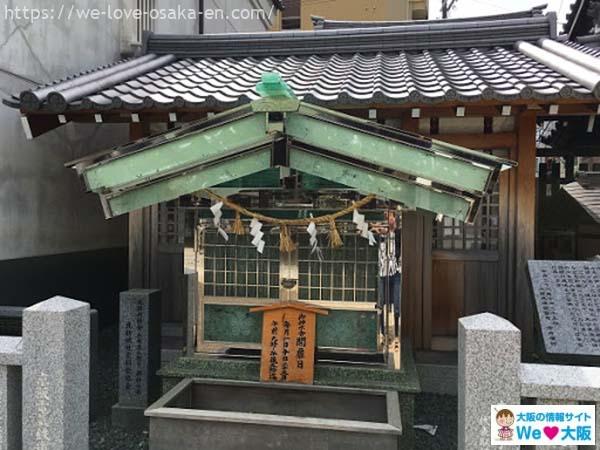 This is called "Goshinsuisha"(sacred water). It's only held on the 1st, 10th and 25th of every month. Lord Michizane was born on June 25 and passed away on February 25) and during that time, on the 10th, he will be open to the public. In Edo Period, the water of the well was famous for its excellent taste, and after centuries the water became drinkable again. If you look closely inside the sacred water house, you will see a talisman. Let's say hello and have some water. At the shrine office, a plastic bottle of water containing sacred water that has been prayed for is also given.(The ceremony fee is 200 yen for 500㎖ and 1,000 yen for 1ℓ.) I bet the water brings you good luck. I wonder this is open on January 1st.
4.Visit the shrine and get a Goshuin stamp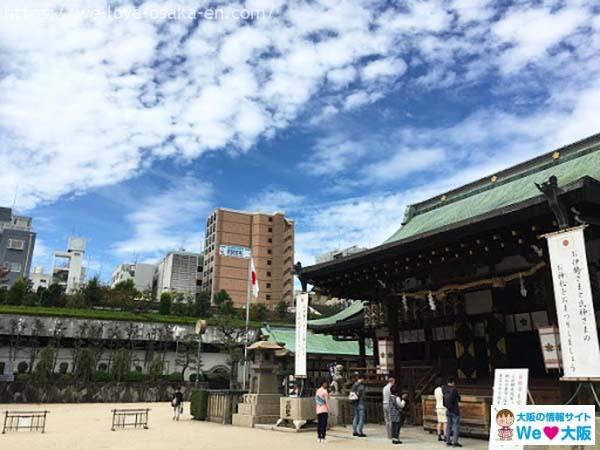 Well, let's pray. People line up closely at the time of Hatsumode.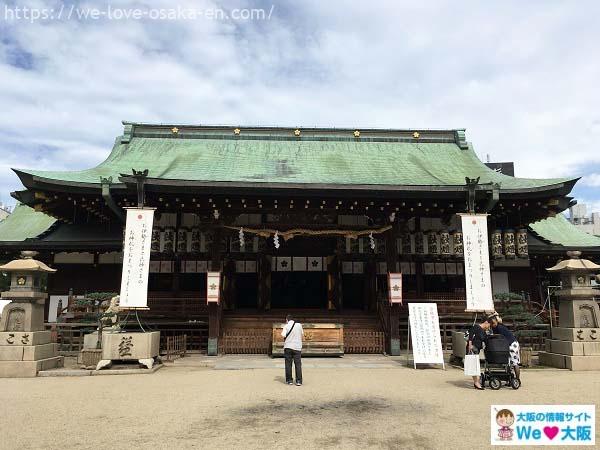 Great! It's not like that, but the simple main shrine is somehow Lord Michizane. I will keep secret what I wished for.
Speaking of shrines, this is it.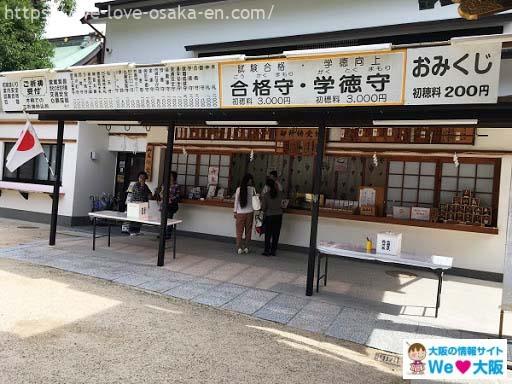 Fortune slips, lucky charms! But my aim is "Goshuin". I really need to keep my oath that I made at the beginning of this year, which was to visit at least one shrine every month and get "Goshuin".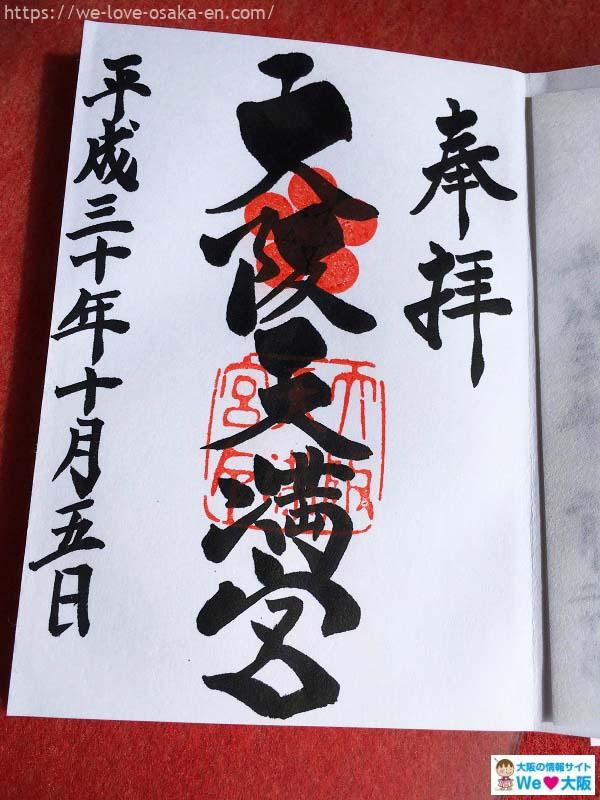 When I realized it was fall.The point of Goshuin of Osaka Tenmangu is plum blossoms! It is said that Michizane liked plum blossoms. When Michizane was demoted, the plum blossoms that he loved in his garden flew to Dazaifu in pursuit of him, according to "Tobiume Densetsu".
So,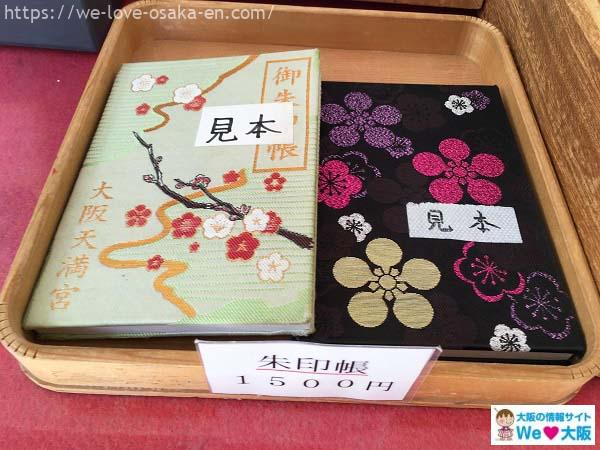 This is why plum blossoms are on the book of Goshuin. You see the design of plum blossoms on many goods.
I thought about what a Omikuji(fortunes) is like…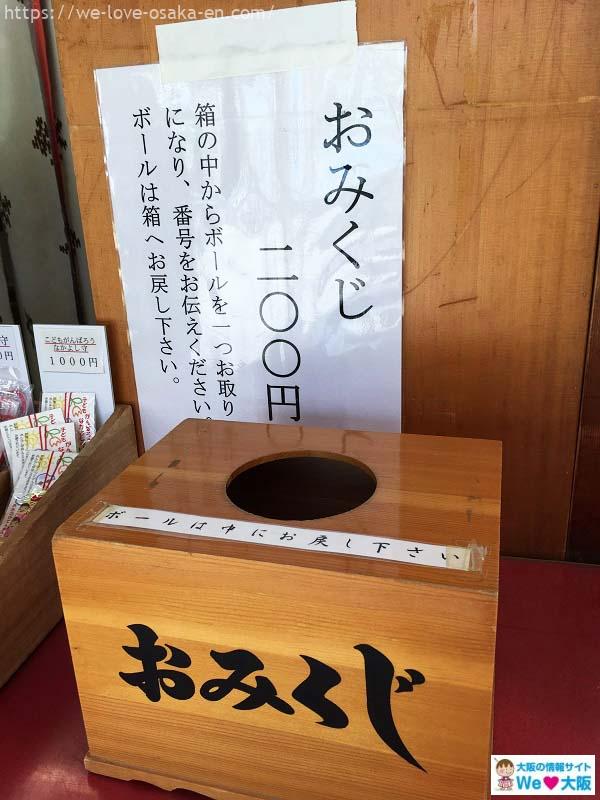 It was neither paper-like nor stick-like, but the type to catch a ball. I had never seen this omikuji before.
5.Let's try our luck by fortuning the NEW YEAR "Lucky charm"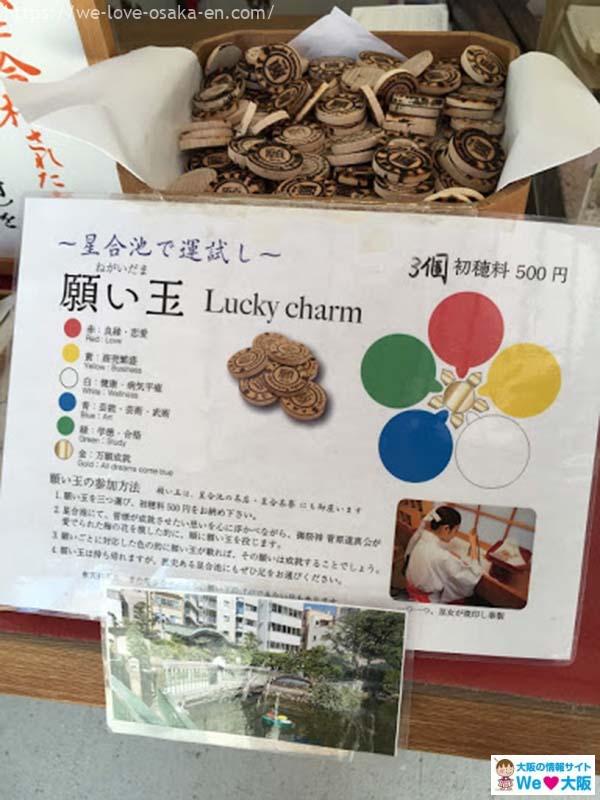 Those coin-like things are called "lucky charm".
A short walk from the front gate of Osaka Tenmangu Shrine is the "Hoshiai Pond", over which a bridge called the "Aikyobashi" is built. It is said to have been in the Edo Period "meeting place". It is also said that there is a reason that "If you cross this bridge, you will be connected."
In this Hoshiai pond, there is a target based on the "Umebachi mon" of Michizane Sugawara.
So, what you do with "Lucky charm" is you throw it from the Aikyoubashi toward this target, wishing of what you want to achieve.
There are six types of "Lucky charm", and every color means different things
Red:
Good match, Love
Yellow:
Business success
White:
Health, Recovery From illness
Blue:
Performing arts, Arts, Martial arts
Green:
Academics merit, Success in entrance exams
Gold:
Any wish will be fulfilled
It is said that your wish will be fulfilled if the lucky charm you throw gets on the color you aim at. You should try your luck to divine the new year!(Lots of people visit here on New Year's holiday, so you might want to avoid the time so you can enjoy everything.)
Let's walk around inside Osaka Tenmangu Shrine.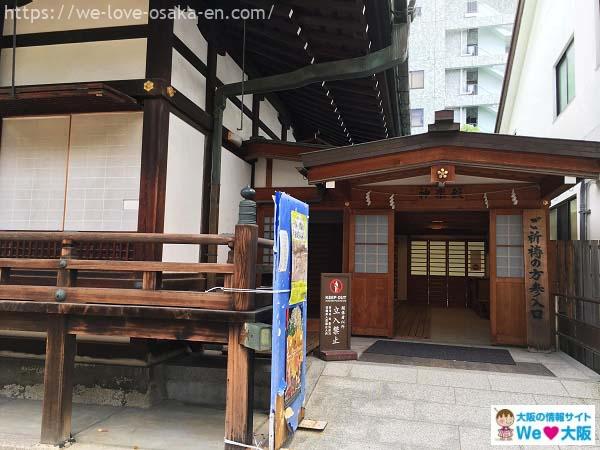 If you want to pray, please come here. It will be crowded with people praying for pass and exorcism.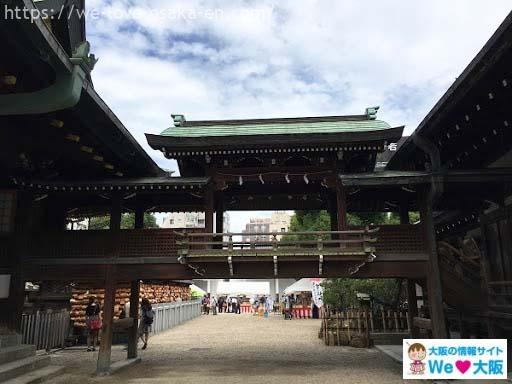 This is a connecting corridor. If you can see through from the other side, it sounds like "The future looks good!" and it's auspicious. Good photographers could have taken a "The future is bright!" picture that energizes you, but this was got a little bit darker than I expected. Trying not to bother other visitors, why don't you take pictures here?
6.Passing through the Toryumon Gate to pray for success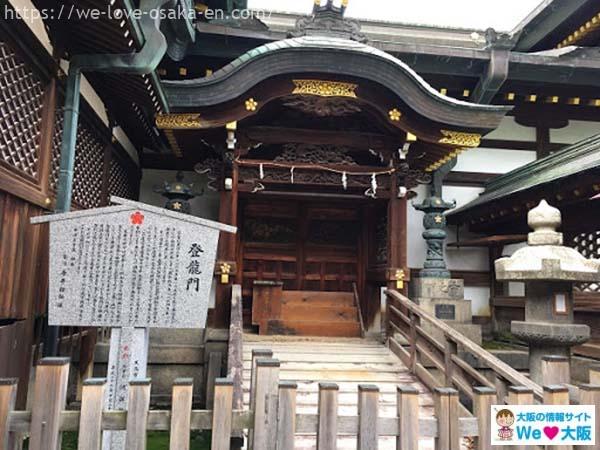 This is Toryumon.(登 means climb, 竜 means dragon, 門 means gate.)Have you ever heard the word Toryumon? The word originally came from a Chinese historical event, "Only the carp that had climbed the rapids became a dragon." which later became a gateway to success.
Well, thre are two Toryumon gates in Osaka Tenmangu, East Toryumon, and West Toryumon. There are several days in a year when you can go through two Toryumon Gates. However, only those who bought a set of a charm for success in exams and Ema(a wooden plaque to write your wish on) can get tickets that take you through two Toryumon Gates. If you "pass" the gates, you will "pass" the exams. Feels like you can pass the exam, right? If you are to take an exam, you should definitely come here to wish for success!
However, you cannot go through the gates at New Year's, so you can buy the set of a charm and an Ema in advance, and visit here later when you can. You don't have to make a reservation, so you need to check the days when you can visit here! Have the deity of Academics answer your prayer!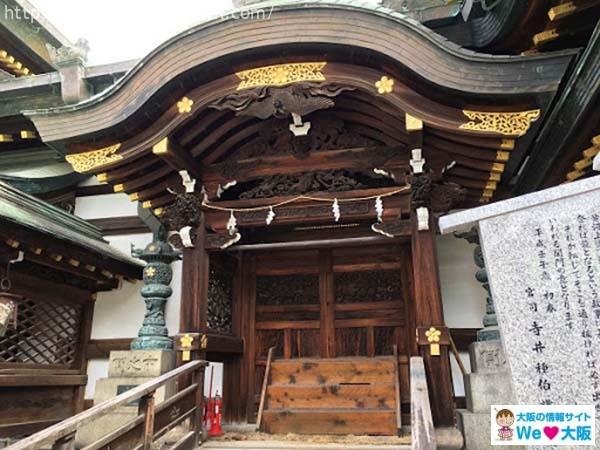 This is the Toryumon to the other side. I wonder what you see while you are passing through.
7.An odd story of Daishogun Shrine, which led to the construction of Osaka Tenmangu Shrine
"Daishogun Shrine" on the property of Osaka Tenmangu. Here, an odd story regarding Michizane has been handed down. Michizane visited Daishogun Shrine before he went to Dazaifu. Half a century later, one night, suddenly sprouted in front of the company, and the treetops glow every night. And the legend says that Emperor Murakami at that time built Osaka Tenmangu by the imperial command, "This is happening because of Michizane's connection." It sounds scary but at the same time dream-like.
It is interesting to know the tradition related to shrines.
When I almost finished walking around,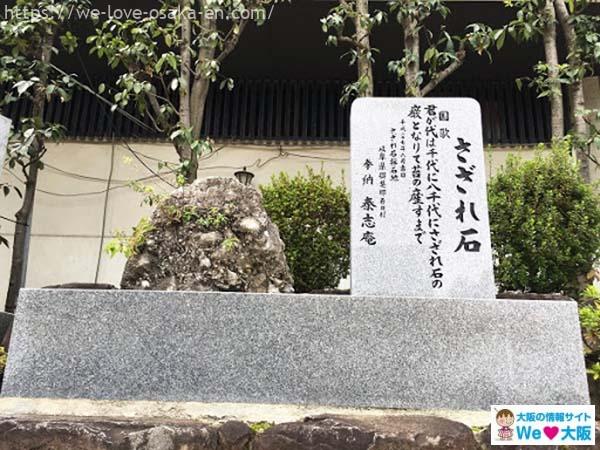 I suddenly found Sazare stone.
The stone is in the lyrics of Japanese national anthem Kimigayo, but probably you have never heard of this name except in the anthem. Sazare stone means "a small stone", and it merges with others to become calcareous breccia after years. This is also said to be "Iwao" that is also sung in Kimigayo.(Sometimes calcareous breccia itself is called Sazare stone.) Especially, the limestone breccia from Kasuga in Ibigawa town, Gifu, is the one sung in Kimigayo. This Sazare stone was extracted in Kasuga as well.
8.What I liked the most in Osaka Tenmangu Shrine was…
This cow.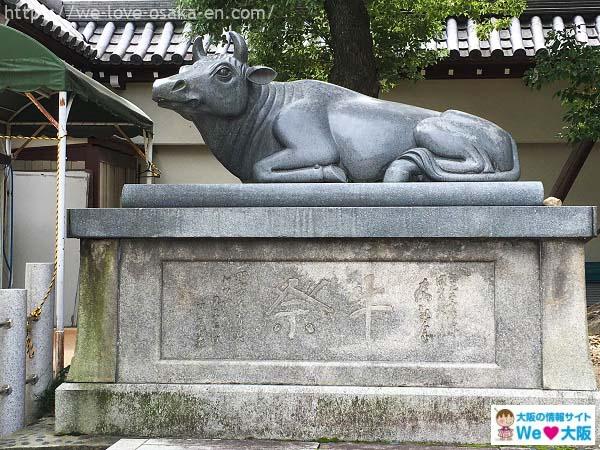 Another cow. Looks different but so cute.
There are various theories about the relationship between cows and Michizane, like "Michizane was born in the year of Cow," or "Michizane left a will that ordered my coffin be dragged by a cow and the place where the cow stops be my grave." Shrines have animals as the messengers of god, and it is cows in Tenmangu Shrine.
Please love the cows when you visit the shrine!(There seems to be other cows in the site. Please look for it.)
9.Tenmangu Shrine for success in exams
I definitely recommend Osaka Tenmangu for those who are taking exams.
Pray for exams at the first visit to shrine, purchase a set of a charm and an ema, and pass through Toryumon gates, and you will pass any exams! (Of course, on the condition that you have made everyday efforts and keep your health condition.) Those who are not going to take exams can also visit here to "succeed" in relationships.
Consider Osaka Tenmangu Shrine for a place to visit for the first time in the year. There are other places to see that I could not introduce here.
Some of you have already decided on a particular place to visit for Hatsumode. If you are one of them, you should visit during the period of Tenjin Festival from the late June to July 25. Tenjin Festival is one of the three biggest festivals, and it features events like Rikutogyo, fireworks, boat races and Gal mikoshi. You will want to post those fantastic events to SNS!
There are "Tenman Tenjin Hanjoutei," where you can enjoy rakugo, manzai, and magic. This is a great sightseeing spot, where you can perform Hatsumode and laugh for the first time in the year! Check out programs and available seats on the home page in advance and visit here. For those who want to enjoy "Tenjinbashi-suji Shopping Street", which is the longest shopping arcade in Japan and those who want to sightsee Umeda, the central area of Osaka, should stay in Osaka because there are many hotels around Tenmangu shrine.
Name:
Osaka Tenmangu Shrine
Address:
2-1-8 Tenjinbashi, Kita-ku, Osaka City
TEL:
06-6353-0025
Opening time:
9:00-17:00
Access:
Exit No.4 at Minamimorimachi Station on the Osaka Metro Sakaisuji Line/Tanimachi Line and turn right at Tenjinbashisuji Shopping Street and turn left at Futatsutsujime for 50 meters
Exit No.3 at JR Tozai Line "Osaka Tenmangu Station"(Tozai Line Access Building) and turn left at Tenjinbashisuji Shopping Street, and then turn left at Futatsutsujime for 50 meters
Related article
What comes to your mind when t……

2019.10.02

First of all,we will tell you.……

2019.09.04
Introduction of writer

Haruna.U
I live in Chiba near Tokyo. I am around 40 years old. I work for cats and Sake (alcohol) . I go to anywhere if alcole is there.
Instagram
#weloveOsaka
Please introduce your "we love Osaka" (Only gourmet of Osaka and spot of Osaka)