【Hirakata-yado Kuwaranka Goroku City】There are handmade city with more than 200 shops from Hirakata park Station to Hirakata City Station!
【Hirakata-yado Kuwaranka Goroku City】There are handmade city with more than 200 shops from Hirakata park Station to Hirakata City Station!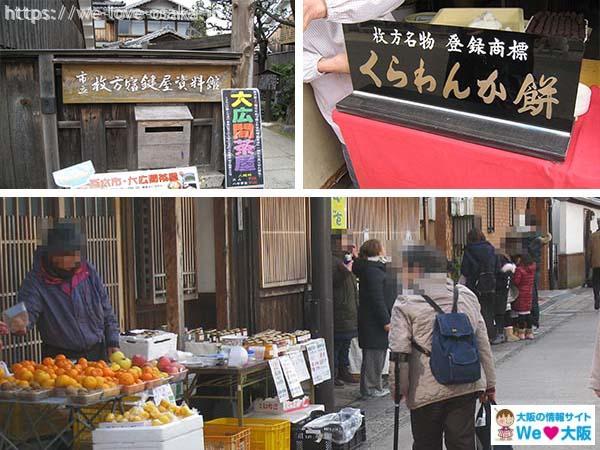 "Hirakata-yado Kuwaranka Goroku City" from Hirakata-shi Station of Keihan Railway to Hirakata-park Station.
This city is Tokaido that connected from Edo to Kyobashi during the Edo period. There are about 200 handmade shops along the road of Hirakata-yado that flourished as the 56th post town. And about 8,000 visitors come every time.
Hirakata-shi Station and Hirakata-park Station are close to the venue, about 5 minutes on foot.
Why don't you experience Goroku City here.
1.What kind of event is Goroku City?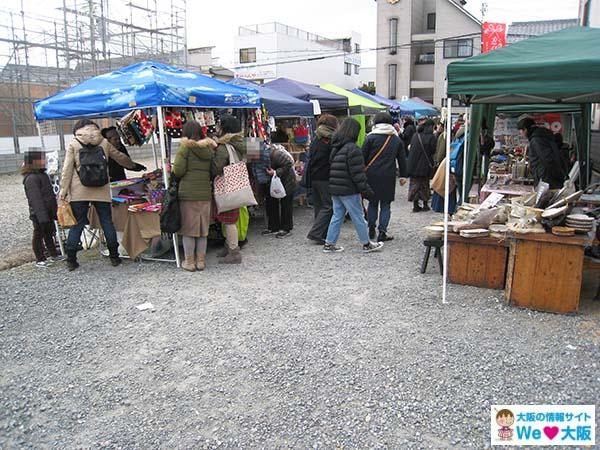 It is the scenery of the venue in Goroku City. It is divided into 13 venues, including parks, temples, clinic parking, and the entrance to home.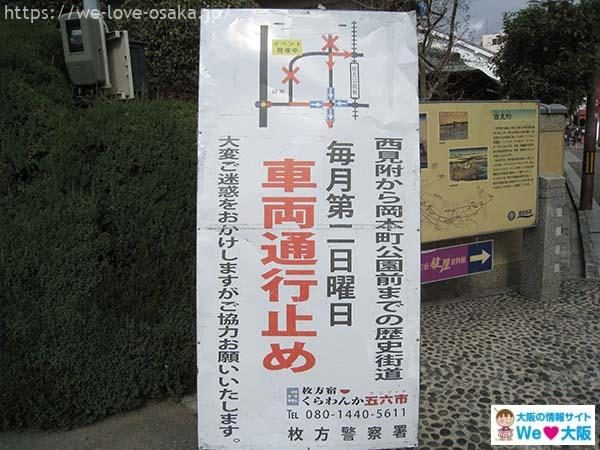 Only local people vehicles can pass around here  because the traffic is restricted during the time period.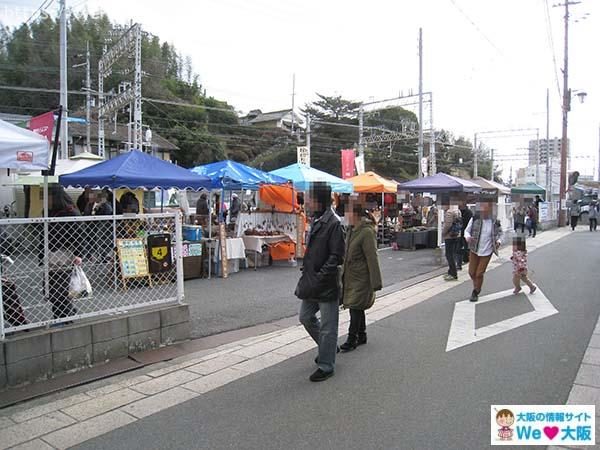 Even you are with a small child, you can enjoy watching the shop.
The whole city is surrounded by such a gentle atmosphere.
Why is it called Gorokuichi?
The name came from the Edo period. Hirakata flourished as the 56th post town on Tokaido.
Tokaido was established by Tokugawa Ieyasu as a route connecting Edo and Kyoto. After that Hidetada Tokugawa add kyokaido.  Four new post towns were set up between Kyoto and Osaka Kyobashi.
Speaking of Tokaido, there is the term Tokaido 53rd (next), which is the number of post towns from Edo to Kyoto. It is said that Tokaido was extended from Kyoto to Osaka Kyobashi, post town became 57, and Hirakata  yado became the 56th post town.
From this 56 it seems that the name "Gorokuichi" was born.
2.Take a walk in Goroku City from Keihan Hirakata park Station.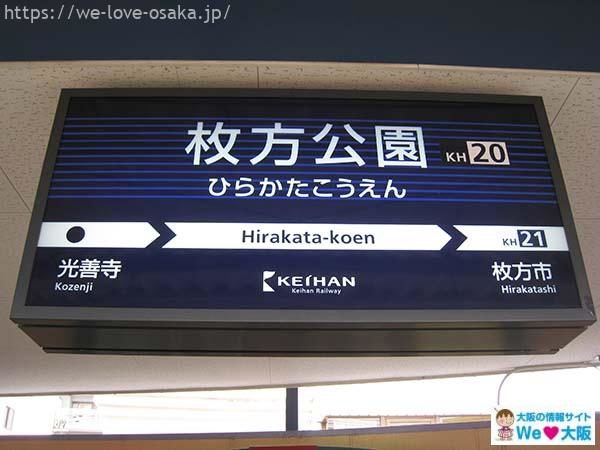 This time, I looked at Goroku City from Keihan Hirakata park Station.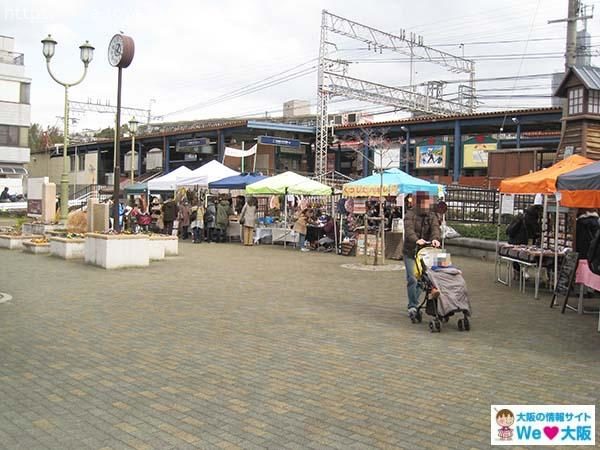 There were also a store in the square just outside the ticket gate at Hirakata  park Station.
First, I aimed for the locksmith museum. It is the starting point on the Hirakata Park side of Goroku City.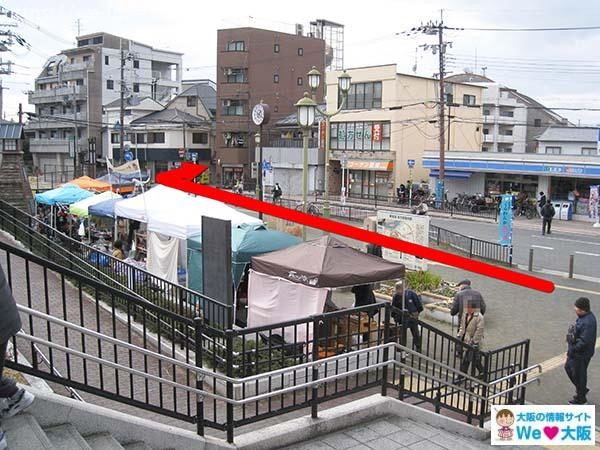 You pass the bridge in front of the station.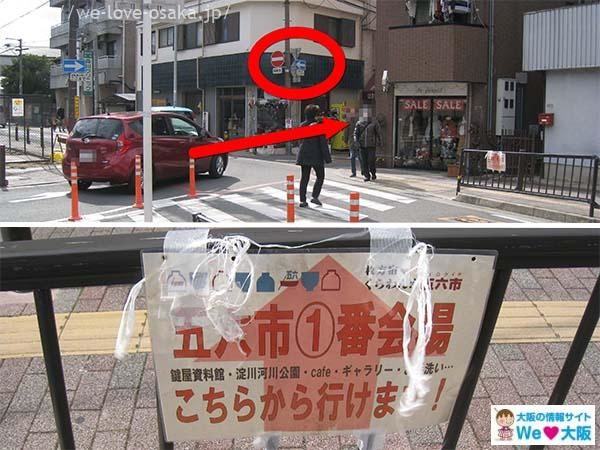 Up: I enlarged the photo of the bridge. Enter the one-way street.
Down: There is also such guidance.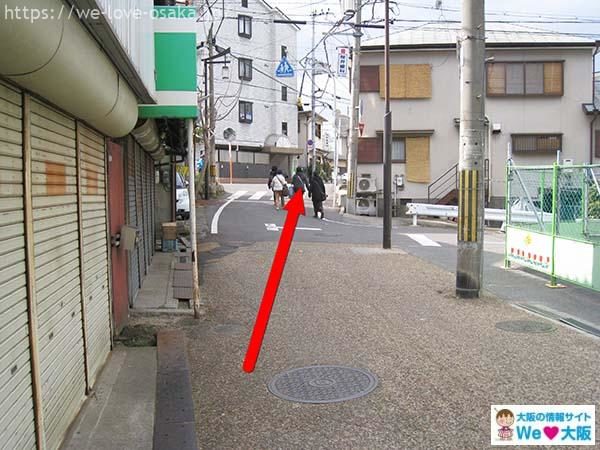 Go straight along this street.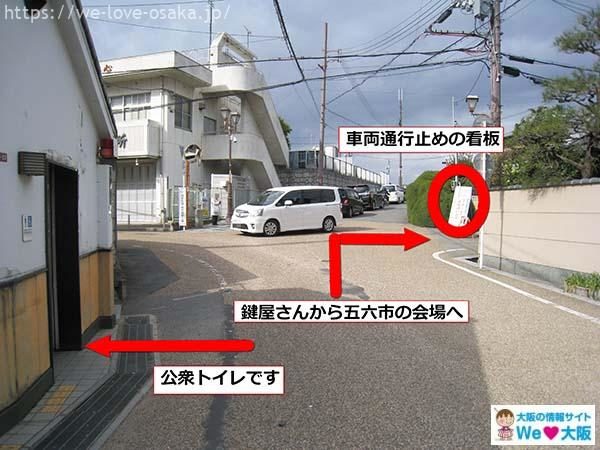 Turn right when you see a white building (Hirakata Fire Department) on your left. There is a toilet in front. There is also a sign "No Vehicle"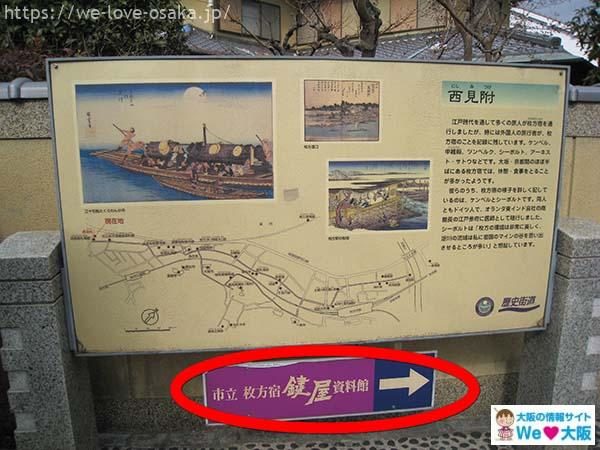 Turn right and you will see the information desk for the locks  museum.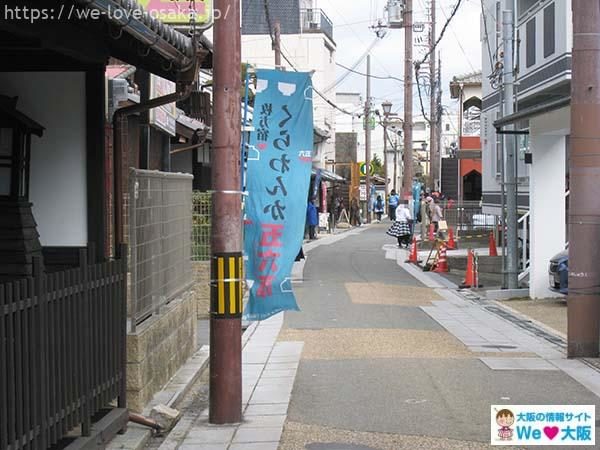 There is the "goroku city" signboard.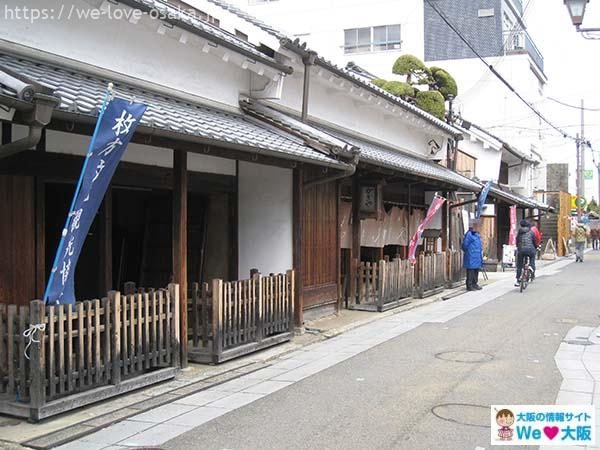 You will find that locksmith museum.
2-1. Stop by the locksmith museum
I heard that "Kurawanka-sushi" and "Gonbo-soup" can be eaten here.
"Gonbo Soup" is a local dish of Hirakata that has been around since the Edo period, and become a menu for school meals in Hirakata City.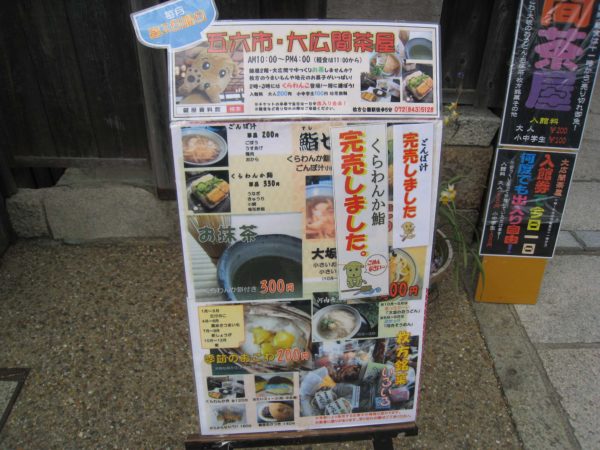 ※Click the photo to enlarge.
I was looking forward to it, but it was already sold out before noon.
However, it will be held again so I will try to visit again.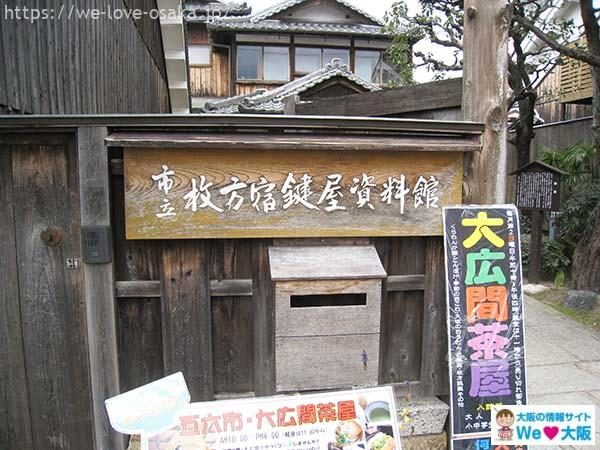 I visited the locksmith museum for a while.
A lockhouse is a hotel. It used by people who board and disembark on a ship connecting Fushimi and Osaka in Kyoto during the Edo period.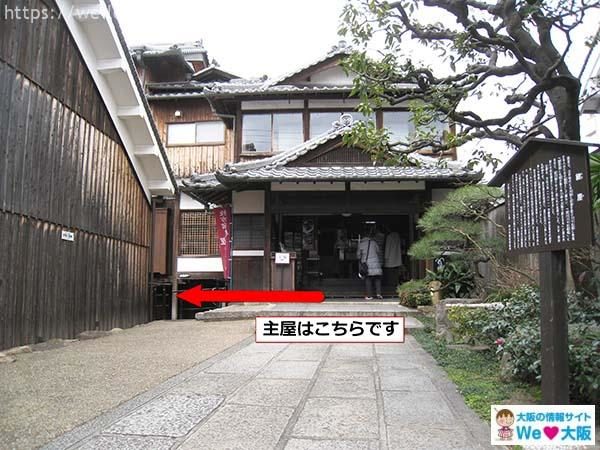 The lockhouse museum need an admission fee, but you can see the "Omoya" facing the street for free.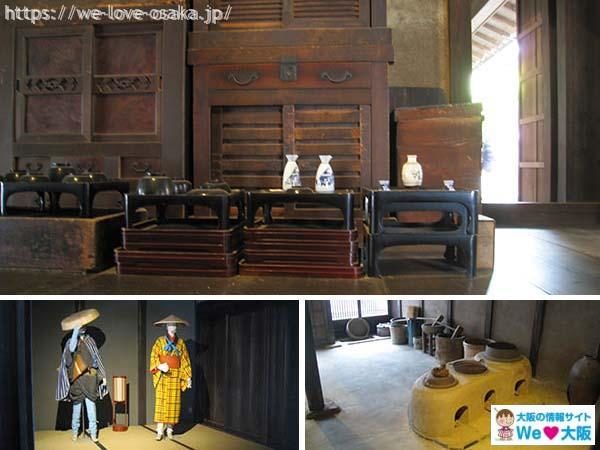 You can see a lot of things from the Edo period.
2-2.There are also a lot of small shops in front home.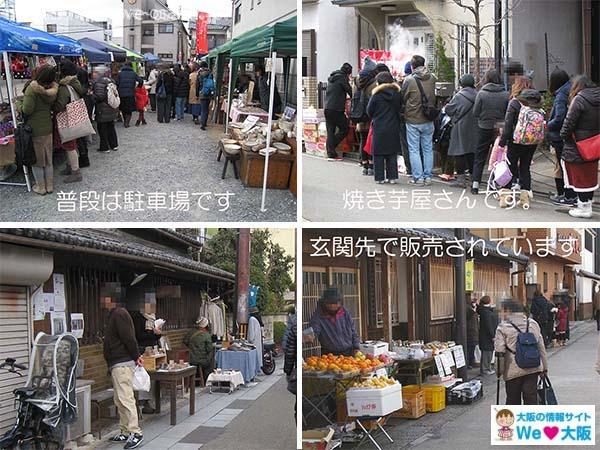 There are various shops in parking lots in Goroku city.
There are many shops selling at the entrance. The yakiimo shop had a line because it was a cold day in early February. There was a good smell.
They sell additive-free handmade confitures at the fruits shop.
2-3.There are also many unique shops and famous item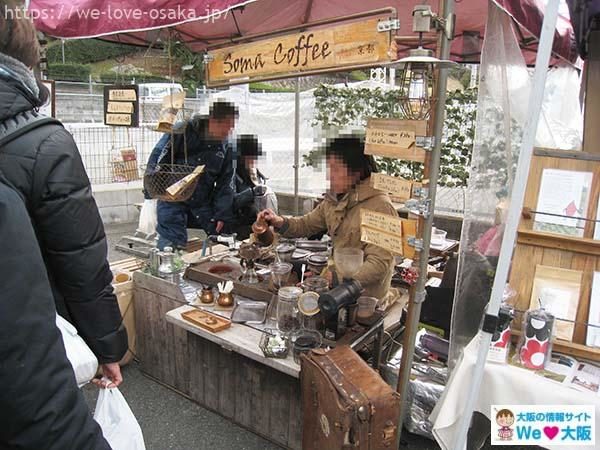 This is a drip coffee shop. The retro atmosphere is very nice. The person  said same things who passed there.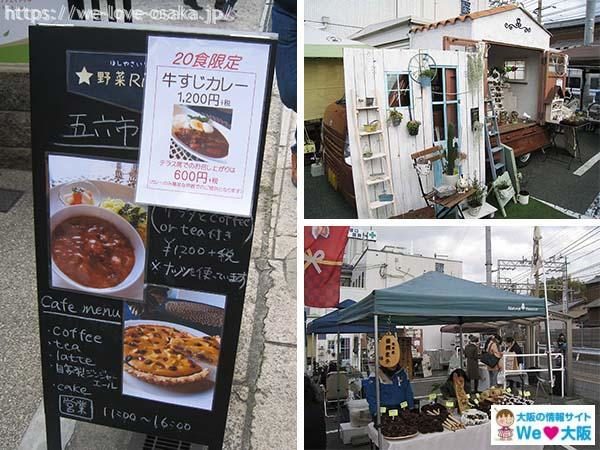 Upper right: This store use car as shop. The shop was selling small cactuses.
Bottom right: This is a Tawashi shop. Various kinds of tawashi were sold.
Left: This is a lunch menu limited to Goroku City. This lunch is half price if you use terrace seats. It is also fun that  you finding such a great lunch.
There were people like this.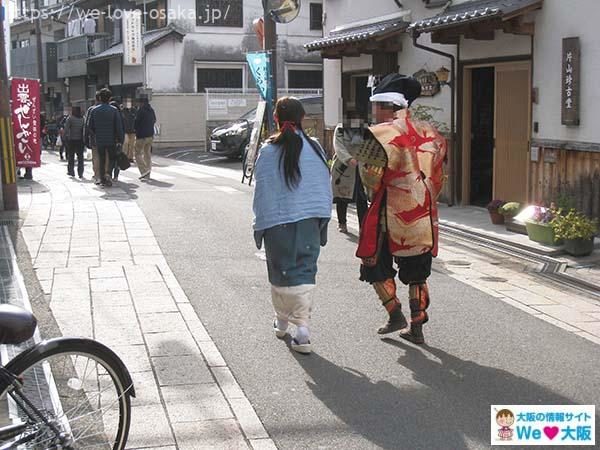 Was there any event?
Hirakata specialty kurawanka mochi!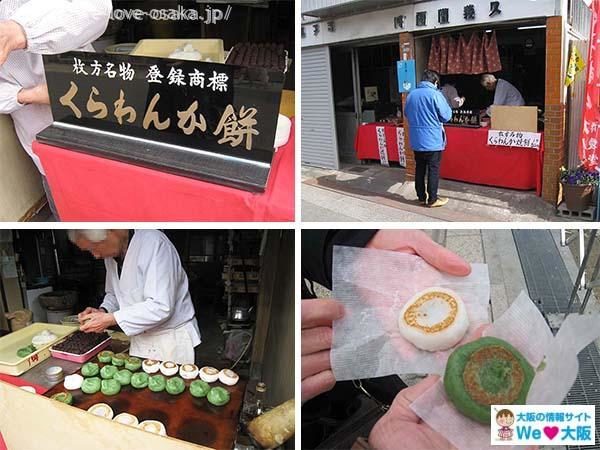 This is also a Hirakata specialty. It is cheap just 80 yen per piece.
There is an azuki into the mochi and the surface is crisp. It was very delicious.
White is a normal mochi, and green is a mugwort-flavored mochi.You can eat on the spot.
2-4. Is there a list of stores to open?
The list of stores is listed on the "Store Map" page of the official homepage of Goroku City. You can print it out, so it's convenient to get it the day before.
Click here for the Goroku City official website.
Also, it seems that you can get it at the administrative office on the day of goroku city.
3.Can I open a store?
In addition to enjoying the city, anyone can open a store.
・First of all, register with the "Store Opening Registration Form" on the Goroku City homepage.
・Those who plan to sell food and food also need to register on the "Food Registration Form". At this time, you will need to send a permit.
・After that, apply from the "Opening Application Form".
For more details, please check the store opening application page in Goroku City.
Click here for the application page for Goroku City.
Name:
Hirakata-yado uranka-Goroku City (abbreviated name: Goroku-shi)
Sponsor:
Hirakata-yado uranka-Goroku City Executive Committee
Date:
2nd Sunday of every mont
Place:
Between from Hirakata station and Hirakata park station
Private parking space:
None
Holding time:
10:00-16:00
TEL:
080-1440-5611
Number of stores:
200 stores
Number of visitors:
8,000 people
Entrance fee:
Free
Store fee:
4,000 yen / 1 booth
*Applications can be made by HP or mail on the 1st to 10th of the month before the month.
4.Summary
Did you feel the atmosphere of goroku City? Not only a lot of handmade shops, but also a friendly atmosphere is attractive. It is held on the second Sunday of every month, why not visit once? I hope that your holiday be a wonderful day.
※ Click here for more information about Hirakata

Related article
Here is a special guided tour ……

2023.03.20

Hatamono Shrine enshrines Orih……

2023.02.09

Hiko Shrine translates as "The……

2023.02.09
Introduction of writer

Ozumi
I was born and grew up in Osaka.Exactly I was born Hirakata, I live in Neyagawa. I went back Hirakata again.
Instagram
#ういらぶ大阪
  Please introduce your "we love Osaka" (Only gourmet of Osaka and spot of Osaka)