ANA Crowne Plaza Hotel Osaka – Discover true luxury on the Club Floor
ANA Crowne Plaza Hotel Osaka – Discover true luxury on the Club Floor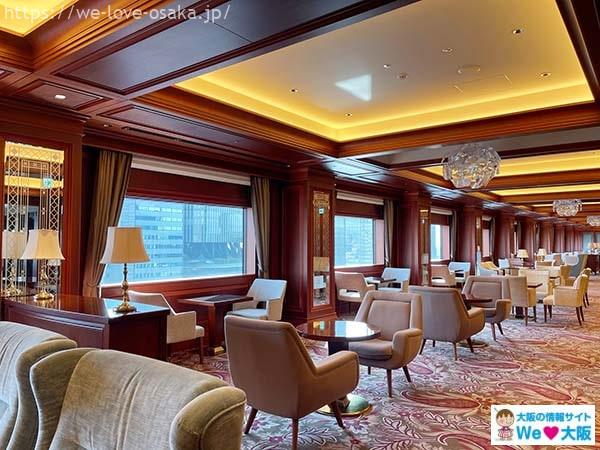 The Club Floor is a special space located on the upper floors of ANA Crowne Plaza Hotel Osaka where you can enjoy high-class services and privileges. The Club Floor can be used for a variety of purposes, from a solo trip to a business stay, with your boyfriend, girlfriend, or husband and wife, to a ladies' night out, or as a reward for yourself. How about taking this opportunity to stay at a nearby hotel where you can relax? This time, ANA Crowne Plaza Hotel Osaka gave us special access to The Club Floor so we could find out what it's really like.
ANA Crowne Plaza Hotel Osaka – Club Floor Accommodation Privileges
・Use of the Club Lounge on the top floor of the hotel
・One bottle of mineral water per person
・Use of the swimming pool and sauna
・Turndown service (if desired)
・Removing bedspreads and decorative pillows to make the bed
・Limousine service (for a fee)
I think the best part of staying at a Club Floor is the access to the Club Lounge! At ANA Crowne Plaza Hotel Osaka, breakfast, afternoon tea, and cocktail service are free! Let's find out more.
Check-in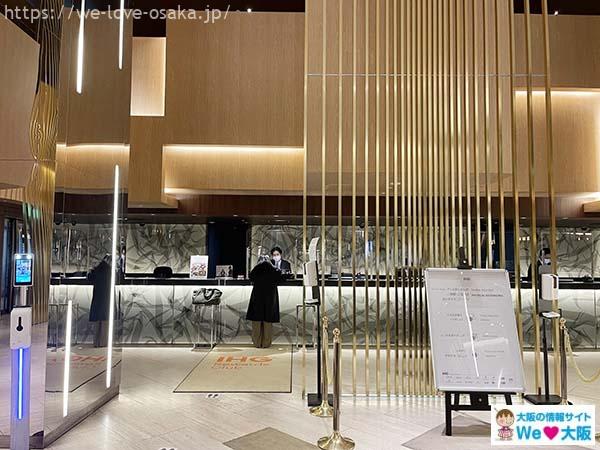 Check-in starts at 15:00. If you are staying on the Club Floor, you can check in and check out at the club lounge, but when we visited during the Covid-19 pandemic, you could check in and check out at the front desk on the first floor of the hotel.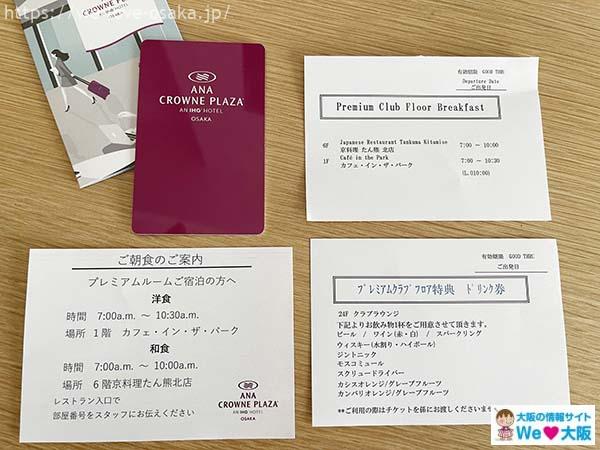 When I checked in, I received a room card for exclusive use on the Club Floor, breakfast information, a breakfast ticket, and an alcohol drink ticket for tea time at the Club Lounge.
Club Floor rooms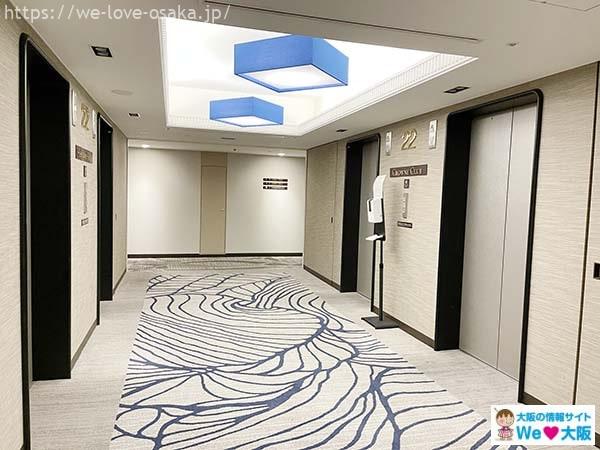 ANA Crowne Plaza Hotel Osaka has guest rooms from the 7th to 23rd floors, with Club Floors located on the 19th to 23rd floors. This time, I visited the premium Club Floor on the 22nd and 23rd floors…just hold up the floor-specific card key in the elevator and you're on your way to the 22nd floor!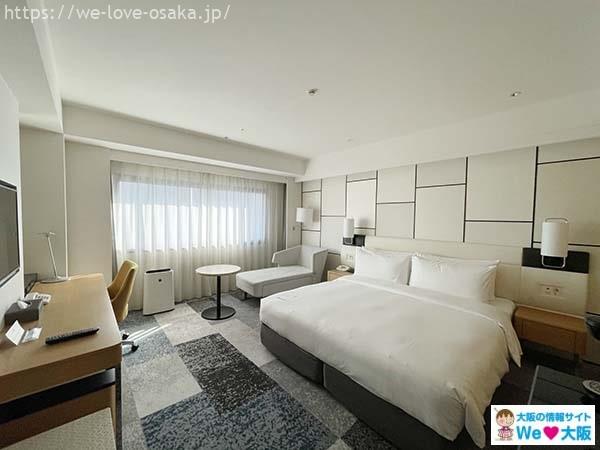 The handsome premium superior double room is a spacious 31 square meters, while feeling stylish and relaxing.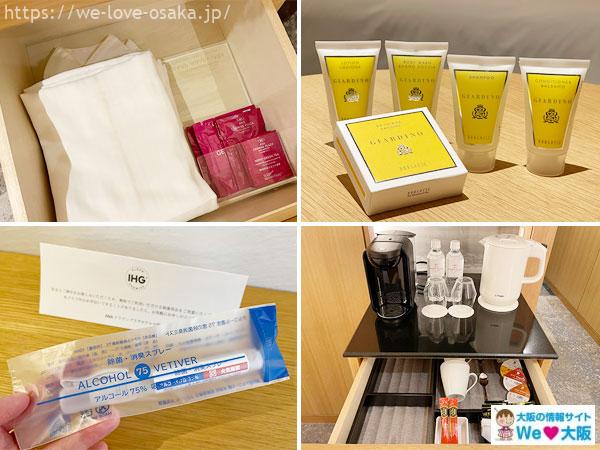 First, check out the amenities!
Top left: ANA Crowne Plaza Hotel's original good sleep support set in a drawer. It includes a hot eye mask, bath salts, tea bags for nighttime and morning use, and one-piece pajamas.
Top right: The amenities exclusive to the Club Floor are made by the luxury Italian brand Borghese, and include body wash, body cream, shampoo, conditioner, and soap. Also, shaving gel, razors, combs, cotton swabs, and toothbrushes were set in the washroom.
Bottom left: A service bottle of mineral water, an electric kettle, and a coffee machine. Coffee and teas in the drawer.
Bottom right: A portable disinfectant deodorizing spray is also provided.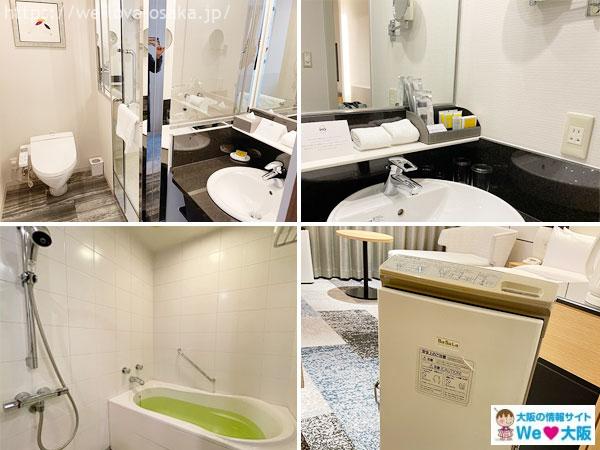 The bathroom, toilet, and sink are separate and easy to use, and there is also a hair dryer. The bathtub in the bathroom is spacious, and you can relax and stretch your legs with bath salts included in the amenities package. Now that I've introduced you to your room, it's time to head to the top floor of the hotel, the Club Lounge on the 24th floor, where the fun really begins.
Top Floor Club Lounge
Business hours: 15:00 – 20:00 (non-smoking)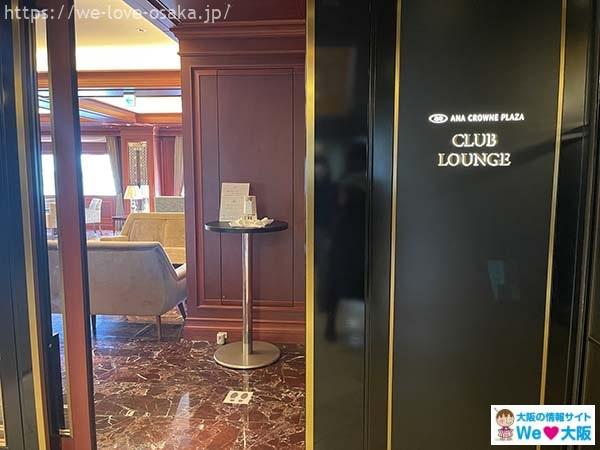 A special space available only to guests staying on the Premium Club Floor and Club Floor. Located on the top floor of the hotel, ANA Crowne Plaza Hotel Osaka's Club Lounge is one of the largest in western Japan! The attraction is that it offers complimentary drinks and snack food during afternoon tea and cocktail service hours! The other great thing is that you can drink as many soft drinks as you want anytime during the business hours.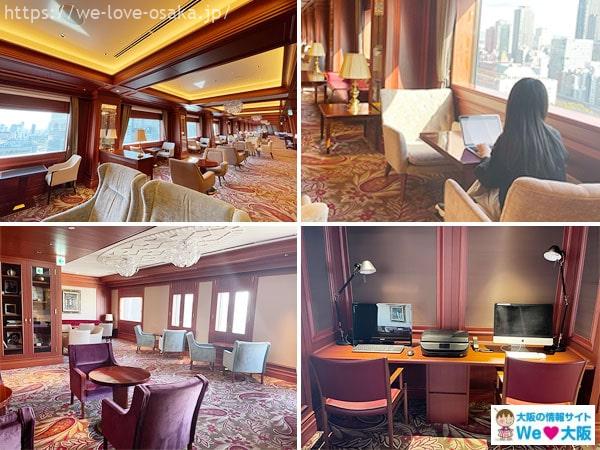 It's so big! It's just so spacious that it makes you wonder where to sit! And not only spacious, but chic and gorgeous! But also has a somewhat antique and stately atmosphere, making it an extraordinary space that is very nice. There is also a computer and printer in the back of the room, making it a very convenient environment!
Afternoon Tea
15:00-17:00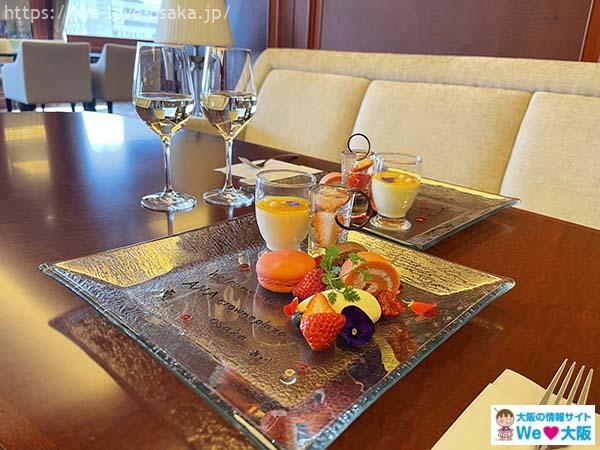 Usually afternoon tea time is all buffet style, but during the pandemic the buffet was scaled down and each person was served a plate first.
(※The image is an image.)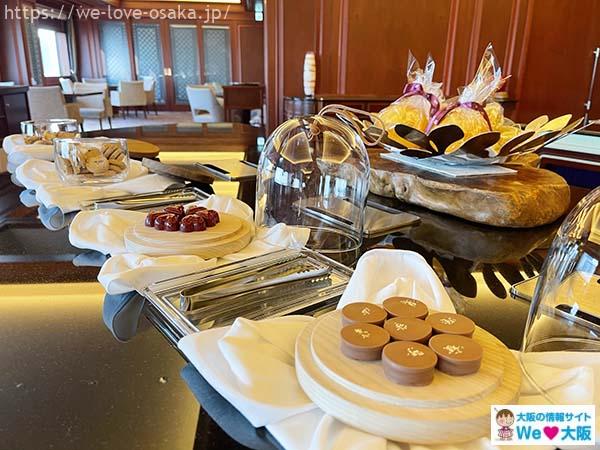 The buffet table is lined with pastries and fruits.
The chocolate and cookies are delicious ♡
The fruit is wrapped, so if you ask for it, they will cut it beautifully and bring it to you ♡
After enjoying sparkling wine with an alcohol drink ticket, I also had a soft drink.
Cocktail service time
18:00-20:00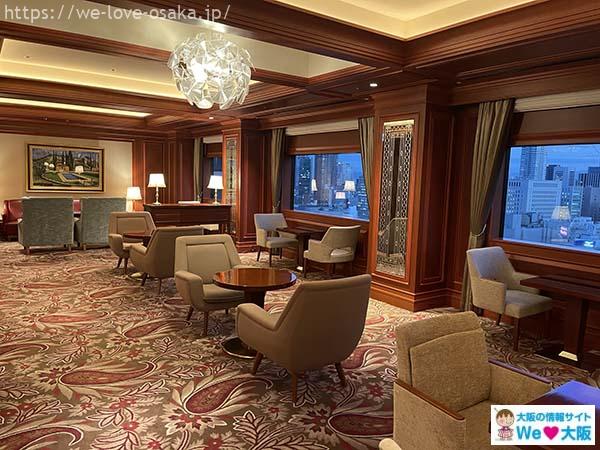 Cocktail service is available from 18:00 to 20:00. The moody lounge after the sun goes down also has a wonderful atmosphere♪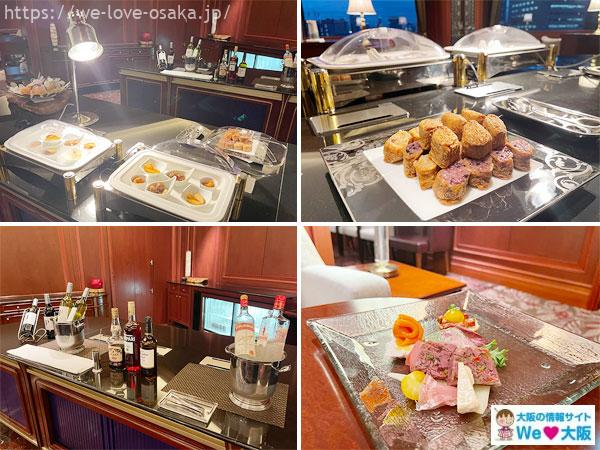 Cocktail hour is also reduced in size for the buffet, so hors d'oeuvre plates are served first. The buffet includes hot meals and inari sushi, and alcohol service includes wine, beer, whiskey, cocktails, soft drinks, and as many other drinks as you like.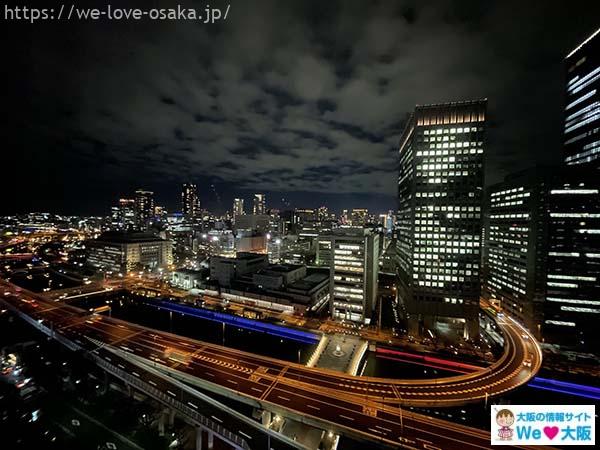 You can relax alone while looking out the large windows at the glittering night view of Osaka, or you can enjoy alcohol and drinks as much as you like with your friends, as a couple, or with your loved one. It's quite a handsome and comfortable place to be.
Dinner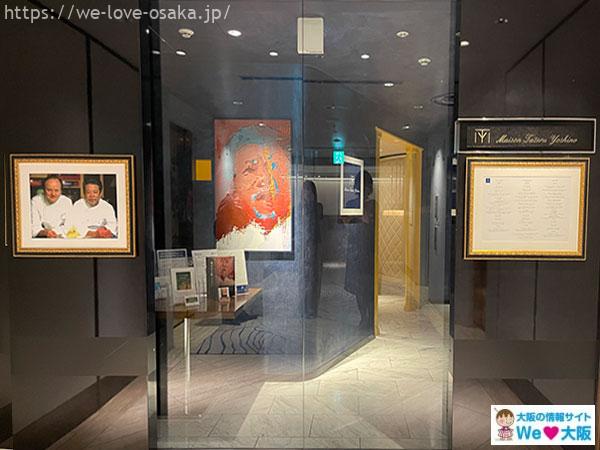 ANA Crowne Plaza Hotel Osaka offers a wide variety of restaurants including French, Chinese, Teppanyaki, Kushi-Age, and Japanese cuisine. Among them, we will be having dinner at the French restaurant "Maison Tateru Yoshino", which has been awarded a Michelin star for four consecutive years!
(*Dinner is not included in the Club Floor plan.)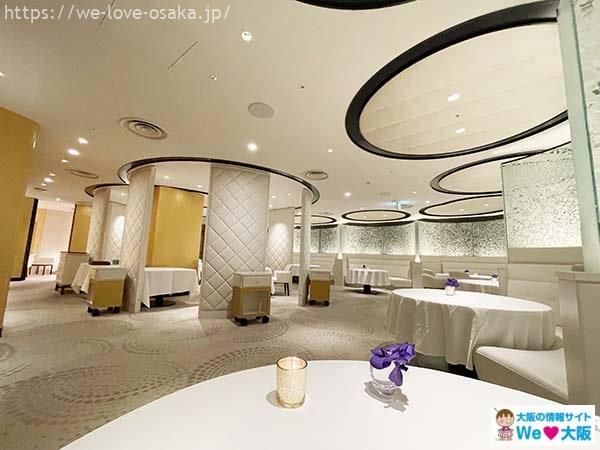 The interior of the restaurant is a bright and elegant space with white as its base color. I was a bit nervous because I thought French cuisine in a hotel sounded intimidating, but I was surprised by the relaxed atmosphere that made me feel at ease. The circular, semi-private room style makes you feel at home without worrying about your surroundings.
Menu
※Click to enlarge the photo.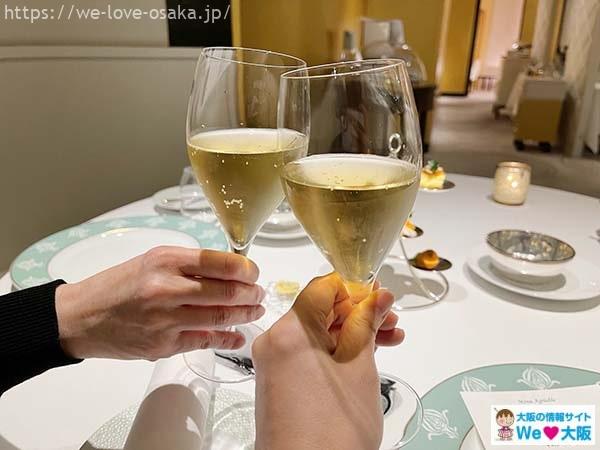 First of all, I would like to toast with a glass of champagne, but I was a bit flustered after having a drink in the lounge earlier (I'm a weak drinker), so I asked for a soft drink, and they gave me one…a handsome sparkling apple drink, which was refreshing and very tasty! I recommend it to those who can't drink to make them feel like they are drinking!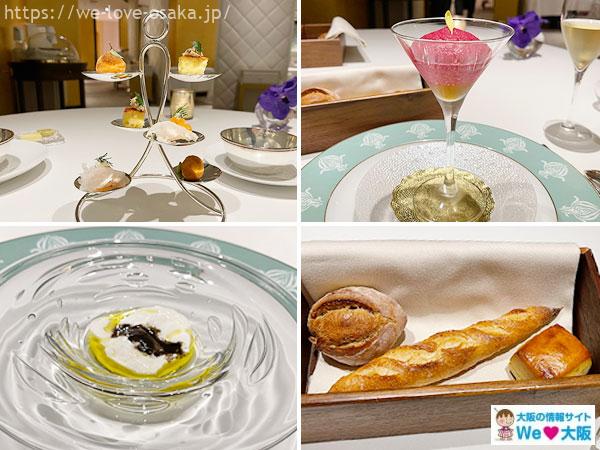 Top left: The amuse is a little bit cute and exciting at first…
Top right: Beetroot espuma mousse, which looks pink and cute, and consommé jelly underneath.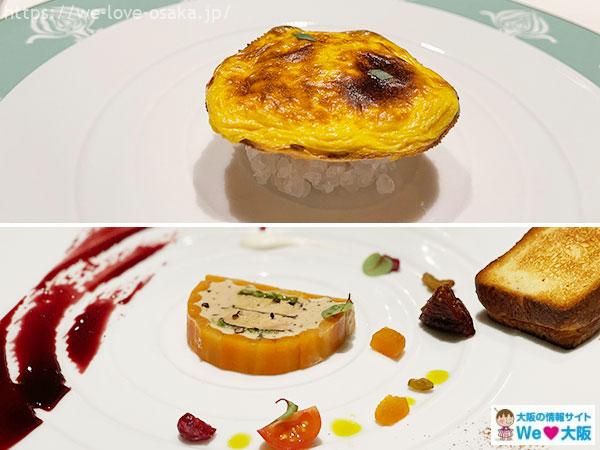 Top: Seiko crab with crab legs inside! A luxurious dish…
Bottom: carrots all around, foie gras inside, looks gorgeous, and when eaten with brioche bread, the sweetness of the bread matches the flavor of the foie gras, delicious!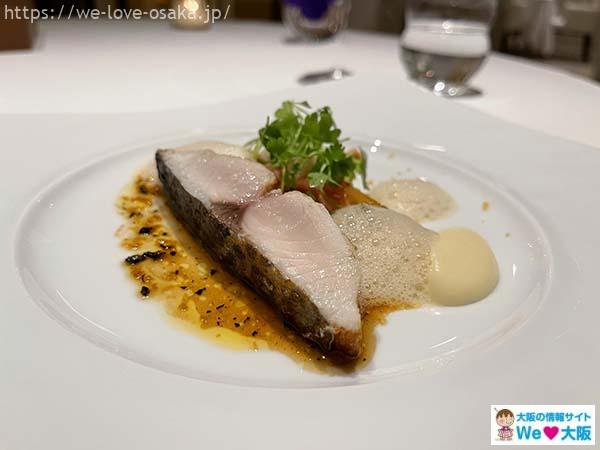 Spanish Mackerel Poiret
The exquisite rarity of the Spanish Mackerel goes well with the green apple awaited sauce!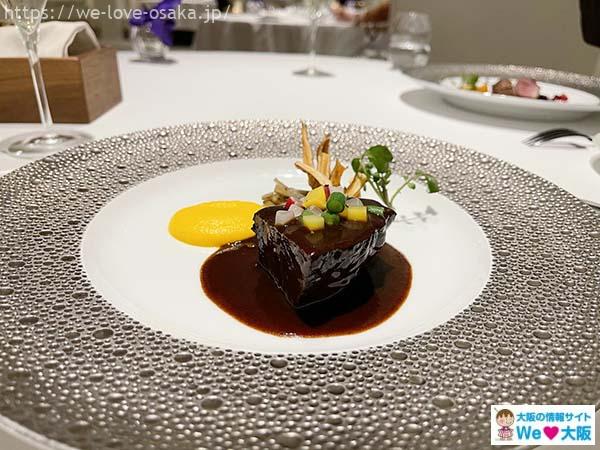 Beef cheek meat from the choice menu is very tender and melts in your mouth. It's delicious with the red wine sauce!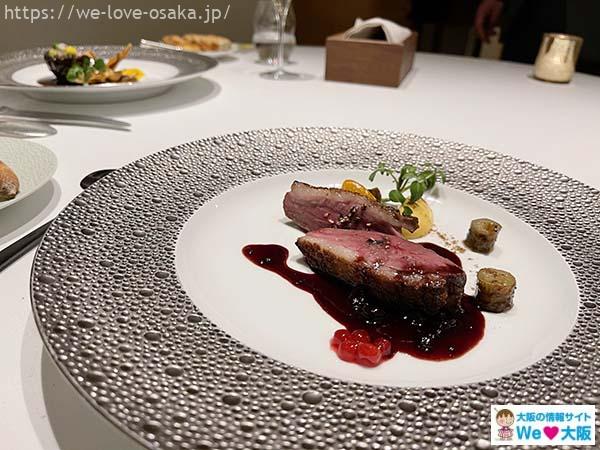 This is a handsome silver duck from the choice menu that goes well with the cassis red wine sauce! The more you chew, the more you can taste the duck flavor.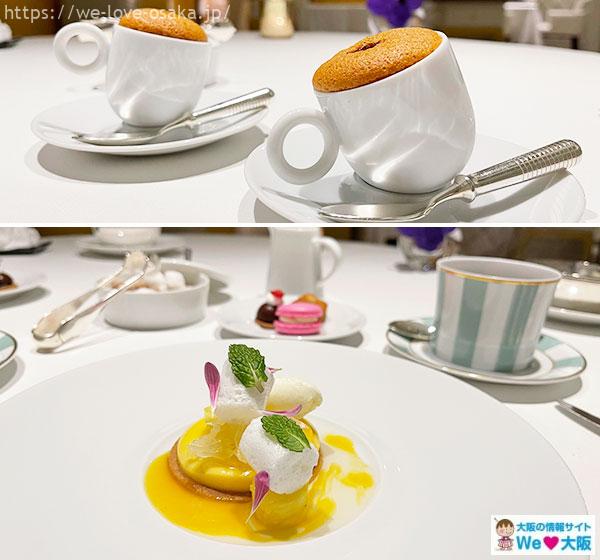 Finally, there were three kinds of desserts for the sweet tooth! Not only the food, but also the space and the dishes were beautiful and pleasing to the eye! There is also a private room for celebrations and surprises for birthdays, anniversaries, etc. ◎On the day we visited, several couples were celebrating, and the singing service was wonderful!
Store name:
Maison Tateru Yoshino
TEL:
06-6347-1128
Business hours:
Lunch 11:30-14:30 (L.O.13:30)
Dinner 18:00-21:00 (L.O.19:30)
Regular holiday:
Irregular holidays
▶Business hours, holidays, reopening facilities and store hours will change, so please check the website and so on for that!
Breakfast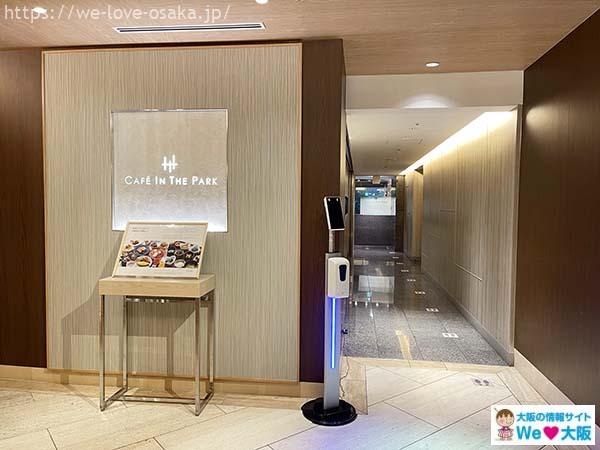 When we visited, breakfast was held either Café in the Park on the first floor of the hotel or Kyoto Cuisine Tankuma on the sixth floor. This time, we went to Café in the Park!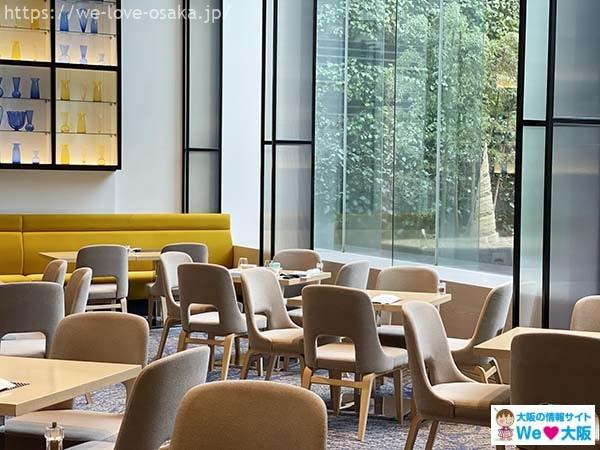 The ceiling is high, and bright morning sunlight enters through large windows to create a cheerful atmosphere.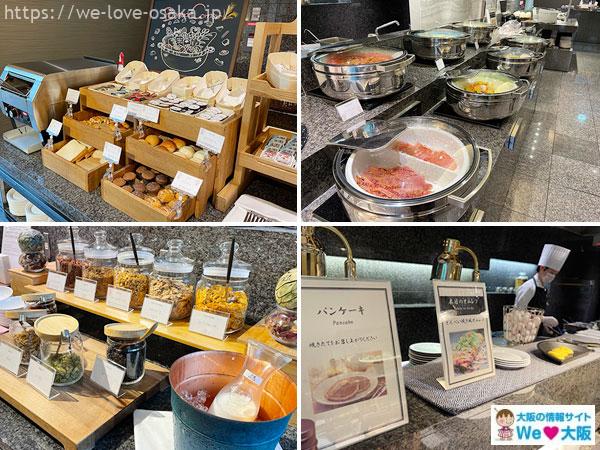 Breakfast is buffet style, and you wear a mask and gloves. Breads, cereals, salads, of course, but also Western food like sausage and bacon, Japanese food like fish and side dishes, and even Chinese food like dim sum and fried rice! Hot Japanese omelets and pancakes that can be ordered at the table are also a delight♪.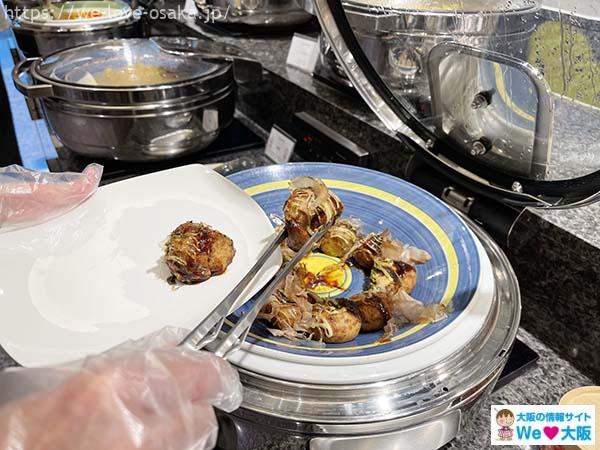 Takoyaki (octopus dumplings) are also available…and the octopus is huge and delicious!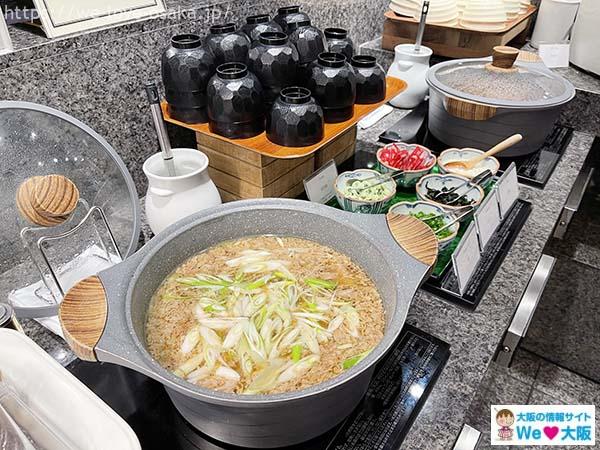 Personally…the tension went up a notch when I found this!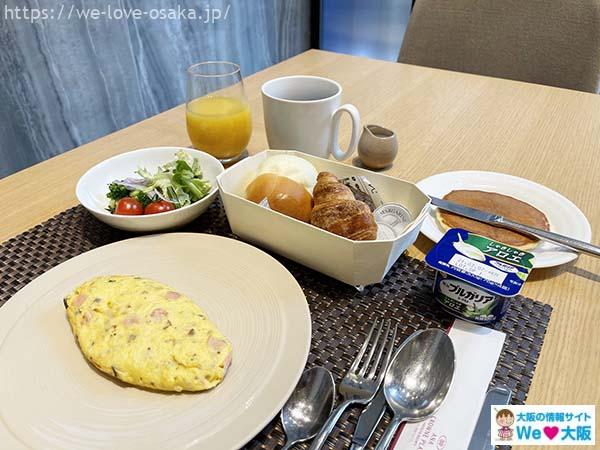 Western-style set menus are ready…and you can even choose the ingredients in the omelette!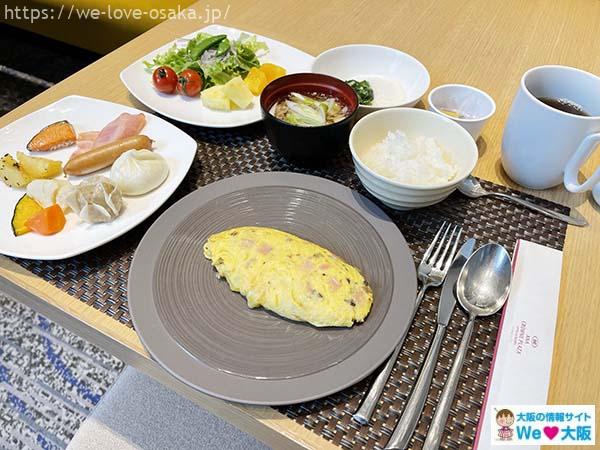 This is a Japanese set meal…the rice is shiny.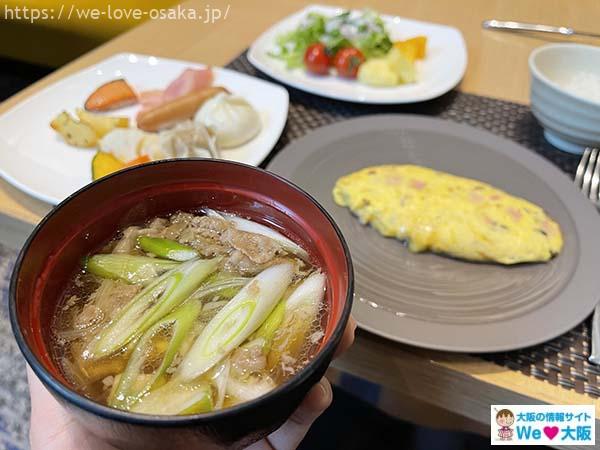 The soup is so rich with meat! The sweet and savory taste of the meat comes out well.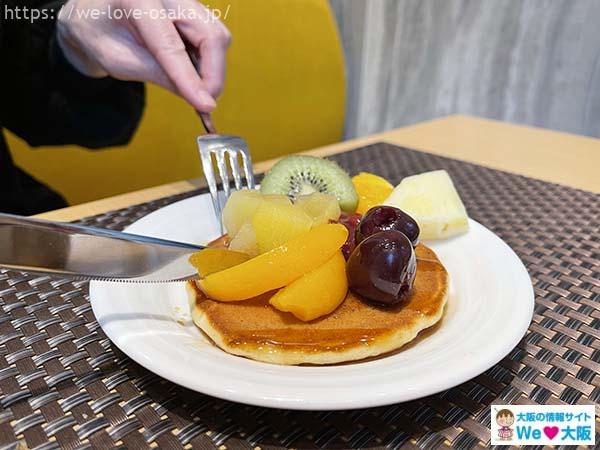 I can't help but order pancakes! They are topped with fruit in syrup and other fresh fruits… and they are so delicious, I'm already hungry in the morning! I was also glad to know that they offer coffee take-out service to take back to your room after you leave. Unfortunately, I was too hungry and declined the offer this time…
Facilities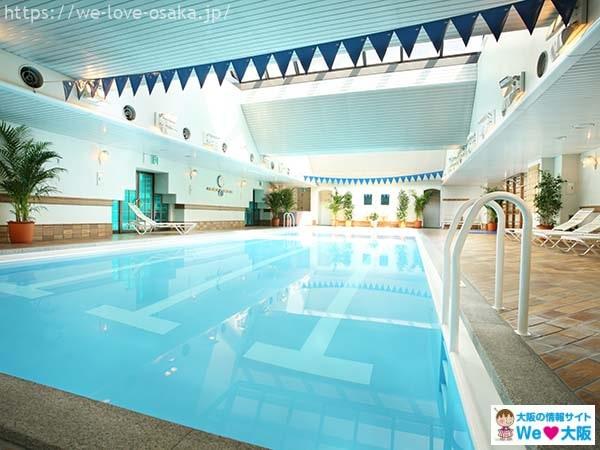 A bright indoor pool with a view of the sky and a sauna are available free of charge for club guests.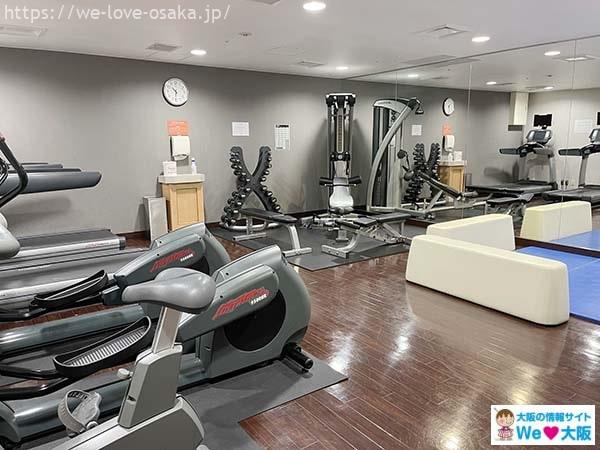 There is a fitness gym next door so you can exercise even if you eat too much – lol!
Check-out
Check-out time is 12:00. You can also enjoy a leisurely breakfast and relax in your room after dinner.
Summary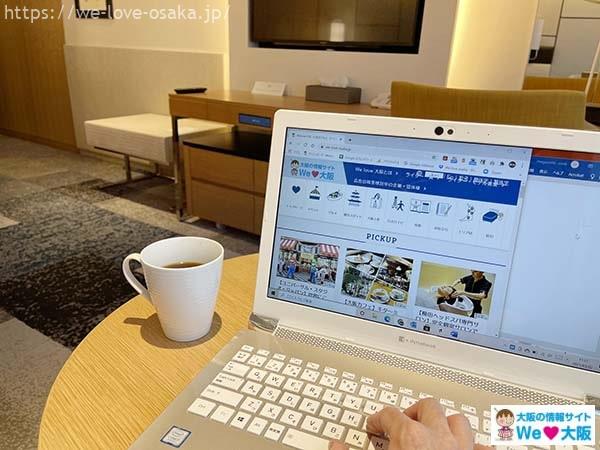 When I stayed at the hotel this time, I thought… "Relaxing hotel life on the club floor is great!" The biggest attraction is that you can use the club lounge. You can relax while having tea and sweets, and at night you can drink to your heart's content while enjoying the night view! What luxury!
It's great for a girls' trip, relaxing alone, or a date night…and the Wi-Fi makes it perfect for remote work! I'm sure I'll be staying here again and again!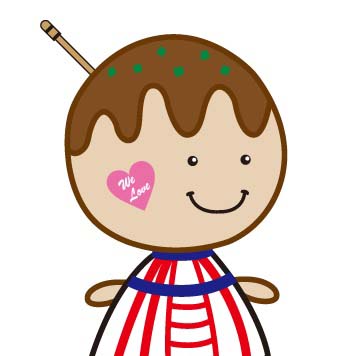 くるるん

The ANA Crowne Plaza Hotel staff greeted me with a smile and said, "Please make yourself at home."
Access and Reservations
Hotels in Osaka are a great place to relax and enjoy an extraordinary experience in the neighborhood. The hotels have also taken measures to prevent the spread of Covid-19, so when you go out for fun, take measures against infection and refresh yourself!
Hotel Name:
ANA Crowne Plaza Hotel Osaka
Address:
1-3-1 Dojimahama, Kita-ku, Osaka
TEL:
06-6347-1112
Check-in / Out:
15:00 / 12:00
Number of rooms:
473 rooms in total
Access:

・Approximately 9 minutes from Metro Nishiumeda Station
・Approximately 6 minutes from JR Kitashinchi Station
※There are other plans such as the plan with dinner at Maison Tateru Yoshino , so please check it out!
▶Business hours, holidays, reopening facilities and store hours will change, so please check the website and so on for that!
Related article
The Club Floor is a special sp……

2023.01.18

Popular spot Tennoji, Abeno ar……

2020.04.07

We introduce recommended panca……

2020.04.07
Introduction of writer

Bu-bo☆
I like eating and I love cats. I was born and grew up in Osaka. I'm a native of Osaka. I like that looking for delicious food. I don't lose anyone about it .
Instagram
#ういらぶ大阪
  Please introduce your "we love Osaka" (Only gourmet of Osaka and spot of Osaka)