Pray for pet health! We introduce Japanese medicine Souchinju and Sukunahikona shrine of Dosyo-machi Osaka.
Pray for pet health! We introduce Japanese medicine Souchinju and Sukunahikona shrine of Dosyo-machi Osaka.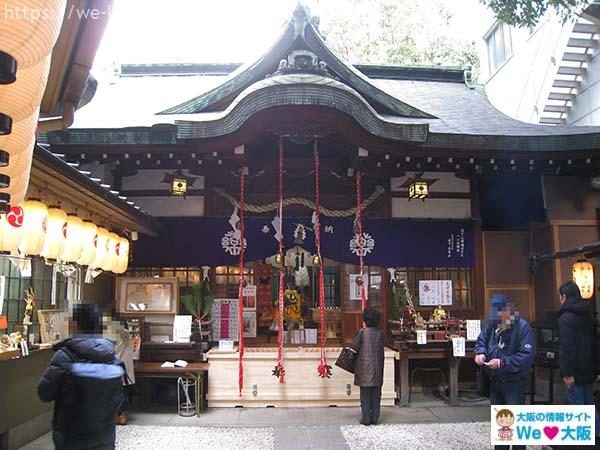 There are various wishes that you want to be good fortune,achieve your love,dream come true, but I think the most important thing is health.
Even if you have money, even if you have a boyfriend or girlfriend you can not spend money as you would expect if you are not healthy, and also you can not dating.
Many people wishing for health are visiting here. It is also known as a shrine where medical professionals and pharmaceutical companies visit.
Recently, a famous idol from Japan has visited there. So it's become a popular spot among its fans.
Not only people , also important pet health can be prayed. It is another feature of the shrine. Pets are also part of an important family. I want you to stay healthy forever.
And the stamp that has been growing in popularity recently. It is not only regular stamps, there are many another stamps.
We will introduce not only the shrines, but also the access method from the nearest station Keihan.And about stamps too.
1.God of health"Sukunahikona shrine"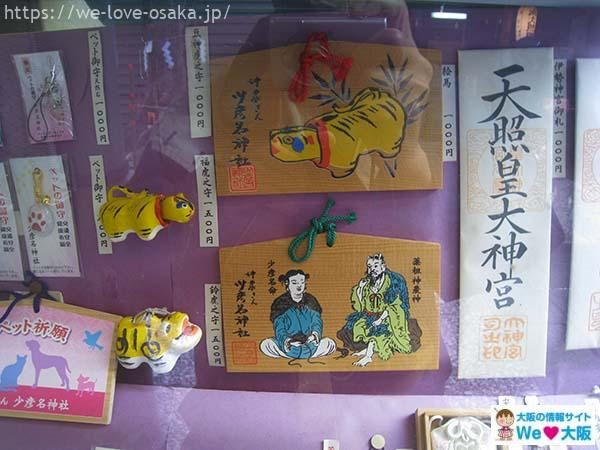 Hikona's only thing is said to be the ancestor of Japanese medicine. Not only that, it is also known as the god of sake and onsen.
There is another god here. He is Shinnouentei. It is considered the god of Chinese medicine. It is also said that this person confirmed the efficacy of the medicinal herb himself and informed the people of medicine and agriculture to people.
In other words, the gods of Japanese and Chinese medicine is be there.
1-1.Doshi Imachi is medicine town.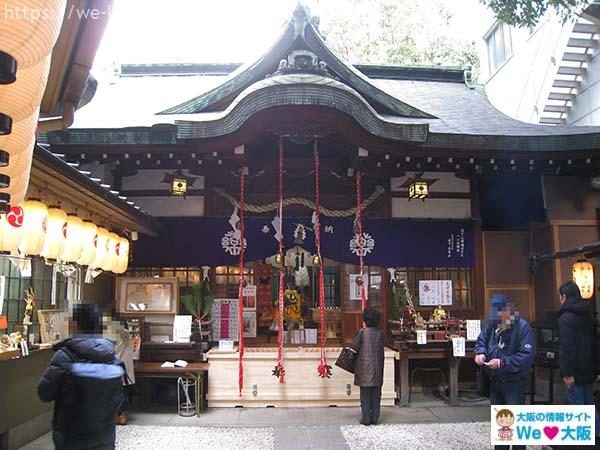 Doshomachi, which has a Sukunahikona Shrine, is also famous as a medicine town. The pharmaceutical company is next to both shrines.
We introduce the history of Dosho-machi.
When Doujincho built the Sanomaru of Osaka Castle, It is said that Toyotomi Hideyoshi to have started by migrating the people who lived.
Doshomachi is said that to be a town of medicine as it is now, and it opened a shop that sell medicines in the Edo period.
After that, the Tokugawa Shogunate was given the privilege to inspect and price medicines imported from China and medicines made in Japan for sale nationwide. In this way, Doshomachi became famous as a medicine town.
In the Meiji , They established a company that conducts quality inspections and a school for learning about medicine knowledge. Now It became a famous university.
1-2.Health of pet!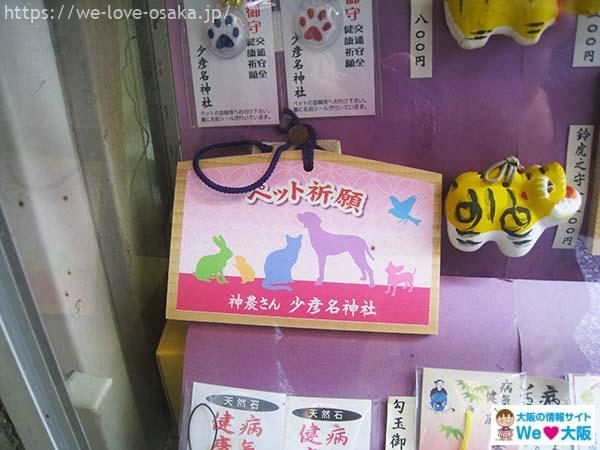 Here you can also pray for your pet's sickness, health and peace. In addition, there is also a day when you can have your first visit to shrine with your pet around mid-January every year.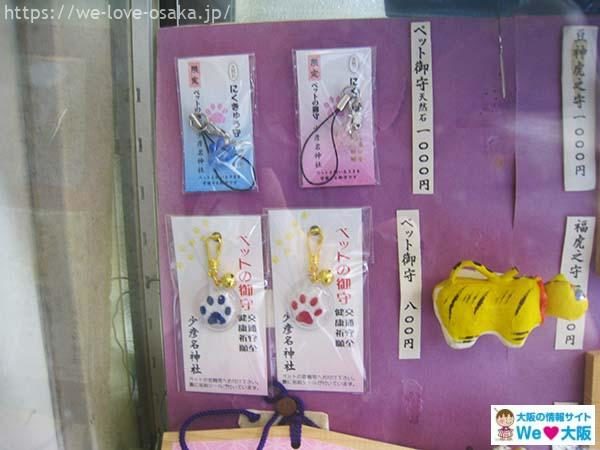 In addition, there are also pet-only emas and amulets. In Dosho-machi , there are pharmaceutical companies for pets as well as pharmaceutical companies for people.
1-3.Tiger , a messager of god!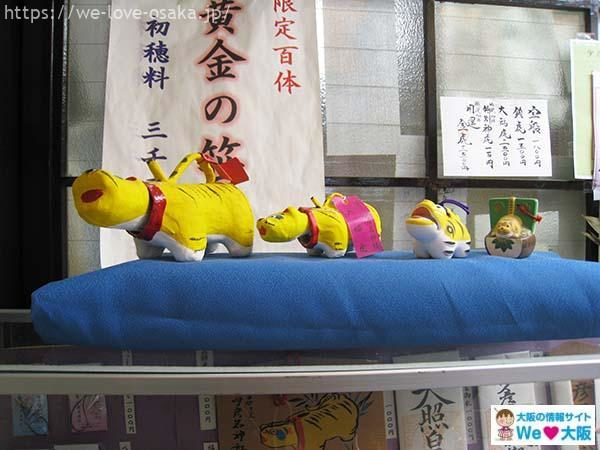 Shrine has messenger of god. It is supposed to connect God and us who live in this world, and there is also has messager of God here, and it is a tiger.
1-4.There are many stamps limited season and limited rainy day.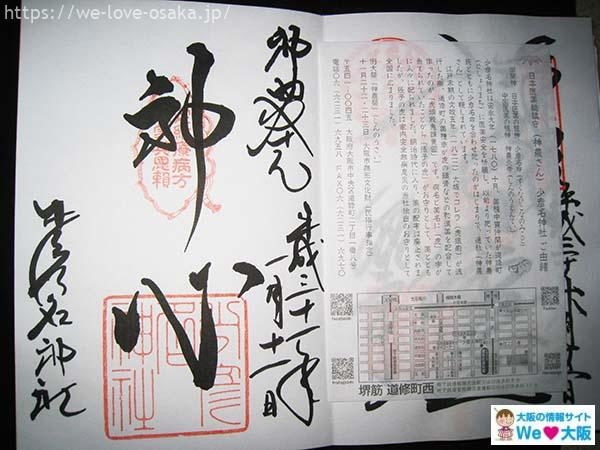 This is normal stamp.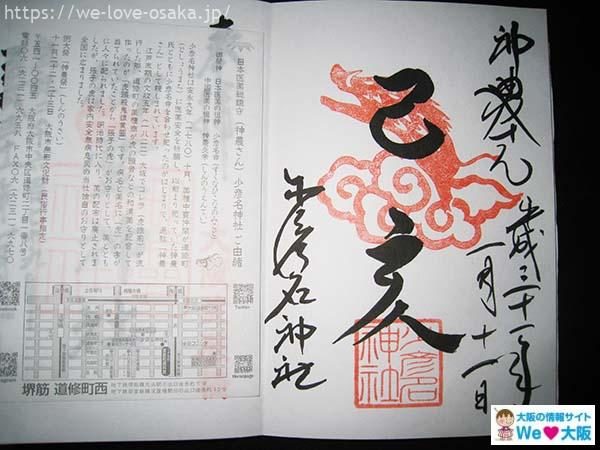 This is a January limited stamp. The eto  of 2019 is a boar, so it is a stamp that contains the word "i(亥)".
There are many stamps that limited rainy day and it can only be received by people who cleaned the grounds . Specifically, please confirm on the homepage of the shrine.
1-5.Yoneno festival"Shinnousai"
The festival at the Sukunahikona Shrine is called "Shinnosai" and takes place on November 22 and 23 every year (the dates never change). It is said that "The festival in Osaka starts from ebessan and ends Shinousan" and is also called "Tome no Matsuri".
1-6.Gold statue of Ebis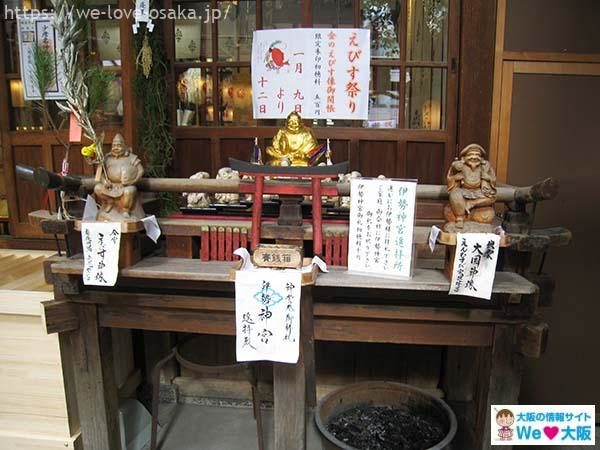 The golden Ebisu statue is open to the public from 9 to 12 January.
This is only during the Ebisu festival and can not usually be seen. I recommend in that week if you go to there.
1-7.There is ema of Japanese idol !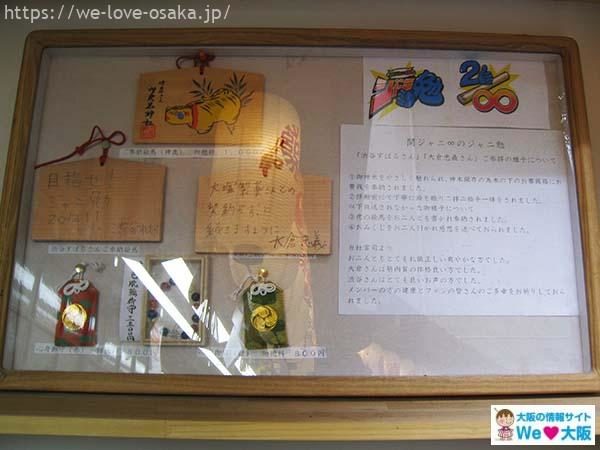 Ema written by popular idol is placed on the left side of the main hall (as of January 2019)
1-8.A lot of cute amulet and good luck goods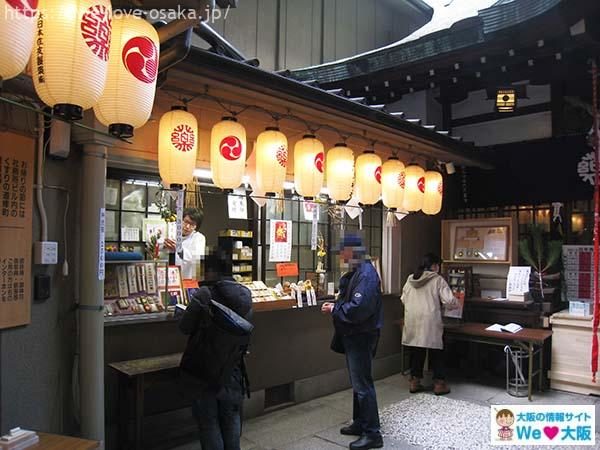 There are many  good luck goods are placed at the shop on the left side of the main hall. The stamp is also here.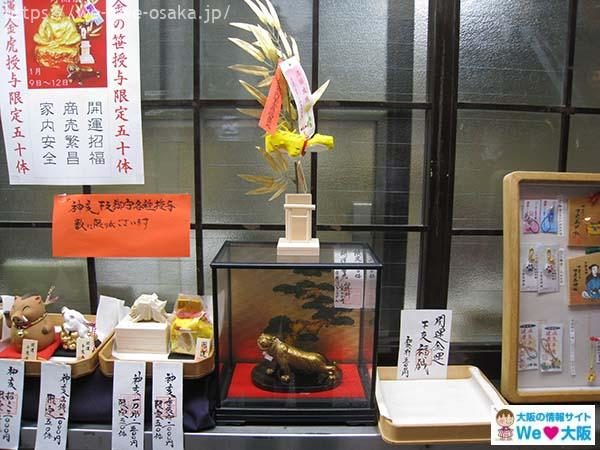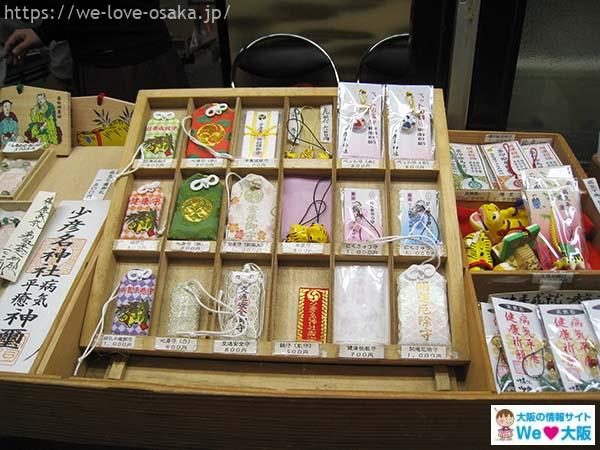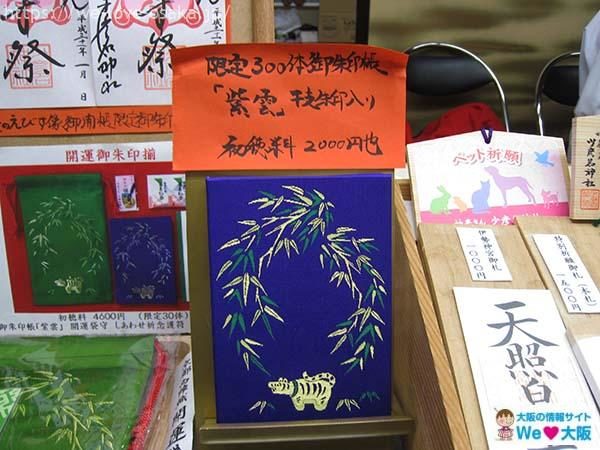 There are also original stamps.
2.Access to Sukunahikona Shrine
The nearest stations to Sukunahikona Shrine are Keihan Kitahama Station and Osaka Metro Sakaisuji Line Kitahama Station. Here we introduce access from Keihan Kitahama Station.
The nearest exit is Exit 6. From Kitahama Station on the Keihan Railway, proceed toward the Osaka Metro Kitahama Station.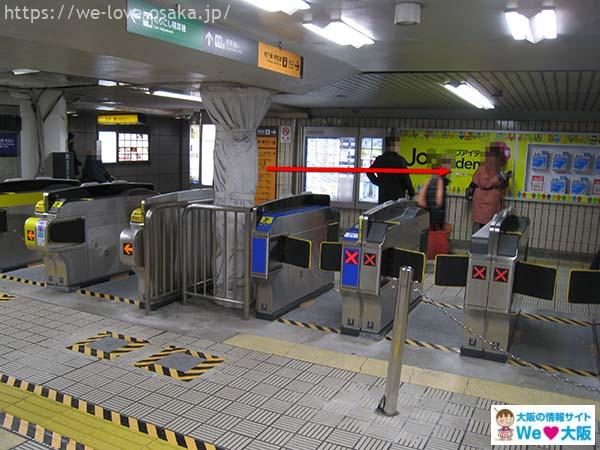 Go to right after go out ticket gate (Sakaisuji line direction)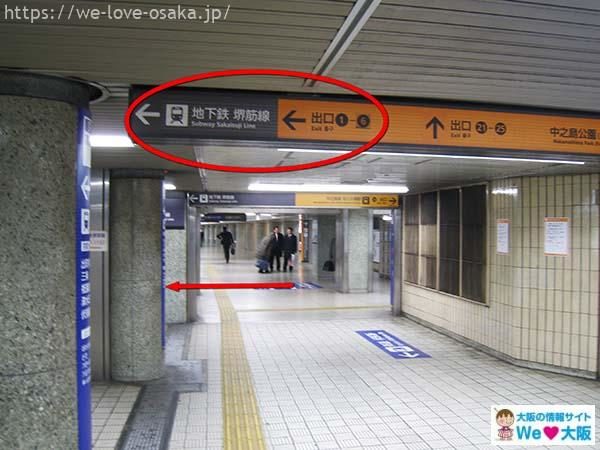 Turn left after you find "←Subway Sakaisuji line ←exit 1〜6"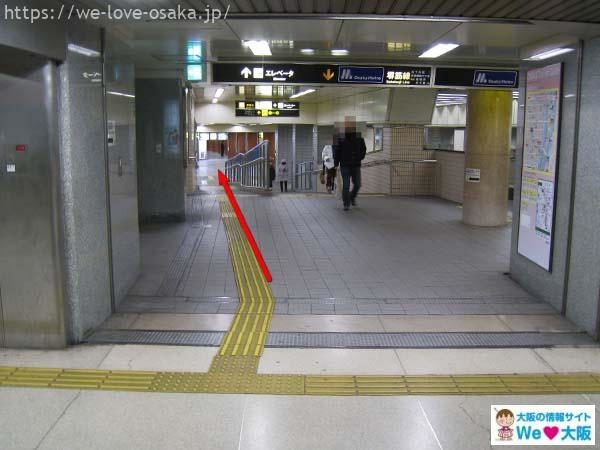 Go down slope then go straight.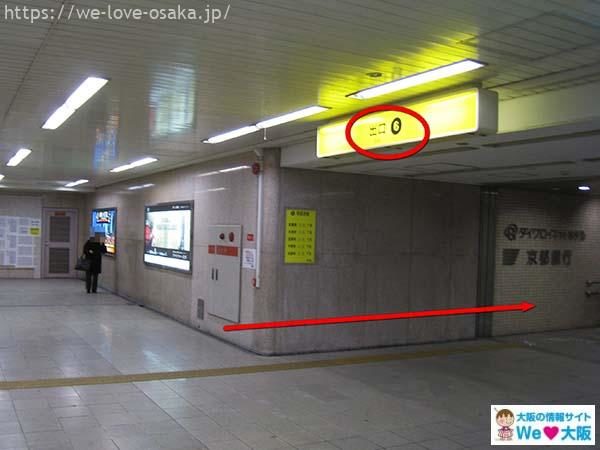 There is Exit 6 on the right before the end of the road, so proceed to the right.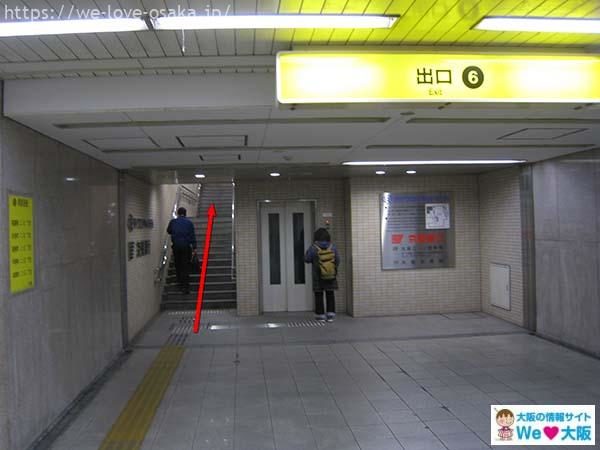 There are stairs and elevators, but this time I introduce access by stairs.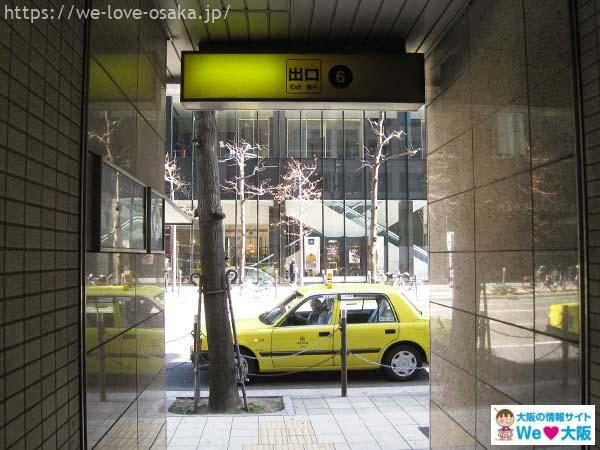 Take Exit 6 to the right. This road is Sakaisuji. Sakaisuji is one-way north. Go in the opposite direction (south) from the direction in which the car .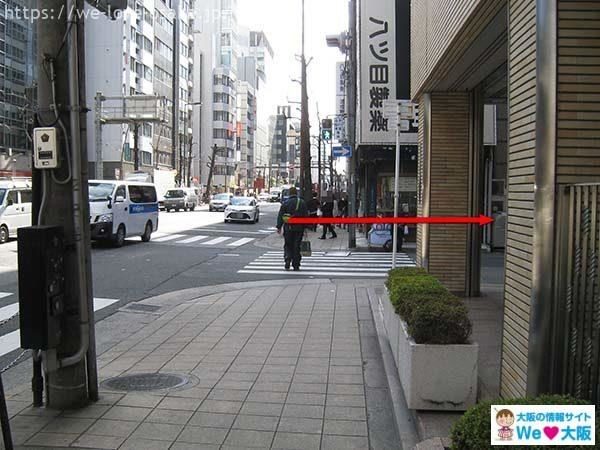 Intersection of "Doshomachi 1". Turn right there. The building to the right of the intersection is the Osaka branch of Ono Pharmaceutical.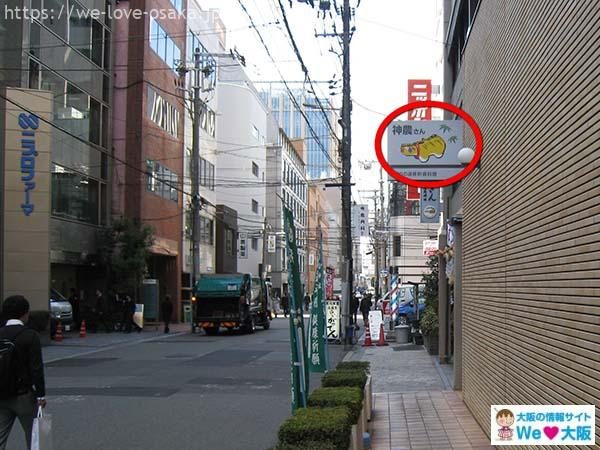 As soon as you turn at the intersection, you will see the signboard of "Shinnosan " and Hariko's tiger.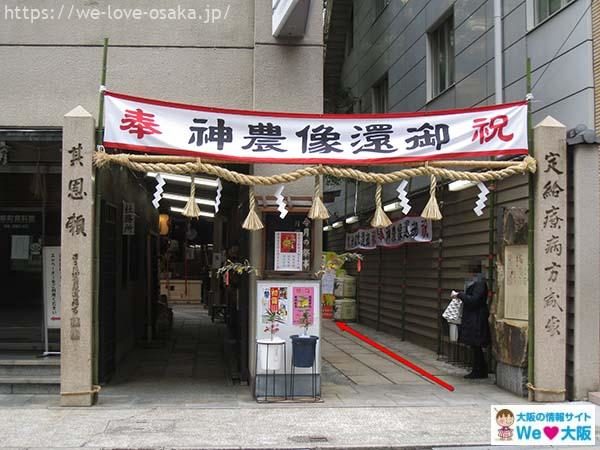 Here is the entrance. Please note that there is not usually a banner.
Shrine name:
Sukunahikona Shrine(Sinnosan)
Address:
2-8-8, Dosho-machi , Chuo-ku, Osaka
TEL:
06-6231-6958
Hours:
10: 00-16: 00
Access:
8 minutes'walk from Keihan Kitahama Station5-minute walk from Osaka Metro Sakaisuji Line Kitahama Statio
3.Remarks
How was it ?
There are good access from the station, and it is a convenient 5-minute walk from Keihan Railway and Kitahama Station on the Osaka Metro Sakaisuji Line.
Recently, if you are interested in your own health, if you are concerned about your pet's health, please go there.
In addition, if it is from JR Osaka Station, take JR Loop Line and transfer to Keihan Train at Kyobashi Station, and if you go for Yodoyabashi, the second station is Kitahama. It is in the place where it is easy to drop in even those who came to Osaka sightseeing.
Related article
Ninomiya Shrine in Hirakata is……

2022.08.01

I was born in Hirakata and rai……

2021.11.17
Introduction of writer

Ozumi
I was born and grew up in Osaka.Exactly I was born Hirakata, I live in Neyagawa. I went back Hirakata again.
Instagram
#weloveOsaka
Please introduce your "we love Osaka" (Only gourmet of Osaka and spot of Osaka)