【Shinsekai_Kushikatsu】 Introducing a"Shinsekai" gourmet recommended by local people.
【Shinsekai_Kushikatsu】 Introducing a"Shinsekai" gourmet recommended by local people.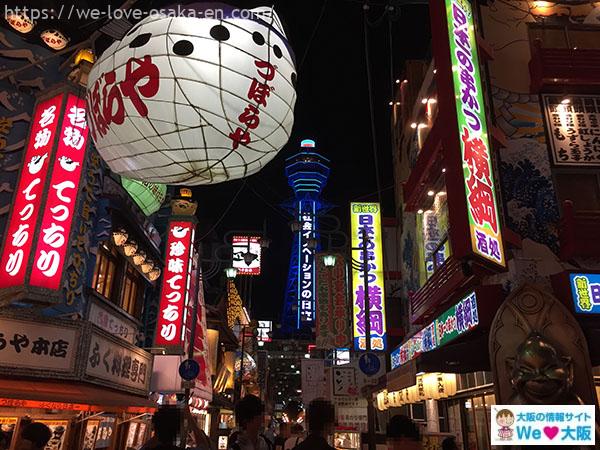 Speaking of Osaka, some ​foods ​such as Takoyaki,Okonomiyaki and Kasuudon are known ​as local specialties. In point of fact, even ​most people ​who ​are originally from Osaka would doubt if Kushikatsu is local special dish. This time, we would like to feature articles on the Kushikatsu of Shinsekai; an area well-known for Kushikatsu in Osaka.
1.Introduction of SHINSEIKAI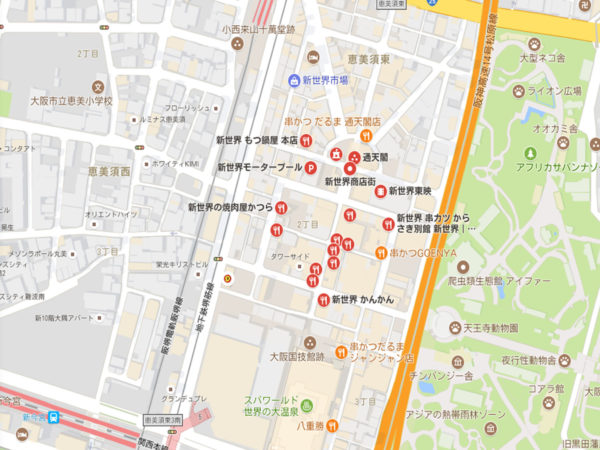 Shinsekai is not the place of the name.The official place name is 'Naniwa-ku, Ebisu-higashi'. The area was developed and renamed as Shinsekai, the 'New World'; its purpose being that of an exemplary recreation center for the big city, following the success of the fifth national industrial Exposition in 1903. The areas design was inspired by city ​views that Paris and New York put together and split in half.The area soon began displaying new commodities to attract people to this 'New World' of Osaka.
Shinsekai is located next to the street ​of Tennoji​ zoo. Including 'Tsutenkaku', 'Spa World', 'Jyan Jyan Yokocho' and 'Shinsekai market', mostly the area is wall-to wall with Kushikatsu stands.
It will be better to choose a spacious Kushikatsu stand if you are going with a big crowd. For small groups of people, it will be highly recommended to choose the restaurant ​which only has a counters. It will be more enjoyable if you only have a few stick at the place and change different restaurants to try different tastes.
2.Do not dip more than once   Rule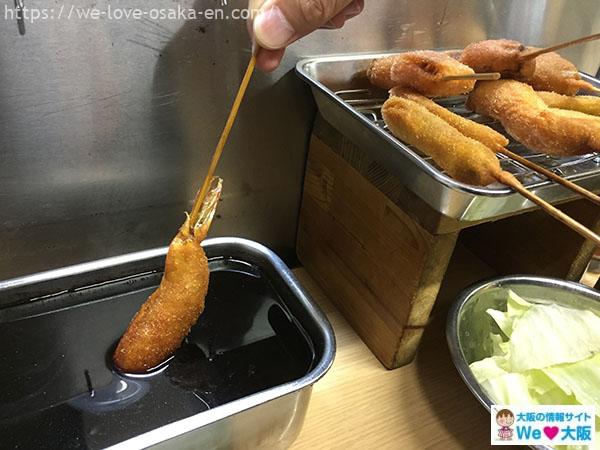 The Kushikatsu sauce is usually shared among customers, so for hygienic reasons, customers are not allowed to dip kushikatu to the source more then once. You need to dip it before you put it onto your dish. You can use the cabbage to scoop sauce onto your kushikatsu if you really need more. Cabbage comes along with the Kushikatsu at all Kushikatsu stands.
3.9 Recommended New World 串 Cutlet Stores
3-1.This is a Shinsekai! A shop where you can taste the atmosphere of Osaka.
Kushikatsu Yakko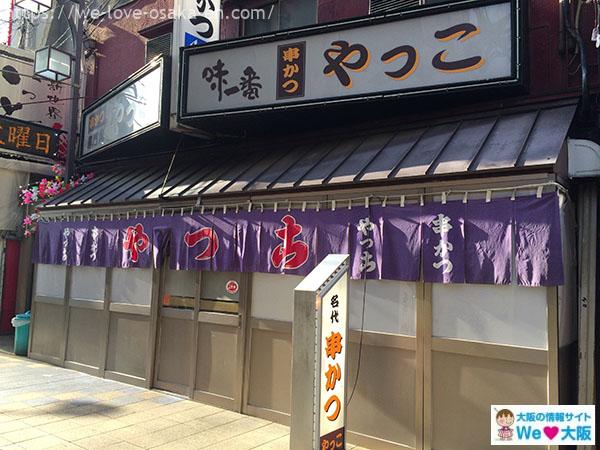 This is a highly recommended and popular Kushikatsu stand among local people. It has 16 counter seats only and its old style table manner has remained unchanged. Customers can even throw away their cigarettes butts on the floor since there are no ashtrays. Despite the thick look of the kushikatsu, you cannot find any greasiness; instead you will enjoy a crispy and sweet texture to bite down on. It is definitely a place where you will want to drop by again by from time to time.
If you are not from Osaka, you might get shocked by the sharp and frank attitude of the serving staff. You might be asked directly to 'Order five stick at each time'.
You can also see words written on the wall 'There is no point in staying longer', 'Cabbage is not for free.' Let's try to eat Kushikatsu more than Cabbage
It is located right next to the Kushikatsu Daruma.
Dish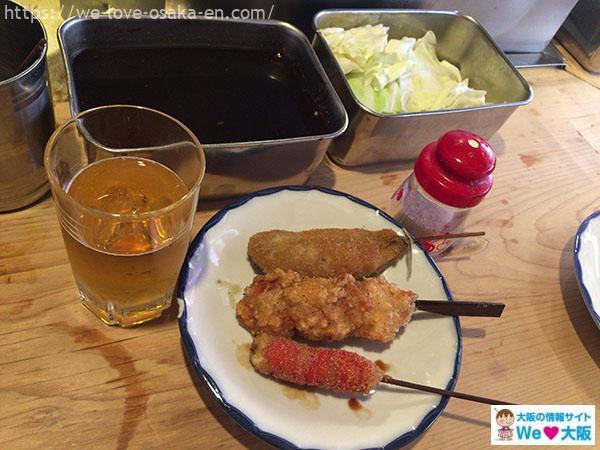 When the owner here makes a wiener Kushikatsu, the batter that covers the wiener is spiral shaped, but today was it was just normal shape. Maybe because his son not him made it this time?
Menu and price for each kinds.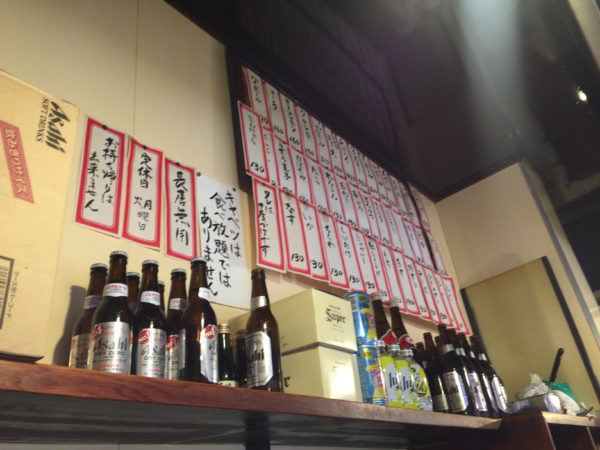 *Click on the photo to Enlarge.
Recommended menu
・Kushikasu 110JPY
・Sillago 130JPY
・Chicken 250 JPY
 Suggestions
It has a very old fashioned atmosphere influenced by real deep Osaka culture. It is the best time for me when I have my beer and piping hot Kushikatsu here. If I order a smaller size bottle of beer, they will pointedly ask me the question 'why not a bigger size!' Don't miss trying the hot sake in winter, heated by a retro-inspired sake warming machine. Although it has only has a few seats and also closes three days a week, Kushikatsu Yakko is very popular, so try to avoid the peak times when you decide to drop by.
Name:
Kushikatsu Yakko
Address:
2-3-10, Ebisuhigashi, Naniwa-ku, Osaka.
TEL:
06-6643-6954
Opening time:
12:00~20:30
Regular holidays:
Mon. Tues. Fri.
Smoking:
Available at all seats. However, since there is no ashtray, please discard the ash on the floor.
3-2.Long-established store of the original ancestral cutlet which is famous throughout the country.
Kushikatsu Daruma, the central office in Shinsekai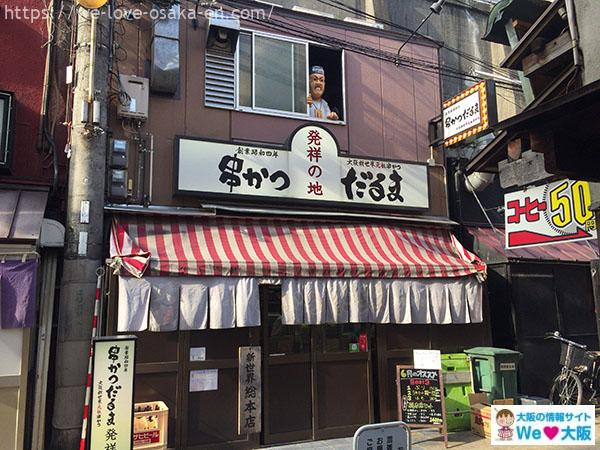 Kushikatsu Daruma was established in 1929 and it has been a long standing original Kushikatsu restaurant. Not only do they have three more branches in JyanJyan, Tsutenkaku, and Doubutsuenmae besides its main store in Shinsekai, but they also have opened a few branches in Korea, Taiwan and Thailand. Kushikatsudaruma is well-known among Japanese people.
Personally, I would recommend the main restaurant in Shinsekai.
There.are 12 old-fashioned counter seats from where I can see the pile of raw Kushikatsu waiting for to be cooked. Looking at the skewer craftsman frying them just right in front of me, my mouth naturally begins to water. Also, there is a famous doll called Daruma Daijin always looking out of the window from second floor, which is modeled after fourth generation shop owner.
Although the shop is often super crowded with customers, the atmosphere is not tense but instead, people are very relaxed and kind enough to exchange the information about Shinsekai. By the way, when I asked for any good places for doing a bar crawl, the staff were so kind that they gave me the information about other Kushikatsu shops and also their recommended mix juice shops.
It has many franchisees, but Kushikatsu Daruma did not become famous because of its brand name, but their Koshikatsu quality and great taste. You really should try here once.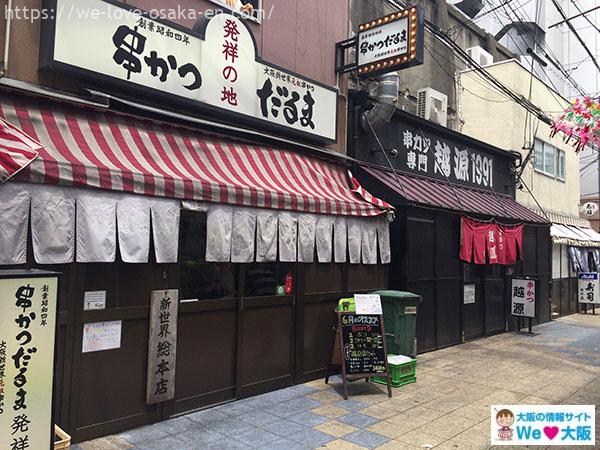 Walk to south direction from Tsutenkaku and turn left next to the Pachinko Parlor, and then you will see it right next to 'Echigen Kushikatsu' store.
Dish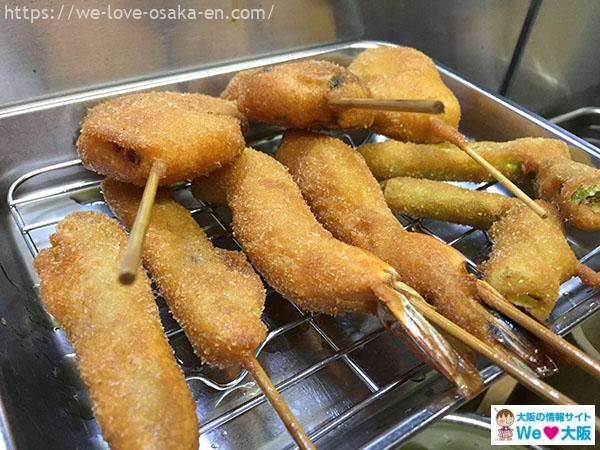 The Kushikatsu batter is made of fine grain so does not absorb too much oil and it is deep-fried in a very crispy way. The specially made sauce bonds well with the batter and it will not give you too much spiciness even when you put a lot on your Kushikatsu. Not only meat, but also fish kushikatsu tastes delicious, and its batter gives you a fluffy oral sensation. By the way, they recommended me to put some salt on when I eat fish Kushikatsu. If you don't know what to eat, try the main shop set, which I highly recommend.
Menu and price for each kind.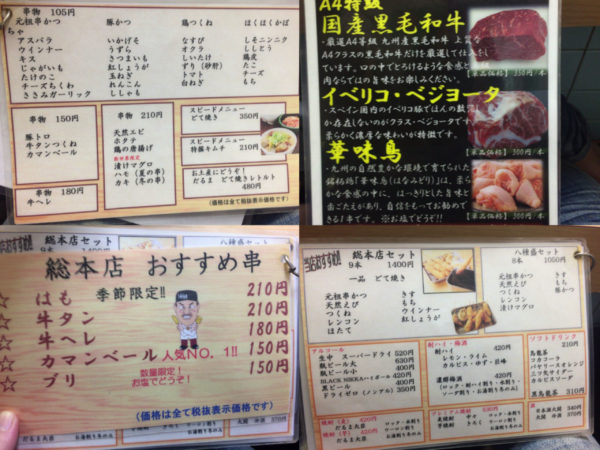 *Click on the photo to Enlarge.
Recommended menu
・the Original Kushikatsu 100JPY
・Yellowtail 150JPY
・Pike Conger 210JPY
・150JPY The most popular menu Camembert Cheese
Suggestion
You will have a totally different perspective on Kushikatsu once you try them at Daruma. It will make you think that Kushikatsu in Daruma shop is different from other shops because of its light taste and the fact that it does not give you any oily oral sensation. Even if you are not a big fan of meat or deep fried food, you will be able to like them once you try kushikatsu Daruma. I will recommend you to go with a small group of people since the shop only has counter seats.
Name:
Kushikatsu Daruma
Address:
2-3-9,Ebisu-higashi, Naniwa-ku, Osaka
TEL:
06-6645-7056
Openning Hours:
11:00-22:30 Last Order: 22:00
Regular Holiday:
1stJauuary
Smoking:
Smoking is available at all seats.
3-3Recommended all! Cospa best shop.
Echigen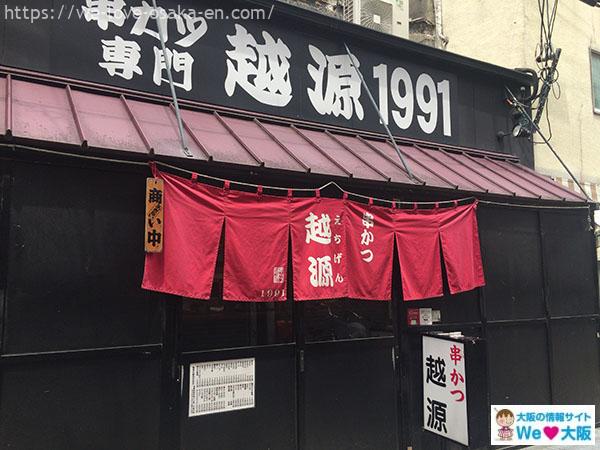 Echigen is very popular as it is a cheap yet good-tasting Kushikatsu shop, which is like a secret hideaway for many people! It is located right next to Kushikatsu Daruma, which was my previous recommendation. There are many kinds of choices of Kushikatsu and they are fried in very fine and thin batter. I could not stop trying different dishes because of their simple taste which was created from their own original ideas. (Please try not to order too much at the same time, but a few at each time during the busy hours.)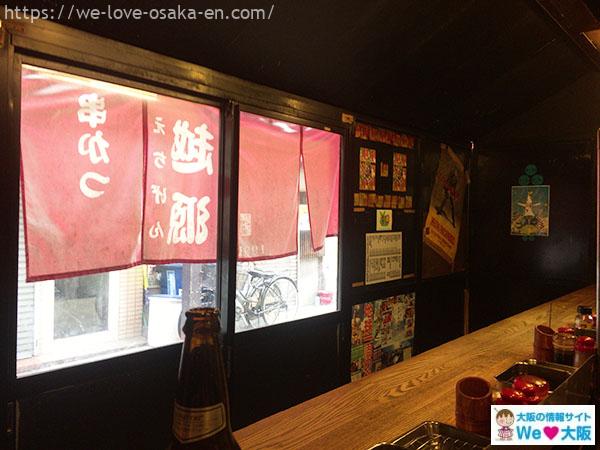 The shop owner has unique style similar to maybe Rock? Or Punk? … Anyway at first you might think he is a bit unfriendly, but you will get to know him more if you try his Kushikatsu. At a glance, it seems like their menu does not have much difference from others, but you can taste that each ingredient has been seasoned with different flavors with attentive and delicate care. All dishes are available also as both Isobe and Kaori fry, at no extra cost. Echigen is not well-known among tourists yet; however its local fans have been increasing every day.
Dish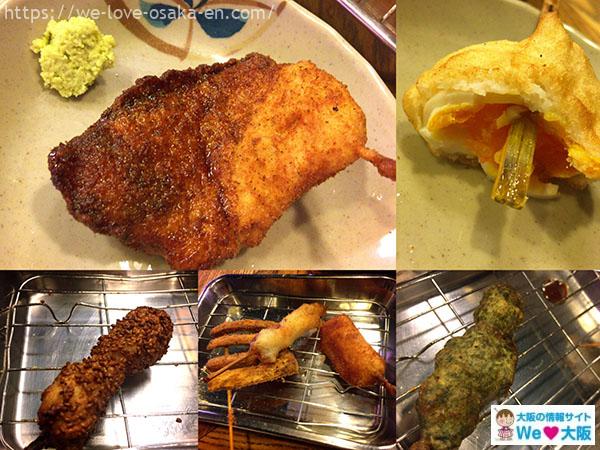 The most popular menu is chicken cutlet here at Echigen. It is recommended to eat it with Wasabi, after you have dipped it in sauce. It does not have any greasy texture at all but gives you very tender feeling in the mouth. As mentioned it is very compatible to be eaten with Wasabi.
As Isobe fry, I would like to recommend such choices as Octopus and Chikuwa, while as Kaori fry, dishes such as Mochi, Cheese, and Potato are recommended. Soft-boiled flavored eggs here are also deep-fried, and look very thick and creamy.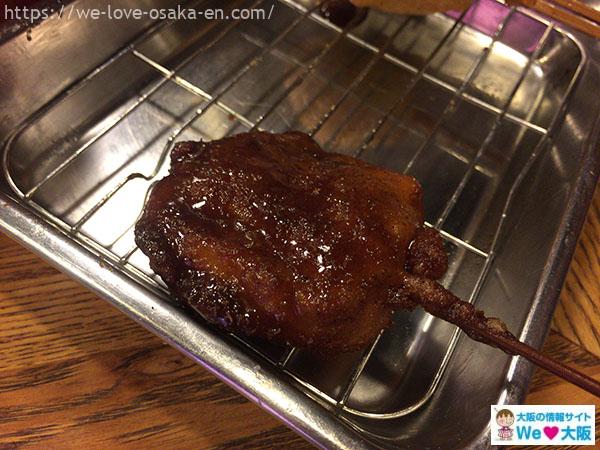 For Pork, there are two kinds of rich and light flavors, for both it is recommended to eat with mustard. It has similar texture with Japanese braised pork belly and melts in the mouth. I am sure everyone would be curious about the wiener DX menu. What I saw was something like a piece of ham, cut vertically, and was deep-fried; the wiener DX is not a wiener we usually think of. Also Beef shin is gently flavored.
Menu and price for each kind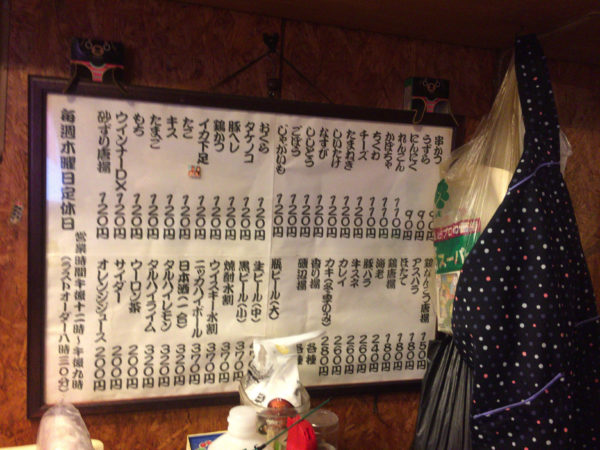 *Click on the photo to Enlarge.
Recommended menu
・Kushikatsu 90JPY
・Chicken cutlet 120JPY
・Egg 120JPY
・Pork libs 260 JPY
・Beef Shin 260JPY
・Okra 120JPY
All dishes are recommended and all are great value for the price!
Suggestions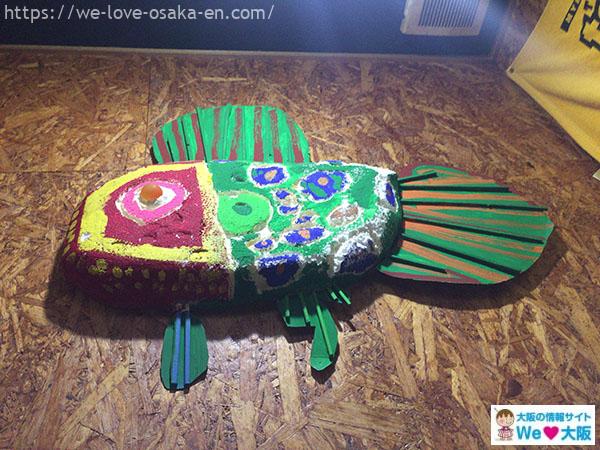 All kinds of Kushikatsu is very delicious here. I have not yet found their secret recipe for its good tastes, which leads me to keep trying all kinds of Kushikatsu. There is some ornaments that looks like are made by a child in the toilet. From what I saw, I can feel that the owner here is very kind hearted.
Name:
Echigen
Address:
2-3-9, Ebisuhigashi, Naniwa-ku, Osaka
TEL:
06-6631-2696
>Openning hours:
12:00-21:00 (L.O.20:30)
Regular holiday:
Thurs.
Smoking:
Smoking is available at all seats.
3-4.Lots of repeaters and grilled eel and salmon cutlet.
Tengu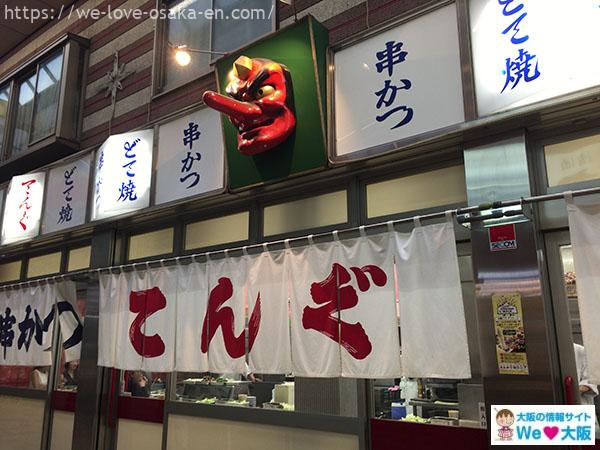 One Kushikatsu Place called Tengu in [JyanJyan Yokocho] always hosts a long line of people waiting at lunch time. Many people agree that Tengu is the place to go for kushikatsu
in Shinsekai, and its popularity never ceases to grow. It pleases customers that they have Akadama, (grape wine 260JPY~)which is a brand of sweet wine in Japan.
There are only 37 counter seats surrounding the kitchen. Not many different kinds of choices, but enough to eat simply. Their Kushikatsu are deep-fried in Crispy and light batter, which has very balanced tastes​​with sweet and sour their original sauce. Delicious!!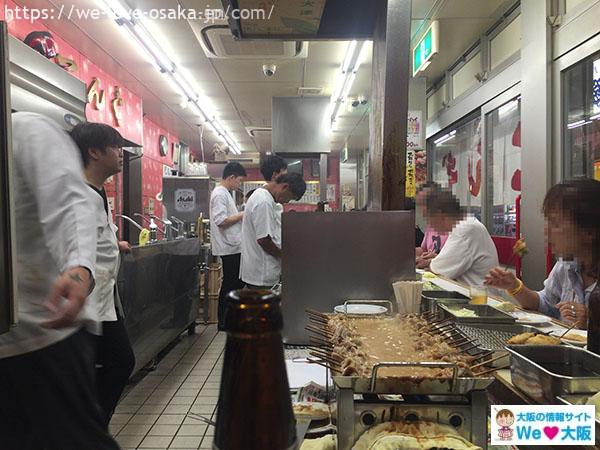 You can see the Doteyaki, a Japanese beef sinew stew in miso and mirin, bubbling gently in the pot in front of you. It was made on a base of white miso and its sweetness brings out deeper but not too heavy texture that makes you crave more and more. It is the fastest dish on the menu, so you should order it first and enjoy it while waiting for the rest of your order. Do not forget to try their deep-in the gravy cabbage.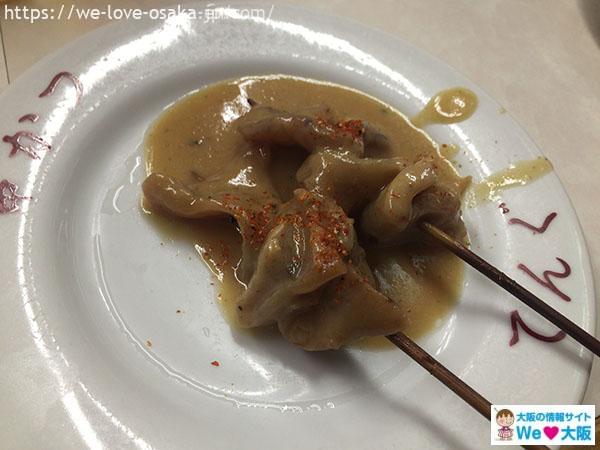 Personally the Tengu Kushikatu is the best taste for me in Shinsekai.I can have 5 of them easily. With this, I feel like I can drink beer forever.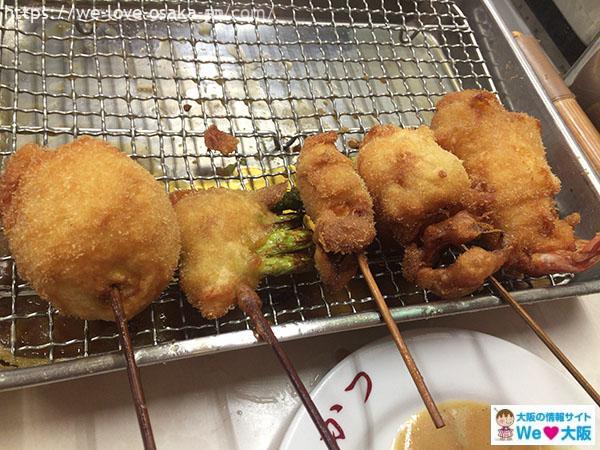 Egg fry is not made from a quail's egg like at other shops. It is just a normal chicken egg fried, which is very filling.(Pictures:starting from left Egg fry,Asparagus fry,Kshikatu,Onion fry,Srimp fry)
Menu and price for each kind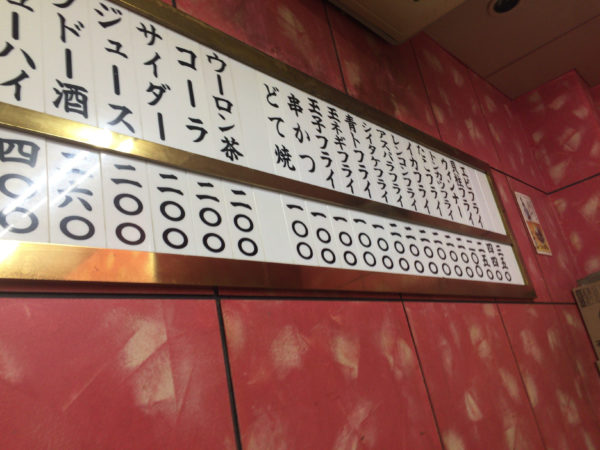 *Click on the photo to Enlarge.
Recommended menu・ Kushikatsu 100JPY
・Doteyaki 100JPY
・Onion fry 100JPY
・Srimp fry 350 JPY
Suggestion.
The original tasty flavor here at Tengu has remained unchanged, and Doteyaki`s flavor is irresistible to those who like to drink alcohol. It makes much sense why Tengu has many regular customers. There are many kinds of customers including people who come alone, with family, and couples. I see many customers who are elderly, and a few tourists.
Name::
Tengu
Address:
3-4-12, Ebusuhigashi, Naniwa-ku, Osaka
TEL:
06-6641-3577
Opening hours:
10:30-21:00
Regular holidays:
Mon
Smoking:
Smoking is available at all seats.
3-5.A shop for anyone, regardless of age or sex.
Yaekatsu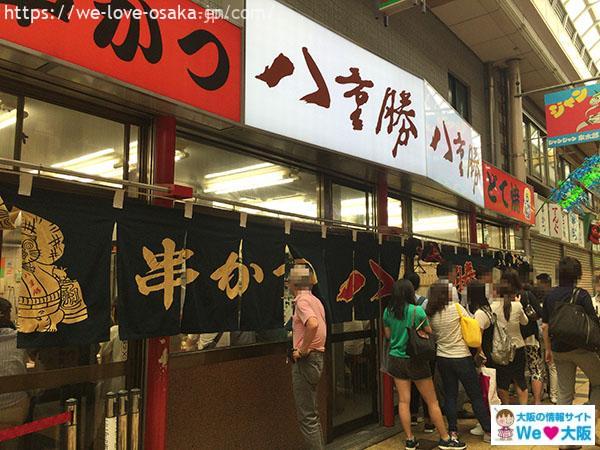 Yaekatsu, the famous Kushikatsu shop was founded in 1947, is located in JyanJyan Yokocho near Tsutenkaku. It seems to be published in various sightseeing books. Yaekatsu is the most popular Kushikatsu shop among tourists. The place is so popular that there is a long line from opening even on weekdays.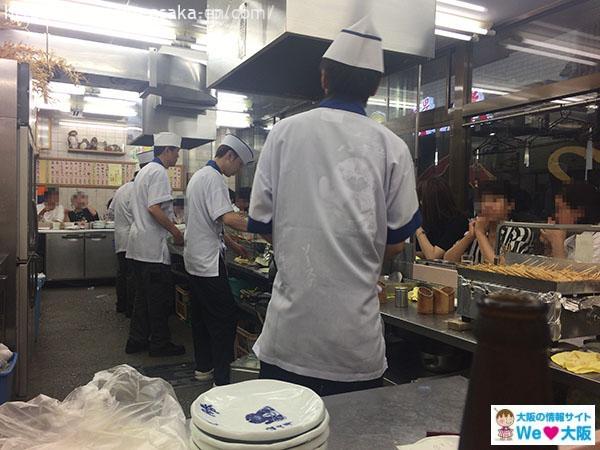 The Kitchen is surrounded by the counter so you can see the process of cooking Kushikatsu from your seat. The thing that makes Yaekatsu unique is that they use large ingredients deep-fried in batter, to which yam is added.
Dish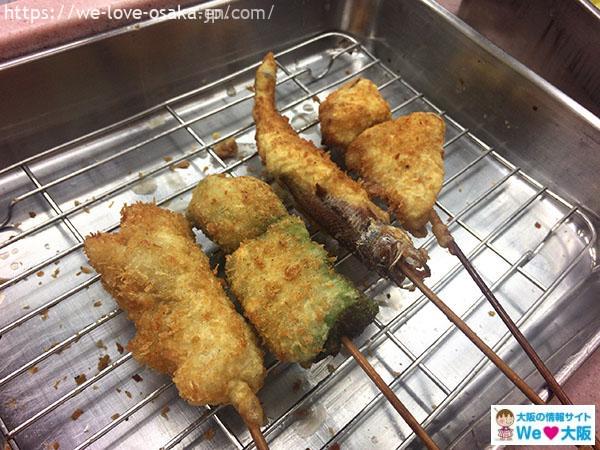 You can taste its crispy and fluffy texture when you put them in your mouth and it is exquisite when you eat them with sweet and smooth sauce. You will soon see ​the reason why ​this place is so popular.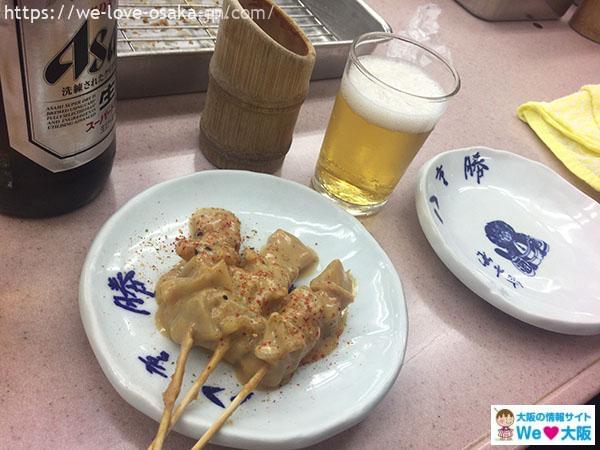 Alcohols taste better with Doteyaki made on a base of white miso in Yaekatsu.
Menu and price for each kind
*Click on the photo to Enlarge.
Recommended menu
・Beef Kushikatsu(3 skewers) 300JPY
・oteyaki(3 skewers) 300JPY
・Shrimp 450 JPY
・Shishamo​ fish 250JPY
・Namahu​ 150JPY
・Grilled sea eel 200JPY
・Young corn 200JPY
Suggestion
All Kushikatsu is made from high quality ingredients and every dish is exquisite! It is very comfortable even when you are going alone no matter your age or sex.
Name:
Yaekatsu
Address:
3-4-13 Ebisuhigashi, Naniwa-ku, Osaka
TEL:
06-6643-6332
Openning hours:
10:30-21:30
Regular holidays Thurs:
Third Wed. of every month
smoking:
smoking is available at all seats.
3-6.Shop recommended for family in calm atmosphere
Gibuy honke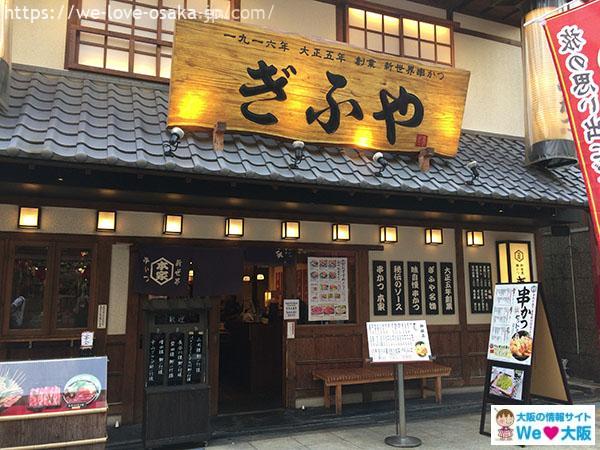 Gihuya was established in 1916. It was closed once but reopened because of requests from many fans. The restaurant was remodeled and is now more spacious than before. This restaurant conveys a sense of luxury by serving some special dishes, such as 'Tasty Kushikatsu' and 'Creative Kushikatsu' which is completed with combinations of compatible food materials. These ingredients are deliberately chosen to make use seasonal produce from the best producing district; by very skilled and long experienced craftsman.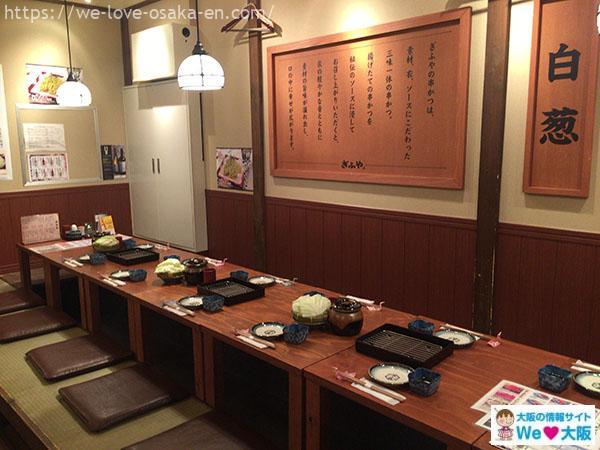 Besides Kushikatsu, there are some other menu choices such as seasonal fish and pickled eggplant that is produced in Senshu (a famous eggplant producing district in Osaka). Also there are plenty kinds of alcohol, including wine and Japanese sake. The restaurant is very clean and has a large number of seats, including tatami rooms. It is suitable to come with families and coworkers and also it feels welcoming to come here for groups of girls.
Dish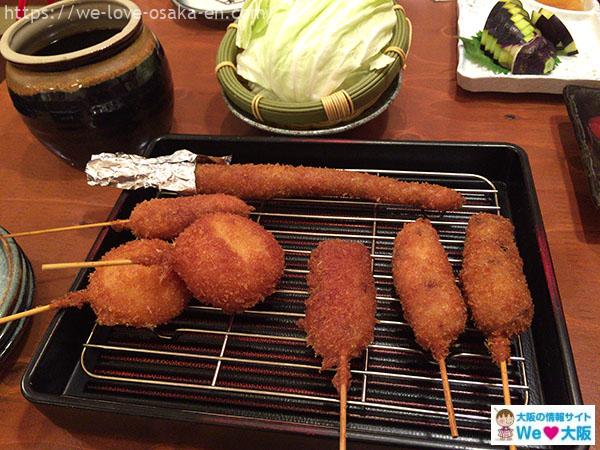 hy smellAt Gibuya, when you try a piece of the large sized Kushikatsu with its crispy and juicy texture, both your heart and your stomach will be filled with joy and delicious food.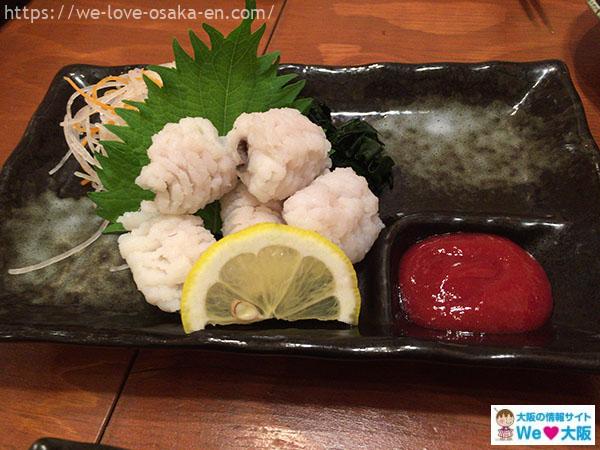 By the way, it was summer when I went there, so I could have sea eel Kushikatsu. Its bones are cleanly cut and there was no smell at all, only delicious taste!
Menu and price for each kind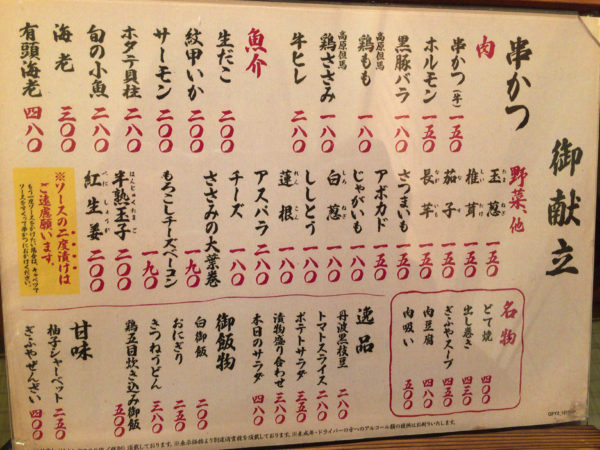 *Click on the photo to Enlarge.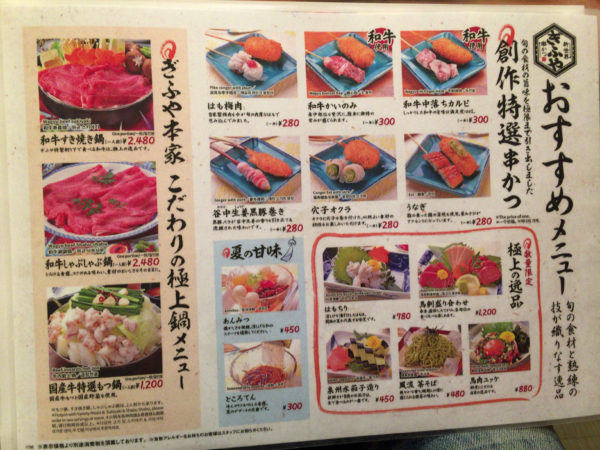 *Click on the photo to Enlarge.
Recommended menu
・Kushikatsu 150 JPY
・Yuto Shrimp 480 JPY
・Half-boiled Egg 200JPY
・ Gibuya Soup 450JPY
Suggestion

Commonly, it is thought by many people that Kushikatsu is mostly about the batter and breading which covers the fried food. But you will change your mind once you try the food here. You can feel the content inside of the covering because they only use large and high quality ingredients to deep-fry. There are many different choices on the menu besides Kushikatsu, so please have a relaxing time and try ​as much as you can.
Name:
Gibuya Original
Address:
2-5-9, Ebisuhigashi ,naniwa-ku, Osaka
TEL:
06-6630-9343
Opening hours:
Sun-Thurs. 11:00-22:00
Fri, Sat, the day before Holidays 11:00-23:00
Regular holiday:
No regular holidays
Smoking:
Smoking is available at all seats
3-7.Shop where you can enjoy rare salmon cutlet
Kushikatsu JyanJyan Shinsekai souhonten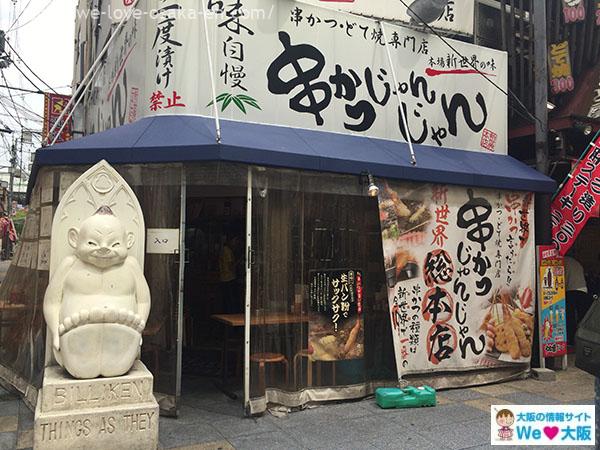 Staring at abundantly lined up different kinds of menus here, you cannot resist your imagination of these delicious food.​​Every kind of ingredients are pasted with bread crumbs and deep-fried in heavy batter, which is very compatible with the restaurants original light sauce. 'Bizarre foods Kushikatsu' and 'Desert Kushikatsu' are also very popular, but be careful they are sure to be sold out soon.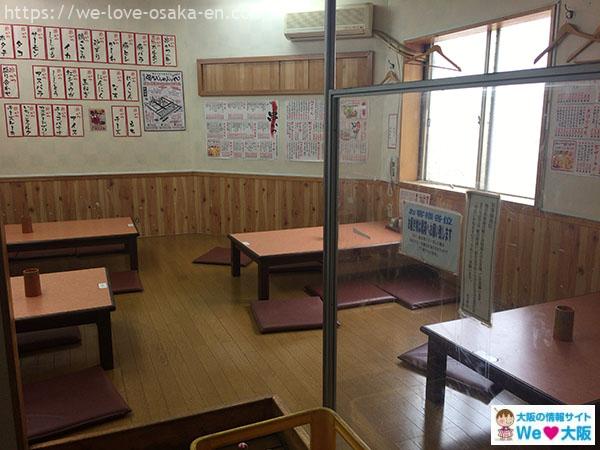 The shop which faces the main street looks small and cozy but it has more than enough seats. They have 4 branches in Shinsekai.
Dish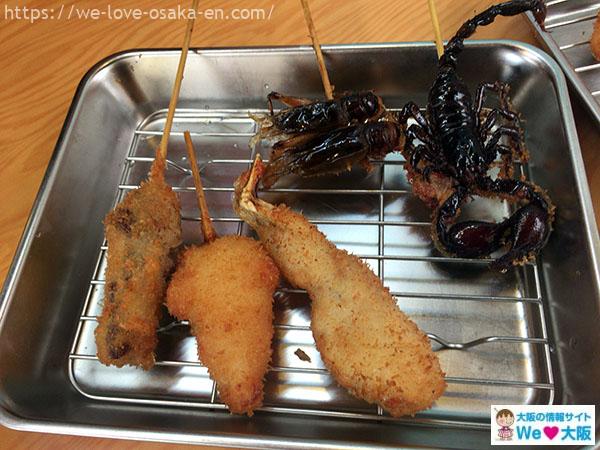 Please try it if you have enough courage. (staring from right)
Scorpion: Crustacean. It is farmed, but still poisonous.
Cricket: it is a bit bitter for the body part but the head part tastes like fried shrimp.
Frog: If you look at the leg part, you will recognize that it is a frog, but surprisingly it taste very juicy like chicken.
Alligator: It is juicy and taste like pork fatty meat.
Kangaroo: It tasted like some cheap meat…
These are just my personal opinions for your extra information…
↑ Picture: Frog
Menu and price for each kind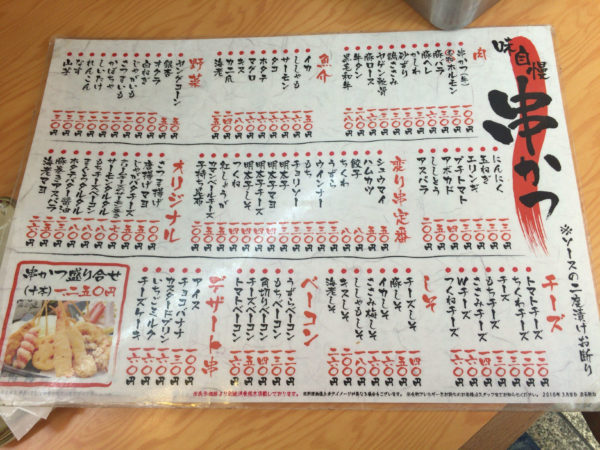 *Click on the photo to Enlarge.
Recommended menu
・Kushikatsu 100 JPY
・Frog: 300 JPY
・Kangaroo: 300JPY
・Alligator: 300 JPY
・Cricket: 300JPY
・Scorpion: 500JPY
・Innards: 130JPY
Suggestion
You want a cozy place where you can feel like you are on tour! You don't want to sit at a busy counter seat! And you want to try variety of Kushikatsu!​​If you have all these requests above, you should definitely try this place. They have Japanese tatami rooms ​on the second floor​, so it is also good idea to come with your family!
Name:
Kushikatsu JyanJyan Shinsekai souhonten
Address:
2-4-16, Ebisuhigasi, naniwa-ku, Osaka
TEL:
06-6636-2901
opening hours:
11:00-23:00
Regular holiday:
No regular holiday
smoking :
smoking are available at all seats.
3-8.Lively shops that also offer Italian
Shinasakai OyajiKushiya The main Store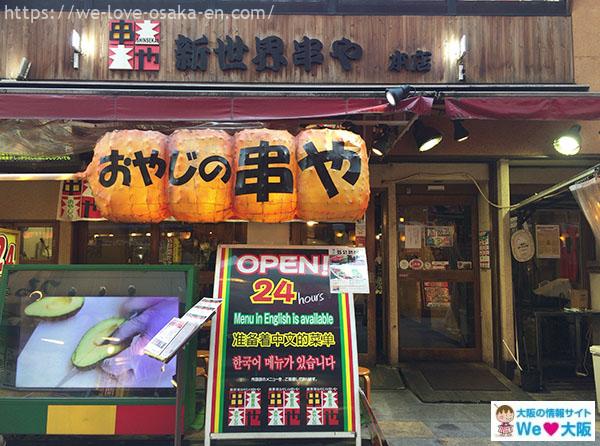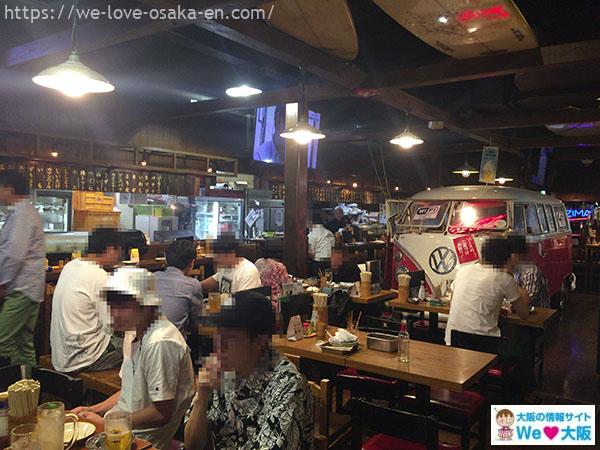 Playing Reggae music, Oyajikusikatsu has 140 seats in total including counter, bar counter, box and table, horigotatsu, terrace and also Volkswagen van seats. You are more than welcomed to visit here with family, friends, and even by yourself. If you are crazy about cars, please don't ​miss trying Volkswagen vans seats! The taste of Kushikatsu with light but rich flavored sauce brings back memories of olden days. It is very exciting to see an abundant menu with dishes besides kushikatsu.
Dish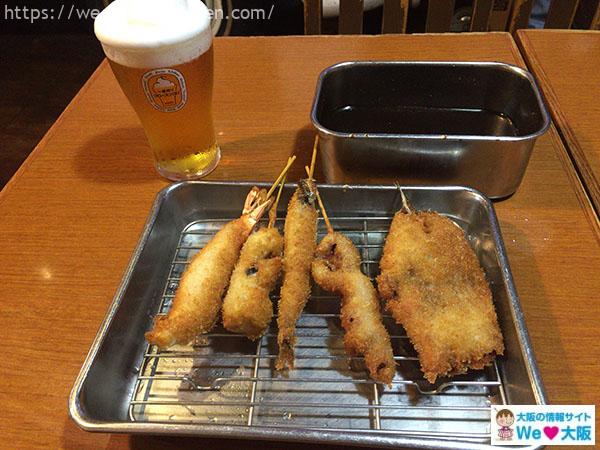 Instead of Kushikatsu, you can try seafood, assorted vegetables, and there are also all-you-can-eat and all-you-can-drink systems. This wide variety of menu will be very convenient for any type of meal events.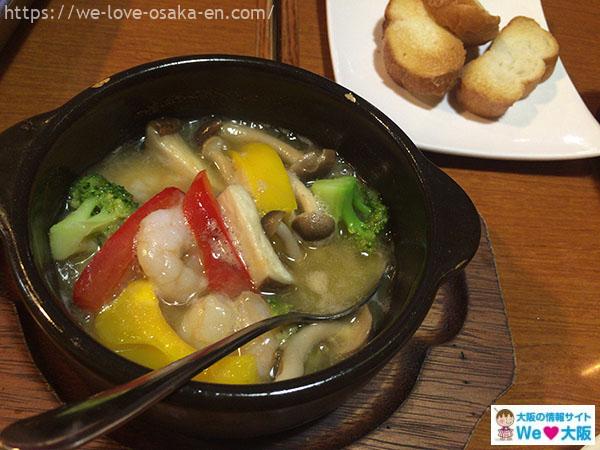 Did you know there are many similarities in culture between Osaka and Italy? For example both are 'very talkative', 'speak with loud voices' and both are 'big fans of flour-based food'. Discovering this similarity in both cultures, the owner got an idea of starting an Italian menu at his Kushikatsu restaurant to lift the spirits of Osaka Shinsekai. It is not just a random action just for fun for the owner but he chose a chef very carefully who has 46 years of cooking experience in Italy to provide genuine Italian dishes.
Menu and price for each kind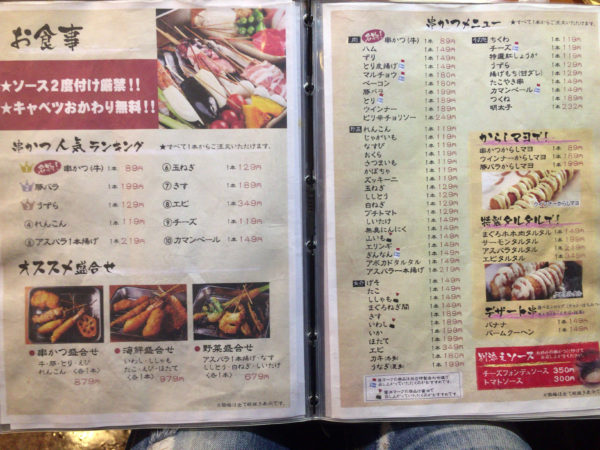 *Click on the photo to Enlarge.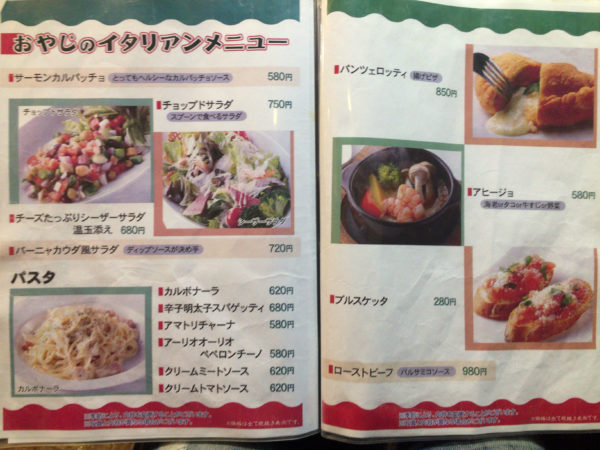 *Click on the photo to Enlarge.
Recommended menu
・Kushikatsu
・Shrimp with tartar sauce
・Doteyaki
・Panzerotti
Suggestions
This is a spacious restaurant where you can get served by very friendly and young waitresses. If you are not comfortable in a restaurant which only has counter seats, then this is the perfect place for you. They open 24 hours so you can visit there any time after hopping by a few other places and even when you miss the last train. Maybe it can be better idea if you go there from the morning.
Name:
Shinsekai Oyajikushiya, the main store
Address:
2-4-14, Ebisuhigashi, Naniwa-ku, Osaka
TEL:
:06-6647-0711
Opening hours:
24 hours
regular Holidays:
No regular Holidays.
smoking:
Smoking is available at all seats
3-9.A slightly unusual old-fashioned pork cutlet shop
Oumiya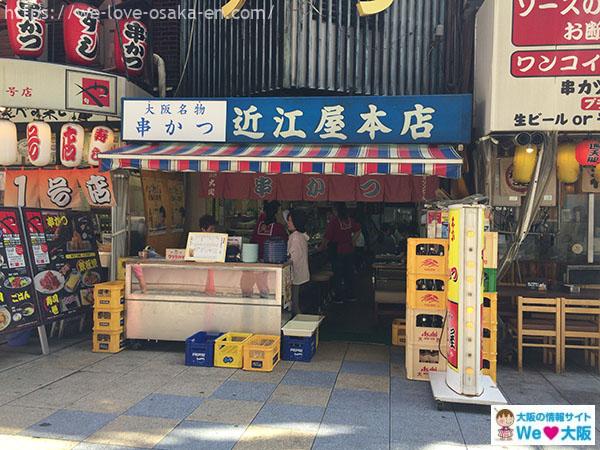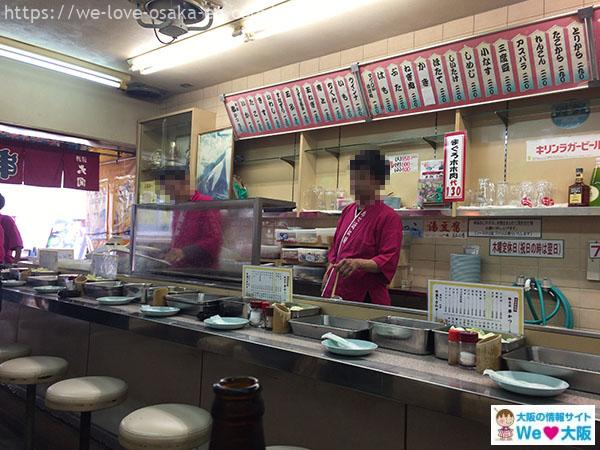 It was established in 1949. You cannot find this unusual taste of Kushikatsu at any other stores but only at Oumiya in Shinsekai. A wide range of ages from lively Grandmas to very young teenage boys, the staffs here are very close to each other and the restaurant is always full of ​energy and friendliness. You can see many celebrities have visited here from the many signatures on the wall.
Dish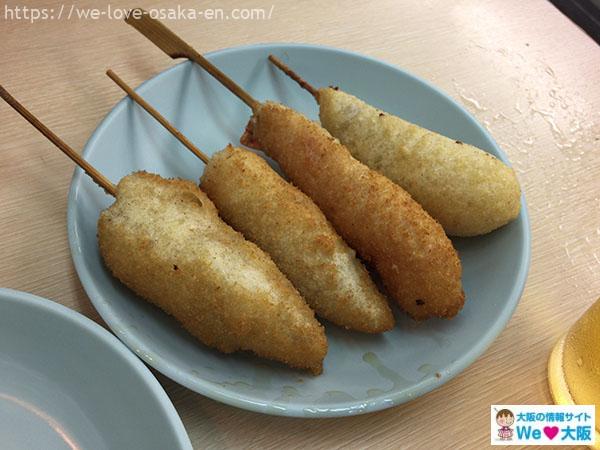 The chubby and cute look of the Kushikatsu here remind me of a hot dog and the crispy but chewy texture is very addictive. You cannot tell what it is at first sight when the dish is served so let's figure it out as we try.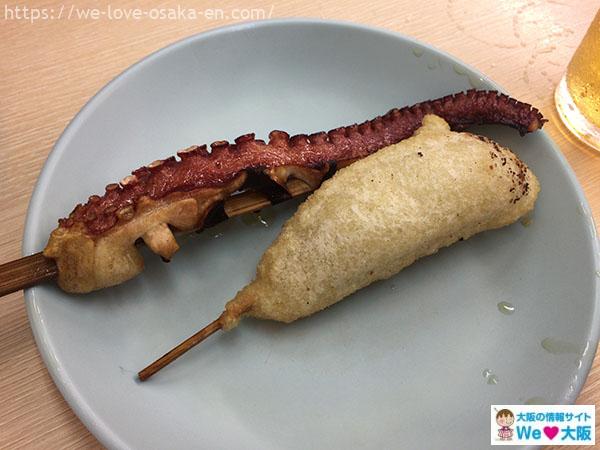 As for the Octopus, its legs are deep-fried in batter and the taste was excellent!
Menu and price for each kind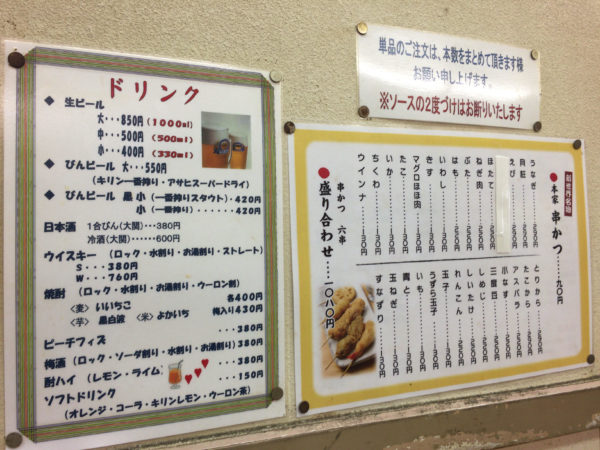 *Click on the photo to Enlarge.
Recommended dishes
・Kushikatsu 90JPY
・Scallop 220JPY
・Gizzard 130JPY
There are some unique menus like Sandomame, Shimeji, and Tuna cheek.
Suggestions.

The restaurant has no front door, which actually makes you feel easier to hop in even if it is the first time for you. You can enjoy the unique taste of kushikatsu at this restaurant where it is always full of harmony. Because of the slightly heavy texture of kushikatsu, it is a good idea for a happy stomach to also eat Yutofu, Deep-fried Octopus and gizzard, instead of just concentrating on eating kushikatsu.
Name:
Oumiya
Address:
2-3-18, Ebisuhigashi, Naniwa-ku, Osaka
TEL:
06-6641-7412
Opening hours:
Mon.-Wed. 12:00-21:00
Sun. Holidays 11:00-21:00
Regular Holidays:
Thurs.
smoking:
Smoking is available at all seats.
4.The funny shops in Shinsekai.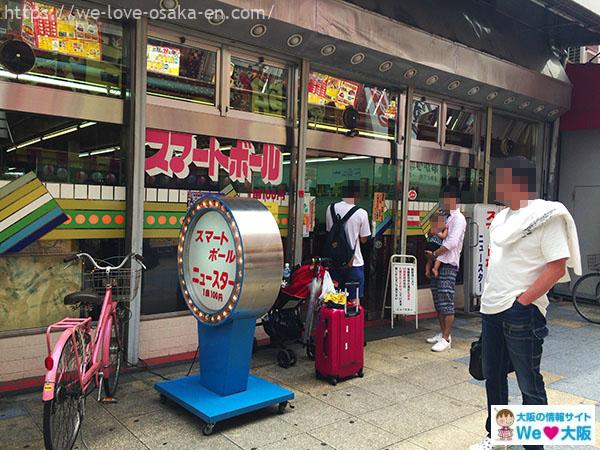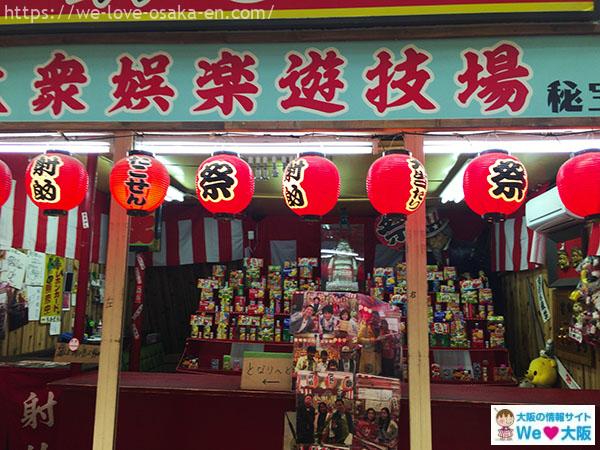 In addition to Kushikatsu restaurants in Shinsekai, there are also many entertainment shops such as Smart ball, extremely cheap game center, shooting games, Japanese chess and clubs. There are also famous sweet specialties which have a long history; such as, Mixed juice and Roasted Ice.
Many shops in Shinsekai are open 24 hours, 365 days a year. It surely can be called 'An adult theme park.' You can have fun here from morning… through noon, evening… to sunrise! You can enjoy pub crawls here all night, and no one will be surprised by it. Enjoy drinking as much as you want and release all your stress! (But don't get too drunk, to lose yourself.)
Shinsekai Market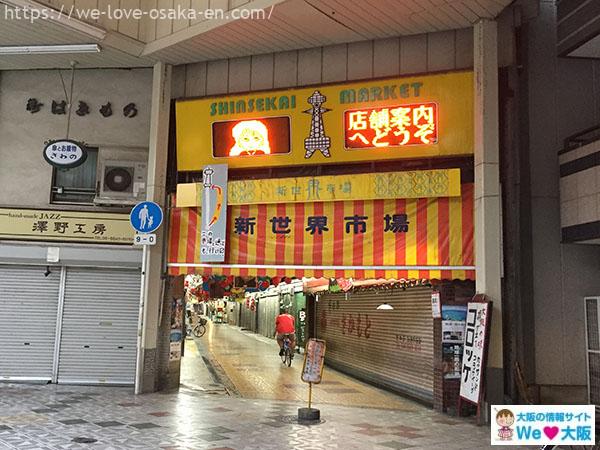 Personally, this is my favorite place. 'Shinsekai Market', located 1-2 minutes' walk from Ebisucho Station.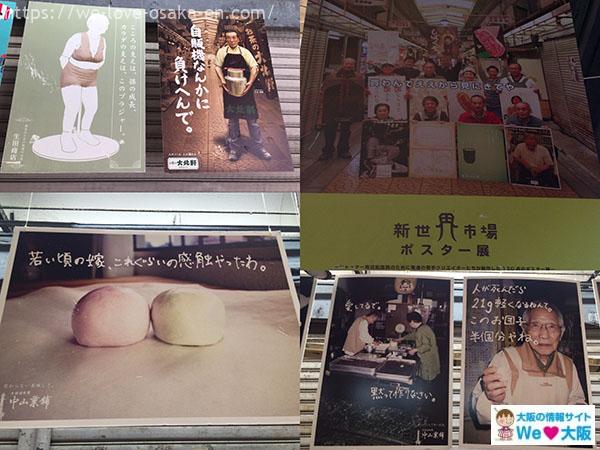 Many businesses and shops used to be closed down inside this market then a young creator who works in Dentsu volunteered to hold an exhibition of Shinsekai market posters. You will naturally have smile on your face staring at those posters. Please visit there once in the early days.
5.10 Recommended Shops Other Than Tuna Cutlet
5-1.Hot tofu is an excellent sushi shop at the counter.
Yakkozusi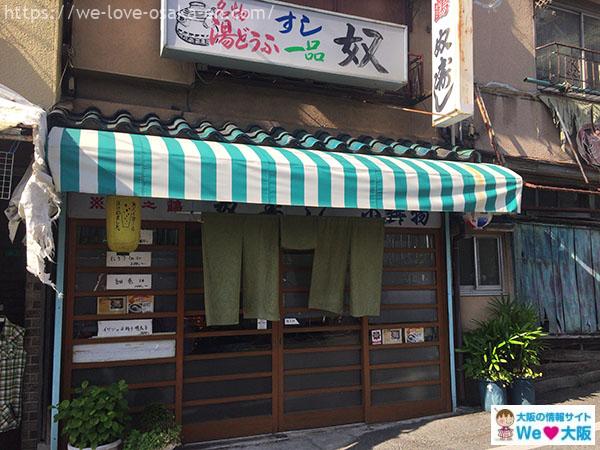 It is located right near JyanJyan Yokocho close to Dobutsuenmae station.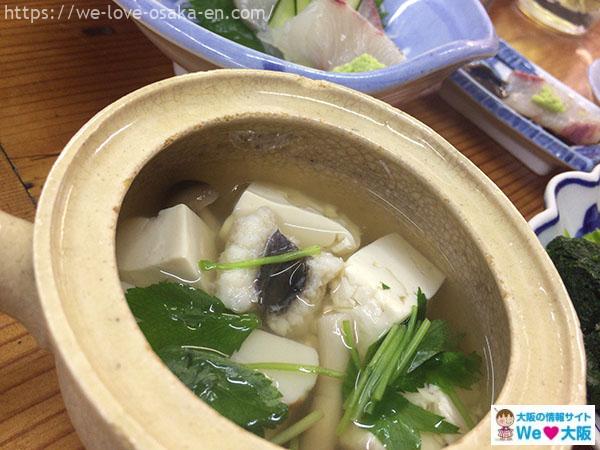 One of the local specialties, Yutofu is surprisingly cheap at this restaurant. At first sight, it might look like a Chawamushi, but it is an actual Yutofu. Mushrooms and sea eel are used as ingredients in this excellent soups, its taste makes you feel like you are at a first-class restaurant.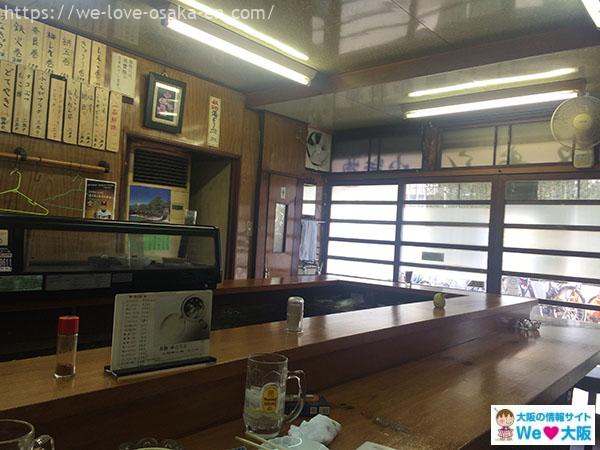 The place has U-shaped counter seats which are always crowded with local customers. Since it is sushi restaurant, both the sushi and sashimi are certainly excellent. Please use the brush for putting soy sauce on your sushi.
Name:
Yakkozushi
Address:
Ebisuhigashi, Naniwaku, Osaka.
TEL:
06-6631-2766
Openning hours:
15:00-22:00
Regular Holidays:
Wed. and another day?
5-2.A stand-up restaurant with delicious oden soup stock
Nonkiya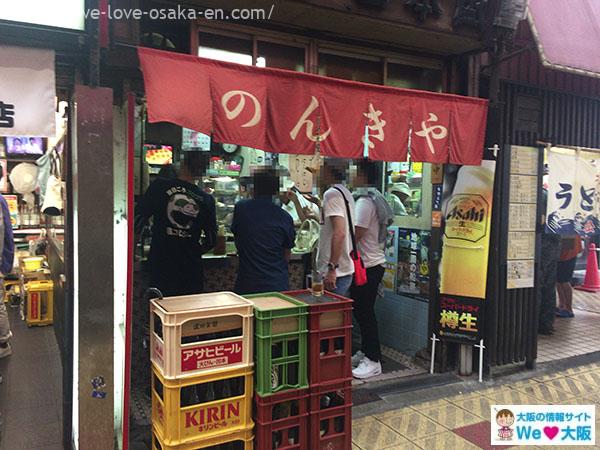 Nonkiya is a standing bar which is inside JyanJyan Yokocho near to Tsutenkaku. They serve Oden in a tasty soup stock.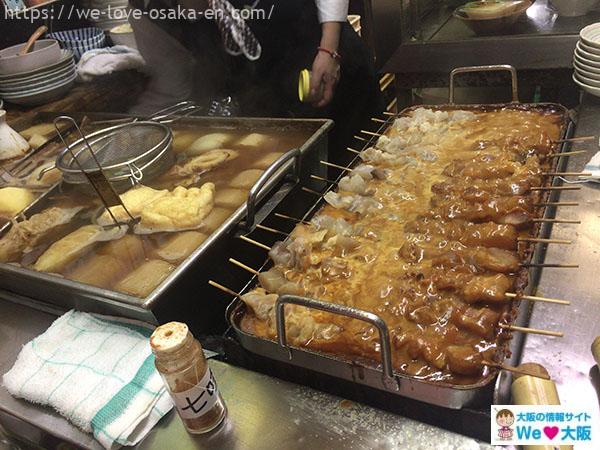 There are some homemade dishes like Doteyaki that was simmered in front of my nose and Oden which consists of different unusual ingredients such as a whole onion, okra, cabbage, and short noodles of Kudzu and also Nutawae and Shirasu Oroshi. Watching the female owner, who comfortably looks likes anyone's Mother, managing the food in the kitchen made me so relaxed and feel like saying 'Mom I'm home'. It is a very narrow spaced shop but very popular from day time, so just hop in when you see empty seats.
Name:
Nonkiya
Address:
3-4-5, Ebisuhigashi, Naniwa-ku, Osaka
TEL:
Not open to the public
Opening hours:
8:00-20:00
Regular Holidays:
Every third Tuesday.
Taikouzusi the main shop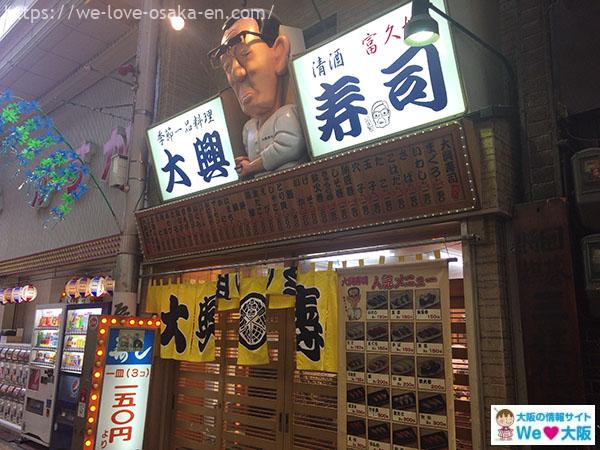 The shop is located in Jyan Jyan Yokocho and very close to Yaekatsu. Taikozushi is an old sushi shop, but has recently been renewed now with both counter and table seats. Its popularity allowed it to open another branch which is much closed to the main shop. They serve three pieces of sushi per plate, which is delicious and very reasonably priced.
There are abundant seafood choices and fans definitely don't want to miss out on any of them. The sushi prepared by skilled hands is excellent for sure. Rather small sized sushi choices are very compatible with Japanese sake.
Name:
Taikozushi the main shop
Address:
3-2-18, Ebisuhigashi, Naniwa-ku, Osaka
TEL:
06-6641-4278
Opening Hours:
11:30-21:30
Regular Holidays:
Every Thurs.
5-4.The hormone shop which is easy to enter surprisingly even in the family
Horumon DoJo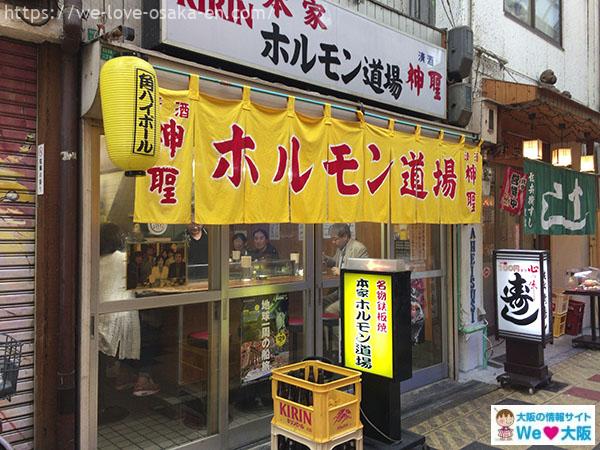 Japanese Horumon shop specializes in fried beef or pork offal. This shop is in JyanJayn Yokocho. There are only U-shaped counter seats available. A sweet smell from food grilled on iron plates right in front of you stimulates the appetize. The original sauce which has oyster sauce as a base is unforgettably delicious and it keeps bringing unending fans. In Shinsekai, it is unusual to see that a Horumon shop has such gentle service and consequently coming customers tend to be mostly families or groups of girls.
Name:
Horumon Dojo
Address:
3-2-23, Ebisuhigashi, Naniwa-ku, Osaka
TEL:
06-6631-3466
Opening hours:
10:30-20:00(L.O.19:30)
Regular holidays:
Every Tues.
5-5.Store of mixed juice origin
Sennariya Coffee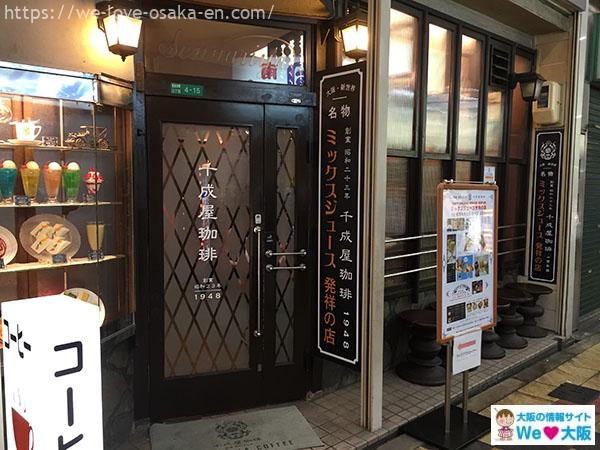 This shop is also located in Jyan Jyan Yokocho. One of the famous Osaka local specialties; 'Mixed Juice' originated from here. The shop has been published and reported in many media publications. The fruit parlor shop was established as an annex to Sennaiya Coffee shop.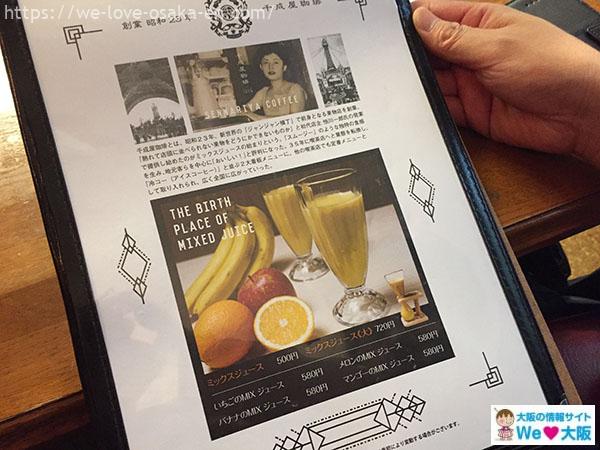 The Mixed juice made from fruits that are fully ripened is rich and very tasty. The old-fashioned atmosphere of the coffeehouse is also a favorite point for me. The Ice coffee is called 'Reiko' which is Osaka dialect.
Name:
Sennariya Coffee
Address:
3-4-15, Ebisuhigashi, Naniwa-ku, Osaka
TEL:
06-6645-1303
Opening hours:
9:00-21:00(food L.O. 20:00/Drink L.O 20:30
Fri. Sat. the day before holidays 9:00-23:00(Food L.O.22:00/Drink L.O.22:30)
regular holidays:
regular holidays
5-6.Famous stew hormone and awamori shop
Maruhuji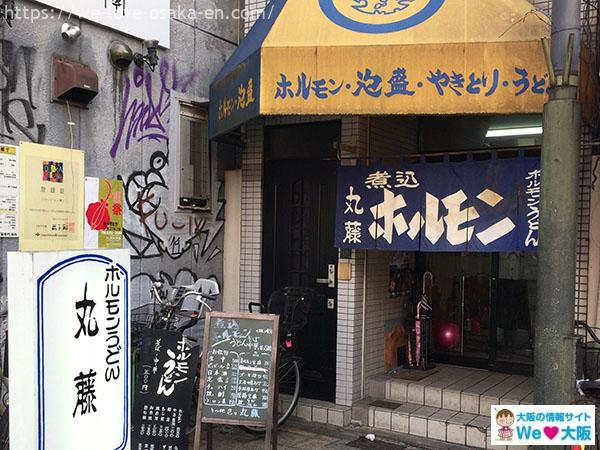 It is a Horumon shop which is located right outside of JyanJyan Yokocho on the Tsutenkaku side. Besides its specialty of simmered entrails, there are also traditional home-made offal dishes of beef, pork and chicken and also Okinawan dishes. It is the perfect time to drink Awamori (strong Okinawa liquor distilled from rice or millet) while tasting delicious Horumon dishes. Nikomi horumon Udon, which is noodle stew with lots of entrails, is very famous. The udon noodles that absorb the rich taste of the entrails and its soup is definitely a delight to have at the end of the meal.
Name:
Maruhuji
Address:
3-4-2, Ebisuhigashi, Naniwa-ku, Osaka
TEL:
:06-6649-3793
Opening hours:
10:00-21:00
Regular holidays:
Every Thurs.
5-7.A liquor-lover's shop where you can eat rich and delicious eight-star vegetables
Sake no Ana
This shop is famous for those who are fond of drinking and food lovers and for local mans. It is located near the Daruma shop. This shop is famous for chop suey dishes which have published in various magazines. It is not thickened at all but has a rich flavor. There are also side menus such as Oden, Kushikatsu, Teppanyaki and so on to enjoy.
Name:
Sake no Ana
Address:
2-4-21, Ebisuhigashi, Naniwa-ku, Osaka
TEL:
06-6631-1845
Opening hours:
10:00-21:00
Regular holidays:
Every Thurs.
5-8.A specialty stew shop with a taste of vegetables
Azuma Dining
A pure white sign board on which 'Azuma Dining' is written will catch your eyes immediately once you enter Shinsekai from Shinimamiya station direction. Recently renewed, this dining place is managed by a couple who are very kind and friendly. There are only L-shaped counter seats in this establishment. One of specialties here is a stew (350 JPY). It is neither white nor brown in color, but has a muddy transparent appearance. The broth which is made from pork, carrots and potato is very simple but tastes great. Rice bowl ( 400 JPY-), Each different kind of Udon, Soba (250 JPY-) Miso soup, Tamasui (150JPY- ) Kasu soup is perfect for winter just for an extra idea.
Name:
Azuma Dining
Address:
2-5-7, Ebisuhigashi, Naniwa-ku, Osaka
TEL:
06-6631-4248
Opening hour:
9:00-14:00,16:00~18:30
Regular holidays:
Wed. 10​
th
​
of every months.
5-9.Old-fashioned retro soba shop
Sarasina
It is a Soba restaurant which has an old-fashioned atmosphere like the early Showa era. The chewy white noodle is very characteristic, but there is also a popular menu like 'Iritori set meal.' Rice comes separately with a dish which is made from chicken and eggs, and with some other set dishes. It has a hidden popularity; their Japanese Omelette is very giggly and juicy here.
Name:
Sarasina, the Originator
Address:
1-17-10, Ebisuhigashi, Naniwa-ku, Osaka
TEL:
06-6643-6051
Openning hours:
12:00-18:00
Regular Holidays:
Monday
5-10.The staff is a girl standing bar
Hukumusume, the standing bar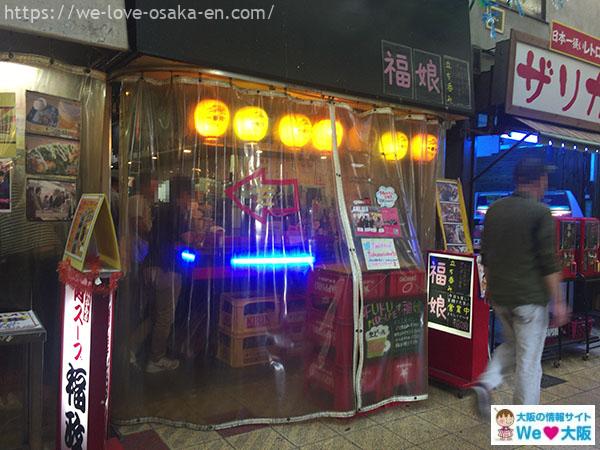 This place is recommended for those who want to have drinks served by pretty girls. The standing bar with a few female staff is located in Jyan Jyan Yokocho. This bar is a sister establishment of Hukusei.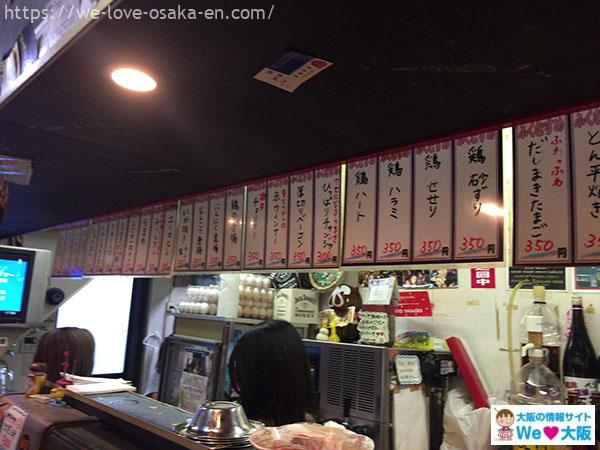 This standing bar is so popular that it is sometimes seen on TV shows. A few pretty girls in her late teens and twenties are working together here. It is of course reasonably priced as a standing bar. You can definitely enjoy drinking with some finger foods which are served by pretty girls. Please be a gentleman and behave; you are not allowed to touch the girls. They have Facebook and twitter so please visit!
Name:
Hukumusume Standing Bar
Address:
3 Ebisuhigashi, Naniwa-ku, Osaka
TEL:
06-6647-3166
Openning Hours:
12:00-18:00
Regular Holidays:
Mon.
Conclusion
Kushikatsu was started in Shinsekai in the early Showa period. At that time Shinsekai was the downtown entertainment district where pornographic movies and restaurants all line up together. Because it was close to the Airin district, food stands where day laborers and physical laborers are able to drink and eat from noon served Kushikatsu because even some unattractive food looked good and easy to eat when they are deep-fried and it was very convenient food in that era. There is a conspiracy theory that sometimes they even deep-fried something which they were unsure what kind of meat it was.
Then, there was an NHK TV morning drama series called 'Hutarikko' set in Shinsekai which became very popular in 1996. In the drama, Shinsekai is described as a palace for Kushikatsu, hereafter, Kushikatsu became well-known as an Osaka specialty.
In the olden days, this place was notorious for unending violence, social problems and for having a low standard of public safety, but now, there are no more suspicious stores and it has become a famous place for tourism. Also, all the food now for making kushikatsu is of very high quality; therefore, Shinsekai is certainly safe enough for visitors,even only just girls. Most places allow smoking, but let's cooperate with each other for those who come with families and let's have a great time together.
Related article
We crave for something hot to ……

2019.09.04

Speaking of Osaka, some ​foods……

2019.06.20
Introduction of writer

sawa
I was born in Osaka and I love alcohol. I'd like to offer delicious food and alcohol in the topic in Osaka.
Instagram
#ういらぶ大阪
  Please introduce your "we love Osaka" (Only gourmet of Osaka and spot of Osaka)