Former purser on Tokaido Shinkansen recommends! How to enjoy shinkansen and Shin-Osaka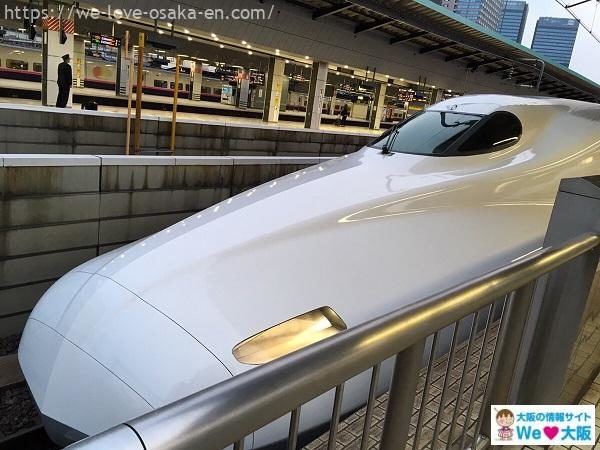 Osaka Caste, Kaiyukan Aquarium, Tsutenkaku Tower, and Universal Studio Japan…
Osaka has a lot of tourist attractions.
Other than sightseeing, Osaka is called a place for Kuidaore (literally meaning eat-yourself-to-bankrunptsy), and many people enjoy good local cuisine here. For those who want to enjoy gourmet in Osaka, I recommend obento (lunch boxes), your travel companion. There are many great bento that I strongly recommend you eating on shinkansen (bullet train) on the way back.
In this article, I, a former purser who used to go to Osaka 240 times a year, recommend must-eat obento. Also I will introduce how to spend time on shinkansen and what you can enjoy at Shin-Osaka Station, so check these out as well!
1.5 best obento you can buy at Shin-Osaka Station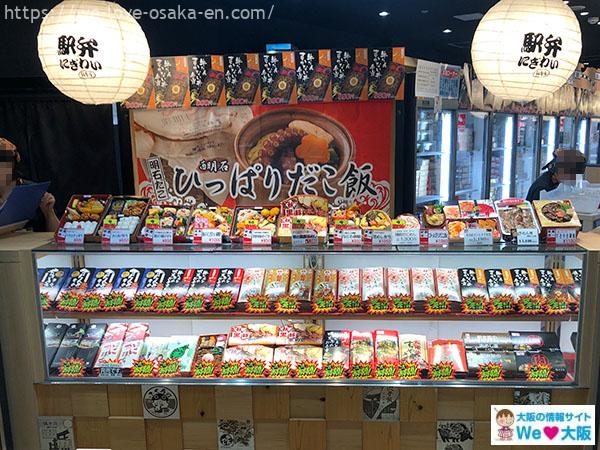 I bet many of you look forward to obento you enjoy while traveling. If you want to eat something on shinkansen on the way back, I recommend that you buy one at Shin-Osaka Station, where they have a variety of those. Here I made a ranking of the obento, so definitely try these!
1st | Hipparidakomeshi \1,080 (tax included)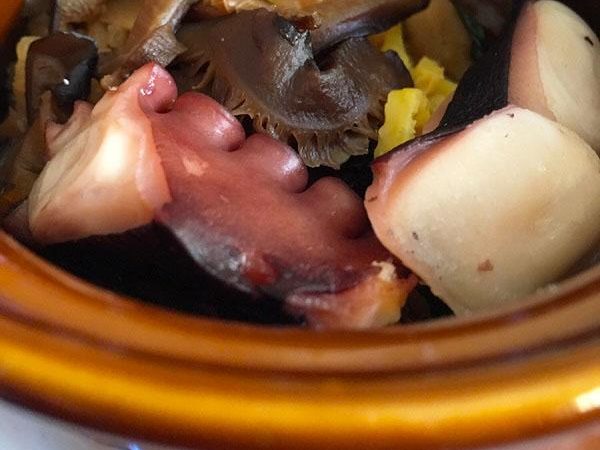 Most of the pursers agree that the most recommended obento at Shin-Osaka Station is this one. You often see people eat this obento, and this shows its popularity. Inside the obento are octopus, conger eel, and seasonal vegetables. The obento is voluminous, but this has a lot of ingredients, so you will never get tired of this. The octopus, the main ingredient, is surprisingly soft, and goes well with the rice. This obento is as good as a dish at a restaurant.
2nd | Toritaro Shin-Osaka Bento \880 (tax included)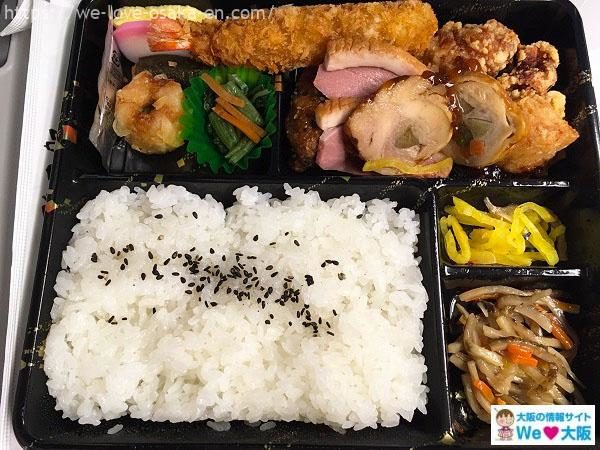 If you like chicken, you will love this.
The domestic chicken used in the obento, and its filling portion attract many people's attention. When I used to be a purser, I would often buy this during lunch break. They have a variety of obento, so you need some time to think which one to eat. Karaage (fried chicken) and yakitori (chargrilled chicken) are also must-eat. They go well with beer, so enjoy it with some drinks!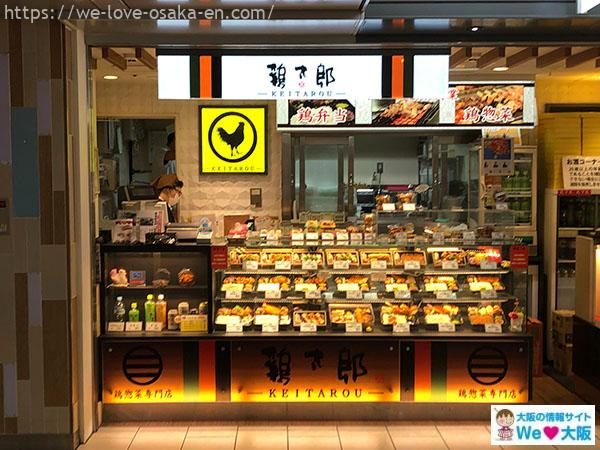 The store is located in front of the escalator when you head to Shinkansen Central Gate from Midosuji line.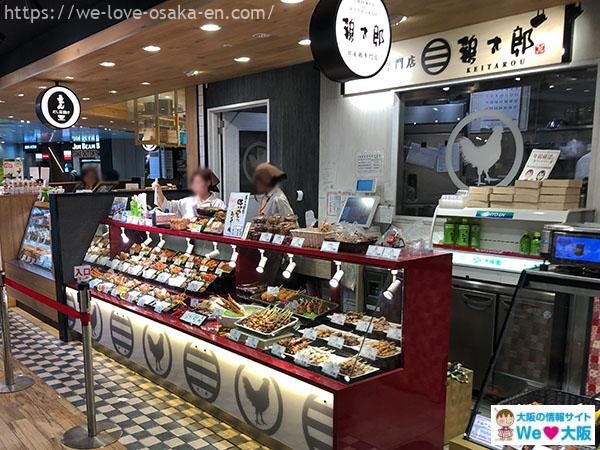 3rd | Tokusei Makunouchi Gozen \1,370 (tax included)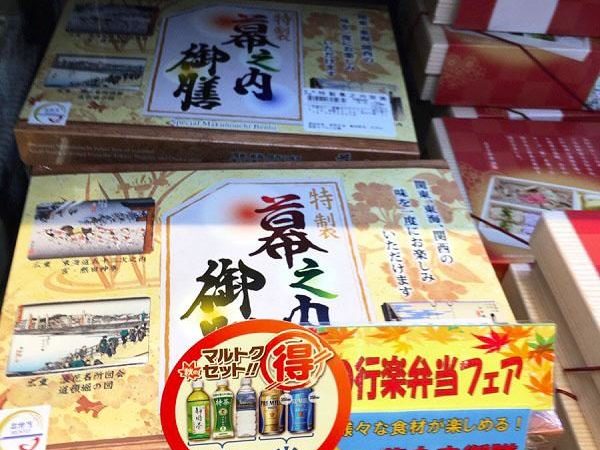 Tokusei Makunouchi Gozen has 9 different dishes from Kanto, Tokai, and Kansai. You can buy this on shinkansen, and some people buy as nibbles. You can enjoy different tastes so business people who regularly commute here will not get tired of the taste.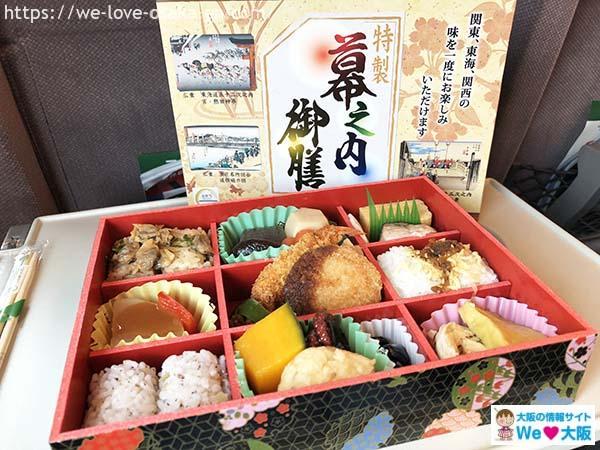 If you want to enjoy local food of Tokaido, try this!
4th | Tenmusu, Suehiro \772 (tax included)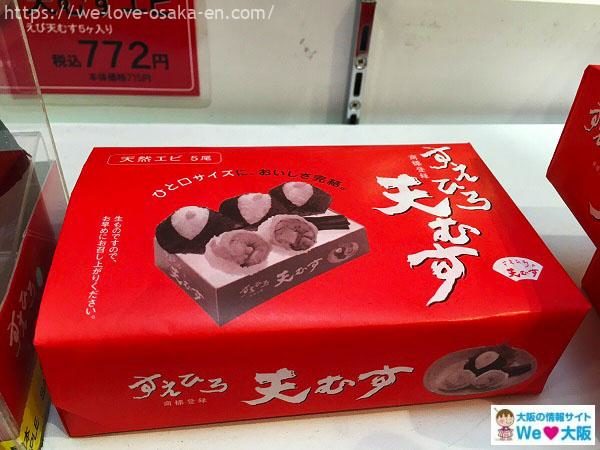 I strongly recommend Suehiro's Tenmusu, which has cute little rice balls. Rice balls have deep-fried shrimps inside, which is probably one of the Osaka specialties. They are a little salty, so the rice balls and beer are a good match. You can enjoy the nice texture of the deep-fried shrimps as well. The size of each is not that big, so it is popular among women.
5th | Tonchou \350 (tax included)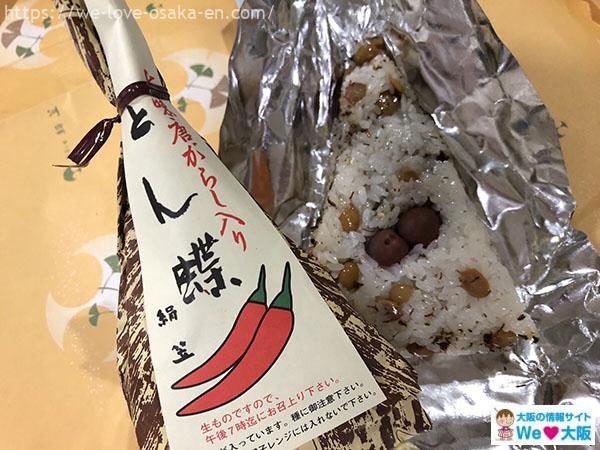 Japanese confectionary store Osaka Onkashitsukasa Kinugasa's Tonchou is a local food that you can only eat in Osaka. Tonchou is okowa, which is steamed glutinous rice.
The okowa is wrapped in triangle shape, and the texture of the glutinous rice makes you full. They have different tastes but I recommend seven flavor chili pepper. The red pepper and Japanese pepper give it an accent. You will definitely get hooked on this taste.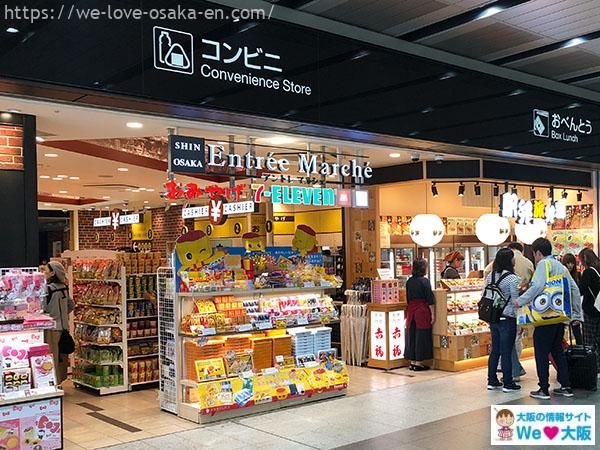 This is only available only in Shin Osaka Entre Marche, inside the Central Gate.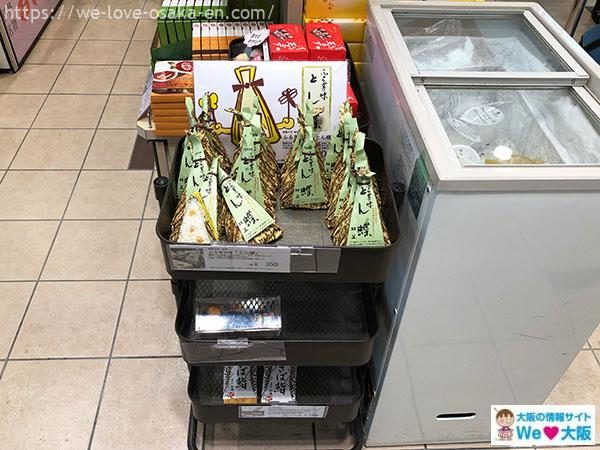 They are sold in a little space in front of the register, so don't miss it!
2.【Recommended by a former purser】 How to spend time on shinkansen
If you want to enjoy your trips, you should consider how to spend time on shinkansen. Of course it is good to just sleep, but you can also try different ways in which you can enjoy time on Tokaido shinkansen. Let's get started!
2-1 You can see Mt. Fuji when it is sunny.
If you book a seat on Tokaido Shinkansen, you should book the DE side (if it is green cars, CD side). This is because if it is sunny, you can see the beautiful Mt. Fuji. You will get excited when you see the most famous mountain in Japan, Fuji. You can see it near Shin-Fuji. Some train conductors announce when the shinkansen is passing by it, but you can also ask a purser or a conductor on the train.
2-2 You can borrow blanket.
This service is only available on green cars. It can sometimes be cold because it is well air-conditioned. Those who are sensitive to the cold might suffer from the low temperature. But you can actually borrow a blanket! As soon as you get on the train, pursers will come to your car to pass out wet towels, so ask for one then. ※When no one shows up soon, you can take one from overhead racks near doors.
2-3. You should try reasonable morning set only sold in the morning on the car!
There is something I want you to try before departure in the morning.
This is "Sandwich and coffee" (\500 tax included), which is only sold on shinkansen before 8:30 in the morning. You might think it is just a sandwich, but it is totally different from what you would imagine. Voluminous egg, ham and cheese are sandwiched between soft bread. The bread is so soft that I think even bakeries cannot make this soft bread.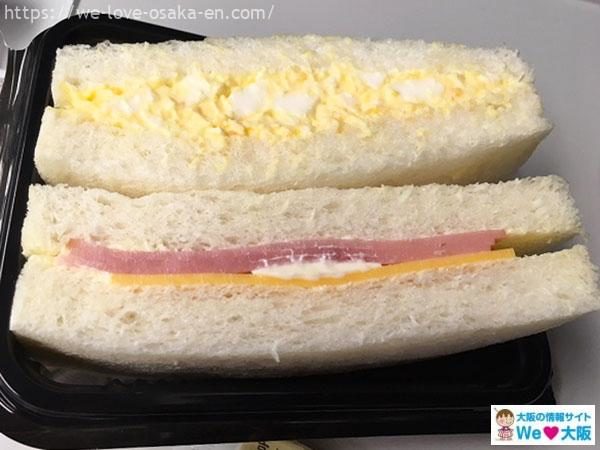 You can also try hot coffee. The coffee you can drink on the train has rich flavor and it goes well with the sandwich. The coffee beans are Rainforest Alliance certified, and they are roasted perfectly. Definitely try this authentic taste!
2-4 Nibbles and Drinks on the car
Wagon services on shinkansen have nibbles and drinks. If you enjoy drinking, you can buy some to relax on. On the wagon are really cold beer, Chu-hi, whisky and wine. Different wagon has different beer brands, so you can choose one from them. They have a variety of nibbles, so why don't you relax drinking and eating some snacks?
2-5 Trivia about shinkansen
Here I will introduce some trivias about Tokaido shinkansen. If you know this, you might be able to enjoy your trips even more!
①Cars that often have vacant seats!
Being a purser, I had one question; which is the rate of occupancy of each car. Some cars are always crowded but others are comparatively vacant. This kind of weird tendency can be observed on shinkansen. You want to spend time on less crowded cars, don't you? Here, I will introduce the cars for reserved seats that has a high possibility of vacancy and therefore are more comfortable than others!
※This only applies to Nozomi
■Standard carriages with a high possibility of vacancy
Non-reserved seats … car no.1
reserved seats… nos. 4, 5, 13, 14
■Green cars with a high possibility of vacancy
car no.9
I feel cars nos. 7, 8, 11 are often crowdy, so if you reserve a seat, I would not recommend those carriages. This information is for non-smokers. Those who smoke may want to choose a car next to a smoking room.
■Smoking rooms of N700 Series
Car no.3 (toward Hakata)
Car no.7 (toward Tokyo)
Car no.10 (toward Tokyo) ※only for green cars
Car no. 15 (toward Hakata)
■Smoking seats of 700 Series
Car no.10 (green car)
Car no.15
Car no.16
②Be careful when the train tilts
When they are providing the wagon service, there is an area where you have to be careful, which is Atami. Atami has some slopes, so sometimes the shinkansen gets tilted. They have to be careful balancing the wagon, so that they will not fall over. I recommend that you stay in your seats when you pass by Atami, and go to the restroom and a smoking room after that.
3.How to enjoy Shin-Osaka Station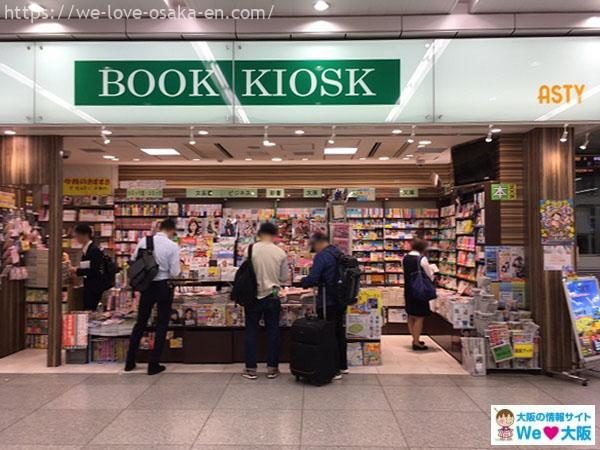 If you want to enjoy Shin-Osaka Station to the last moment, you can try these.
3-1. Souvenirs
Buying souvenirs is also fun. Shin-Osaka Station has a variety of souvenirs and food, so even if you forgot to buy one while sightseeing, don't worry! You can buy souvenirs from famous stores and popular confectionaries here. Here are two recommended souvenirs you can buy at Shin-Osaka Station
①Magic Furikake (topping on rice)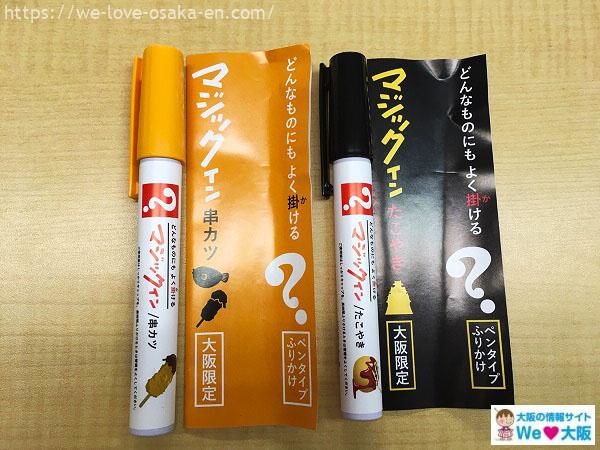 The Furikake is based on the permanent marker "Magic ink," which was the first permanent marker sold in Japan. Furikake is inside the case so it is good for carrying around. I strongly recommend this as a souvenir of Osaka. It has 9 different tastes.
●Takoyaki
●Kushikatu
●Curry
●Gyoza
●Umeboshi (Pickled plum)
●Sakura (cherry blossom)
●Shichimi (seven flavor chili pepper)
●Sjimi Shigureni (ginger-simmered freshwater clams)
●Roasted onion
Price: \680+tax
Takoyaki and kushikatsu are well known so I recommend buying them for souvenir.
②Naniwa Choroken, Chorokenpi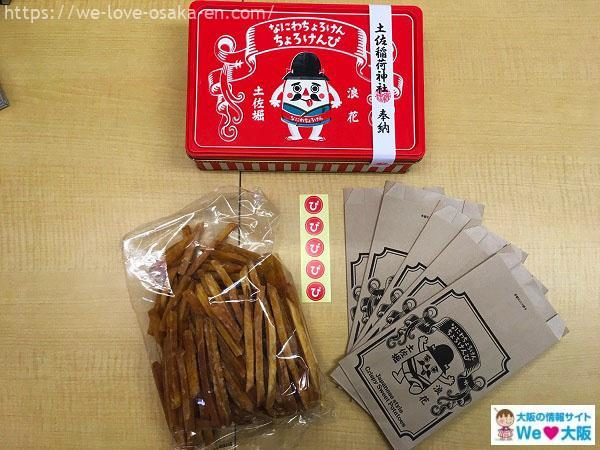 Chorokenpi, with the cute character on the package. The can has 5 bags to share it in, and imokenpi (sweet potato fries). You can share this at your workplace! The taste of imokenpi is a bit salty and at the same time sweet, so you will love the taste. Make sure you buy this if you are looking for something eye-catching.
Price: \900+tax
3-2 Stop by a bookstore
I bet some business people have little time to read books because they are busy. I recommend reading books on your trip. You might think that is something you can always do, but you would not read books unless you have a chance to, just as those in Tokyo hardly ever climb up the Tokyo Tower. If you want to use your time efficiently, be sure to stop by a bookstore in Shin-Osaka Station!
【Shin-Osaka Station | bookstores】
●BOOK KIOSK Shin-Osaka: Inside the Shinkansen Ticket Gates
●Bookstudio: In JR Shin-Osaka Station Eki Marche Shin-Osaka
●Libro, Shin-Osaka: JR Shin-Osaka Station 2F Arde Shin-Osaka
3-3. Visit a hot spring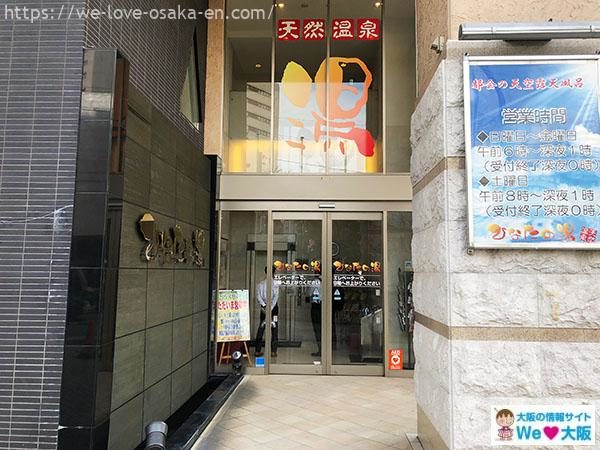 If you have some time at Shin-Osaka Station, enjoy hot spring. This place called "Hinata no Yu" is located within walking distance from Shin-Osaka Station. I did not know this when I was a purser, but I visited here when I went to Osaka on private. Hinata no Yu has outdoor baths and high concentration carbonated spring, and the water of the latter is not so hot, so I enjoyed bathing there. The hot spring is located on the 9th floor of a building, which is at the top of it, so you feel free! You can bathe while seeing a plane flying. In addition, they have sauna with TV and cold water bath, so you can go back and forth between them to get rid of your fatigue from your trip.
Shampoo, conditioner, body soap are available for free and you can rent bath/facial towels so you don't have to bring anything. If you have time, consider this option as well.
Name

:
Natural Hot Spring Hinata no Yu
Address

:
Dolce Vita Shinosaka 9F, 1-6-15 Mikuni Honmachi, Yodogawa Ward, Osaka
TEL

:
06-7504-6853
Hours

:
Sun-Fri 6:00 a.m. – 1:00 a.m. (Admission till 12:00 a.m.), Sat 8:00 a.m. – 1:00 a.m. (Admission till 12:00 a.m.)
Opens every day, but closes on an irregular basis for maintenance
Entrance fees

:
Adults (Junior high school students and older) \800Children (Older than 4 years and elementary school students and younger) \400Those who are younger than 3 years, free.11 coupon tickets \8,000 (2 children can enter with one ticket)
Access

:
6 minutes from the business districe around Shin-Osaka Station, 10 minutes on foot from Shin-Osaka Station on MIdosuji line Exit no.4
4.Enjoy Shin-Osaka and have a good trip!
Shin-Osaka Station, where there are a variety of obento, souvenirs, hot springs. If you have some time at Shin-Osaka Station, enjoy your trip to the last moment here. On the shinkansen on the way back home, you can enjoy obento looking back on the travel you just had, nibbles and drinks like at a bar, or you can just sit back to relax. Those who don't know how to enjoy Shin-Osaka Station and which food to eat, you can consider some options I introduced in this article. I hope it will remain as part of your memory of your trip.
Related article
Osaka Caste, Kaiyukan Aquarium……

2019.11.25
Introduction of writer

MINAMI
I worked as Tokaido Shinkansen parser about 4years. I went back and forth between Tokyo and Osaka. So I know about Osaka . My hobby is eating. So especially gourmet is a specialty area. I would like to offer the information of Osaka that draws interest of many people.
Instagram
#weloveOsaka
Please introduce your "we love Osaka" (Only gourmet of Osaka and spot of Osaka)