【Jo-Terrace Osaka】Introducing Osaka Castle Park's Restaurant and Shopping Center
【Jo-Terrace Osaka】Introducing Osaka Castle Park's Restaurant and Shopping Center
As summer approaches, many of you are probably thinking, "I want to go out soon!" So this time we visited Jo-Terrace Osaka, the perfect place for an outing with family and friends! We will introduce 18 of the available shops, including famous restaurants with lines out the door and spots to enjoy a stylish lunch. Of course, there are also stores offering takeout, and casual cafes, so be sure to check them all out out!
1. What is Jo-Terrace Osaka?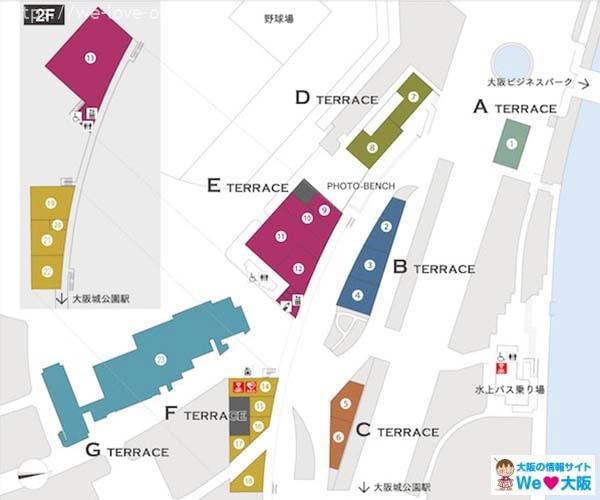 Image from: Jo-Terrace Osaka
Osaka Castle is the symbol of Osaka and a must-see sightseeing spot. Located within Osaka Castle Park is a commercial park called Jo-Terrace Osaka. There are many stores, mainly restaurants, souvenir shops, and running facilities. The concept is "walk, have tea, and enjoy the castle town's greenery," and the modern Japanese-style atmosphere with plenty of nature makes it a perfect place for a stroll, tea with friends, or lunch. Jo-Terrace is divided into seven distinct terraces, which we will introduce in turn.
2. Introducing Jo-Terrace Osaka's Facilities
Let's get started and take a look at the restaurants and services Jo-Terrace Osaka has to offer!
2-1. A TERRACE
① STARBUCKS Coffee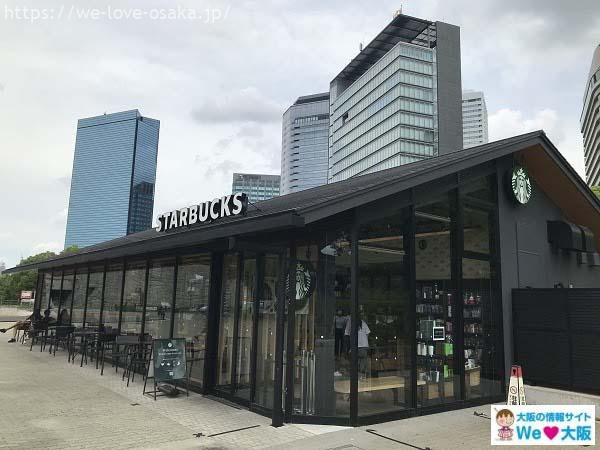 Passing through the entrance on the Osaka Business Park side, you will find Starbucks on your immediate left. You can enjoy a relaxing time in the open-air store surrounded by glass walls.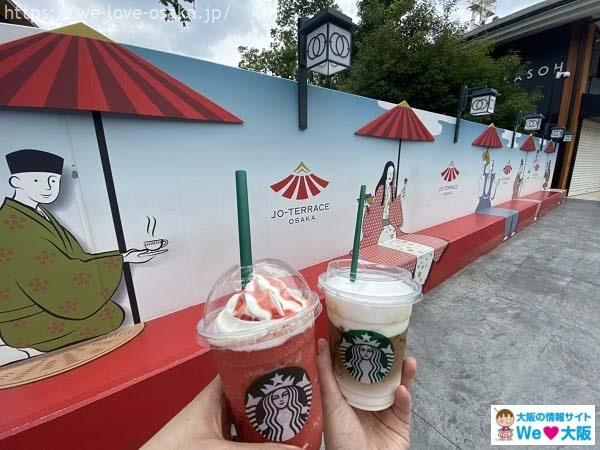 This photo bench is the perfect place to take a break after buying a drink at Starbucks. You can even take a photo of yourself looking like you are having tea with Sen no Rikyu!
2-2. B TERRACE
② GRAM Cafe & Pancakes
Gram is a famous pancake store with its main branch in Shinsaibashi. You have probably seen the fluffy pancakes on the large poster at least once.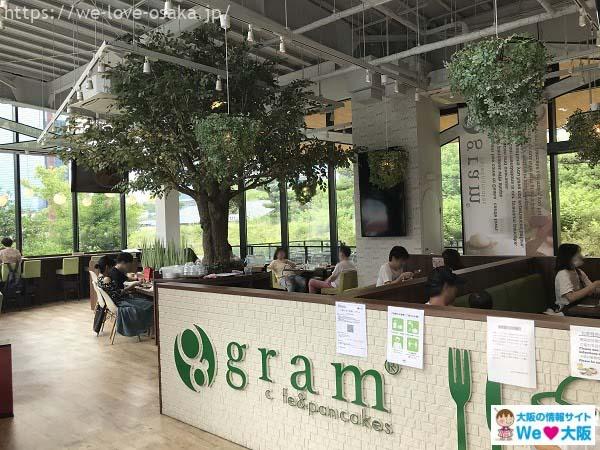 The restaurant has a natural and relaxing atmosphere with a large tree growing in the middle. There is also sofa seating, so it's child-friendly.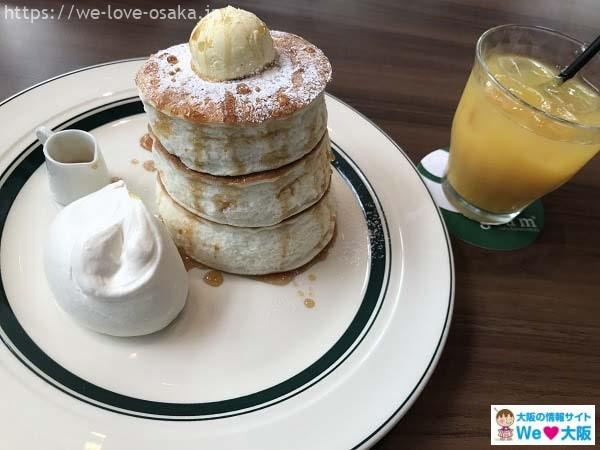 Gram offers premium pancakes three times a day, limited to 20 servings each time. The pancakes are fluffy and melt in your mouth. The pancakes themselves are not too sweet, so they go perfectly with the syrup and whipped cream. This is a must-try when you visit Gram!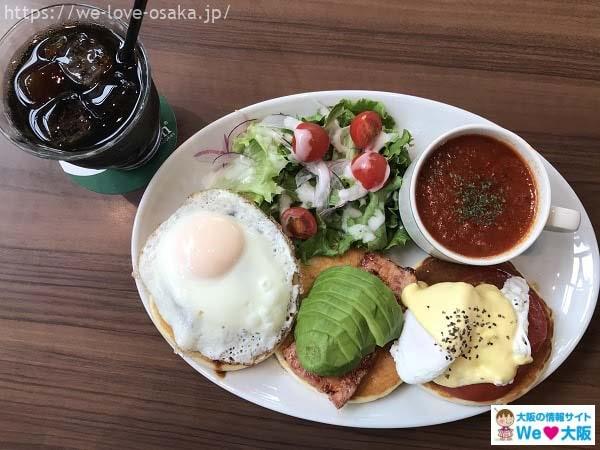 The most popular dish is the Trinity Plate. It consists of a hamburger steak with a fried egg, bacon and avocado, and Eggs Benedict, each on top of a pancake. The portions are generous, even for men who aren't easily satisfied. Couples and families can share both the meal and dessert portions!
③ EKIMAE PARLOR Cafe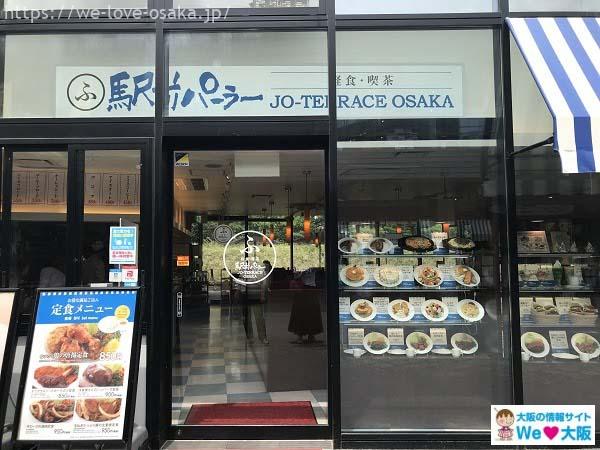 Ekimae Parlor has an old-fashioned atmosphere. The food menu, such as the Neapolitan and pilaf, also lend a nostalgic feel.
④ Italian Dining NATURA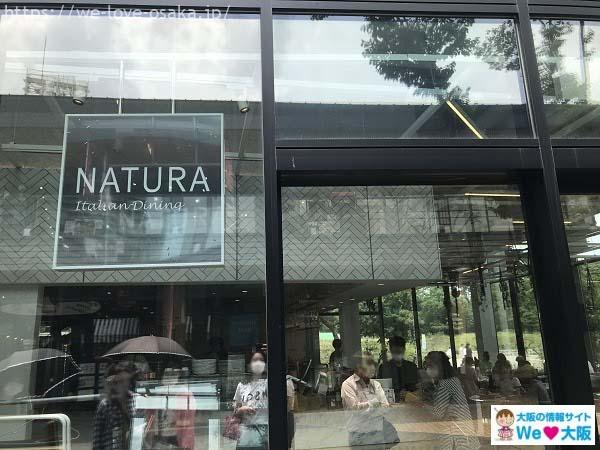 This is Natura, an Italian restaurant.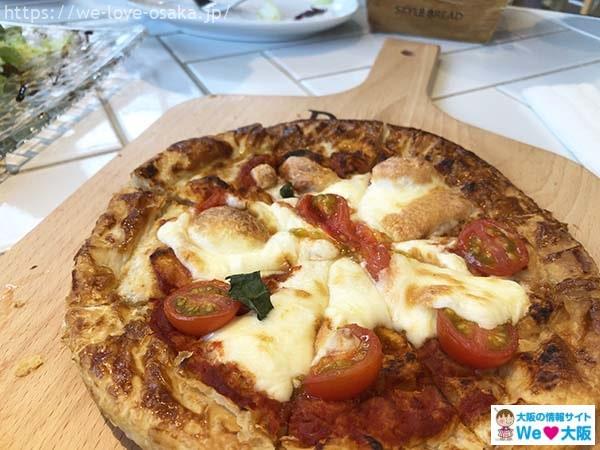 Paizza, a crispy pizza made from pie dough, is this popular restaurant's specialty. It's handmade in the restaurant, so it is always freshly baked. They also offer plans for parties and wedding receptions, so be sure to check them out.
2-3. C TERRACE
⑤ KATSUMA – Pork Cutlet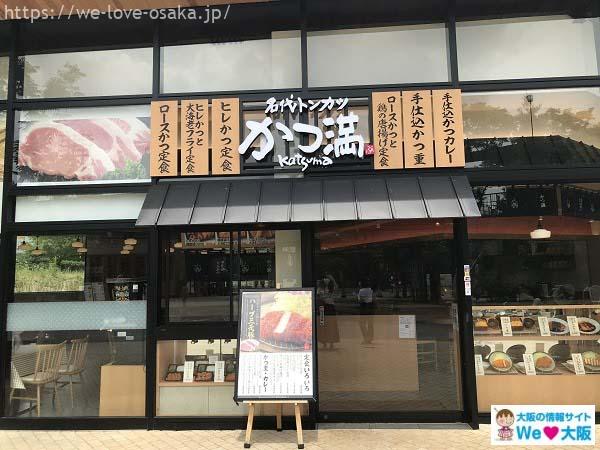 Famous pork cutlet restaurant Katsuma also has a shop in Jo-Terrace Osaka. With a wide variety of menu items such as katsu-ju and katsu curry, both men and women are sure to find something they like. Not only the original blended sauce, but also the bread crumbs and oil are carefully selected and prepared.
⑥ SACHIFUKUYA – Japanese and Set Meals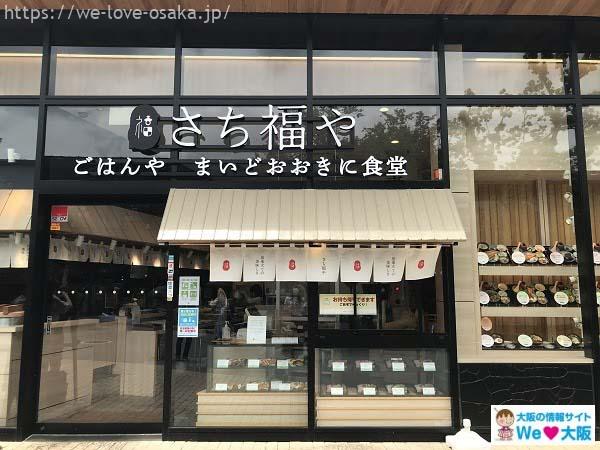 If you are in the mood for Japanese food, Sachifukuya is the place for you. The hot rice cooked in a kamado (large iron pot) and nutritiously balanced side dishes are perfect for those who prefer a healthy meal.
2-4. D TERRACE
⑦ LAWSON Convenience Store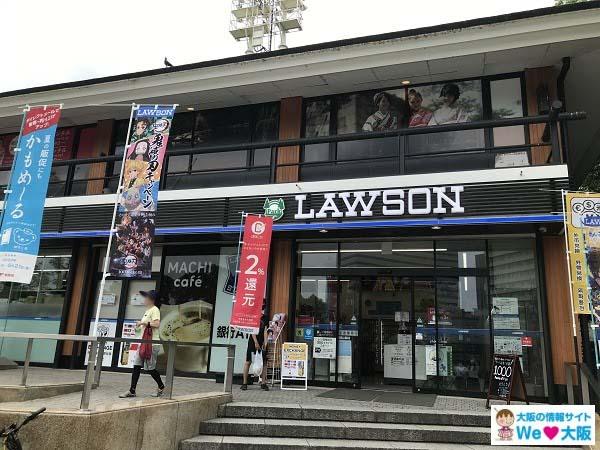 There is a Lawson inside Jo-Terrace Osaka. It's right next to Osaka-jo Hall, so if you need anything during an event or something, you can get it here!
2-5. E TERRACE
⑧ NADAI CHIBO Okonomiyaki & Teppanyaki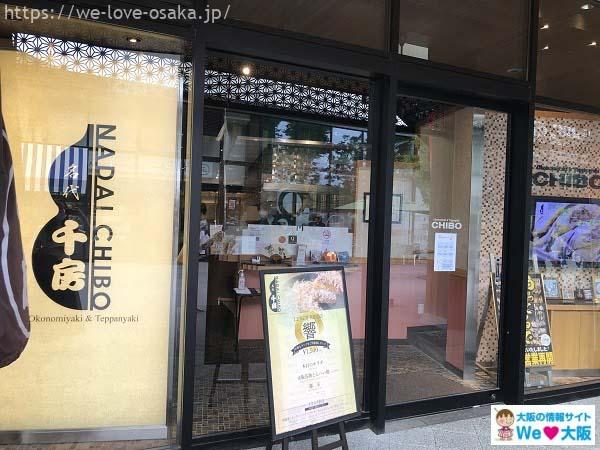 One of the most famous okonomiyaki in Osaka is Chibo, which originated in Dotonbori. So you can surely enjoy authentic okonomiyaki at Jo-Terrace Osaka. After a day of sightseeing at Osaka Castle, we recommend you try their authentic okonomiyaki!
⑨ RUNNING BASE Sports Facilities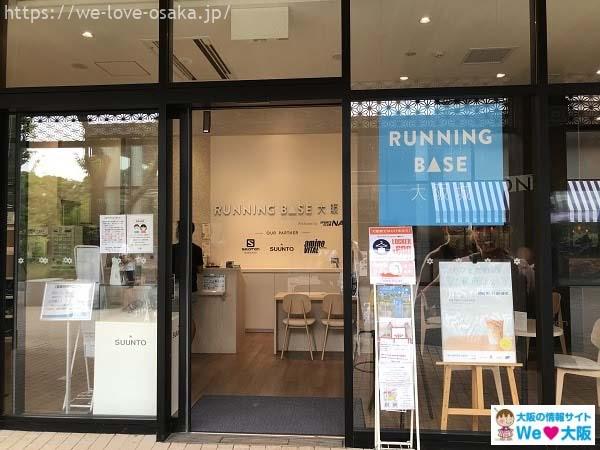 Running Base Osaka Castle offers facilities for runners. Equipped with coin lockers and showers, this is a great place to enjoy Osaka Castle runs after work or on holidays. Check out this article for more details on how to use it!
⑩ OSAKA JOKAMACHI Ramen Shops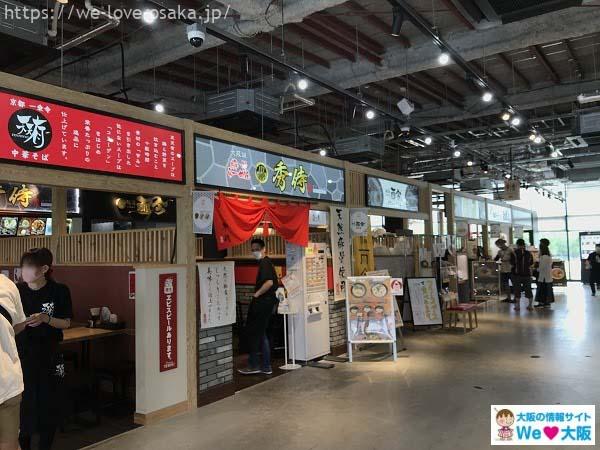 Osaka Castle Town is lined with famous ramen restaurants that have arrived in Osaka for the first time. Ramen lovers, you must visit one of them!
Osaka Jokamachi Homepage
2-6. F TERRACE
⑪ JO-TERRACE OSAKA Information and Official Shop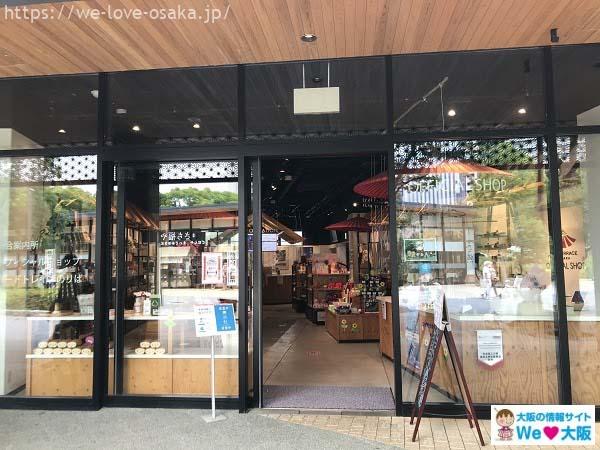 The Information & Official Shop is the place to buy Osaka souvenirs. You can find many goods unique to Osaka, so please stop by after your visit to Osaka Castle. We have compiled a list of Osaka souvenirs available at this store, so be sure to check it out!
⑫ TAKOYAKI DORAKU WAKANA – Takoyaki, Okonomiyaki, Yakisoba
Osaka is famous for its takoyaki! Of course you can enjoy takoyaki at Jo-Terrace Osaka! I recommend takeout and eating them outside!
⑬ SAINT JORDI FLOWERS The Decorator
San Giordi Flowers is famous for its boxed flowers. They have a large selection of sophisticated floral gifts. If you want to buy flowers for your loved ones, please visit their Jo-Terrace store.
⑭ HYSTERIC JAM Kobe Butter Crepes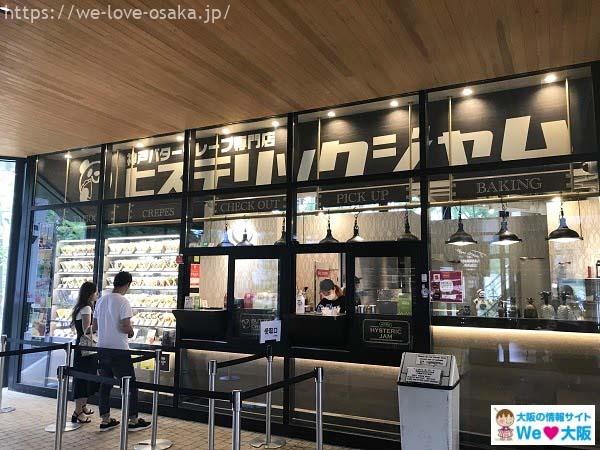 Hysteric Jam is very popular in Kobe Motomachi. The dough is made with plenty of butter and is characterized by its crispy, fluffy, and juicy texture.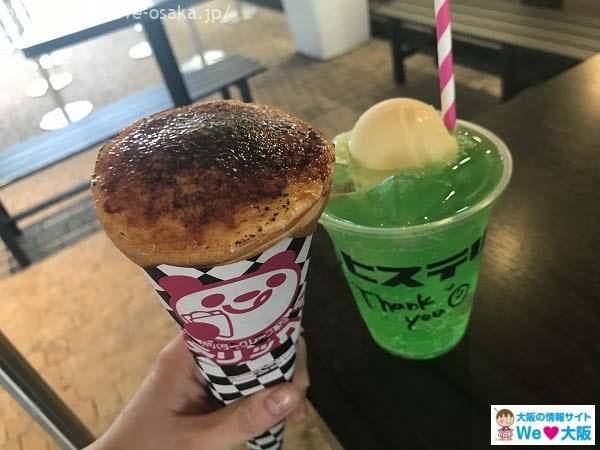 This time I ordered the classic crème brûlée and an old-fashioned melon soda! As one would expect from a company that is so particular about its dough, it's insanely delicious! The sweet crème brûlée had a burnt finish, and the crispy, savory texture was exquisite. The melon soda, which was filled to the brim, also had a nostalgic coffee shop taste, so I was very satisfied! With a wide variety of items on the menu, there's always something different to try, no matter how many times you visit.
⑮ GOOD SPOON All Day Brunch & Dinner BBQ Terrace & Craft Beer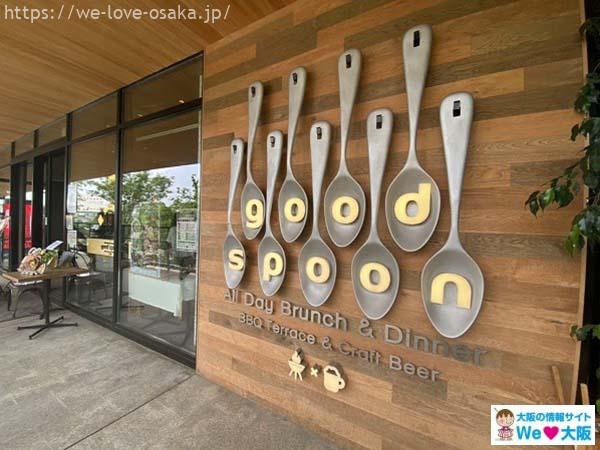 Good Spoon, a popular cafe in Minamihorie, is now open at Jo-Terrace Osaka. The best part about this Good Spoon location is that you can have a BBQ on the terrace!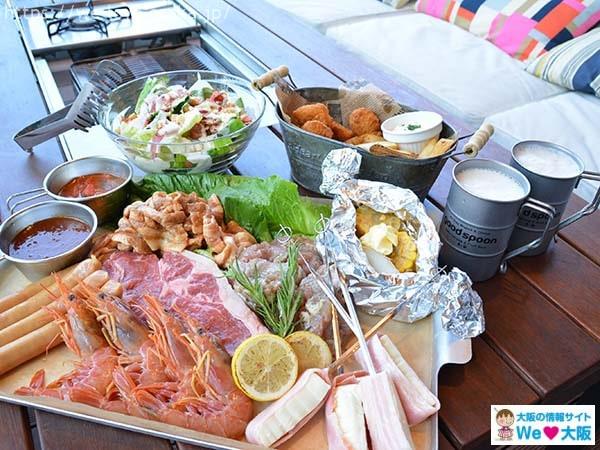 If you're looking for a quick BBQ fix, you've come to the right place!
*For more detailed BBQ information at Good Spoon, click here.
⑯ Aquarium Cafe HIRAKU Korean Dining & Cafe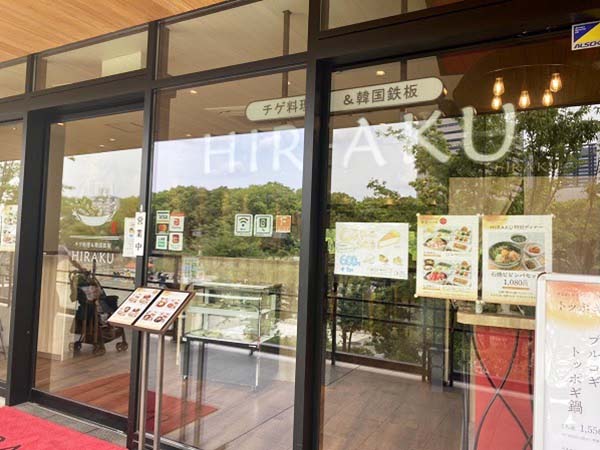 Korean BBQ & chige cuisine HIRAKU is the place to eat Korean food. Not only can you enjoy the authentic taste of Korea, but you can also enjoy Korean tea and other popular foods. Of course, takeout is available, so eating outside is also recommended!
⑰ TULLY'S COFFEE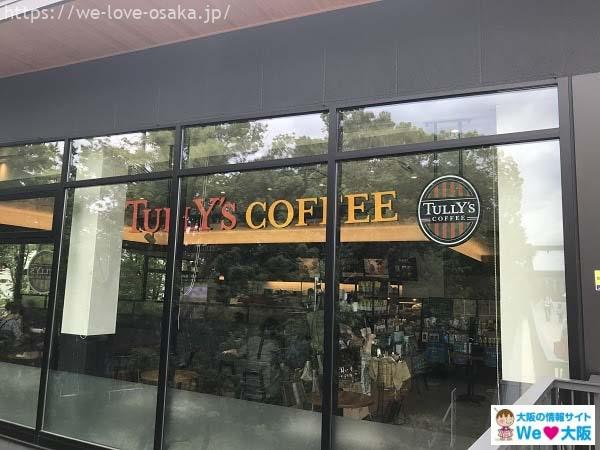 Jo-Terrace Osaka is also home to Tully's Coffee. You can enjoy a relaxing tea time in the spacious store! It is the perfect place to take a break after sightseeing at Osaka Castle.
2-7. G TERRACE
⑱ CASTLE GARDEN OSAKA Modern French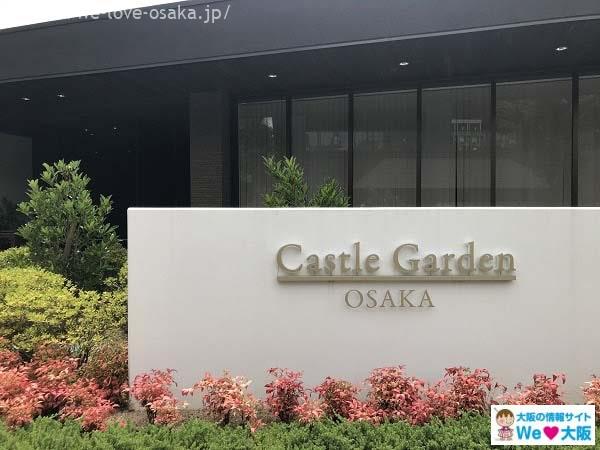 Jo-Terrace Osaka also has a wedding hall. This Castle Garden has a restaurant attached to it, so you can enjoy lunch, dinner, cafe, etc. It is recommended for those who want to enjoy a slightly richer dining experience. Reservations are required, so please call in advance.
For Info & Reservations: 0120-002-275
3. How to enjoy Jo-Terrace Osaka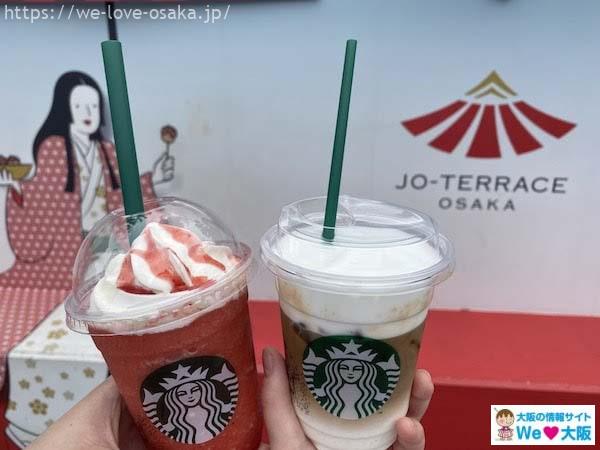 Now let's see what Jo-Terrace Osaka has to offer!
3-1. Osaka Castle Park Stroll & Rest
Osaka Castle Park is dotted with plum groves, hydrangeas, and cherry blossom viewing spots, offering seasonal views. A leisurely stroll around the park is recommended. There is a road train stop at Jo-Terrace Osaka, so if you get tired of strolling, you can take the road train on the way to Jo-Terrace Osaka! There are many cafes in Jo-Terrace Osaka, so it is the perfect place to take a break after a day of sightseeing.
3-2. Running Base Osaka Castle
Running at Osaka Castle is something that many people actually long for, isn't it? Jo-Terrace Osaka offers Running Base Osaka-jo, a convenient place for running around Osaka Castle. Lockers and showers are available here, so you can drop by and enjoy running after work or on your days off. It's the perfect facility for active folks!
3-3. Taste test different kinds of ramen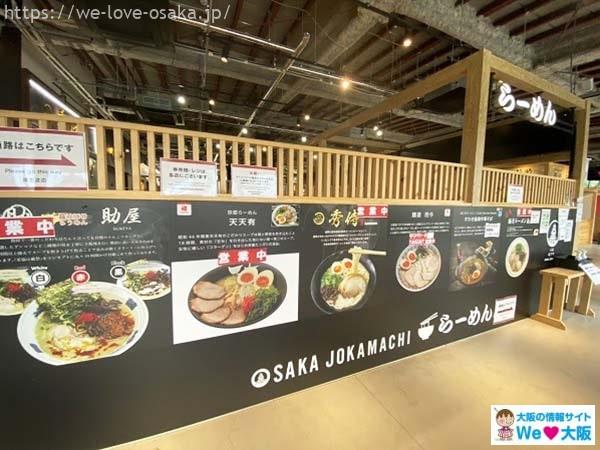 On the second floor of Jo-Terrace Osaka, you will find a variety of famous ramen restaurants. They are all specially selected ramen restaurants from all over Japan, so ramen lovers should definitely visit them! I recommend trying to conquer them all!
4. Nearby Jo-Terrace Osaka
There are various spots around Jo-Terrace Osaka. Since you're here, be sure to have plenty of fun not only at Jo-Terrace Osaka, but at the surrounding spots as well!
4-1. Cool Japan Park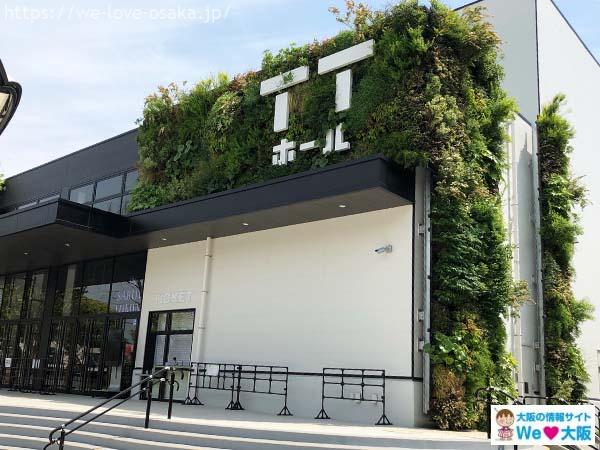 Cool Japan Park is a theater and cultural attraction that showcases Osaka as an interesting city. In addition to comedy, Noh plays, plays, musicals, and live performances are held here. You can enjoy various genres of entertainment, so please check the schedule in advance and experience Osaka's "Omoroi!" in Osaka!
4-2. Hōkoku Shrine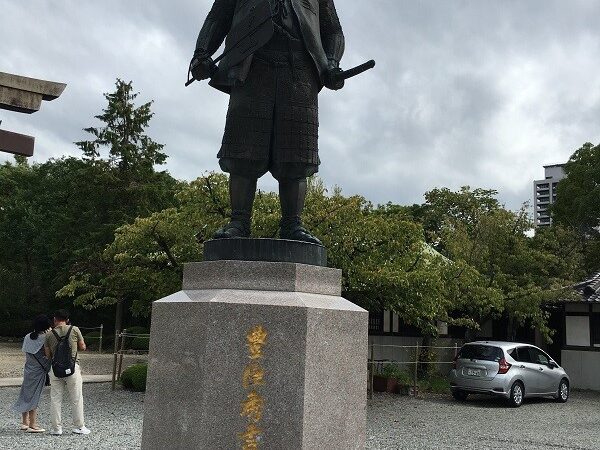 Osaka Castle is associated with Hideyoshi Toyotomi. Hokoku Shrine is dedicated to Toyotomi Hideyoshi. It's the perfect place to pray for success in life! Surprisingly it's not that crowded, and it's a great place to hole up!
4-3. Playville Bornelund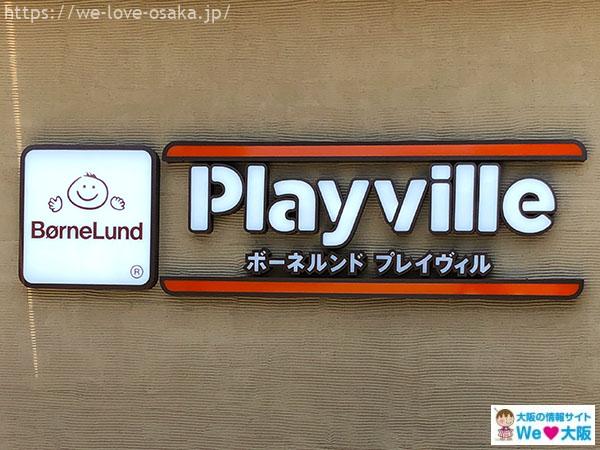 Bonelund, a company that sells playthings from around the world, has opened Playville in Osaka Castle Park. Playville is a facility that combines indoor and outdoor playgrounds, and can be enjoyed by children from 0 years old to elementary school age. It's a facility packed with the kind of play that kids will love, so be sure to take advantage of it!
4-4. Osaka Castle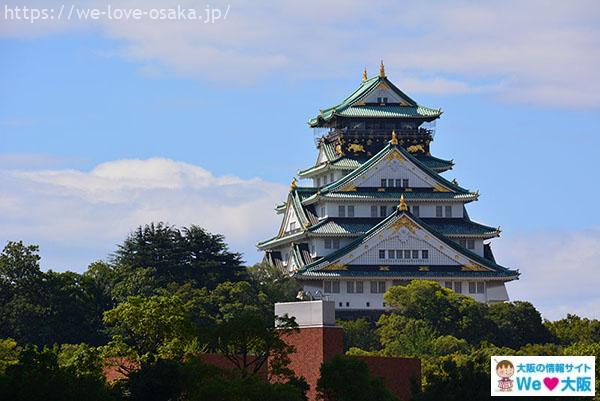 At Osaka Castle, you can even climb up to the castle tower and enjoy the magnificent view of Osaka. There are also ponds and gardens, and just taking a leisurely stroll is fun. If you have never been to Osaka Castle, please stop by. After enjoying Osaka Castle, enjoy a relaxing tea time at Jo-Terrace Osaka!
5. Jo-Terrace Osaka Access
Finally, here is some basic information about Jo-Terrace Osaka and how to access it.
5-1. Address & Contact Info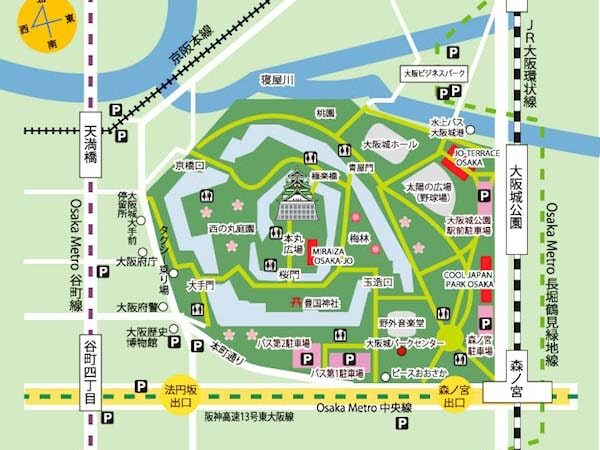 Address: 3-1 Osakajo, Chuo Ward, Osaka, 540-0002
TEL: 06-6314-6444
Jo-Terrace Osaka is located on the east side of Osaka Castle. It is directly connected to Osaka-jo Koen Station, so if you are coming by train, you should use Osaka-jo Koen Station.
5-2. Directions
【By train】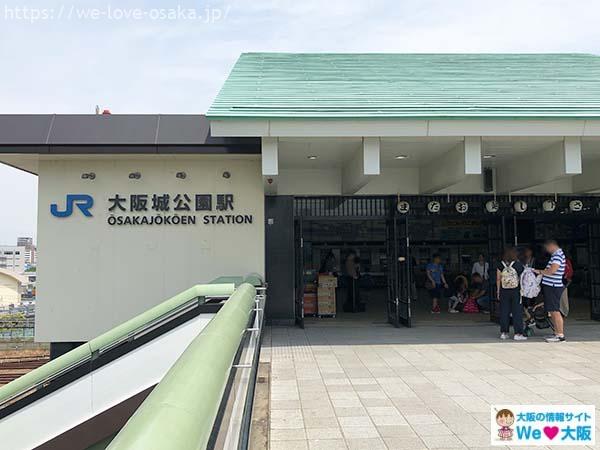 ・Direct connection from JR Loop Line Osaka-jo Koen Station
・10 minutes walk from Exit 1 of Osaka-jo Kitazume Station via JR Tozai Line
・3 minutes walk from Exit 1 of Osaka Business Park Station via Subway Nagahori Tsurumi-ryokuchi Line
・12 minutes walk from Exit 3-B of Morinomiya Station via Subway Chuo Line
・10 minutes walk from Katamachi exit of Kyobashi Station via Keihan Main Line
【By car】
・From Kobe: Hanshin Expressway No. 13 Higashi Osaka Line, Hoenzaka Exit
・From Higashi Osaka: Hanshin Expressway No. 13 Higashi Osaka Line, Morinomiya Exit
【Aqua Liner】
・South of Osaka Castle Port
5-3. Parking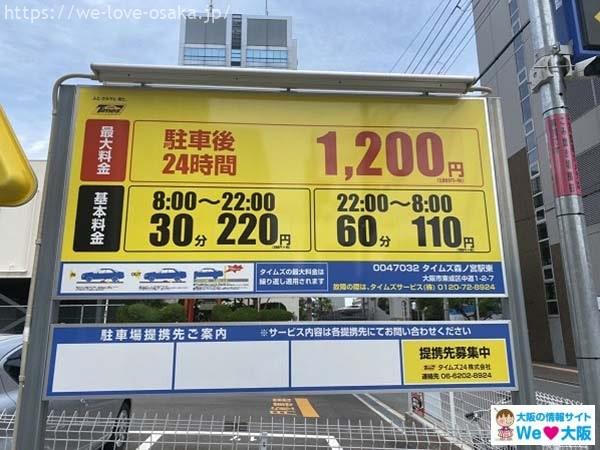 There are many parking lots near Jo-Terrace Osaka. Among them, we looked for a cheap parking lot with maximum charge and used a parking lot near Morinomiya Station.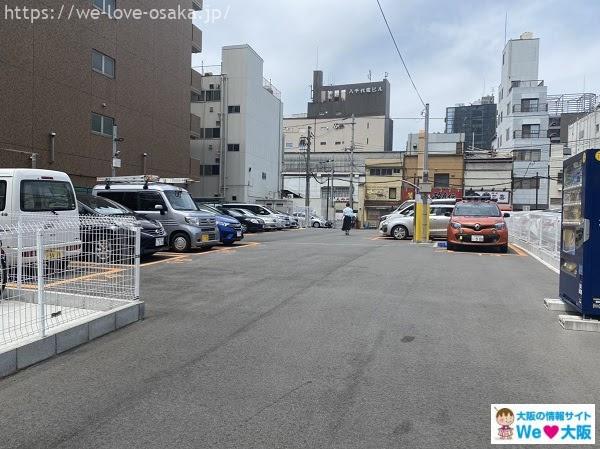 It's far from Jo-Terrace, but if you want to have a lot of fun from morning to night, we recommend the Osaka Castle Park Ekimae Parking Lot. Also, if you don't need to pay the maximum rate, we recommend the parking lot in front of Osaka Castle Park Ekimae. We have compiled a list of parking information around Osaka Castle, so please check it out before you go.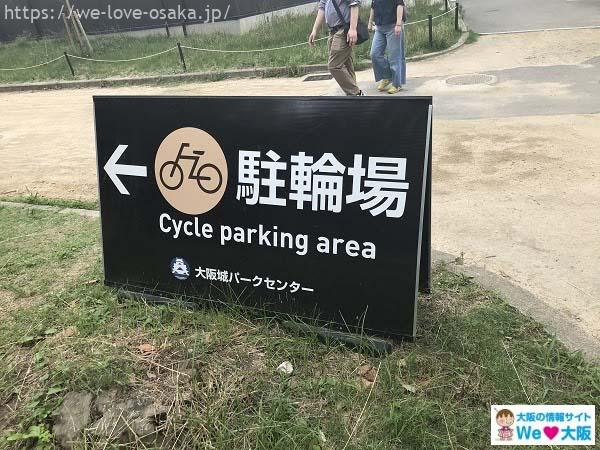 There are also several bicycle parking lots in Osaka Castle Park. This is the bicycle parking lot near Bonelund Playville.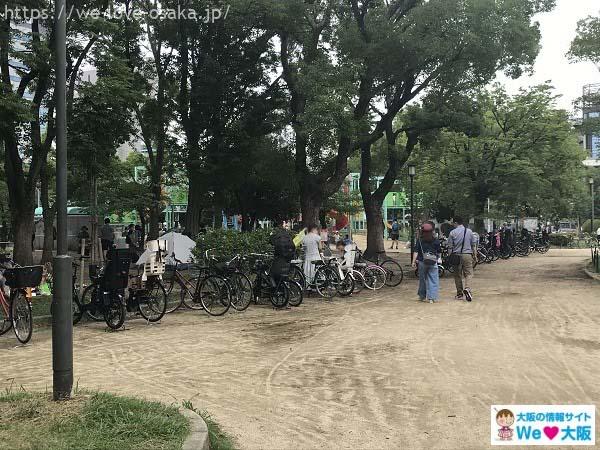 There is also another free bicycle parking lot near Osaka-jo Koen Station, so please use it if you come by bicycle.
Osaka-jo Koen Station Bicycle Parking
5-4. Coin Lockers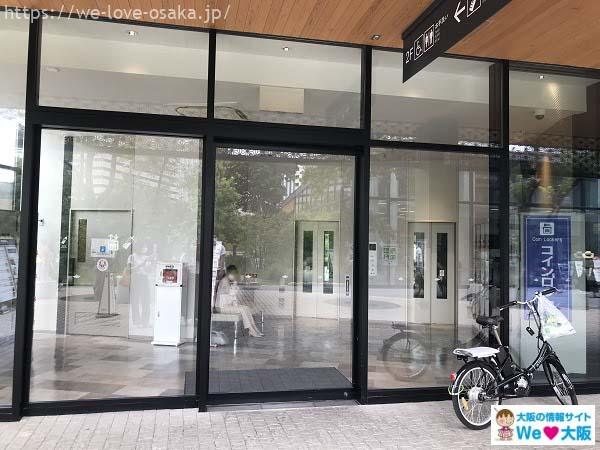 Coin-operated lockers are also available inside Jo-Terrace Osaka, right where the E Terrace elevators are located, so use them if you have a lot of luggage!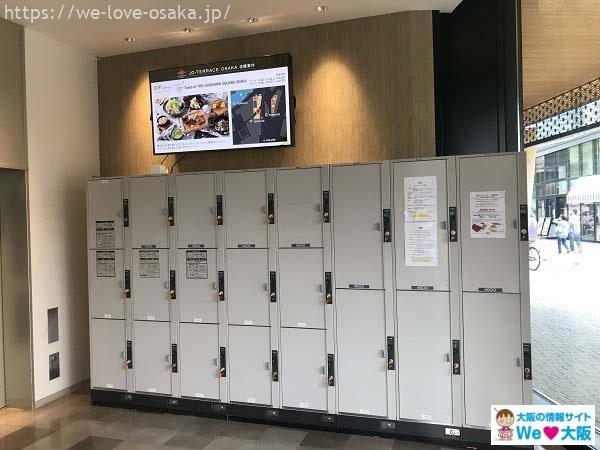 There are many lockers available.
6. Summary
There are so many well-known restaurants and cafes in Jo-Terrace Osaka, so be sure to come and try some of their delicious food! There are also various facilities and tourist spots around Jo-Terrace Osaka. Since you've come all this way, be sure to have plenty of fun not only at Jo-Terrace Osaka, but also in the surrounding area.
Related article
Nakazaki-cho is a town where f……

2023.06.06

Here we come! Osaka's American……

2023.05.12

"What is Universal CityWalk li……

2023.01.19
Introduction of writer