Universal City Walk Osaka – Restaurants and Shops
Universal City Walk Osaka – Restaurants and Shops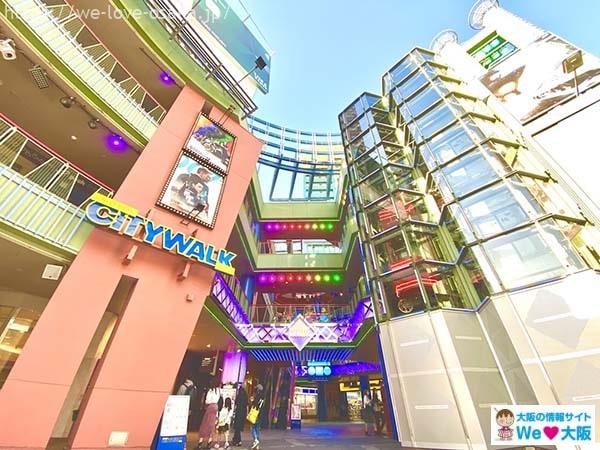 "What is Universal CityWalk like?" "Do you have any recommendations for places to eat there?"
I think many people wonder about this. So, hello! I'm Non, a writer who loves Universal Studios Japan!
In this issue, we will introduce some of the recommended restaurants and stores at Universal CityWalk, located right next to Universal Studios Japan. If you're ever in the Park for a visit, be sure to stop by! So, let's go!
What is Universal CityWalk Osaka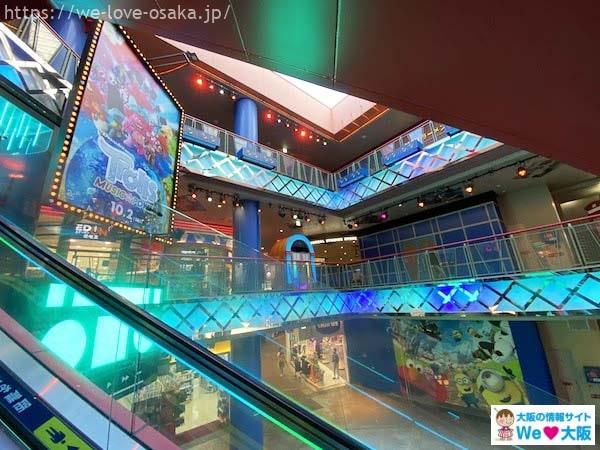 Universal CityWalk is an entertainment commercial facility located between Universal City Station on the JR Yumesaki Line and Universal Studios Japan. Restaurants, cafes, and merchandise stores are lined up for your dining and shopping pleasure.
It's a facility full of attractions that you can only find here, so be sure to stop by when you come to Universal Studios Japan!
[Takoyaki Park: TAKOPA]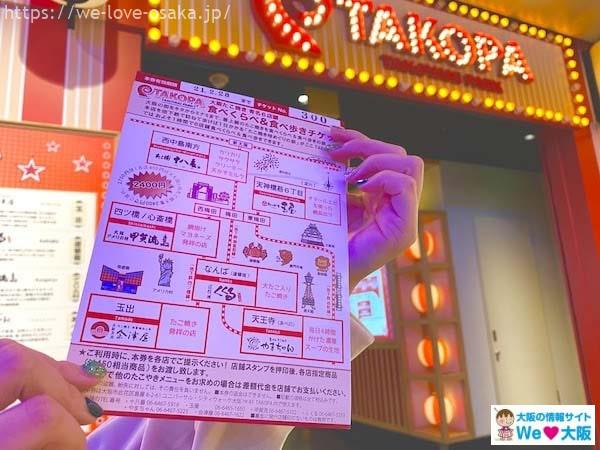 Let's get started with our recommendations for dining at Universal CityWalk! Let's start with the very popular TAKOPA.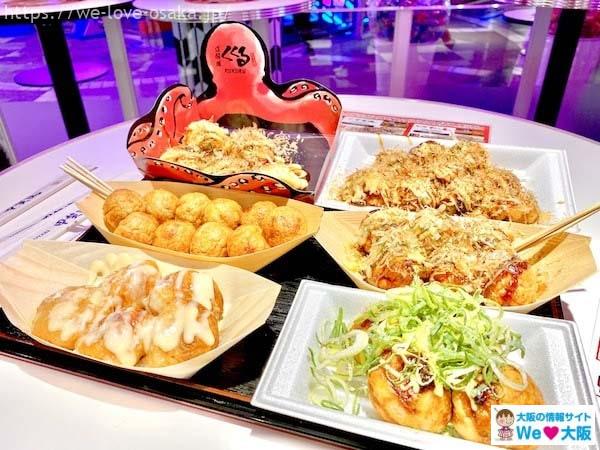 "TAKOPA" refers to the area where Osaka's famous & popular takoyaki restaurants are located.
・Osaka Tamade Aizuya
・Tako-ya Dotonbori Kukuru
・Osaka Americamura Koga School
・Takoyaki Yama-chan in Abeno
・No. 18
・Tamaya
Six stores are gathered in one place, and you can enjoy takoyaki from your favorite restaurant. I want to compare takoyaki! For those who want to compare takoyaki, there is a special "Eat & Walk Ticket (2,400 yen)" available for purchase, so be sure to check it out! I bought a ticket to try out different kinds of food and to walk around the restaurant. I'll let you know what I think of each of the takoyaki so you can take a look!
Osaka Tamade Aizuya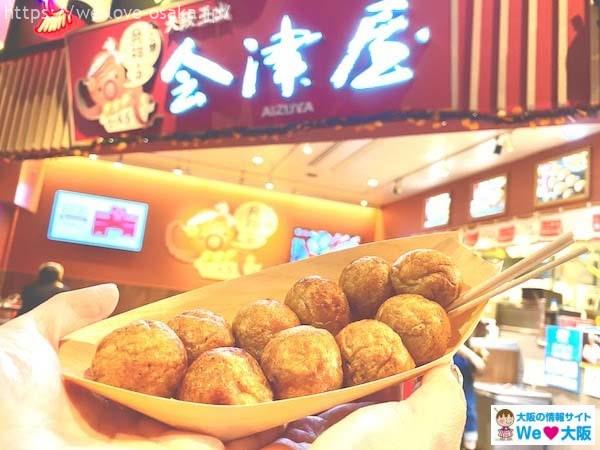 The original takoyaki is here, Osaka Tamade Aizuya! The takoyaki is a bite-size, colonized takoyaki, which is characterized by its crispy and savory taste. The gentle and light shoyu flavor allowed me to fully enjoy the octopus flavor. And the fact that you can eat it without sauce is something only Aizuya can offer that you won't find anywhere else!
Takoye Dotonbori Kukuru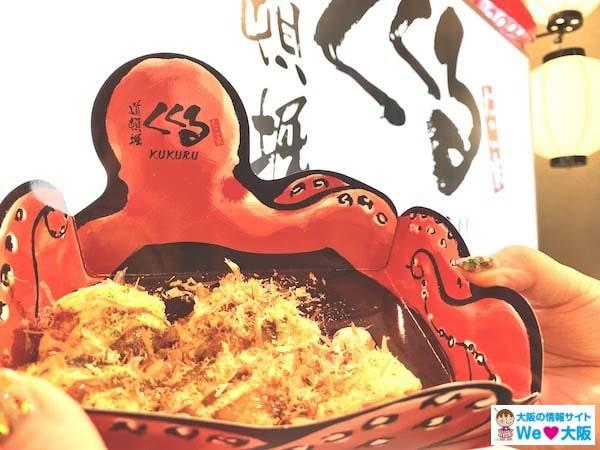 Takoye Dotonbori Kukuru is a long-established takoyaki restaurant. The large takoyaki are fluffy and tender! Combined with the fruity-sweet sauce, it is absolutely superb. The octopus was huge and very satisfying!
Osaka Americamura Kouga-ryu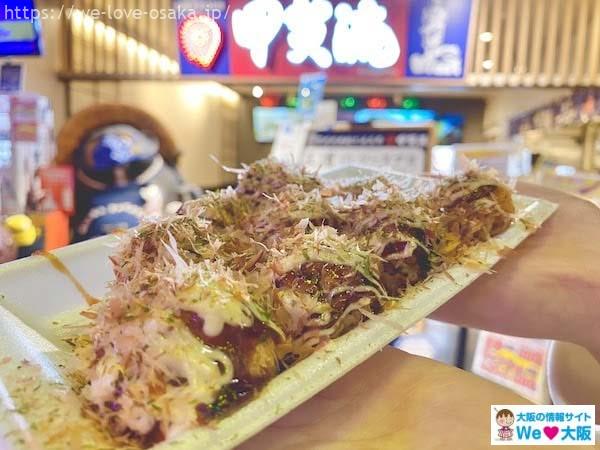 For THE traditional takoyaki, this is "Osaka Amerika-mura Kouga-ryu". The small takoyaki has a chewy texture that is popular among women. It is excellent with plenty of sweet sauce and special mayonnaise. As one would expect from a flavor featured in the Michelin Guide, you must try it at least once!
Takoyaki Yama-chan in Abeno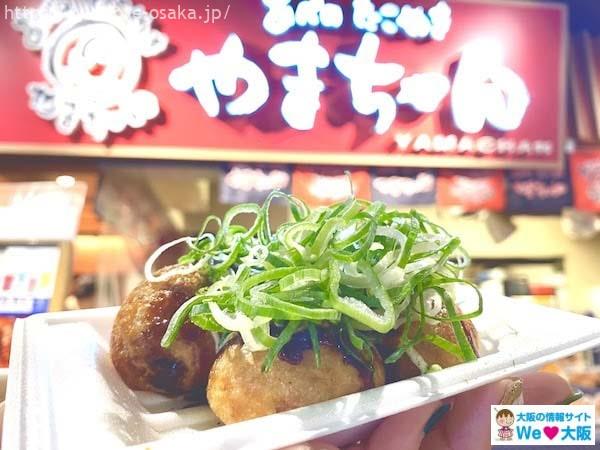 The most popular takoyaki in Abeno, Osaka, is Abeno Takoyaki Yamachan, where you must wait in line. They are proud of their dough, which is filled with broth that has been simmered for four hours. Thick, doughy and creamy, but the shoyu mayo is light and easy to eat! They say it's also a common way to eat it without anything on it!
Juhachiban (Eighteen)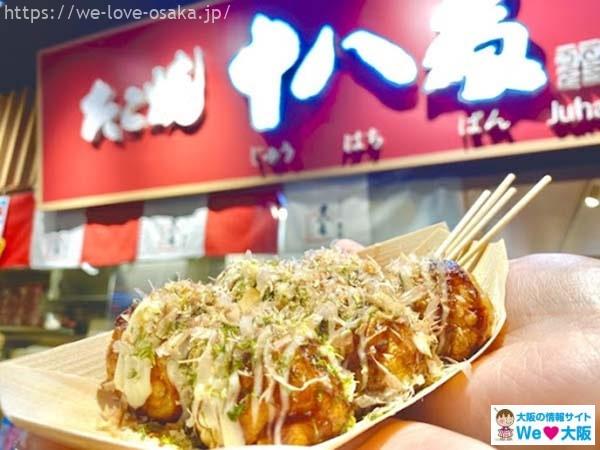 The most popular takoyaki restaurant in Nishinakajima is here, Juhachiban. The firm takoyaki is stuffed with tenkasu. The takoyaki is so light on the palate that you can easily eat as many as you like!
Tamaya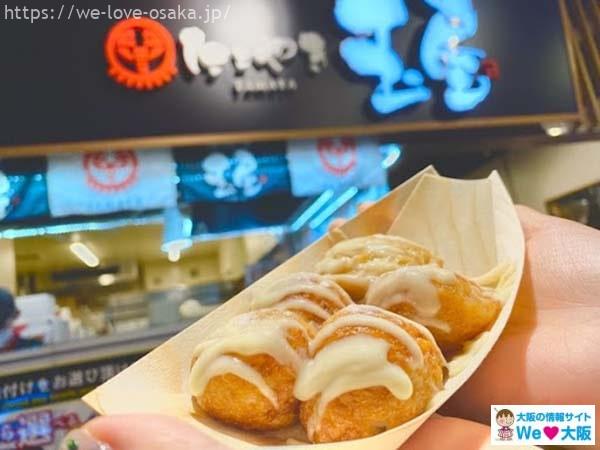 Tamaya uses lobster & broth made from 20 different ingredients. The trotter dough is as thick and creamy as white sauce! This time, I ordered the Iwashio Mayo, which has the No. 1 rate of repeaters, and it was excellent, with the Iwashio bringing out the flavor of the broth even more. Recommended for those who want a different kind of takoyaki!
[Gourmet]
Next, here are some of our favorite restaurants at Universal CityWalk!
Bubba Gump Shrimp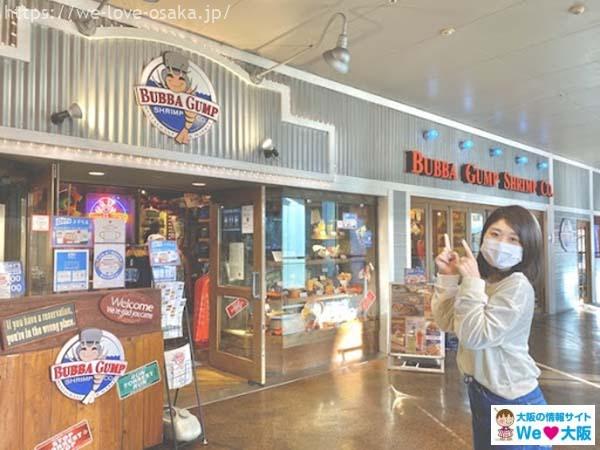 First up! Let me introduce you to Bubba Gump Shrimp! In fact, this restaurant is inspired by the movie "Forrest Gump. So I checked out Forrest Gump before I went to the restaurant! I can only say one thing: "Great! That's all I can say. The food is great, the world of the movie is represented, and if you like Forrest Gump, this is the place to go! Let's take a closer look!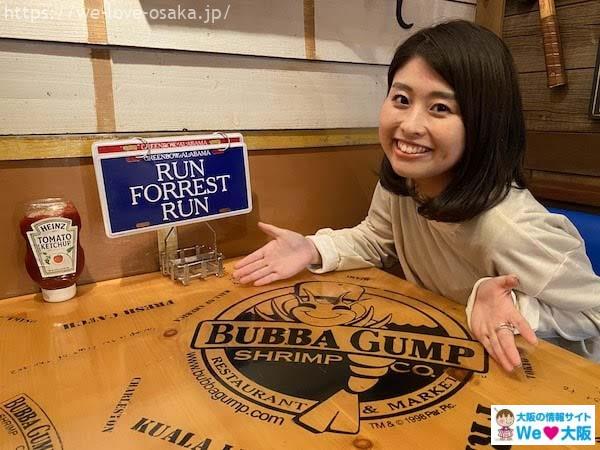 The tables feature a large "Bubba Gump Shrimp" logo. The cute shrimp logo is sure to excite anyone who's seen the movie!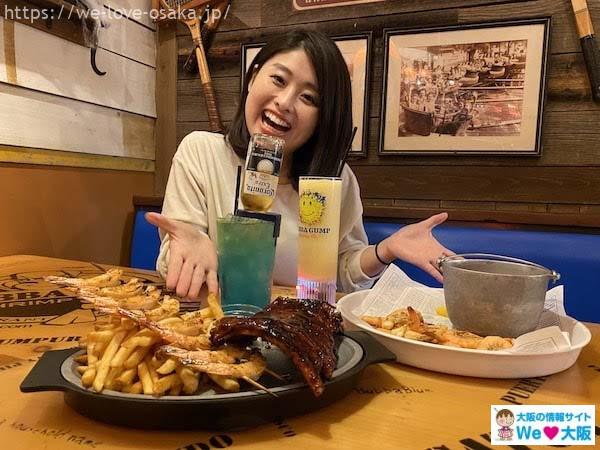 And here's the dishes we ordered!
・Shrimpers Net Catch
・Lt. Dan's Surf & Turf
・Frozen Lemon Up
・Coronarita
The food and drinks, all derived from the movie, are exquisite!
Even if you haven't seen the movie, there's something for everyone!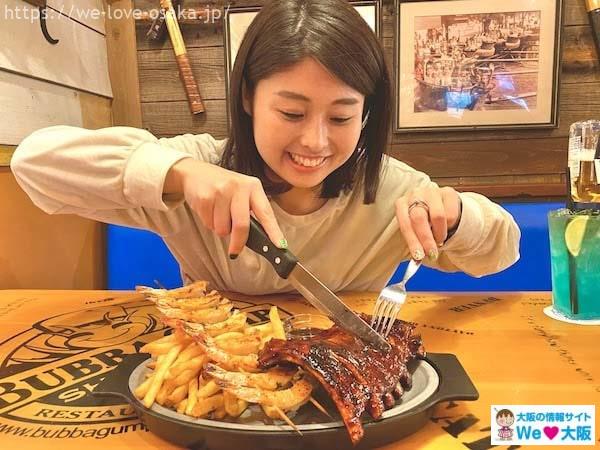 This is "Lt. Dan's Surf & Turf". Baby back ribs, grilled shrimp, and french fries, the best combination ever! The long roasted meat is tender and tender, and combined with the sweet BBQ sauce, it's delicious! The shrimp was spiced and tasted different from the Shrimpers Net Catch!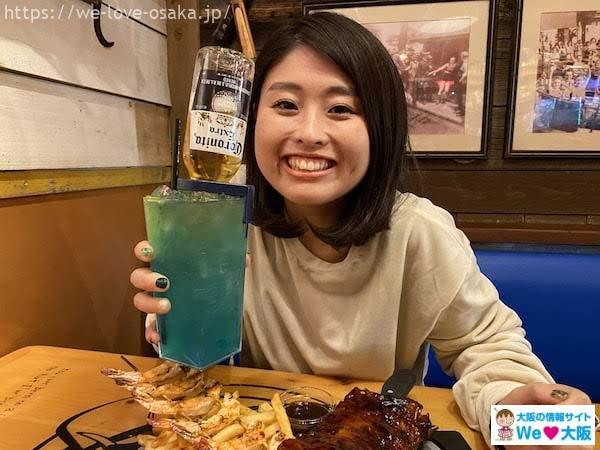 And here is the Coronarita. This innovative drink is a margarita with a Corona beer stuck in it. The more you drink, the more Corona beer gets mixed in, so twice as good! The refreshing lime flavor is just right and goes well with gusto dishes. I recommend this drink!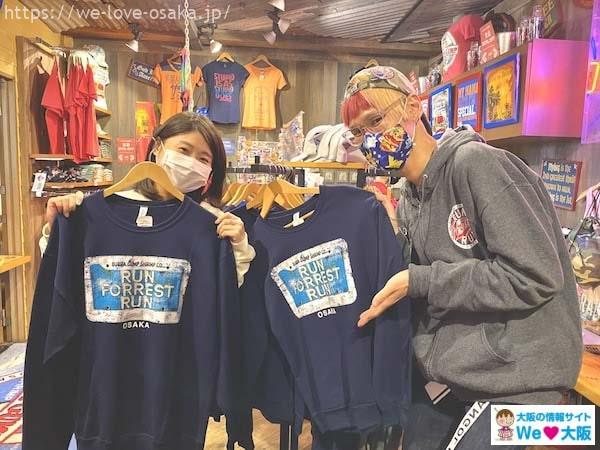 By the way, Forrest Gump merchandise is available at the entrance of the store. There are stores all over the world, but goods with OSAKA written on them can only be purchased here. If you love Forrest Gump, you've got to check this one out!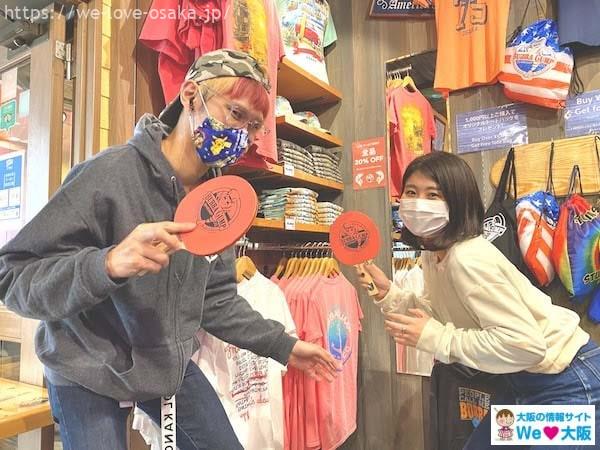 By the way, here is a table tennis racket with the Bubba Gump Shrimp logo printed on it. Forrest was really good at ping-pong, wasn't he! Even the waitress, Katsuko, got into the groove and took our picture! (LOL)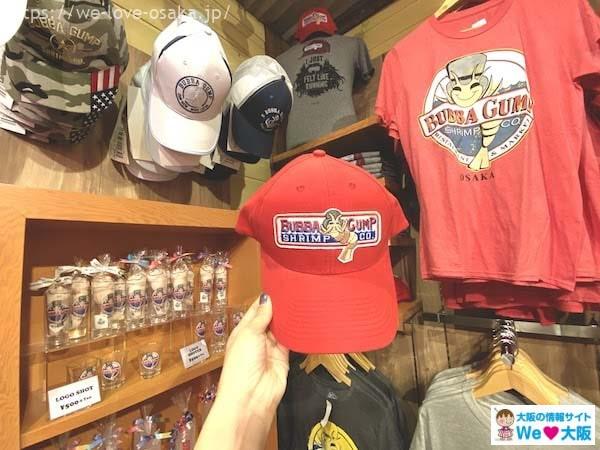 Of course, you can get the hat from the movie!
Hard Rock Cafe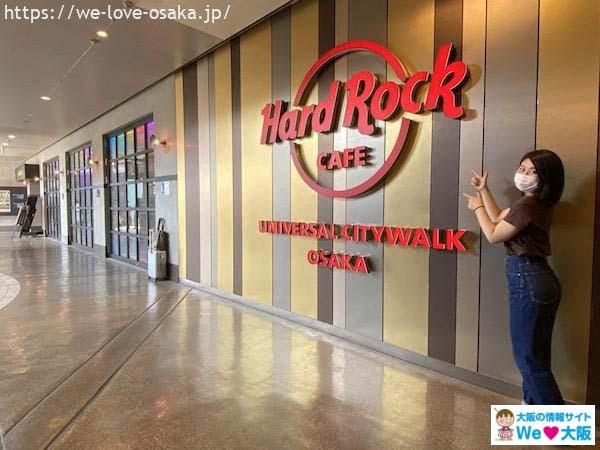 Next up is the Hard Rock Cafe. You'll get the full American experience!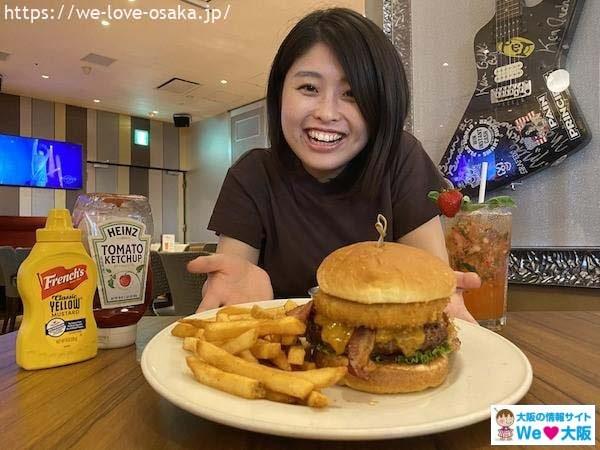 This time, I ordered the classic Legendary Burger. It is a must-try dish anyway, with hearty meat, onion slices, bacon, and cheddar cheese sandwiched in between. You can taste the authentic hamburger with the flavor of meat and the richness of cheddar cheese!
Red Lobster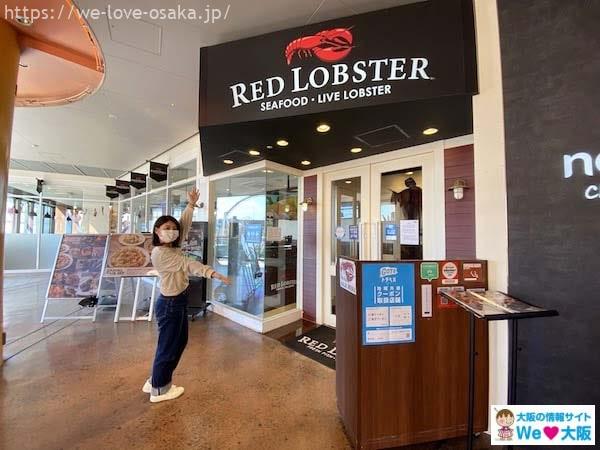 Next here is Red Lobster. As the name suggests, this restaurant offers lobster and other seafood.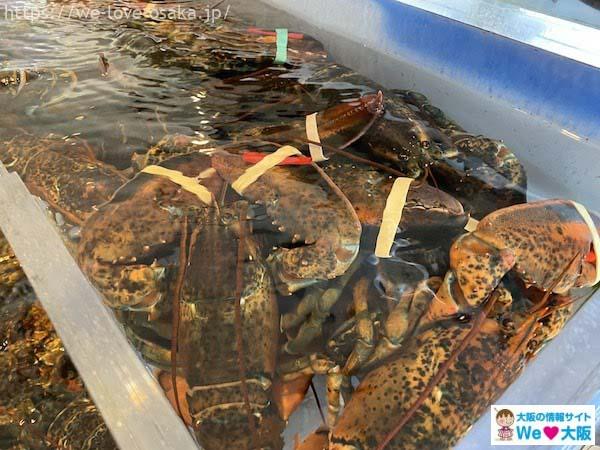 Live lobsters in the restaurant! It's hard to find a place in Japan where you can eat fresh lobster! I ordered the standard lobster and oysters this time.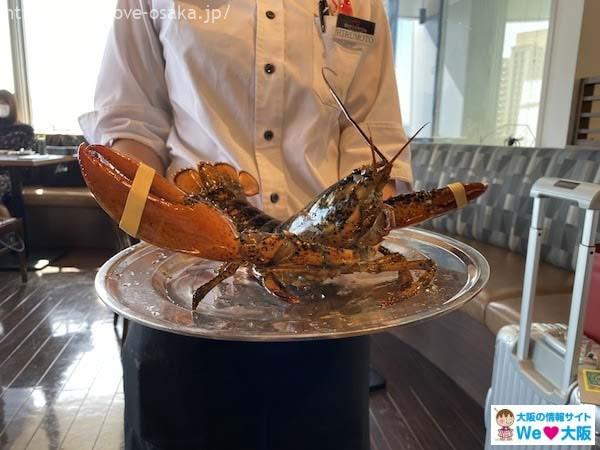 Ahhhh!!!!! Here comes the lobster you're about to cook for us! It was so big that I was kind of surprised (laughs).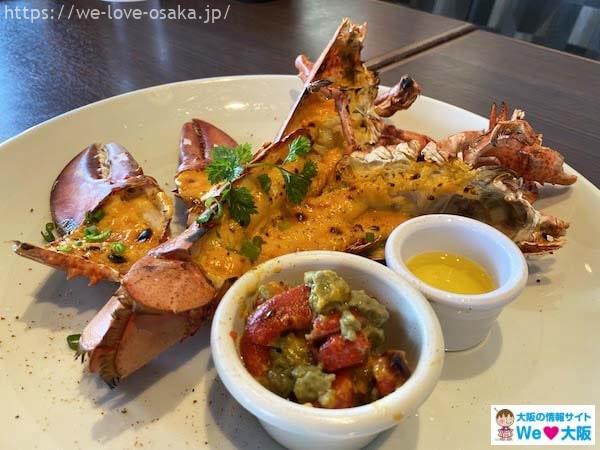 And here is the cooked "Live Lobster (sea urchin sauce)". I was thrilled to get a whole lobster! And to be able to enjoy it with sea urchin sauce…what a luxury! The sea urchin sauce has no particular bad taste, and it's perfect for tossing with the plump lobster! It was a very satisfying dish, packed full of meat!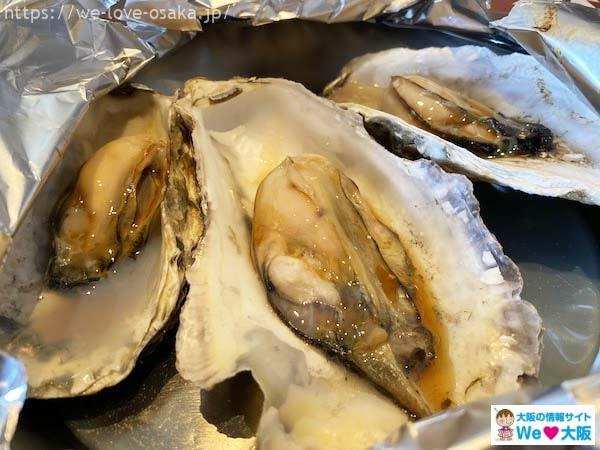 And here is "Oyster Hamayaki Style". You get to choose between three or five pieces of plump oysters! The large oysters are just so plump and creamy. The thick yuzu soy sauce flavor combined with the sourness of the lemon makes for an outstanding taste! I can afford three pieces by myself (laughs).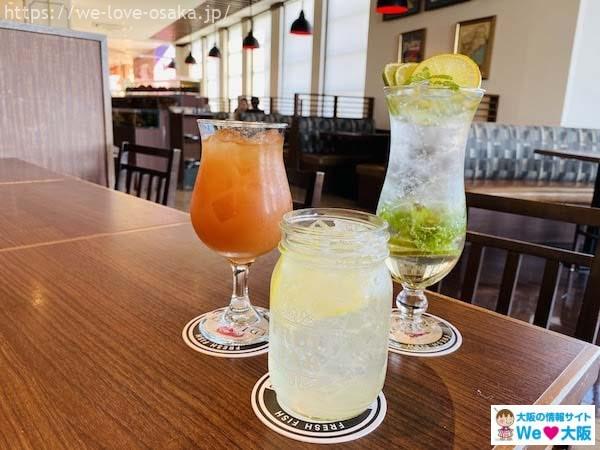 By the way, Red Lobster had a great selection of non-alcoholic drinks!
Order three drinks, from left to right
Guava Juice: Rich guava, but not too sweet and goes well with meals!
Lemon lemonade: Enjoy the natural sweetness of lemon.
Mint tower: mint and lime, clean and crisp, won't distract from your meal!
There were plenty of other drinks to choose from, so be sure to check 'em out!
nolboo
Next here is nolboo, a Korean restaurant. This popular Korean home-style restaurant is located here at City Walk for the first time in Japan.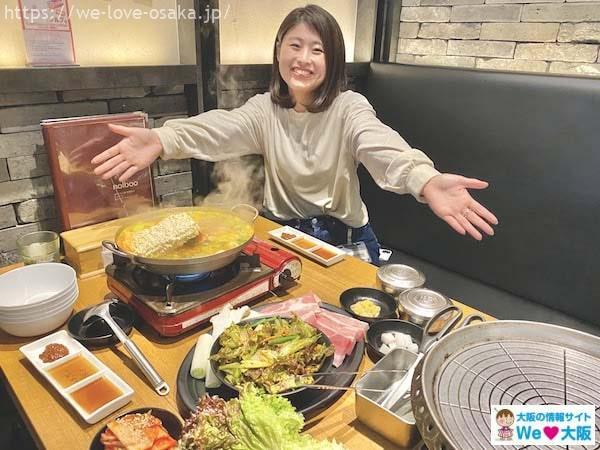 Ta-da! This time we ordered the ever-popular budae jjigae, samgyeopsal, and cheese toppoki!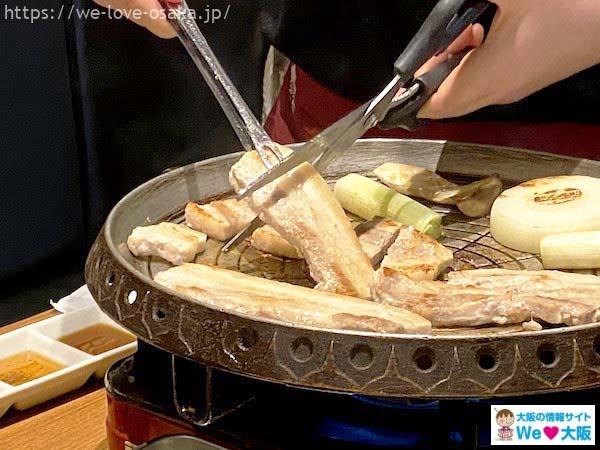 When it's quiet, the staff will help you! Please cut into bite-sized pieces and wrap them with sunchu. The samgyeopsal comes with miso sauce, sesame oil, and a sweet sauce for pancakes, so find your favorite way to eat it! By the way, I love it wrapped with kimchi and dipped in miso sauce!
And here's Bude jigae! The noodles go well with the spicy hot pot…! The budae jigae had plenty of meat in it besides the noodles, including sausage, ham, and salami, so it was very satisfying! The flavor of the ingredients soaks into the broth and it's soooooo good!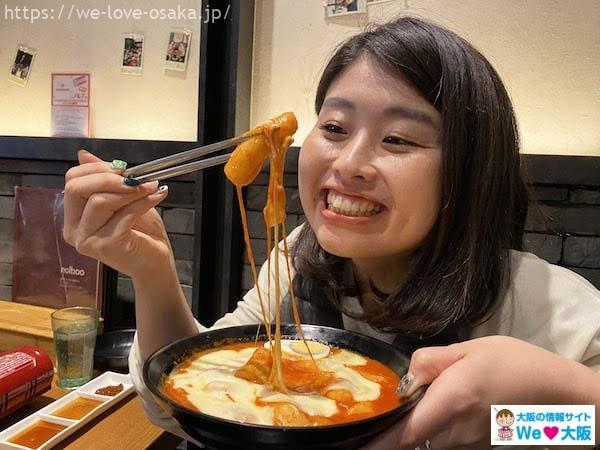 And here's the cheese toppoki! Hot toppoki topped with a generous amount of melted cheese. And with Korean oden in it, this is one of the most satisfying dishes I've ever had! They're not too spicy, so they're easy to eat, which is a bonus!
Ganko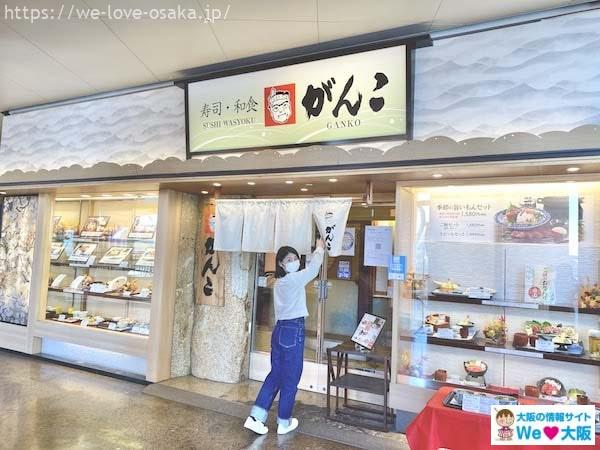 When it comes to Japanese food, you know Ganko! Let's go and check it out!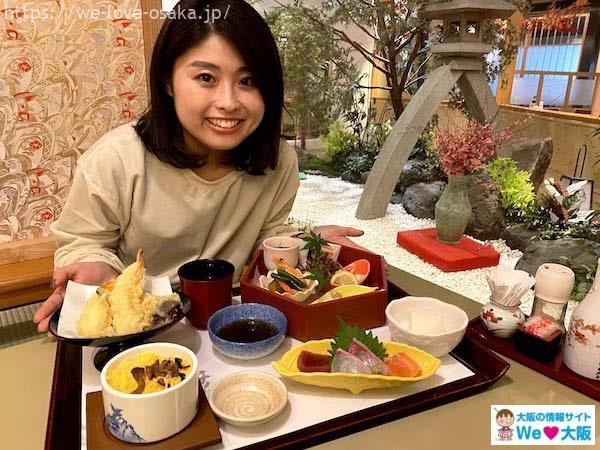 This time, I ordered the popular standard "Yawaragi bento with tempura". The menu of rice and small bowls of rice changes seasonally, so you can enjoy different tastes any time you come. All the dishes have a gentle flavor and soak into your tired body~! After all, Japanese food is calming! (Laughs)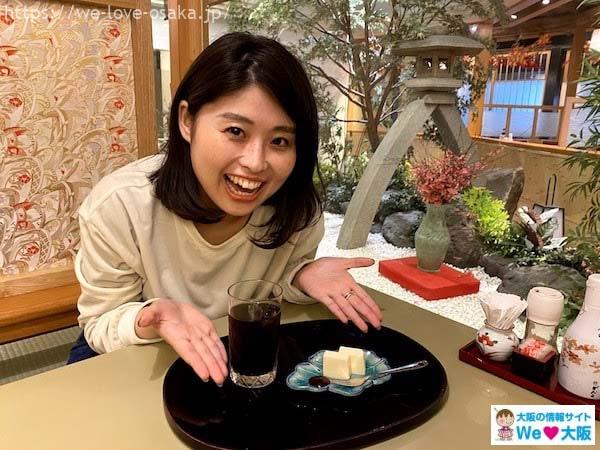 And wow, during lunch time (until 3pm), after lunch coffee and dessert are included. It's a crazy good deal, so be sure to stop by at lunchtime! And of course, you can enjoy the yawaragi bento at dinnertime!
[Cafe & Quick Foods]
Next to our gourmet recommendations, here are some cafes & quick eats we recommend!
Pink Cloud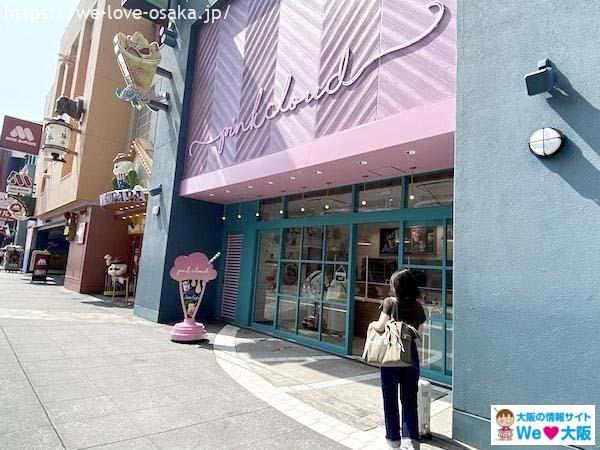 The most photo-worthy drink is here at Pink Cloud. Stylish from the outside, isn't it!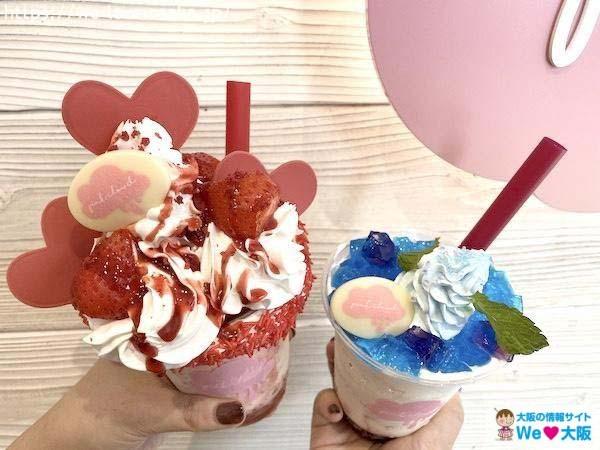 Here you can enjoy the much talked about deco-laden shakes!
・#xoxo(Hugs and kisses): left photo
・#Feeling Blue: Right photo
And they're just adorable! The sweet shakes are topped with plenty of cream and chocolate, making them pleasing to both the eye and the palate. If you prefer a refreshing taste, Feeling Blue is for you!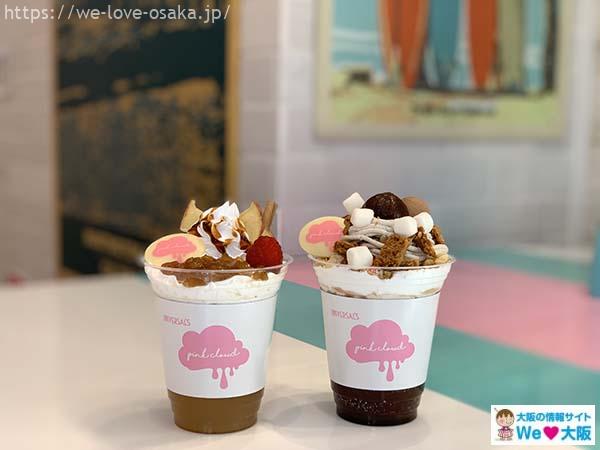 By the way, here's a new warm winter-only deco-heavy shake!
・Hot Apple Cider Secret Crush Apple & Cinnamon: left photo
・Hot Chocolate Cuddle Me Closer Marron & Cookies: right
A bit unusual, hot apple cider is sweet and sour and tastes like first love. The cinnamon gives it a mature taste.
Hot chocolate tastes warm and comforting. The marron cream on top goes perfectly with the hot chocolate!
Popcorn Papa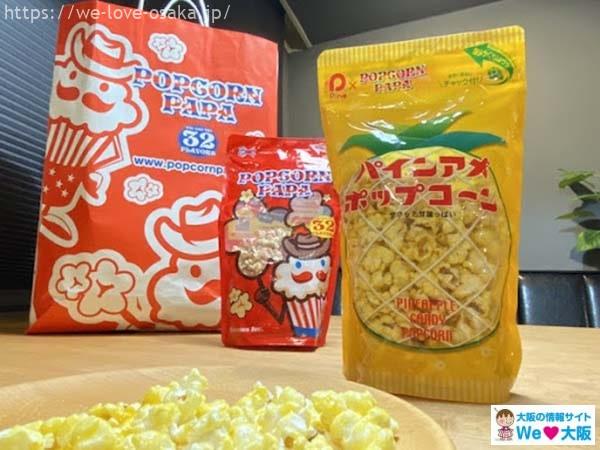 32 different flavors are available at Popcorn Papa. Each one is handmade, so you get to enjoy the love that went into their popcorn! This time, I ordered the Pineapple Ame flavor and the Strawberry Milk flavor, both unique to Osaka. Pineapple candy has that familiar sweetness all over it! Strawberry milk has a gentle taste and is recommended for those who want to enjoy a different sweet flavor. By the way, the most popular Ume Katsuo flavor is insanely delicious and not too sour, so be sure to check it out!
Saint Mark's Cafe & Bar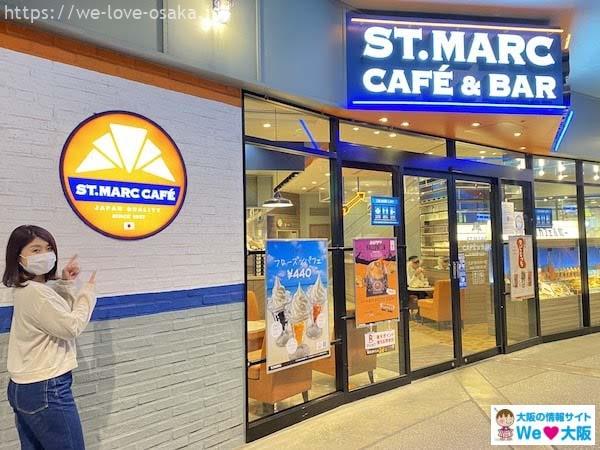 If you need a break, St. Mark's is the place to go!
In fact, this is a cafe and bar, where you can also enjoy alcohol.
After a fun-filled day at Universal Studios Japan, enjoy a relaxing drink at one of the cafes!
[Souvenirs]
Now let me tell you about the gift shops at CityWalk!
Little Osaka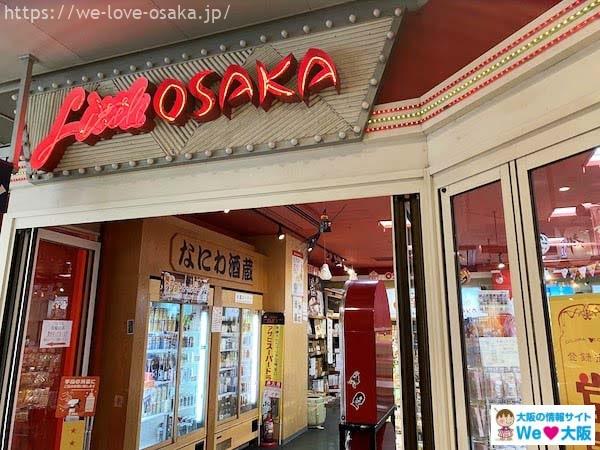 Little OSAKA is the place to buy Osaka souvenirs.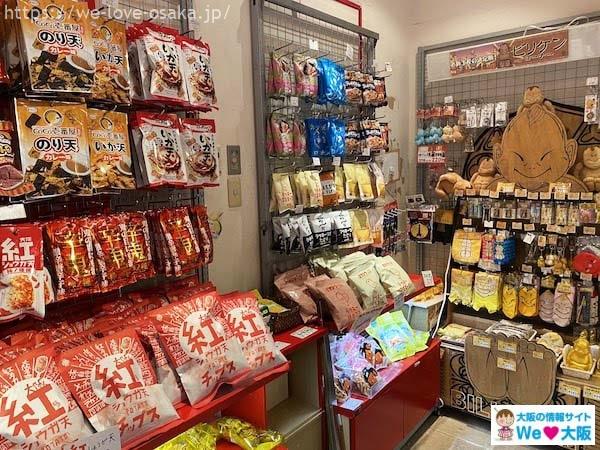 Billiken-san merchandise and other unique Osaka sweets are available.
You'll find all sorts of classic Osaka souvenirs here, so if you're ever in Osaka on vacation, be sure to stop by!
ROCK SHOP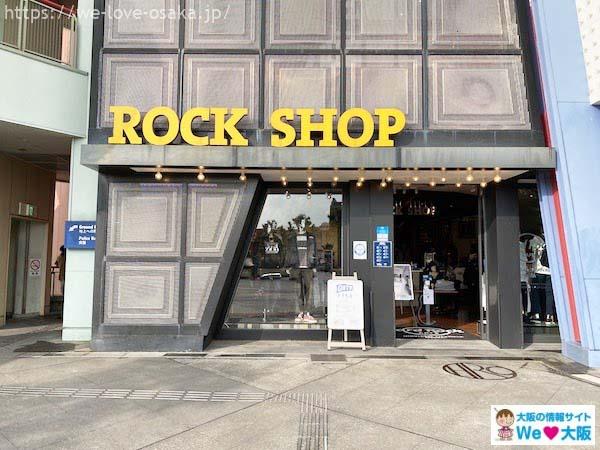 This is the ROCK SHOP, which sells Hard Rock Cafe merchandise. There are only stores in Tokyo, Yokohama, Kyoto, and Osaka in Japan, so be sure to check out their limited-edition merchandise!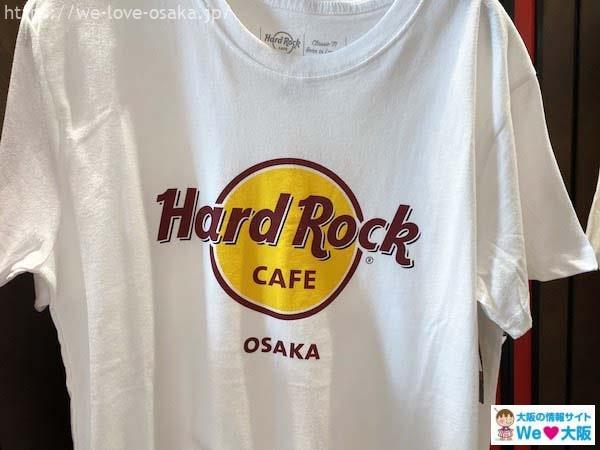 Here is the standard t-shirt. And it's fun to collect t-shirts with the names of cities all over the world on them!
Universal Studios Store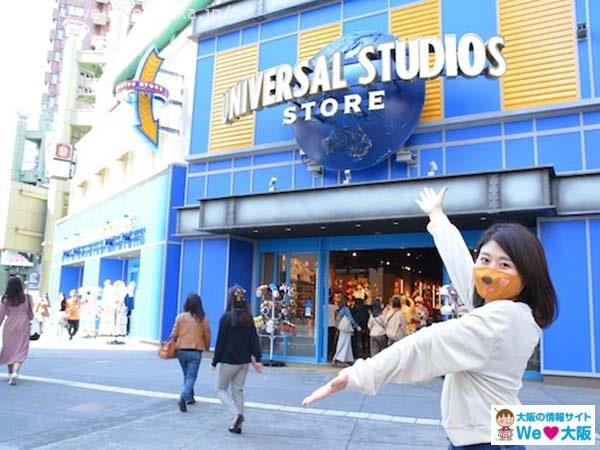 The Universal Studios Store is the place to buy Universal Studios Japan souvenirs. It opened on July 1, 2019 with an expanded retail space.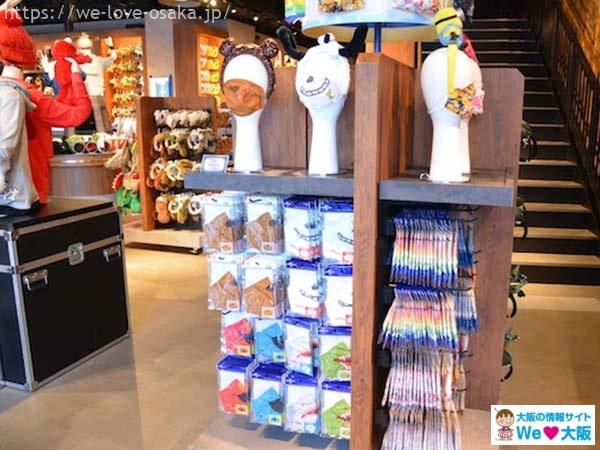 As soon as you enter the store, you will find masks of popular characters for sale. Or you could just buy a mask before entering the park!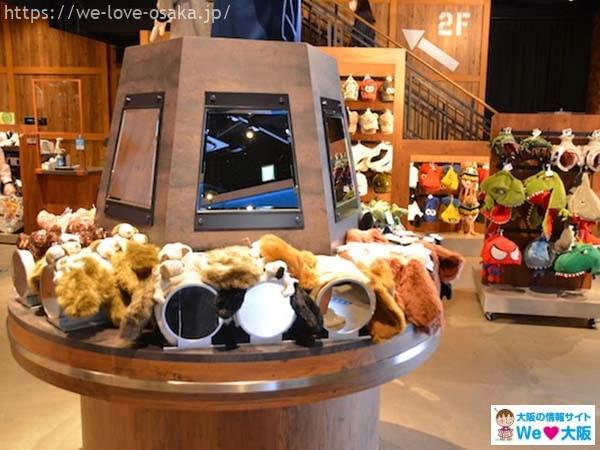 Of course, there is an extensive lineup of cashews. Seasonal catsuits are also available, so be sure to check these out before you enter the park!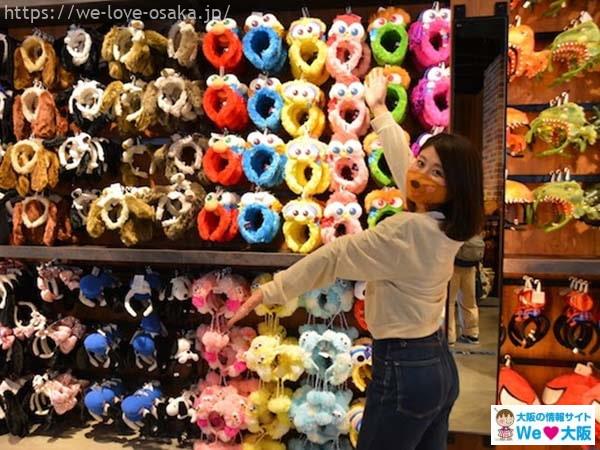 Ta-da! This one has a whole wall of cutaways! They are all so cute, I can't decide which one to choose. By the way, I have the classic Snoopy! It is great to see new items coming out all the time. Check back often!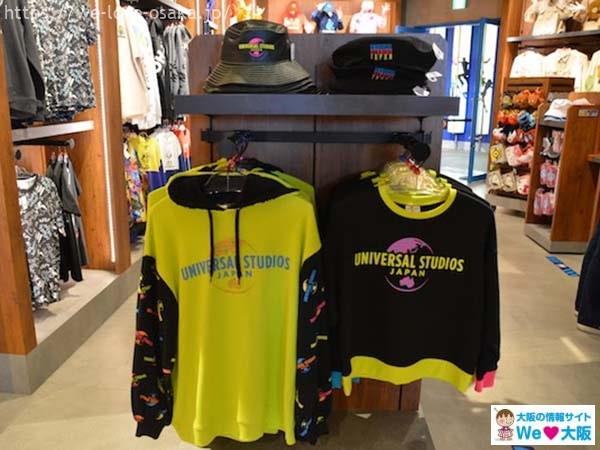 And what's more, they sell a lot of fashionable clothes! Fluorescent hoodies and sweatshirts are so darn cute for everyday use!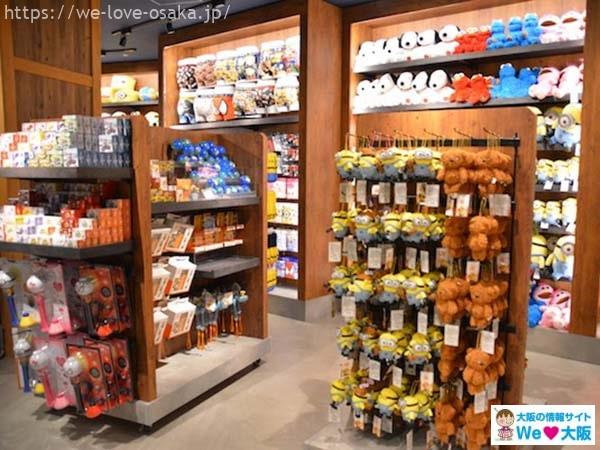 Of course, you can always check out the souvenirs you forgot to buy after you're done at the parks! Check out the variety of items available, including plush toys, key chains, stationery, and souvenirs to give away!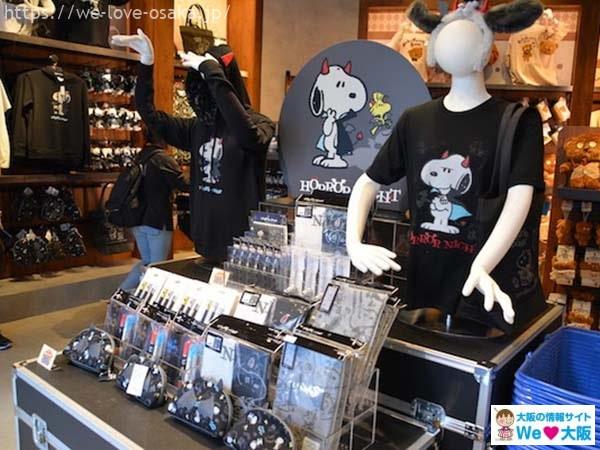 By the way, there are lots of limited time only merchandise available, so be sure to check it out!
[The Backstage Dressing Room]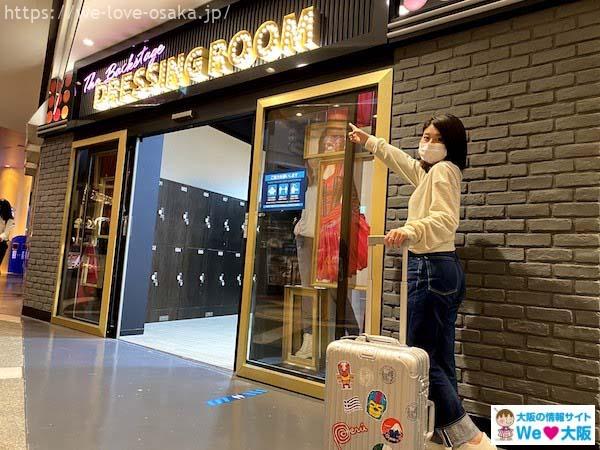 I have big bags! I need to change my clothes! I need to fix my makeup! If that's the case, then you're in for a treat here at The Backstage Dressing Room!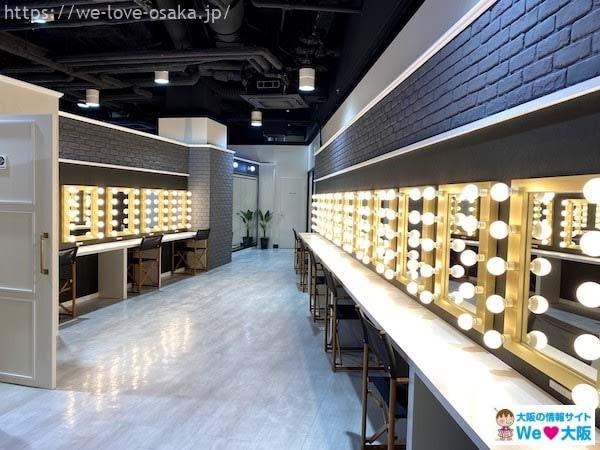 Hollywood mirrors all over the store! You can do your makeup as if you were an actress. And of course there's a fitting room so you can change before entering the park! For 500 yen a day, you can use the make-up and dressing area as much as you want, so I highly recommend it!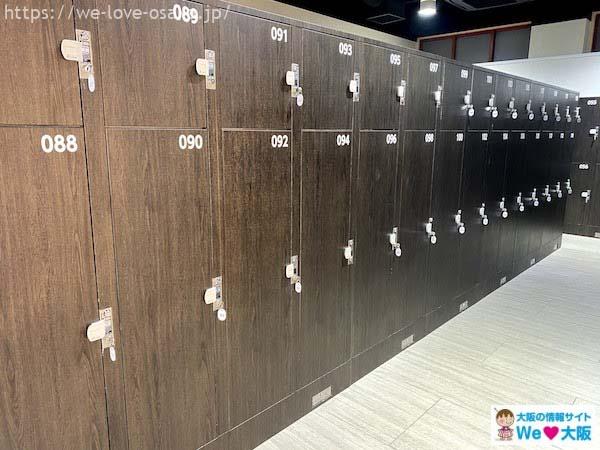 Leave your large luggage in these lockers. The 142 lockers, including extra-large, large, and small lockers, are located in the building, so it is nice to know that they are relatively empty most of the time.
[SPECTA ~UNIVERSAL LIGHT SHOW~]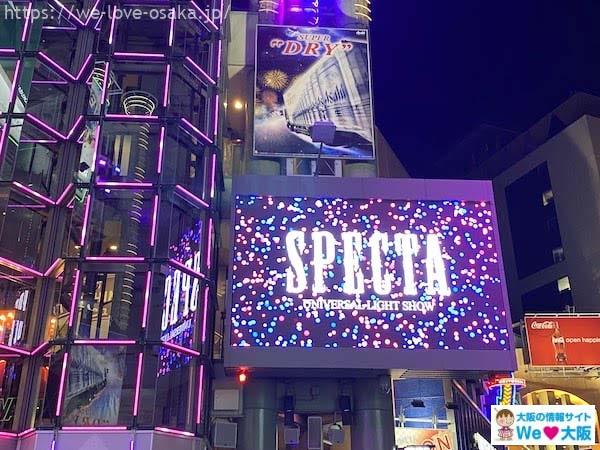 "SPECTA – UNIVERSAL LIGHT SHOW" is a light and sound entertainment show held in the center court of CityWalk.
There's a movie and light show every 30 minutes starting at 6:00 p.m., so be sure to stop by after you've had your fill of Universal Studios Japan!
Every Saturday, SPECTA dancers! There will be four performances at 18:00, 19:00, 20:00, and 21:00, so be sure to check it out after all the fun you had at Universal Studios Japan!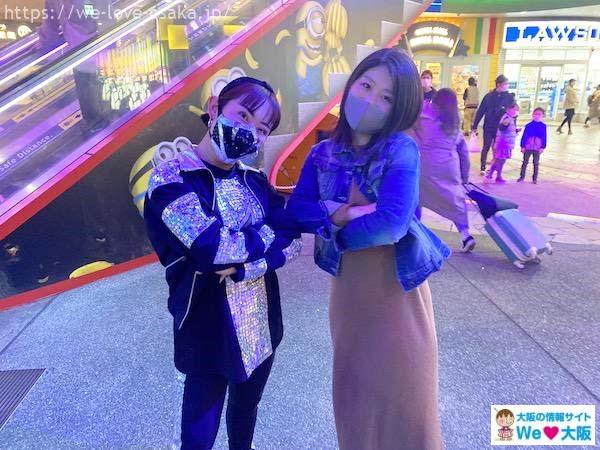 After the performance, I took a quick picture with dancer AKANE, my junior for 25 years. Glad to see you're doing so well~! Their kick-ass dance moves are worth seeing!
>SPECTA – UNIVERSAL LIGHT SHOW
[Universal CityWalk Osaka] Basic Information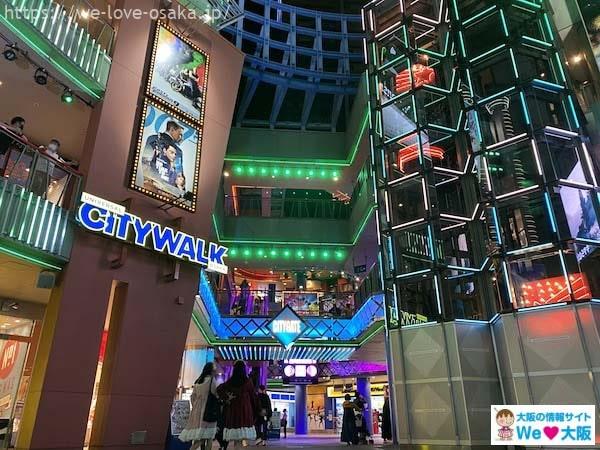 Finally, here is some basic information about Universal CityWalk.
Access
The main accesses to Universal CityWalk are as follows
[Train]
Closest Station: [JR Yumesaki Line] Universal City Station
When you exit the ticket gates and proceed to the left, Universal CityWalk is right in front of you.
[Car]
5 minutes from "Universal City Exit" of Hanshin Expressway Wangan Route and Yodogawa Left Bank Route
[Parking lot]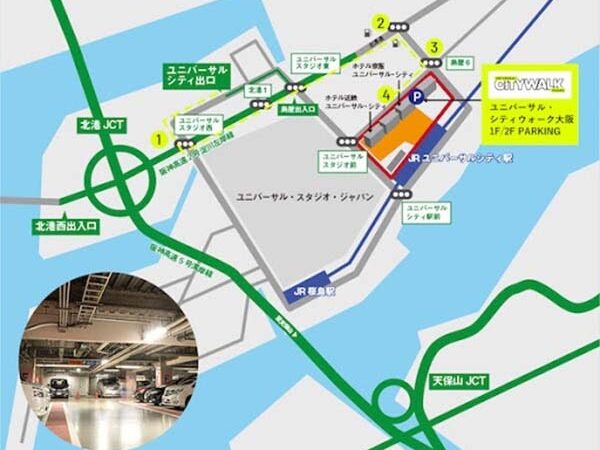 Citing: Universal CityWalk
Number of parking spaces
299 units
Time of use
Usage Fees</td
300 yen/30 minutes all day
8:00-22:00: Maximum charge 1,500 yen
22:00-8:00: Maximum charge 1,300 yen
*No maximum charge on Saturdays, Sundays, and holidays<
Contact
Times West
0120-72-8924
Summary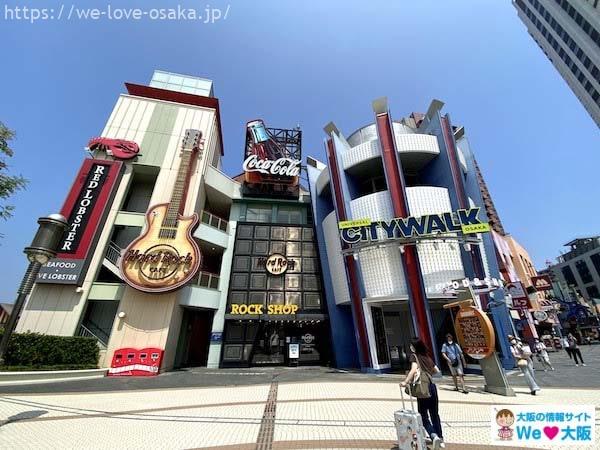 How about Universal CityWalk? There are many restaurants, cafes, and stores lining the streets, so be sure to find your favorite! When you come to Universal Studios Japan, stop by Universal CityWalk and make some great memories!

WIZARDING WORLD and all related trademarks, characters, names, and indicia are © & ™ Warner Bros.
Entertainment Inc. Publishing Rights © JKR. (s20)
Minions TM & © 2020 Universal Studios.
© 2020 UNIVERSAL STUDIOS
© Nintendo
©Fujiko Pro/2020 STAND BY ME Doraemon 2 Film Partners
© 2020 MARVEL
© TOMY "TRANSFORMERS" and "TRANSFORMERS" are registered trademarks of TOMY Company, Ltd.
TM & © Universal Studios & Amblin Entertainment
T2®-3D © Studiocanal S.A.S.
TM & © Universal Studios.
© Walter Lantz Productions LLC
©2020 Peanuts Worldwide LLC
Curious George ®, created by Margret and H.A. Rey, is copyrighted and trademarked by Houghton Mifflin Harcourt Publishing Company and used under license Licensed by Universal Studios Licensing, Inc.
Shrek © 2020 DreamWorks Animation LLC. All Rights Reserved.
TM & © 2020 Sesame Workshop
© 1976, 2020 SANRIO CO., LTD.APPROVAL NO. xxxxxxxxx
Related article
Nakazaki-cho is a town where f……

2023.06.06

Here we come! Osaka's American……

2023.05.12

"What is Universal CityWalk li……

2023.01.19
Introduction of writer