Enjoy NIFREL, one of the popular tourist attractions in Osaka
Enjoy NIFREL, one of the popular tourist attractions in Osaka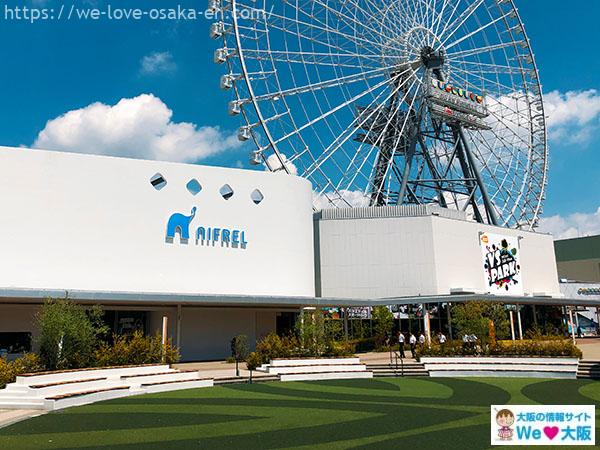 NIFREL, 'a living museum,' is located in EXPOCITY adjacent to Expo'70 Commemorative Park. This is an aquarium like a zoo, and everyone from kids to adults can have a great time here. They have put a lot of thoughts into the ways in which they show animals, which allows you to feel animals and nature very close. I will introduce recommended points about this facility
Also check out the ones below, to get information about how to get there, parking, and what you can buy for souvenirs.
1.What is NIFREL?
NIFREL is a facility run by Kaiyukan Aquarium in Tempozan, Osaka, whose concept is 'feeling senses,' going beyond the borders of aquarium, zoo, and museum. Under the theme of 'various forms of life and a wholeness of individualities,' the seven sections display various animals in a clear manner. The name NIFREL comes from 'ni fureru,' meaning 'feeling something,' because visitors can feel many beautiful animals close and have a novel experience here.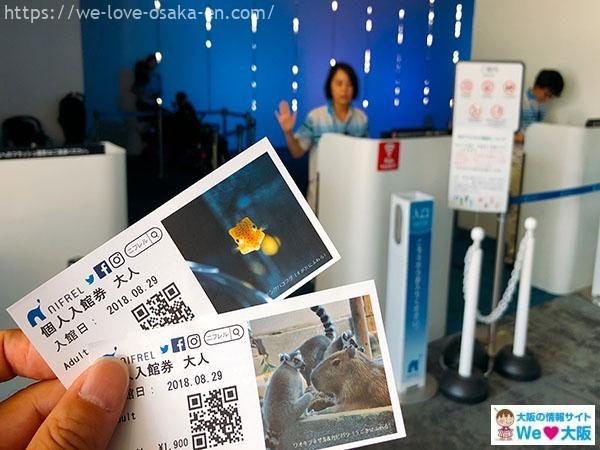 You start off the tour by buying the ticket!
【NIFREL 1st floor】
Feeling Colors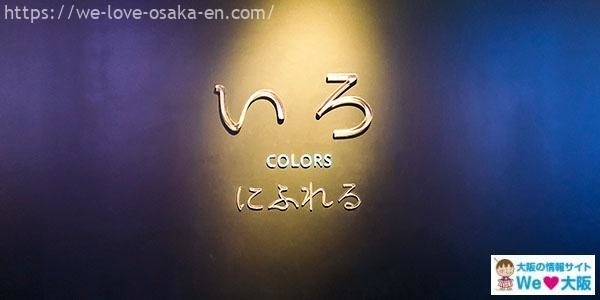 The theme is 'colors.' Here, lots of colorful fish, such as red, blue, yellow ones are swimming in thirteen water tanks.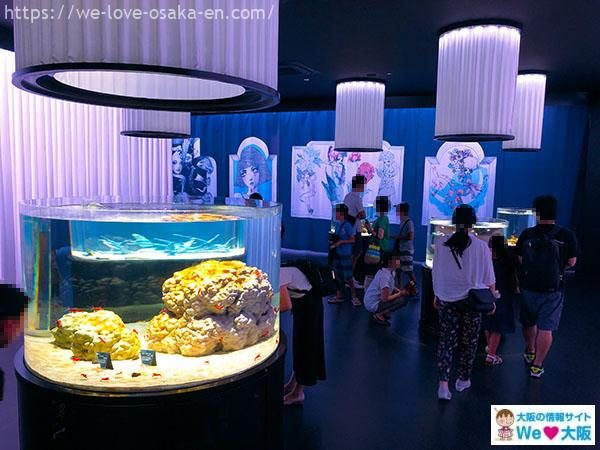 The light is a bit dim, which enables you to feel the wavering clear water. You will be overwhelmed by the beautiful fish swimming.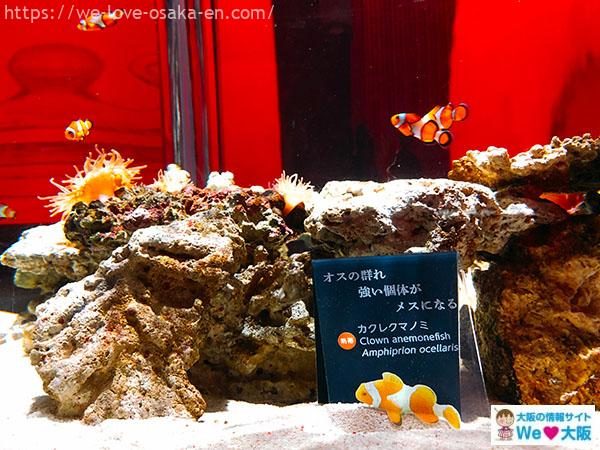 They are clown fish, as you probably know from the movie Finding Nemo.
They live in groups in anemone, and they are born asexual. The biggest one becomes female, and the second biggest one becomes male to mate with each other. Very interesting.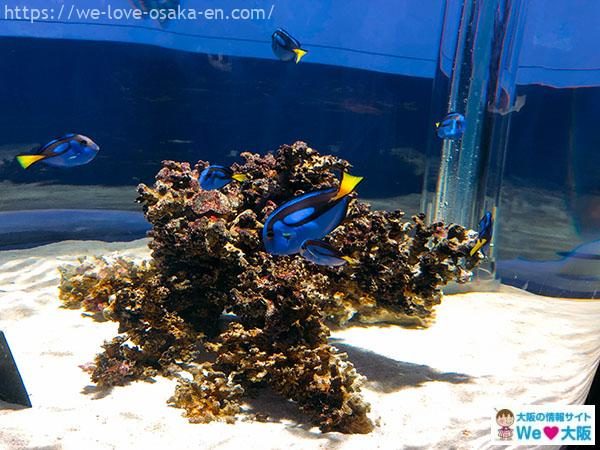 They are called Blue Tang, and you may also be familiar with this fish from Finding Nemo called Dory. The movie may make you think they are small, but in fact they can grow up to 30cm. The speed of growth is very fast, and they can be twice as big in six months.
Feeling Abilities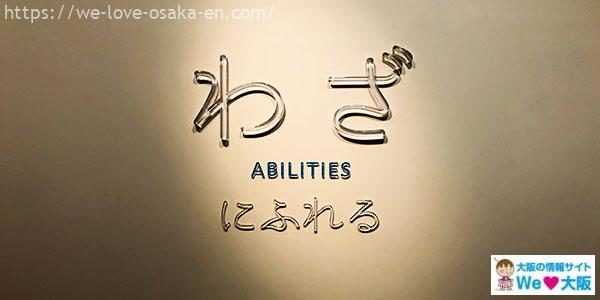 The theme of this section is abilities. The abilities of many creatures can be seen here, such as to splash water, to hide in sand, and to camouflage through color change.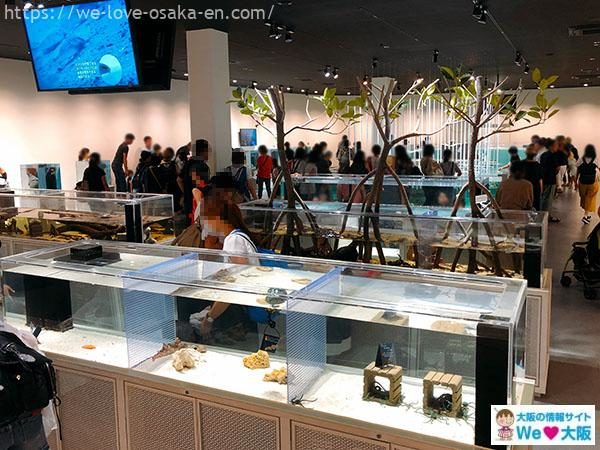 The whole room is bright, and the water tanks are placed in an orderly fashion. The most popular part in this section is doctor fish. You should definitely try this.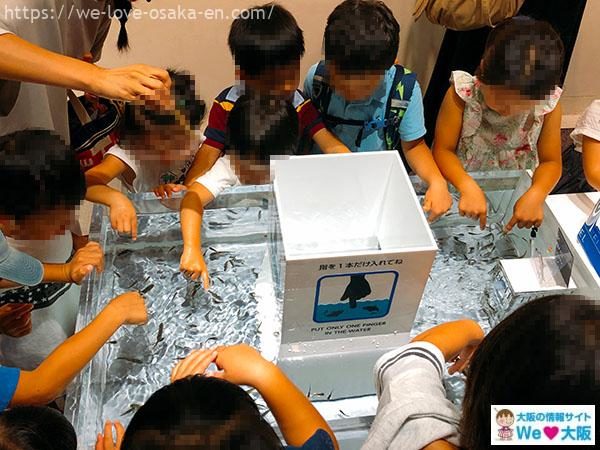 They are the doctor fish, very popular among children. When you put your finger in the water, the fish will come chew on your finger.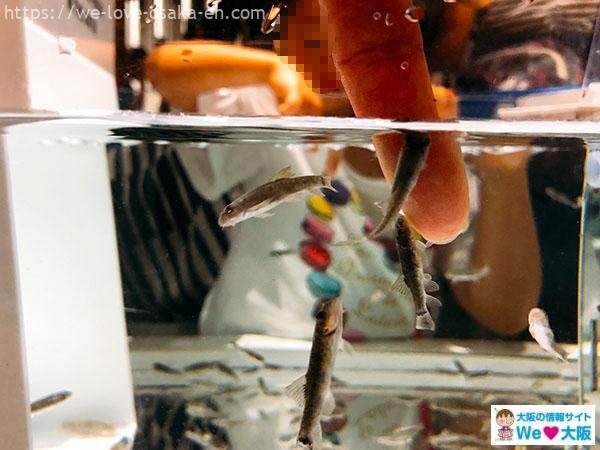 But don't worry, it won't hurt, because their mouth is like a sucker without teeth. It feels like their mouths stick to your finger. It is said that Cleopatra liked doctor fish back then, so you should try this!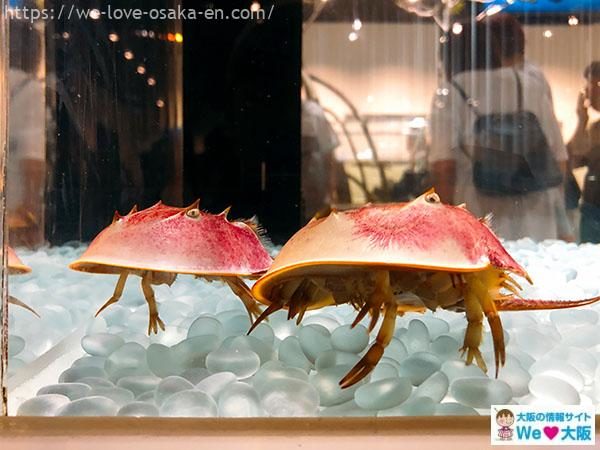 They are American Horseshoe Crab. They are called 'living fossils,' as their relatives have been found from 400 million years ago. Algae, clams and barnacles are usually on their shells, so they are also known as living museums.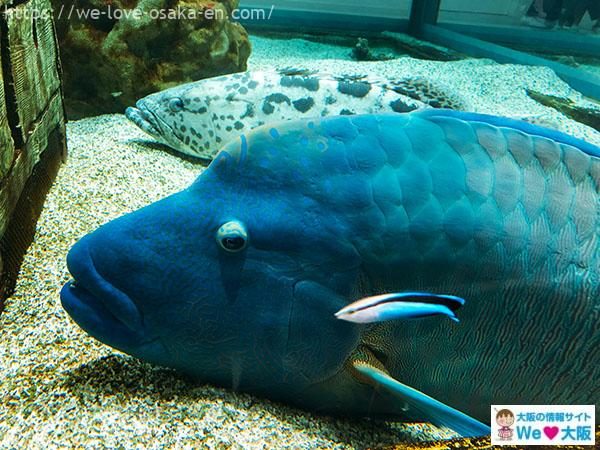 They are Humphead Wrasse, also known as Napoleon Fish. They are so big that some reach 2 meters. The bump on their forehead looks like a hat of Napoleon, doesn't it? It does, right? This is why they are called Napoleon Fish.
Feeling shapes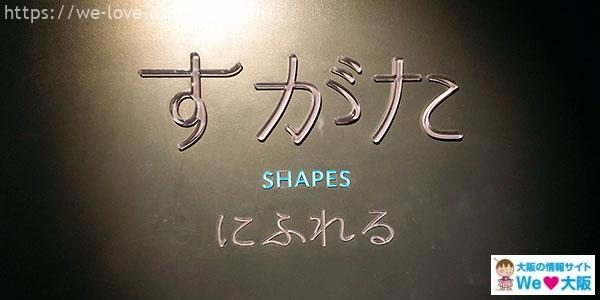 The theme of this section is shapes. Here you can enjoy seeing creatures that have odd shapes.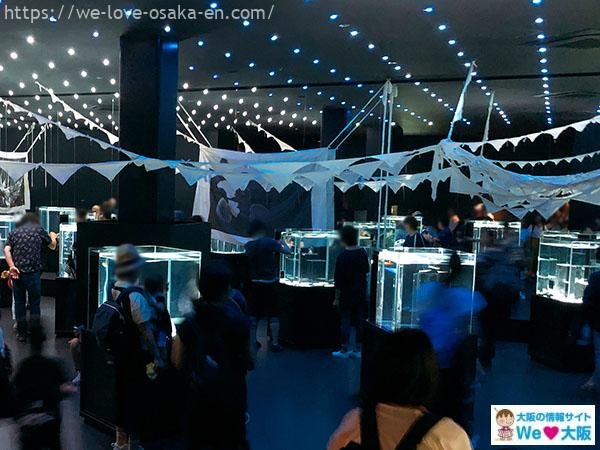 The water tanks are lit up, illuminating the creatures. The atmosphere of this section is like that of museums.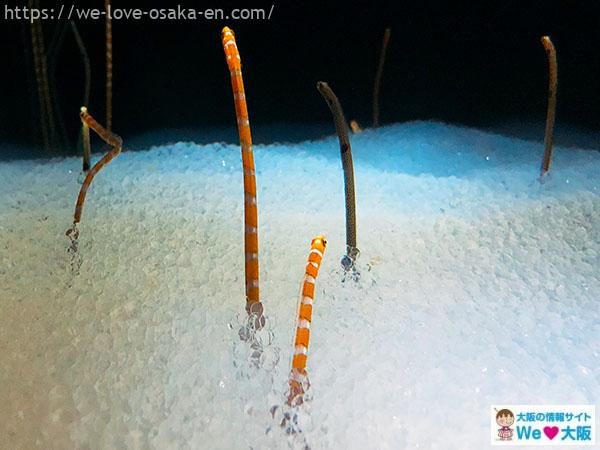 They are Splendid Garden Eel. They only stick their heads out from the sand, eating planktons in the water. Looks like meerkats, doesn't it?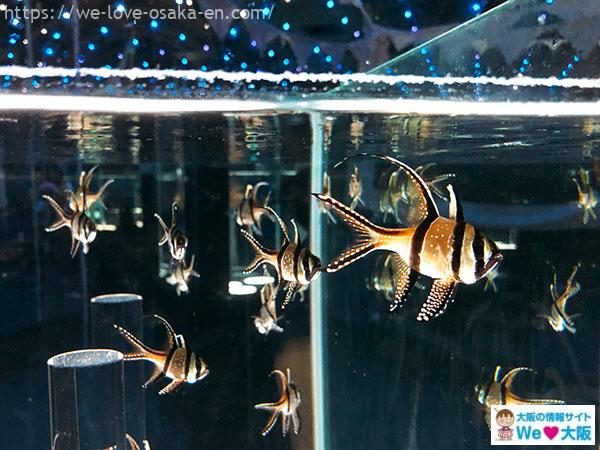 They are Pterapogon Kauderny. The zebra striping on their egg-shaped body looks very beautiful. They are now endangered species, because they were hunted for ornament.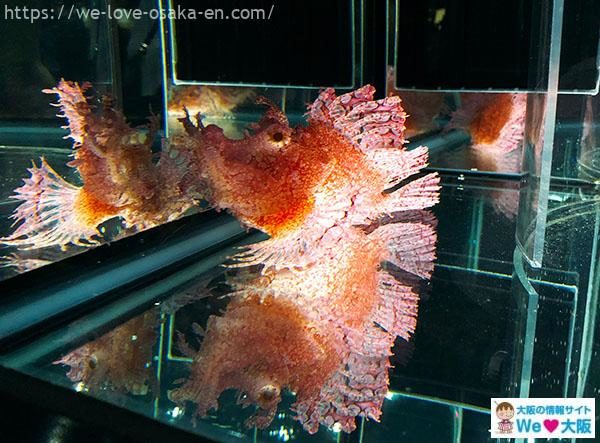 Theyare Weedy Scorpionfish. They cast their skin many times, and they hardly ever move to wait for prays to hunt on the sea floor. They look like figurines.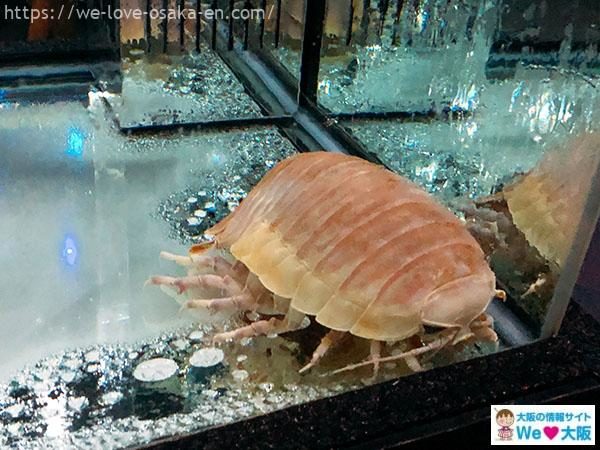 This is Bathynomus Giganteus. They are the biggest in Isopoda, same as pill bugs, sow bugs, and wharf roaches. They rarely eat anything, and the one in Toba Aquarium in Toba City, Mie Prefecture, surprisingly survived without eating anything for six years.
【NIFREL 2nd floor】
Feeling waterside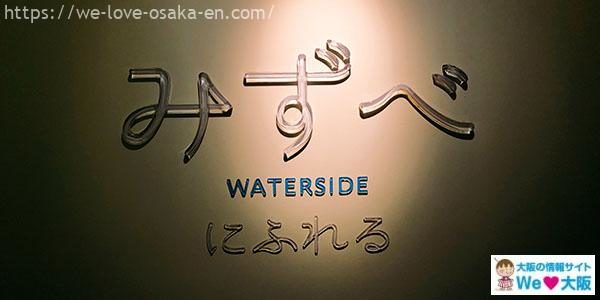 The bright open space that reminds you of a grove of trees has creatures that live at waterside.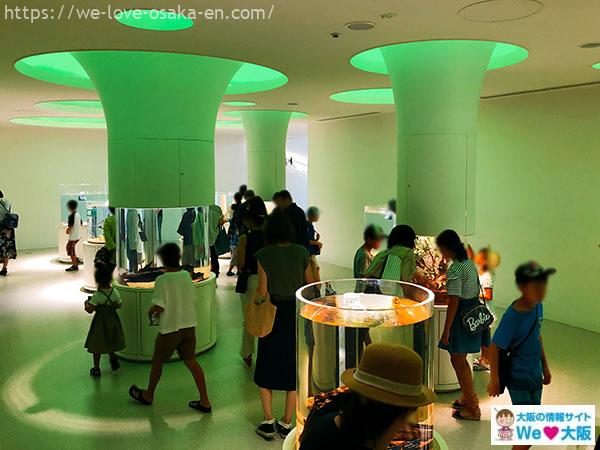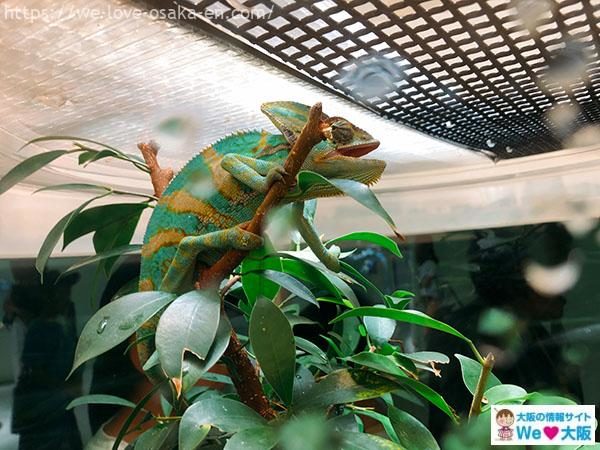 A veiled chameleon will welcome you to this room. They grow up to 65cm at most. Their eyes were pretty big and the body was green.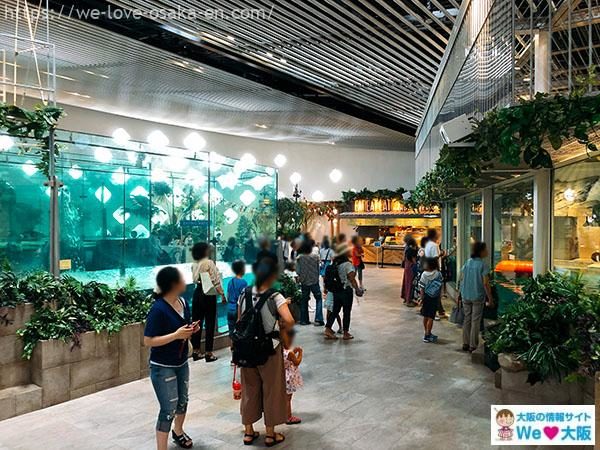 Through the room, you will be in an open spece that has beasts.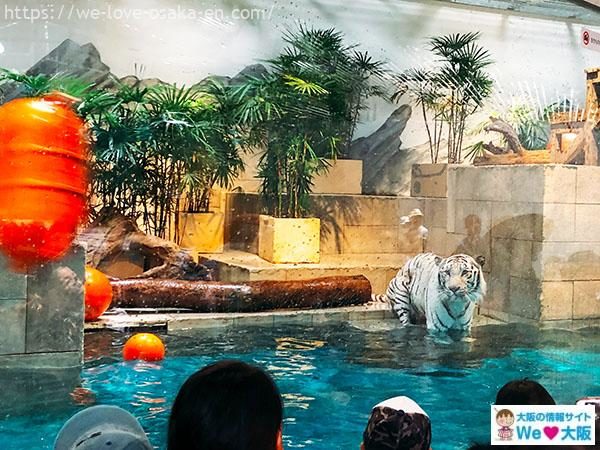 Here is the popular White Tiger.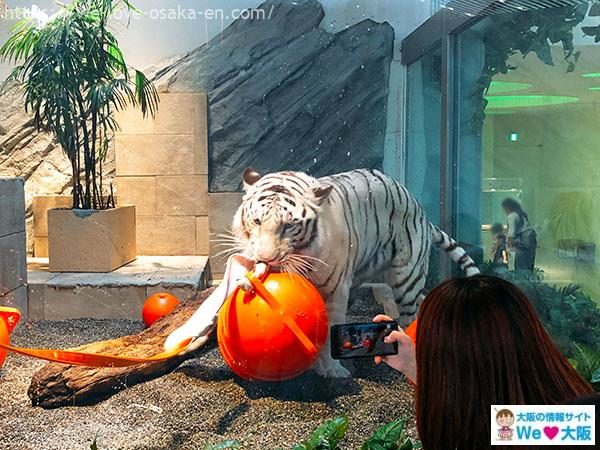 He is being fed. He eats food off of the ball. You will be overwhelmed with how he runs after the ball.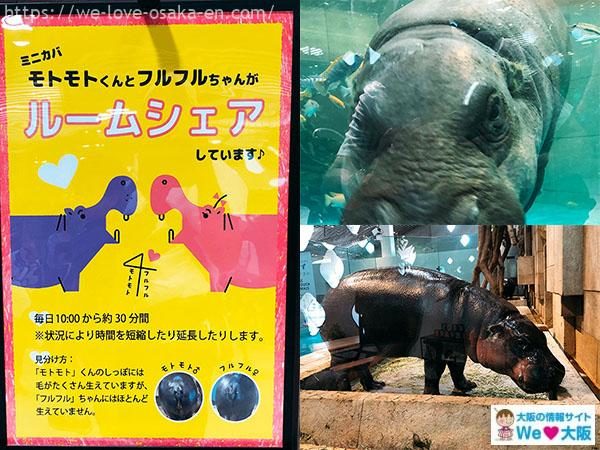 The two small hippopotamus is called Motomoto and Furufuru respectively.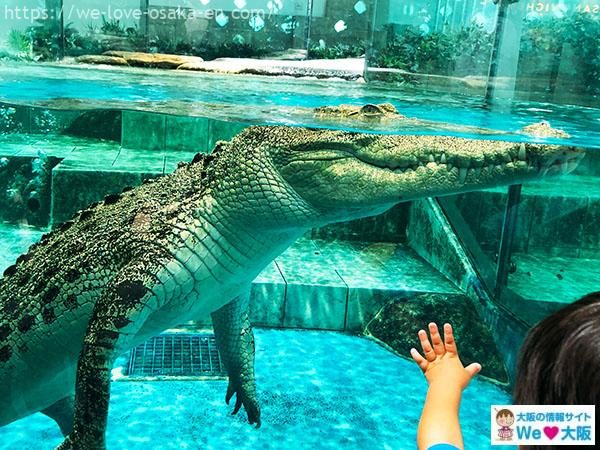 An alligator is here. You can rarely see an alligator this close. Many kids were surprised to see the big alligato
Feeling behavior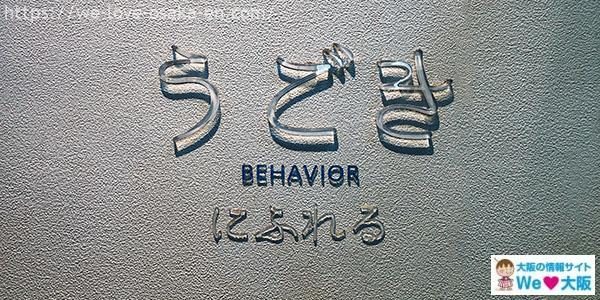 This is kind of a playground for creatures. A stream runs through this room and you can see various animals across this space.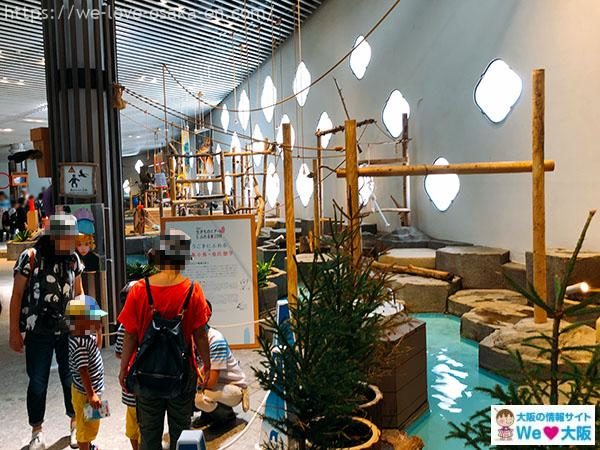 You can come right up to the stream. The whole space allows you to feel the behaviors of various animals very close.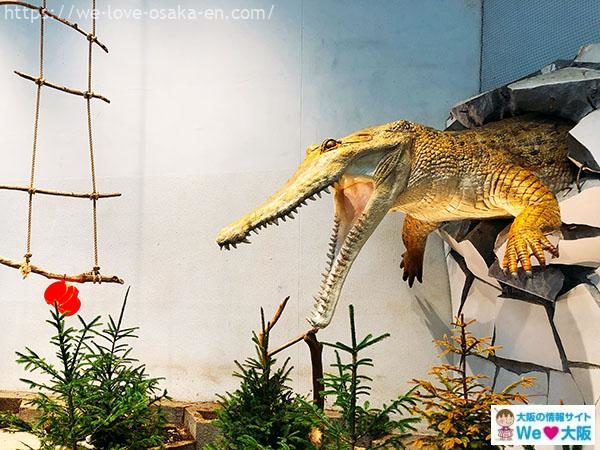 This is an artwork of an alligator.
Upper left: Toco toucan. They are also known as the Jewel of the Amazon, and they are the national bird of Brazil.
Upper right:White pelican. You will see that they are pretty big when you come close. They hardly every move but it might scare you when they move.
Lower left:Capybara. They are the best comforting animal I believe. The fact that they just stare into the air makes them soooo cute.
Lower right:Ring tailed lemur. Their tails have beautiful stripes. They dwell in Madagascar.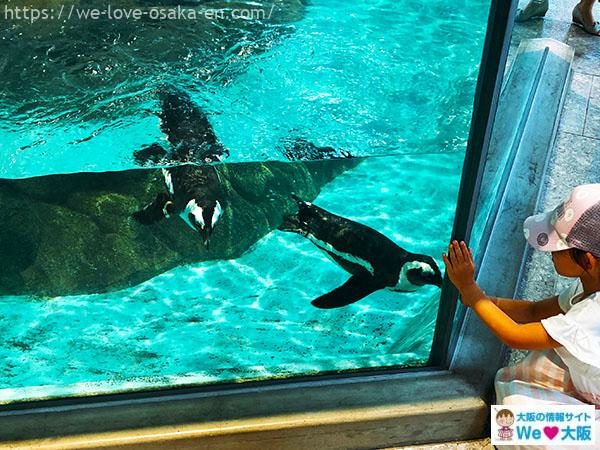 The penguins here are used to people, so they will approach you when you come by.
Feeling biodiversity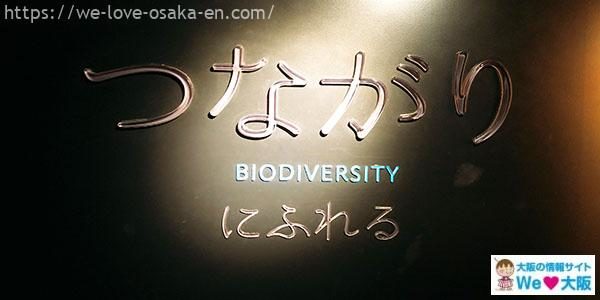 A theater in which you can enjoy three-dimensional movies with screens on the wall and the floor.
The movie makes you think about what nature, creatures, us, and modern life have in common and what they do not have in common, and the relationships among them.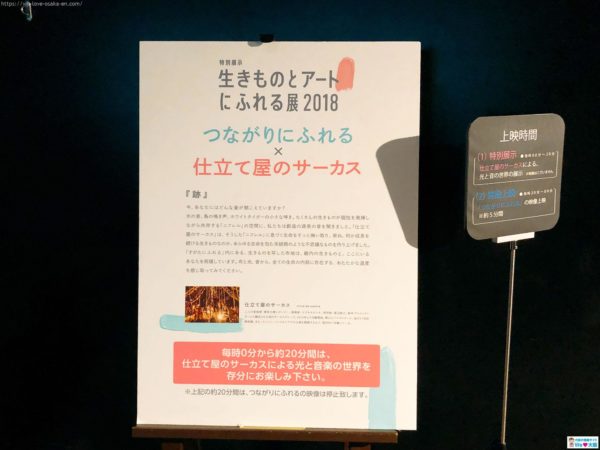 ※Click to zoom
This time 'The Circus of a Tailor' was on the screen. The movie started every hour on the hour and was on for twenty minutes. They entertain visitors with the movie, sounds, light and artworks.
※The movie can vary depending on the day.
Wonder Moments (1st ・2nd floor)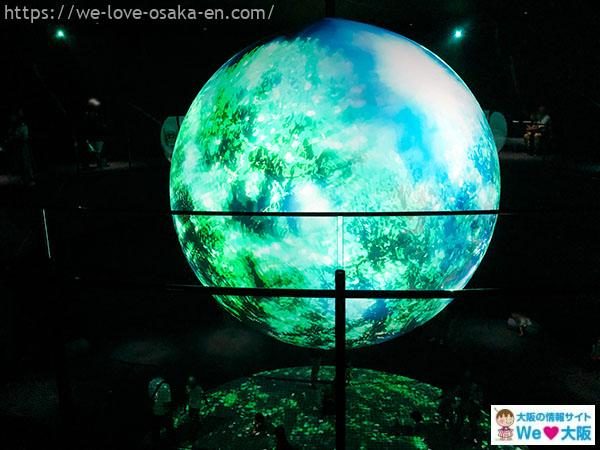 There is a stairwell and a ball is floating in the air. Graphics are projected on the whole room and this ball, creating a whimsical ambiance. It is a mythical space art, with sculptures of water, flowers, trees, and the space on the ball and with a shower of light, which makes you feel like you are watching stars in the space.
2.Information
Open 10:00-20:00
(Admissions close 19:00, times vary seasonally)
The facility is open throughout the year without closure (The facility temporarily closes one time in a year for maintainance.)
Please check the official website on closed days.

Inquiries
NIFREL Info: 0570-022060
06-6876-2216 for IP phone and international calls.
Charge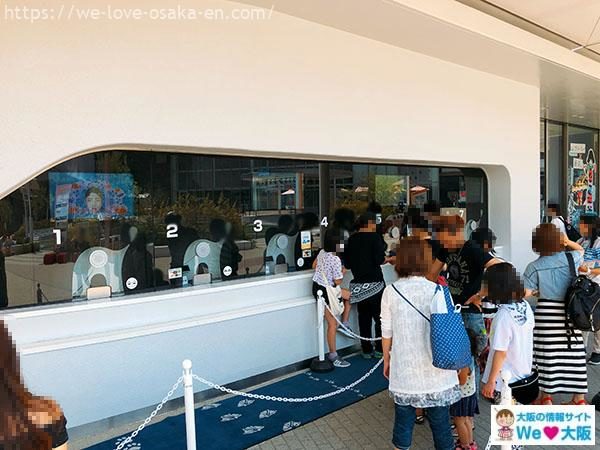 【Day pass】
Adults (ages 16+)/high school students ¥2,000
Middle and elementary school students ¥1,000
Children (ages 3+): ¥600
【Discounts for specific people】
Those who have disability certificates, special education record books, health benefits recordbook for the mentally ill.
Adults (ages 16+)/high school students ¥1,000
Middle and elementary school students ¥500
Children (ages 3+): ¥300
【Twilight Pair Ticket】
A pair ticket only valid after 5 P.M.
Adults (ages 16+)/high school students ¥3,700
※You can get a discount of 300 yen off of the general admission fee.
【Weekday Passport】
Valid since your purchase till March 31 of the business year
Adults (ages 16+)/high school students ¥3,900
Middle and elementary school students ¥1,900
Children (ages 3+): ¥1,100
【Yearround passport】
Adults (ages 16+)/high school students ¥5,900
Middle and elementary school students ¥2,900
Children (ages 3+): ¥1,700
Check this out for the details of the passports.

www.nifrel.jp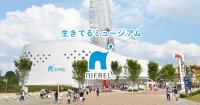 パスポート「ニフレルパス」|ご利用情報|生きているミュージアム ニフレル
https://www.nifrel.jp/guide/passport.html
大阪の万博公園で会える「生きているミュージアム ニフレル」。
3.Picnic café Eat Eat Eat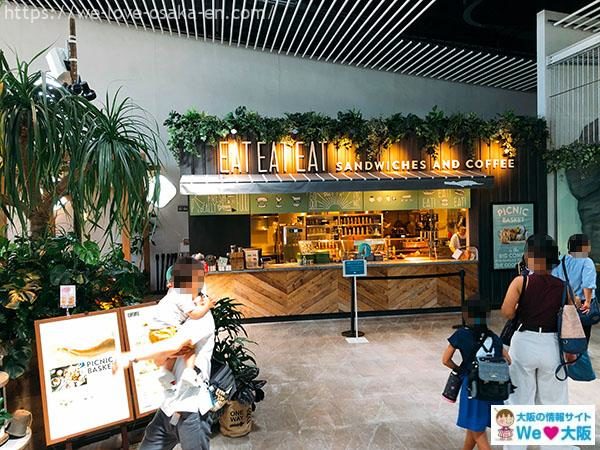 This café is located in the 'feeling waterside' section. Many plants are laid out here so you feel like you are outside.
They have 100 tables. This place is perfect for a rest because this café is located on the second floor on the route.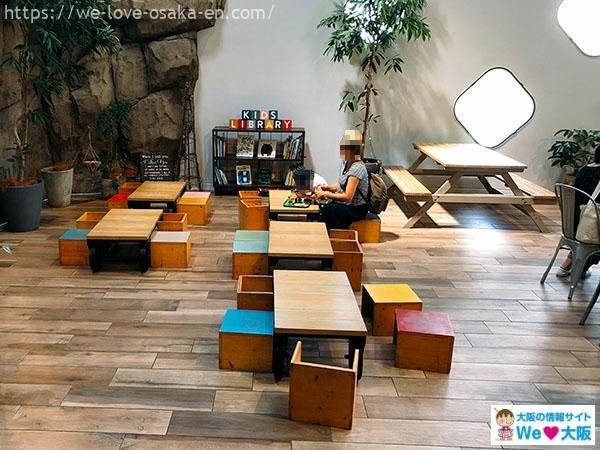 There are small tables and chairs for kids.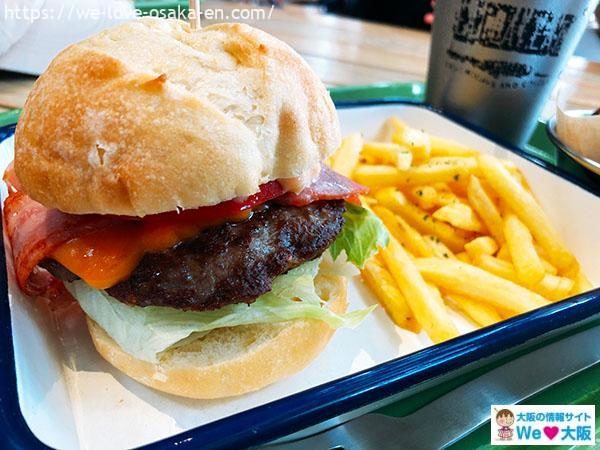 This one is Eat Eat Eat Burger. The pate inside is very thick, and tastes great.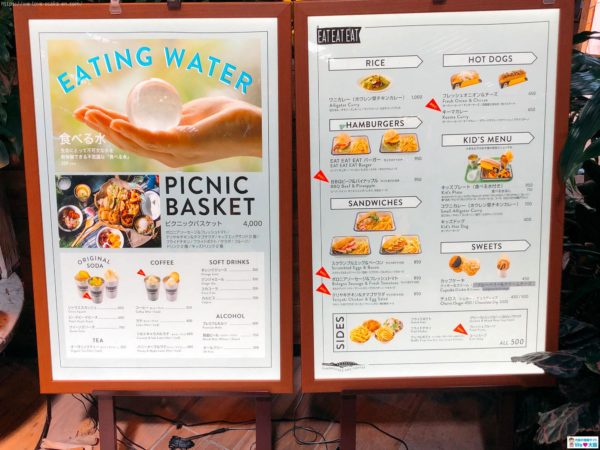 ※Click to zoom
This is the menu. You can also enjoy it here for lunch, because they have hotdogs, curry and rice, and platters for kids. They have sweets and snacks on the café menu.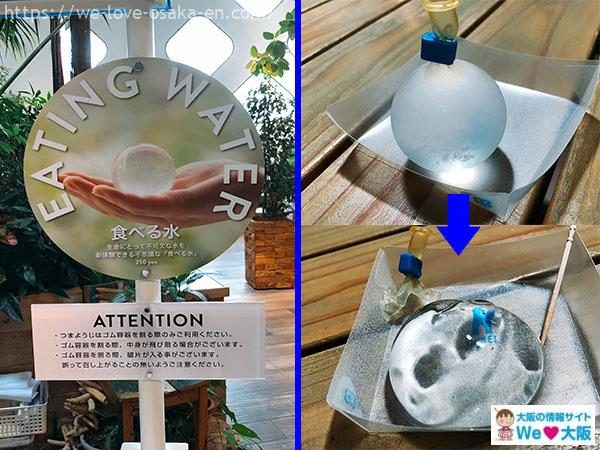 This is an interesting 'edible water.' You eat this edible water, which looks like a water balloon, by breaking it with a toothpick. Actually taste this or you will never know what it takes like!
4.Access
Address: 2-1 Senri Banpakukouen, Suita City, Osaka, EXPOCITY NIFREL
If you come here by train,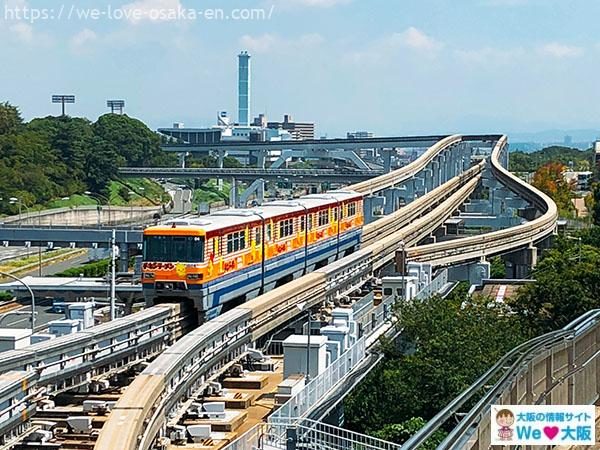 you should get off at Expo'70 Commemoration Park Station and walk for five minutes to get there.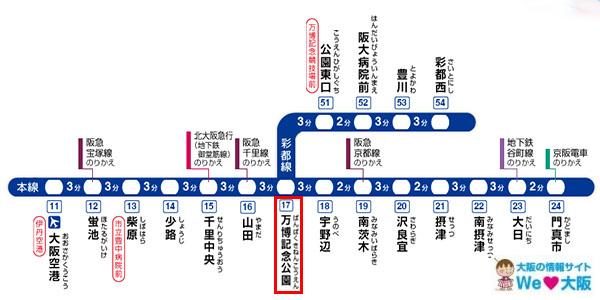 Picture by Osaka Monorail
The line is connected to Osaka Metro Midosuji line at ⑮Senrichuo Station, Hankyu Takarazuka line at ⑫Hotarugaike Station, ⑯Hankyu Senri line, ㉓Osaka Metro Tanimachi line, ㉔Keihan line.
You don't have to change lines if you come from Osaka Airport.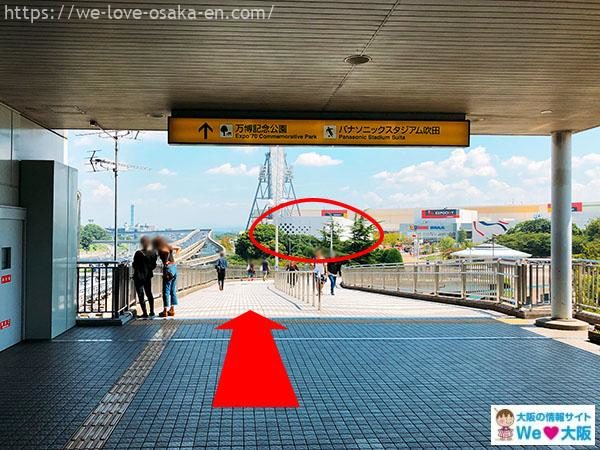 When you exit the ticket gates, make a left. Then walk straight, and you will see NIFREL soon.
If you come here by car,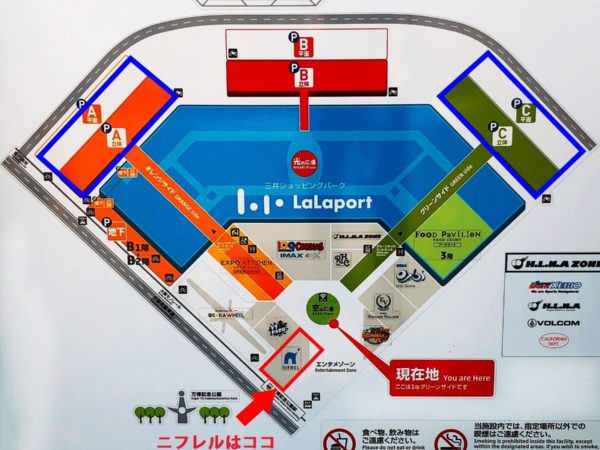 NIFREL is located on the premises of EXPOCITY, so use the parking lot for EXPOCITY.
A Zone is easily accessible from NIFREL.
The top floor of the multilevel car parking garage is connected to the first floor of EXPOCITY, so I recommend you park your car on the top floor.
Check the link below for information about the parking garage.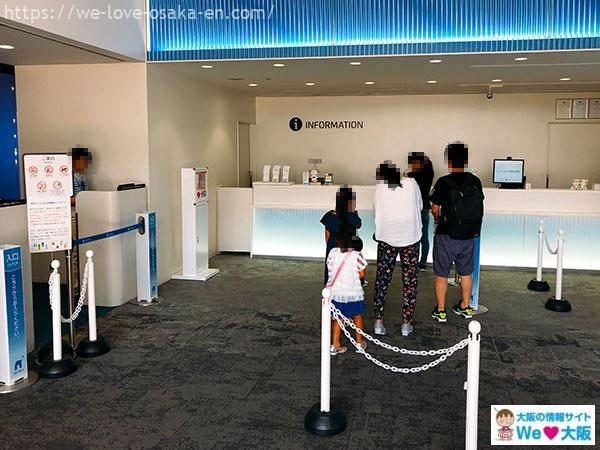 When you buy tickets, you can get discount off the parking fee at the information desk next to the entrance to NIFREL. If you enter NIFREL, the parking fee is free for two hours.
5.Conclusion
In this article, I introduced information about NIFREL.
It is very fun because you can see many fish and animals very close, so I strongly recommend this place to couples and families. I visited here with my two-year-old child, but he(she) was just excited! I want to take him/her here again.
I hope you will visit here reading this article!
Related article
The area around Namba Station ……

2020.06.17

There is a Osaka kitaku nakaza……

2020.03.24

You easily get lost around Osa……

2020.03.24
Introduction of writer

Kururun
This is the mascot character "Kururun"of "we love Osaka ". He likes the local specialty of Osaka "Takoyaki"and "Kui aore taro" Kukurun offer fun and useful information to everyone!
Instagram
#weloveOsaka
Please introduce your "we love Osaka" (Only gourmet of Osaka and spot of Osaka)