Biwako Valley and Biwako Terrace – the perfect scenic day trip from Osaka
Biwako Valley and Biwako Terrace – the perfect scenic day trip from Osaka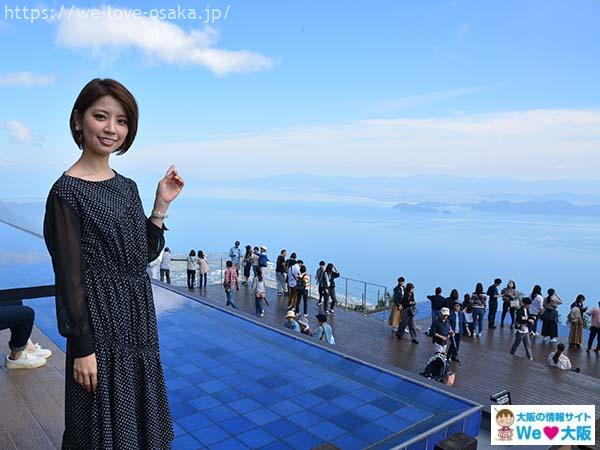 When the weather gets warmer, you'll want to go for a drive–the sparkling sun, blue skies, and flippin' sunshine feels good!
The driving course we recommend this time is a very popular spot that can be reached in about 1 hour and 30 minutes from Osaka City by car! It is Biwako Valley, which is open as a ski resort in winter. It is also quite a wonderful place in the off-season. In recent years, it has become popular with many tourists from home and abroad. When I tell my friends about it, they say, "Yeah, I know it! Let's go!"
It is the perfect place for a drive date or a day trip for girls. There are plenty of attractions and things to note! Please refer to them before you go.
1. What is Biwako Terrace like?
Biwako Valley, a ski resort in Shiga Prefecture, is open as a ski resort in winter and as a terrace in the off-season summer, where you can enjoy a spectacular view of Lake Biwa. There are terraces on the tops of two mountains, Uchimiyama and Horaiyama. Both terraces are lovely, so please visit both of them. Every year from about April, it is off-season, but some facilities are still under preparation due to lingering snow in April, so if you want to go, it would be better to go in May or later!
2. Take the ropeway to the top of Uchimiyama!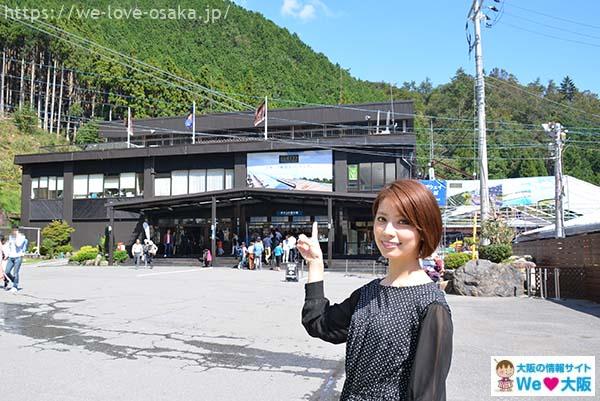 We will start from Sanroku Station. It is just a short walk from the Biwako Valley parking lot. Incidentally, the parking lot is a large parking lot with 1,700 spaces, but depending on the time of year, it may be full in the morning.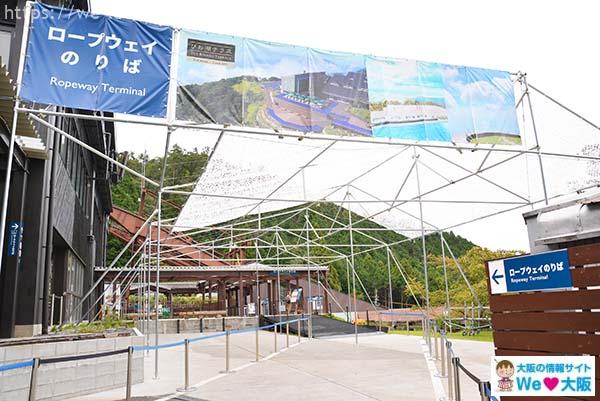 The ropeway departs every fifteen minutes.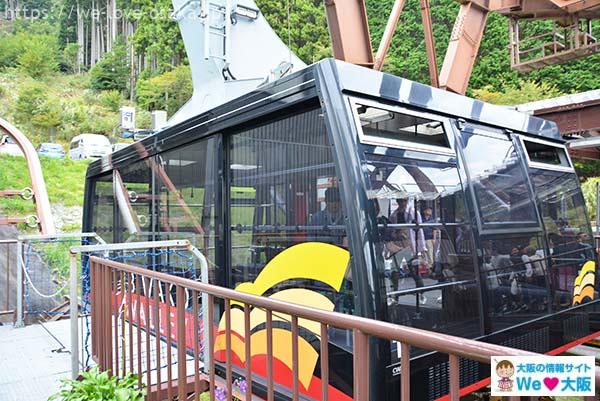 Here comes the ropeway! What is it like up there? I'm thrilled and excited with anticipation!
Biwako Valley Ropeway
Hours of operation:
Weekdays: 9:30-17:00 (last ride up is 16:30, last ride down is 17:00)
Weekends, holidays, August: 9:00-17:00
November:  9:30-16:30
Price:
Adults (age 13+) 3,500 yen Children (7-12) 1,500 yen Age (3-6) 1,000 yen
3. THE MAIN at The Biwako Terrace
Here we are! When you reach the summit station, you are at Biwako Terrace. Uchimiyama is 1,108 meters above sea level, so you may feel a little nervous.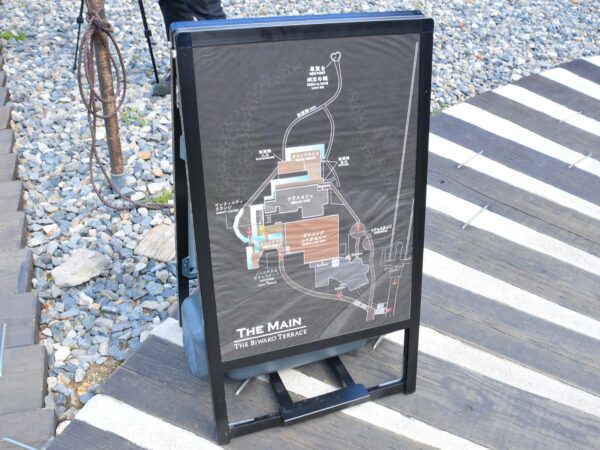 This is a guide to Uchiyama and The Main.
3-1. Grand Terrace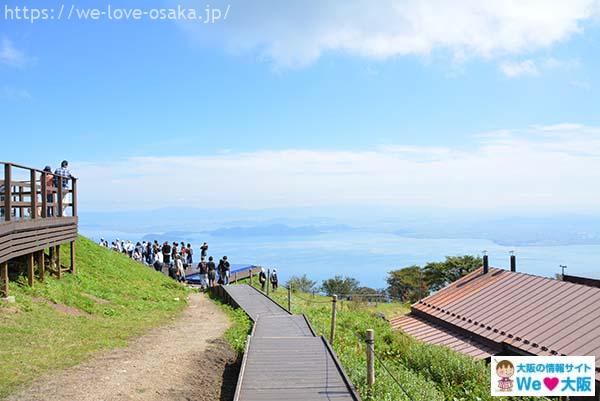 From the signboard that reads Biwako Terrace, take the promenade to the Grand Terrace! Isn't that Lake Biwa spreading out magnificently over there! It is gradually becoming more and more visible.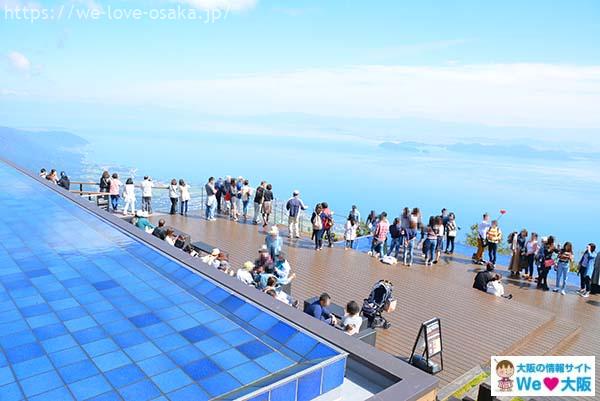 Even on weekdays, these are the people. Many people come from all over the country and abroad.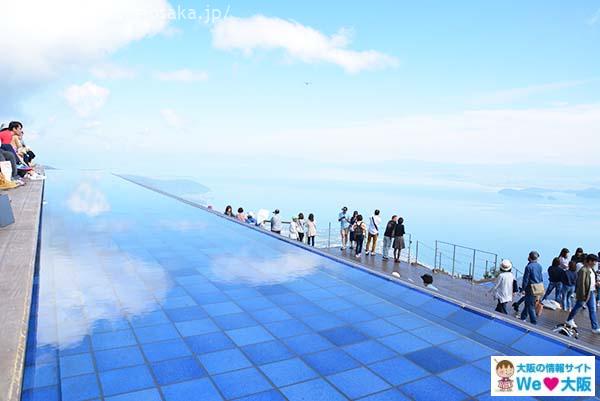 Here it is! This is the one you often see in photos. Overlooking Lake Biwa, too spectacular! The terrace on the wood deck is lovely. There is a sofa, but you are lucky if it is available.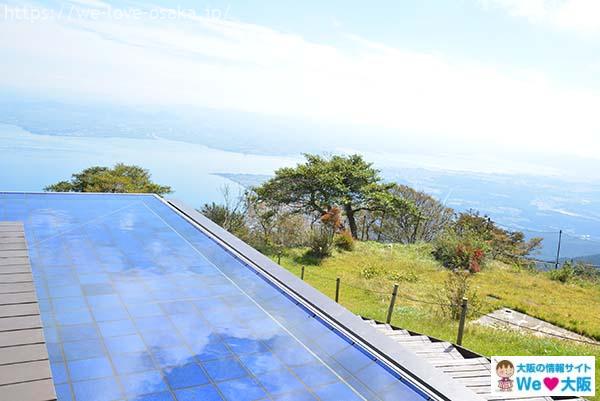 It is not easy to take pictures of spots where there are no people.
3-2. Terrace Cafe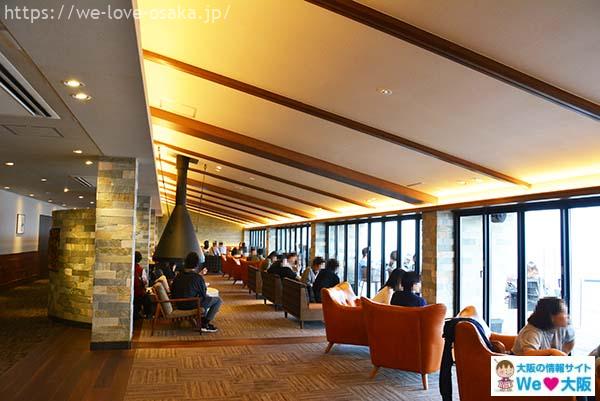 This is a cafe on the grand terrace side. The interior is a very relaxing space with a wood interior.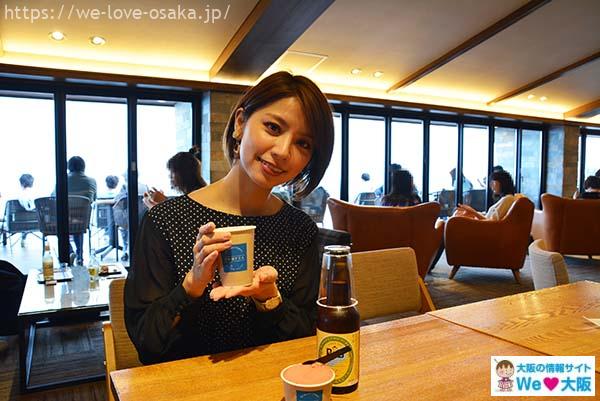 Food and drinks featuring ingredients from Shiga Prefecture, such as Nagahama craft beer and Omi Japanese black tea, are available.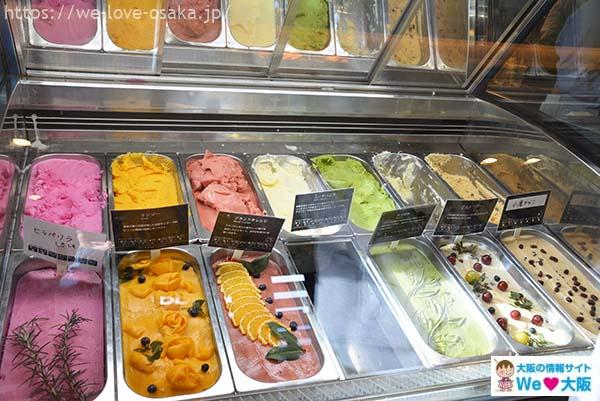 There are several kinds of gelato. The presentation is also nice.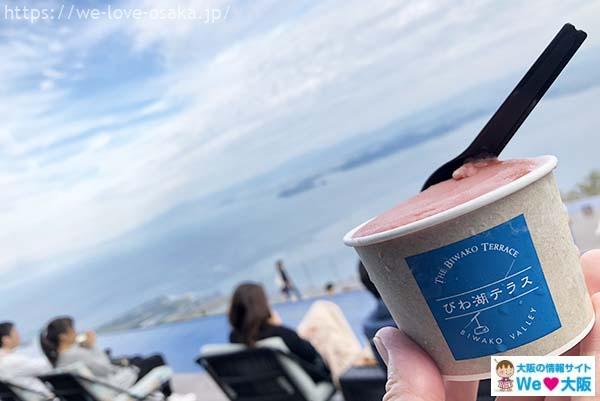 There is also terrace seating on the top level of the grand terrace overlooking Lake Biwa. The view of Lake Biwa is truly amazing! That's one word to describe it.
The Main Terrace Cafe
Business hours:
9:10-16:00(last order 15:30)
3-3. Infinity Lounge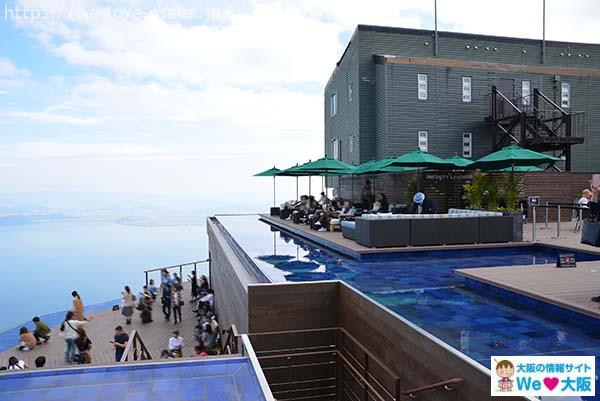 The Infinity Lounge on the north side of THE MAIN with the North Terrace is paid seating. You can make reservations on a first-come, first-served basis on the day of your visit.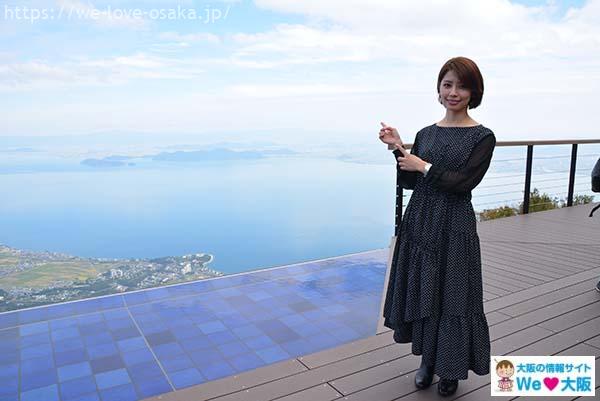 North Terrace overlooks Lake Biwa on the north side. It seems to stretch on forever!
Infinity Lounge
Business hours:
Late April to Late October
Weekdays 10:00-16:15
Weekends and holidays from 9:30 (last entrance from 15:30)
Entrance fee:
(
for 45 minutes)
・Infinity plan 3,000 yen (includes food, sweets, and drink)
・Champagne plan 3,000 yen (includes food and champagne)
・Cafe plan 2,000 yen (includes sweets and drink)
3-4. Bell of the Lovers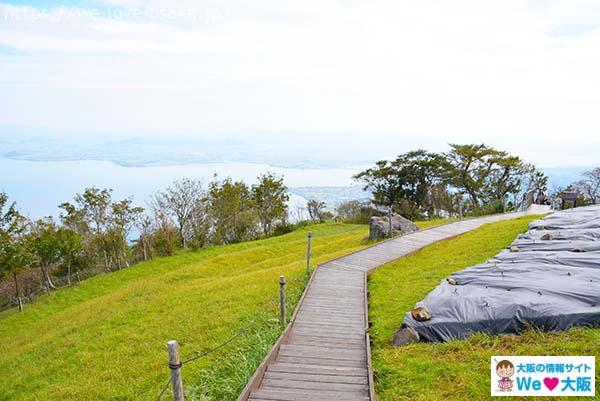 There is a promenade next to the Grand Terrace. At the end of it is the Bell of the Lovers sanctuary, a heart-shaped observation deck.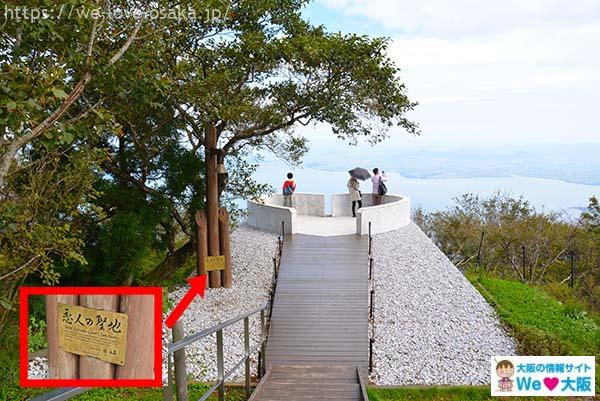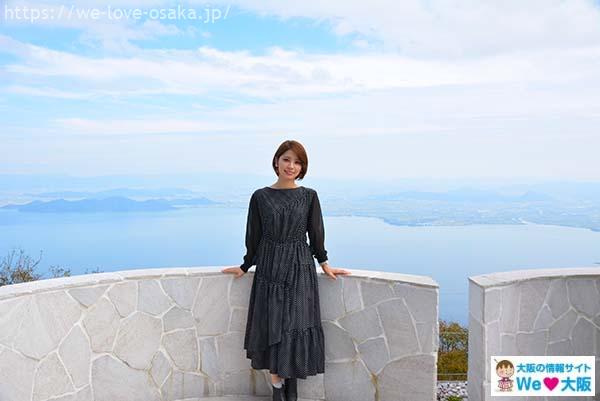 It's a nice, foreign-looking stone wall. You and your sweetheart might get to know each other better if you see Lake Biwa together!
Next, let's head for Horaiyama and CAFÉ 360!
4. Uchimi Lift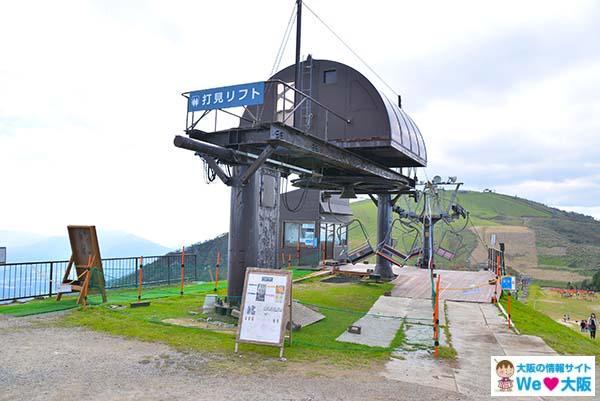 Uchimi lift operates only on weekends and holidays. It operates during summer vacation. Even if the Uchimi Lift is closed, it is okay to walk to the next lift. You can walk to the next lift, the Horai Lift. It is easy because it is downhill.
Uchimi Lift
Hours of operation:
April to October
09:30-16:30 (last up 16:30, last down 18:15)
4-1. Sasadaira Playground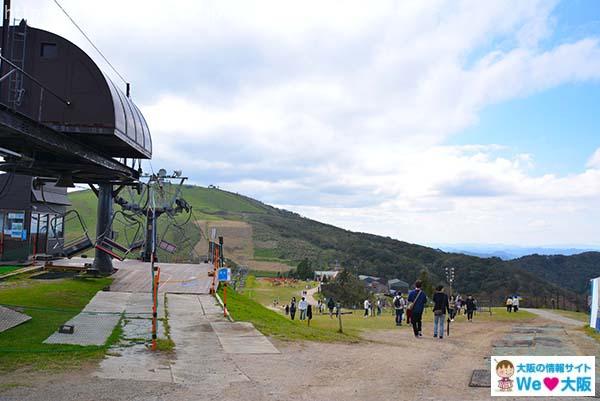 There is a descent next to the Uchimi Lift, so let's go there. It is nice to breathe in the natural air and walk while taking in the view of the mountains.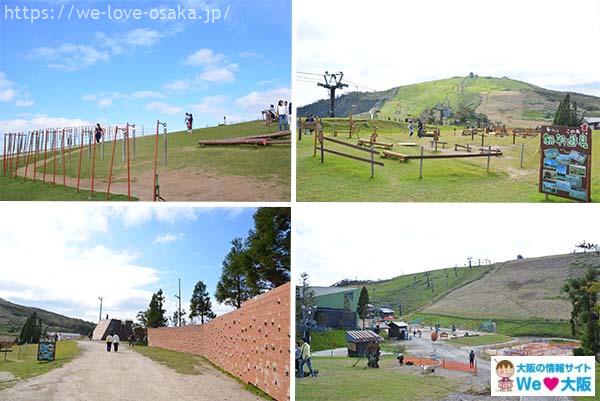 There is a lot of playground equipment that looks kind of fun. There is also a lawn where you can take a break.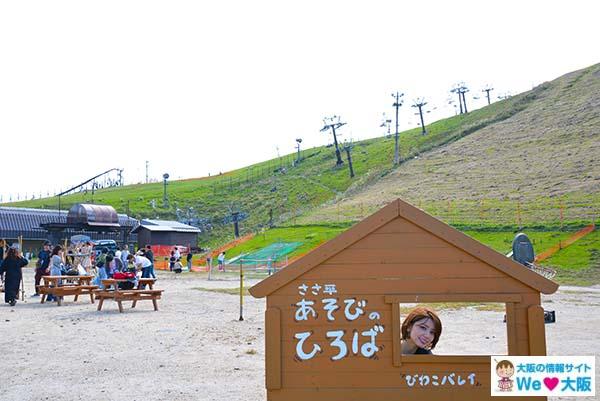 Then, at the end of the descent, there is Sasadaira Playground. Sounds fun!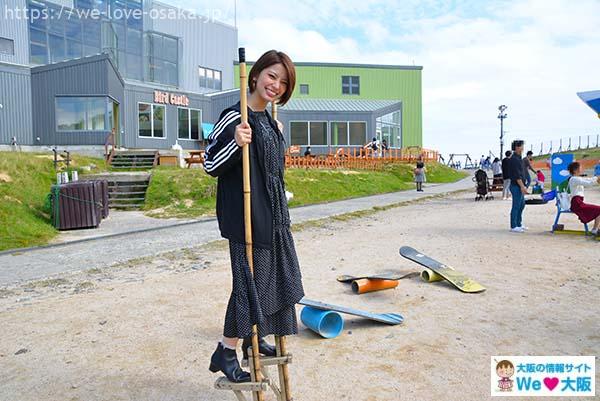 Riding stilts…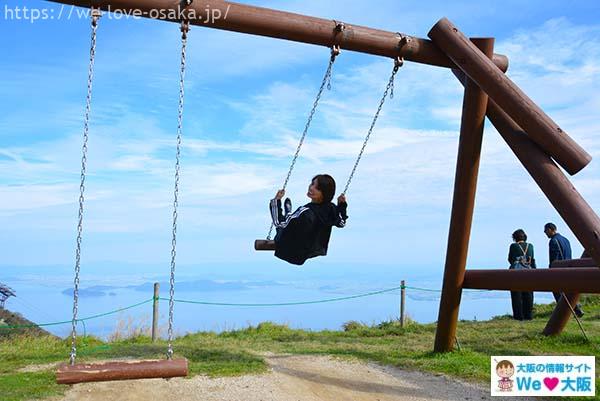 There are swings and other things that seem to throw you out into Lake Biwa. It is fun to play as if you were a child again. Many adults were also playing.
5. Let's take the Horai lift to Mt. Horai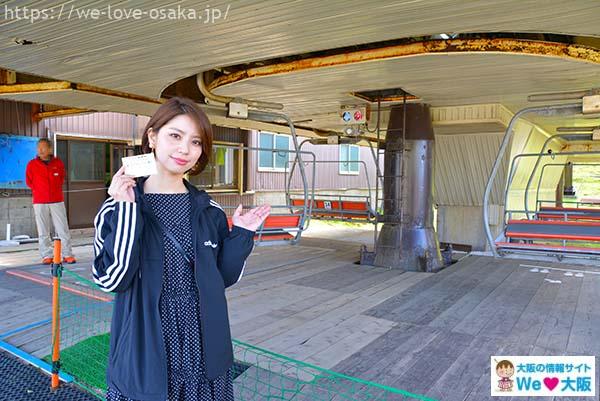 The Horai Lift costed 1,200 yen for a one-day pass for adults, and 400 yen for a one-way pass for those who want to walk down the mountain on the way back. Horaiyama is also highly recommended. Let's go there.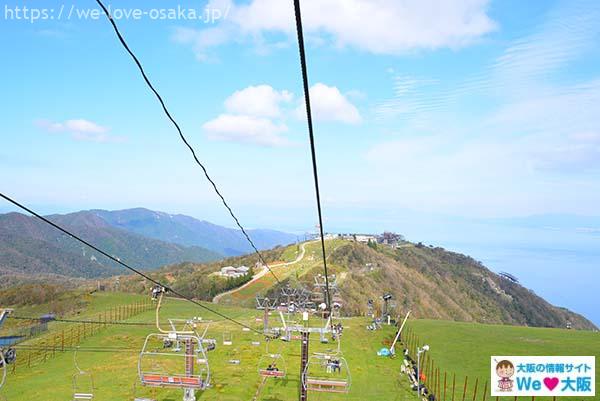 Look back, you can see Lake Biwa and Mt. Uchimiyama where The Main was located earlier. It's so refreshing! A walk in the air!
Horai Lift
Hours of operation:
April to October
09:30-16:15 (last ride up 16:00, last ride down 16:15)
Fees:
One day pass: Adults 1,200 yen, Children 1,000 yen
One way: Adults, Children 400 yen
6. What is at Mt. Horai's Cafe 360?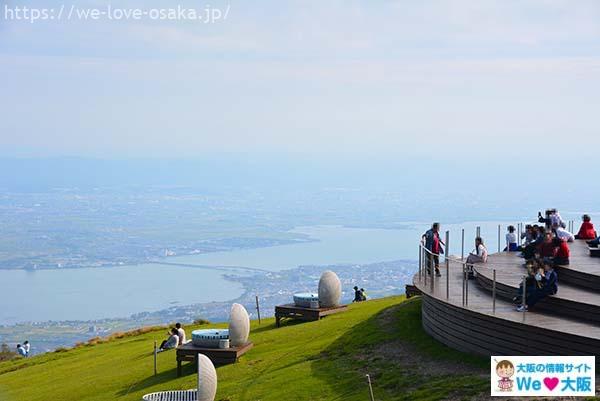 Mount Horai is higher than Mount Uchimiyama, at 1,174 meters above sea level. It is so beautiful and spectacular that you can't help but exclaim, "Oh my God, this is so beautiful! You can even see the shape of Lake Biwa beautifully.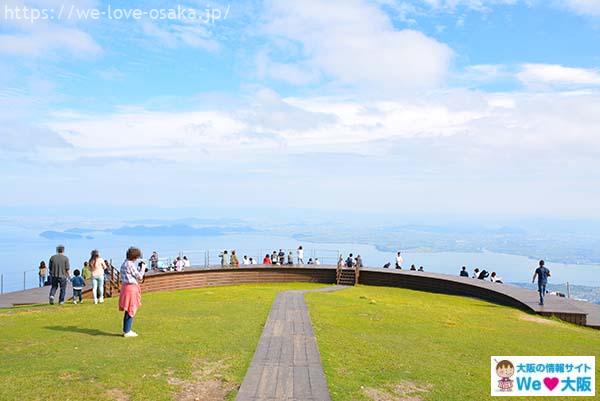 There is one arched terrace with a view of Lake Biwa and paid seating. There is one cafe stand. It is more comfortable than the terrace at Uchimiyama. The time is leisurely.
6-1. Cafe 360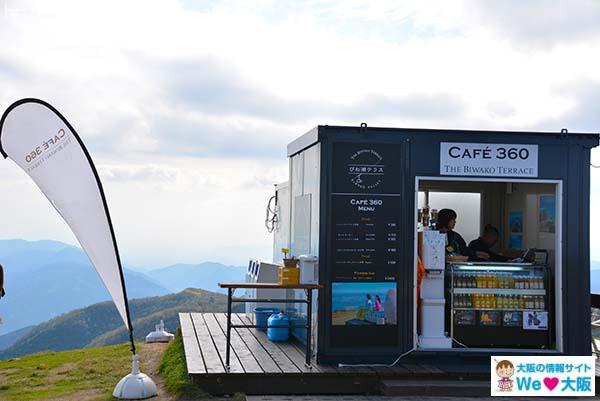 Crispy popcorn in a variety of flavors and bottled drinks are sold.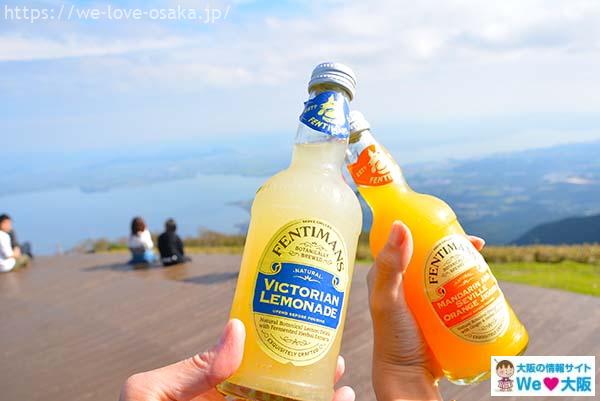 They were selling bottled drinks from Fentimans, a fine British botanical drink. Those bottles are so cute!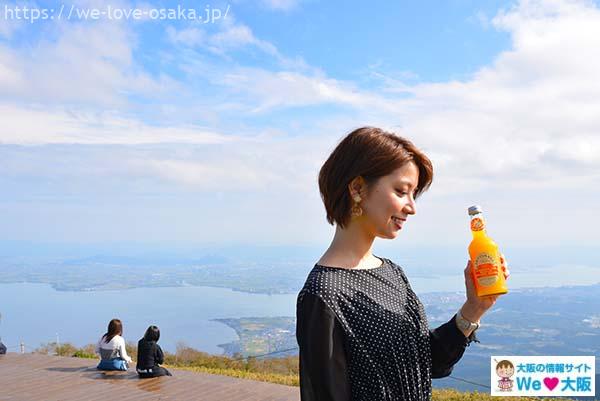 Blue skies, blue lakes… it's the perfect picture!
Cafe 360
Business hours:
April to October
※Only open on weekends and holidays in June, September, and October
09:30-16:00 (open from 10:30 on weekdays)
6-2. Premium Seats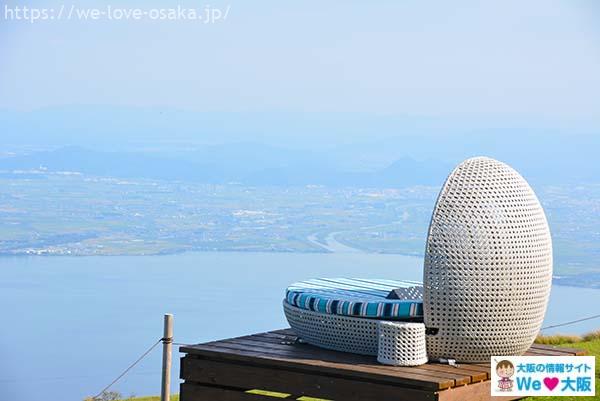 These are premium seats available for a fee. On a nice day, you could try relaxing on the round sofa! It's full of private feeling.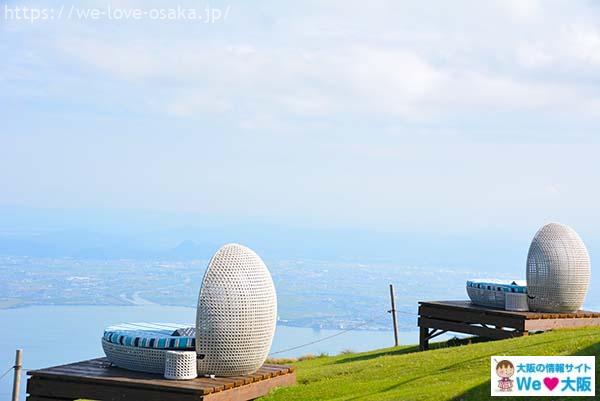 7. Points to note before visiting Biwako Terrace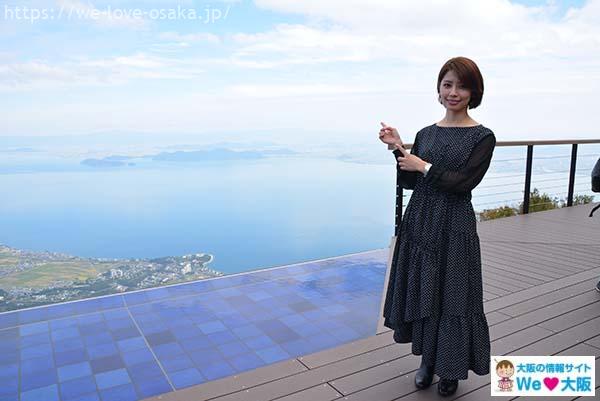 1. Check the business status on the website. Check the opening hours, ropeway operation status, café operation, etc. There are days when you cannot go to the top of the mountain due to ropeway inspections, etc.
2. Biwako Terrace is located on top of a mountain. When you actually go there, you may find that there is fog all over the place. It was the third time for me to go there on a day like the one in the photo. Check the Biwako Terrace website for today's weather and live camera images.
3. It is always chilly on top of the mountain, and the temperature varies from 5 to 7 degrees Celsius.
8. Biwako Valley Parking Lot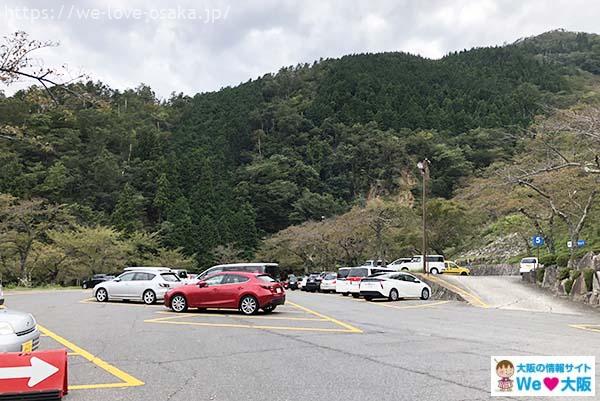 There are 1,700 parking spaces, but depending on the time of year, they may fill up in the morning; parking spaces from P3 to P15 are available, and there is a shuttle bus service to the ropeway stop Sanroku Station in the parking lot a short distance away.
Parking fee: 1,000 yen on weekdays, 2,000 yen on weekends and holidays
9. Biwako Valley Access
If you are driving, it takes about 40 minutes from the "Kyoto Higashi I.C." exit on the Meishin Expressway. Take the Meishin Expressway "Kyoto-Higashi I.C." exit and enter the Kosai Road (free of charge) from the Nishi-Otsu Bypass. From the Shiga I.C. exit on the Kosai Road, turn right at the first traffic light.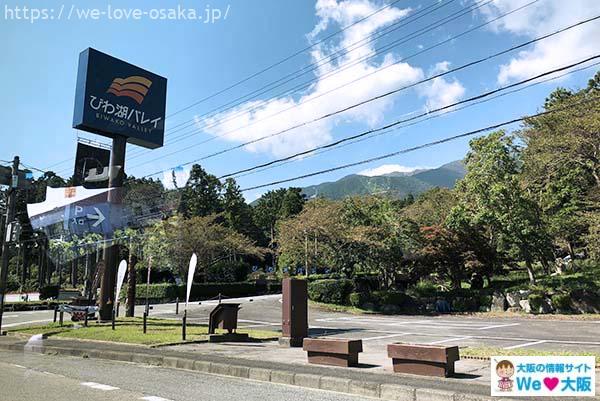 About 1 km ahead, you will see a large sign for Biwako Valley, turn right there (Biwako Valley Exit), and you will soon see a toll booth. (You must turn at the "Lake Biwa Valley Exit" to get there.)
If you are going by train, there is a direct bus service to Biwako Valley from Shiga Station on the JR Kosei Line. The bus runs every day during the season. (Buses are also suspended when Biwako Valley is closed.)
Fare: Adults: 330 yen, Children: 170 yen (under 12 years old)
Biwako Valley
Address:
1547-1 Kido, Otsu City, Shiga Prefecture 520-0514
TEL:
077-592-1155
10. Summary
How was Biwako Terrace, which opened in July 2016, has attracted a lot of attention on SNS and in the media, and is crowded with many tourists. It only takes about 1 hour and 30 minutes from Osaka City by car, making it a great place for a drive. With magnificent Lake Biwa stretching out before your eyes, it is truly a spectacular view! You just have to go!
Related article
The Nakazakicho area is popula……

2022.11.01

On February 23, 2019, a theate……

2022.11.01

Awaji Island is about an hour'……

2022.10.24
Introduction of writer

Kururun
This is the mascot character "Kururun"of "we love Osaka ". He likes the local specialty of Osaka "Takoyaki"and "Kui aore taro" Kukurun offer fun and useful information to everyone!
Instagram
#ういらぶ大阪
  Please introduce your "we love Osaka" (Only gourmet of Osaka and spot of Osaka)