Osaka's REDEE is one of Japan's Largest e-Sports Facilities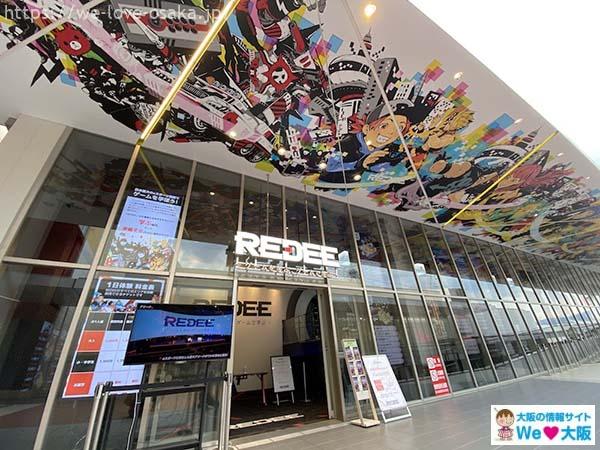 E-sports is gaining momentum around the world, but in Japan, many people are still not familiar with it. So we went to REDEE, one of the largest e-sports facilities in Japan, located in Expo City! I'm akiKEN, an e-sports novice, and kazunzun, who loves e-sports, is planning to come here with his kids! So, let's go check out what REDEE and e-sports are all about!
1. What is REDEE?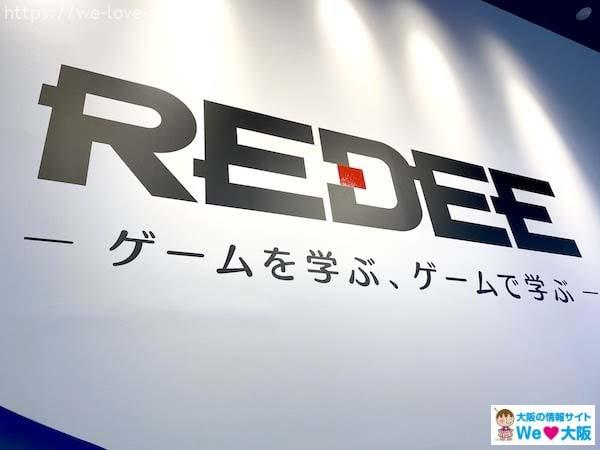 First, let's take a look at what REDEE is and what eSports is all about.
1-1. About REDEE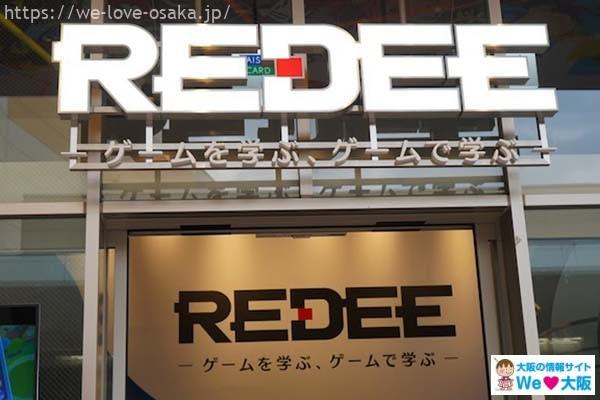 REDEE is a facility where children can develop their knowledge, skills, and communication with others through hands-on gaming. It also offers a wide range of content for e-sports beginners, so anyone can experience e-sports in a casual setting. First, let's take a closer look at REDEE.
Produced by Kazuma Tadaki, e-sports industry analyst
REDEE is a facility produced by Kazuma Tadaki. Mr. Tadaki is the author of "research report on the e-sports industry" and author of "Introduction to e-Sports for 130 Million People," he is also an e-sports industry analyst.
Under the title "Learn games, learn by playing games," REDEE was created to give children experience with games as a profession. It allows children to experience games as a profession, including game-related distribution, editing, and design.
REDEE is also a collaboration between Red Horse Corporation, Dentsu Inc., Well Plaid Corporation, and Next Group Holdings, Inc.
Opening March 1, 2020 in Expo City
REDEE opened on March 1, 2020 in ExpoCity in Suita City, Osaka Prefecture. There are many other facilities in Expo City that parents and children can enjoy together, such as VS PARK and Nifrelle, and REDEE allows re-entry on the same day, so you can enjoy shopping and dining in Expo City while playing at REDEE to your heart's content!
Uniforms are a collaboration with #FR2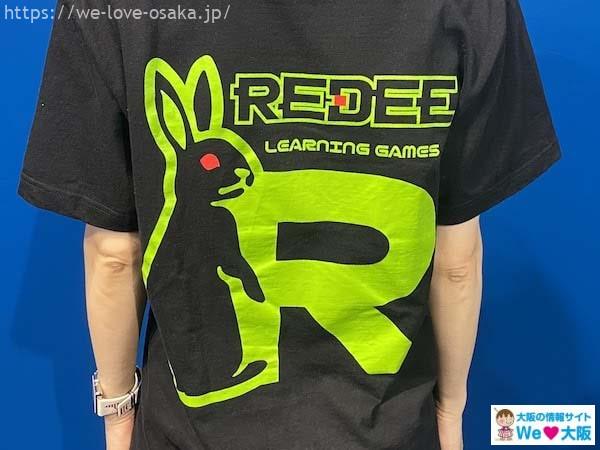 REDEE staff members wear uniforms designed by "#FR2".
#FR2 is a brand that has become a hot topic on SNS and by word of mouth, and has gained support mainly among young people.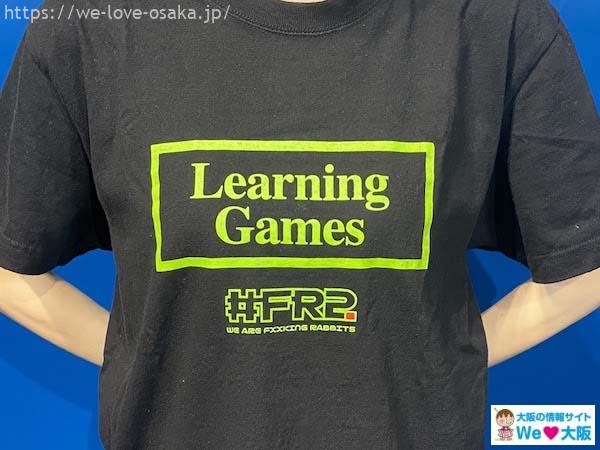 The original icons and neon colors are just so stylish!
If you go to REDEE, be sure to check out the uniforms the staff wears!
1-2. About [e-sports]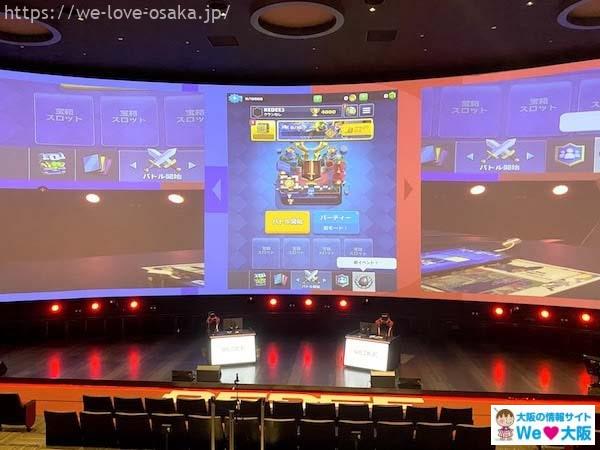 Next, let's take a look at eSports. eSports is an abbreviation for "Electronic Sports," the name used to refer to video game (electronic device) competition as a sporting event. E-sports is popular all over the world, and there are even competitions with prize money of 1 billion yen. In Japan, it is gradually becoming popular, with high school students holding a tournament called "e-sports Koshien" (e-sports Koshien). Let's start with three of the most popular e-sports titles. There are many different competitive disciplines in e-sports, so give it a shot!
Fortnite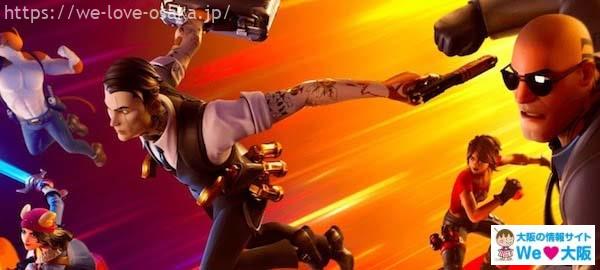 Citing: https://www.epicgames.com/fortnite/ja/home
Fortnite is a battle royale game that is very popular around the world.
This title has been the talk of the town in Japan, with a 16-year-old player in the U.S. taking home 320 million yen in prize money for winning, and ELLY of J SOUL BROTHERS III competing in the tournament.
Fortnite is a battle royale in which players fight to be the last one out of 100 players, jumping into the battlefield unarmed and fighting enemies while acquiring weapons and items.
It can be played on cell phones, computers, and Nintendo Switch, and is recommended for e-sports beginners.
Clash Royale (Clarova)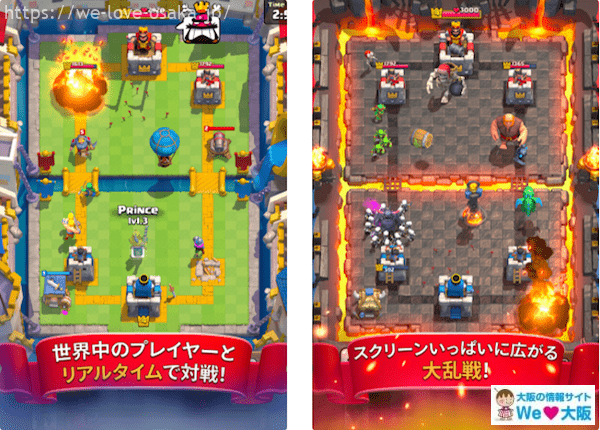 Citing: https://clashroyale.com/ja/blog/news/about-the-game
Clash Royale, also known as Clarova, is a card-playing game.
Using eight cards, players aim to defeat the enemy's three towers, and since a deck of eight cards is made up from about 100 different characters, players must consider their opponent's battle strategies, making the depth of the game a reason for its popularity.
Playable on your phone or tablet, this is another title for eSports newbies!
League of Legends (LoL)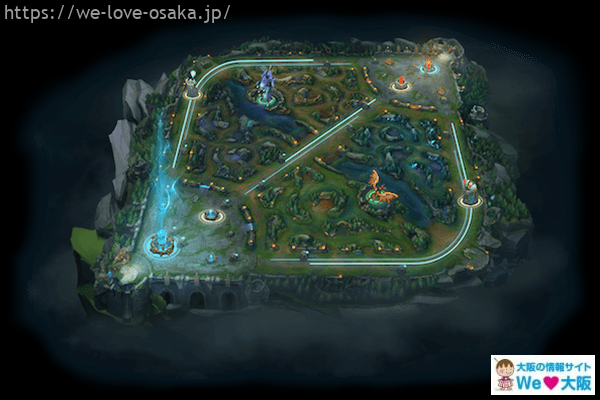 Citation: https://jp.leagueoflegends.com/ja-jp/
League of Legends (commonly known as LoL) is played by more than 100 million people worldwide.
LoL is a "multiplayer online battle arena (MOBA)," a multi-player game in which players can enjoy 5-on-5 battles.
Players choose one of more than 130 unique characters and battle using their characteristics. The game includes elements of character development and RPG fun, and is highly regarded around the world as an e-sports competition.
2. REDEE Facility Tour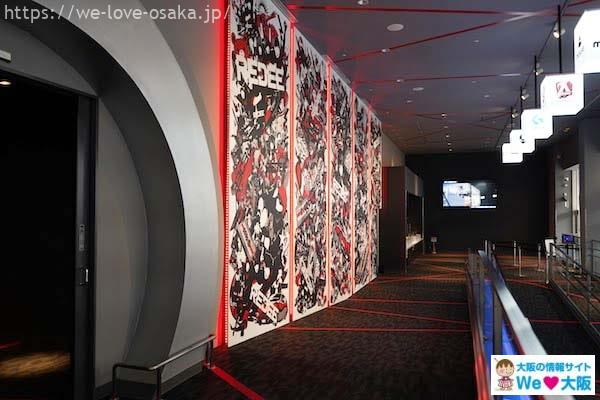 Now let's take a look at the areas within the REDEE facility!
REDEE has two floors (1F and 2F) and is divided into 13 areas.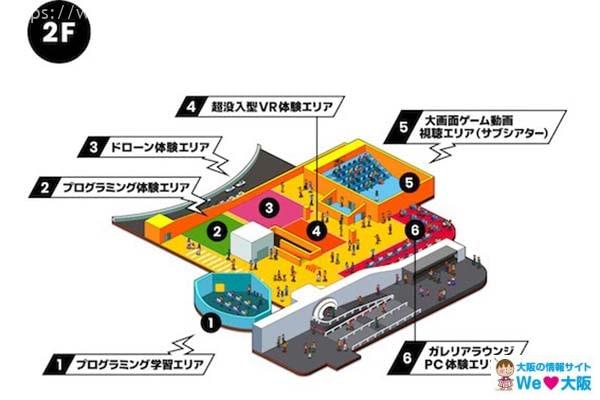 The entrance is on the 2nd floor.
We have experienced all areas of the park and would like to share with you what you can experience and enjoy in each area.
If you're on the fence about going to REDEE, I hope you'll take a look!
Let us introduce them in the order of the numbers on the map.
2-1. Programming learning area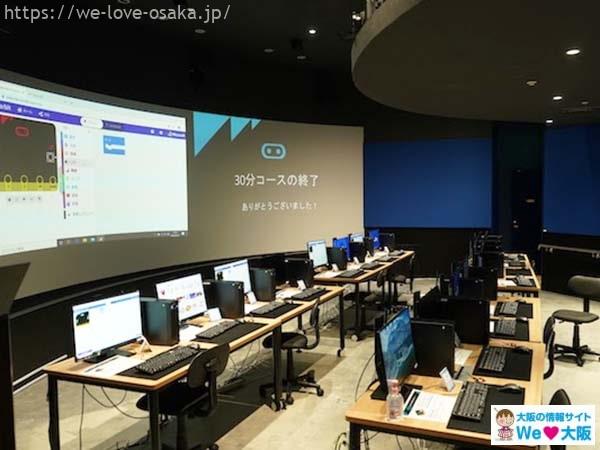 Let's start with the "Programming Learning Area".
In the programming learning area, visitors can enjoy learning the basics of programming in a classroom format.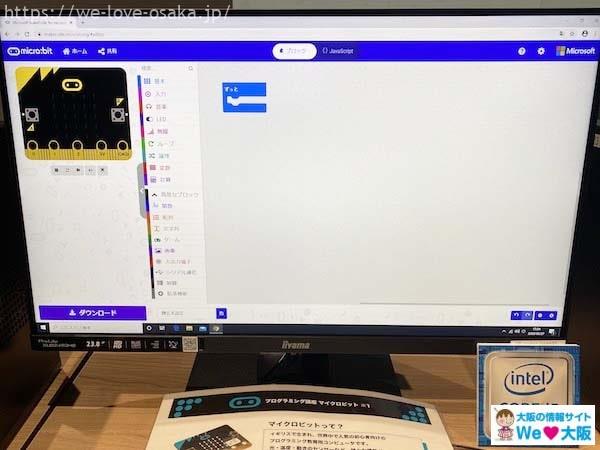 Programming will be a required subject in elementary schools starting in 2020, and this area is a fun way for parents and children to experience what programming is all about. This is a great area for parents who are not very familiar with programming, as well as for children who are learning to program!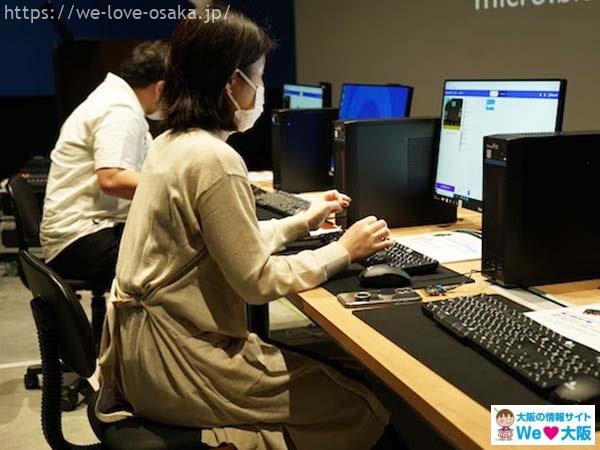 I took a class like this and it wasn't easy! Surprisingly, children have a higher percentage of correct answers. But it was a great experience for me because even though I am a beginner in programming, it was a great experience for me! The 30-minute class went by in the blink of an eye.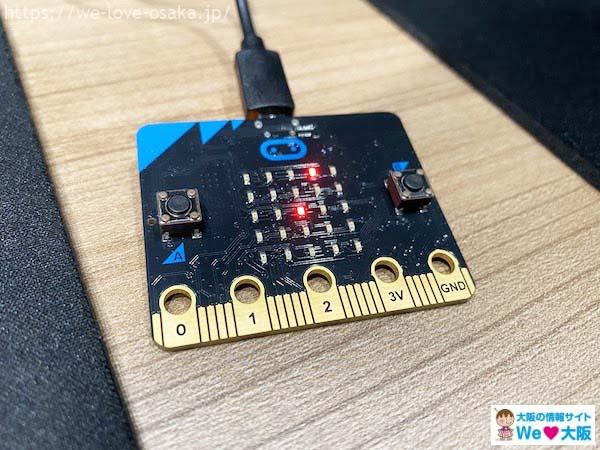 By the way, the programming software you learn here is free, so try it at home! This chip is available on Amazon for about $2,000!
2-2. Programming Experience Area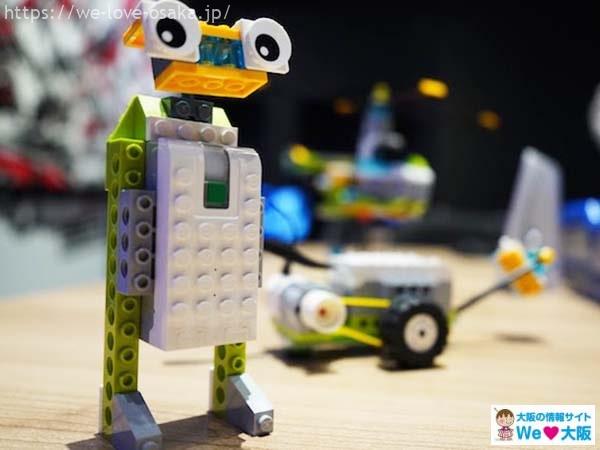 Next is the "Programming Experience Area". In the programming experience area, visitors can assemble LEGO bricks and program them to make sounds, light up, move windmills,  and much more!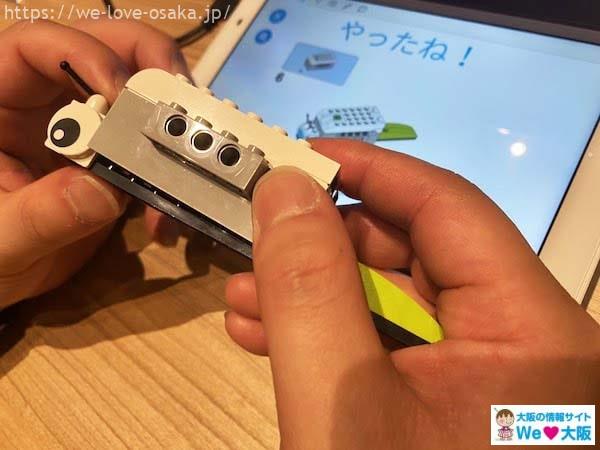 It's so easy, just assemble the Lego bricks in order! This is what it looks like when you add light and sound to the assembled LEGO bricks.
It's so easy to experience programming that even younger elementary school children can enjoy it!
It's a great first step to getting in touch with programming, and getting to know programming!
2-3. Drone experience area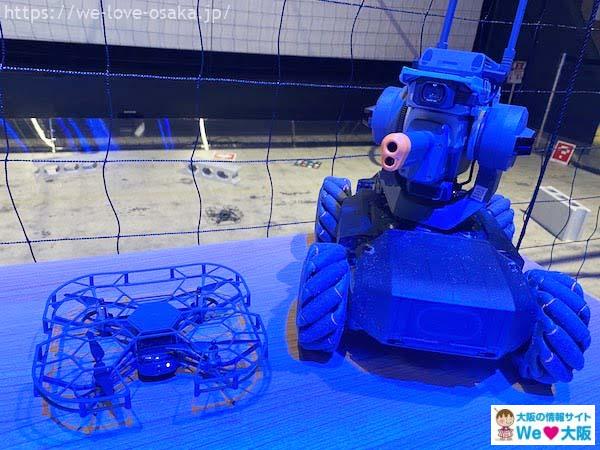 The "Drone Experience Area" allows visitors to actually fly land-based and flying drones. You may have heard about drones a lot recently, but there are few opportunities to actually try one. I had the chance to fly a drone for the first time!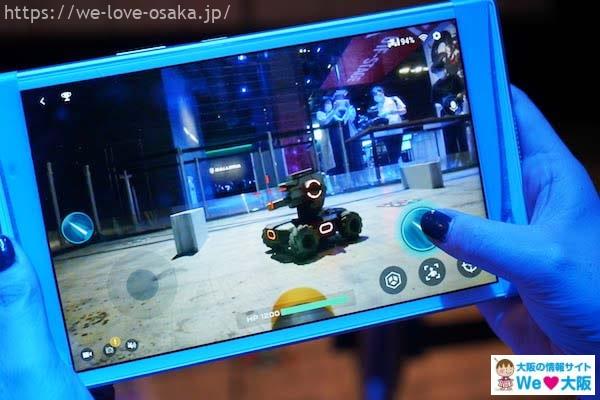 Let's start with land drones. I could fire missiles from the drone's perspective and hide in the shadows, so it felt insanely realistic!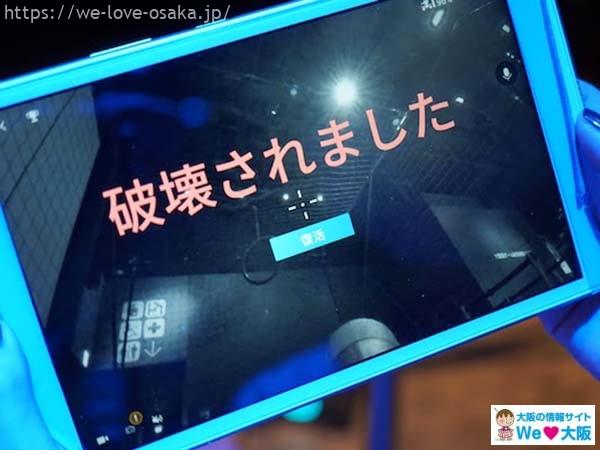 I'm new to drones, so the enemy got me right away…
By the way, when akiKEN, who loves games, controls it, you can have a very interesting battle like this!
Next, experience a flying drone.
I see drones flying around on TV all the time, but again, they're insanely difficult to control!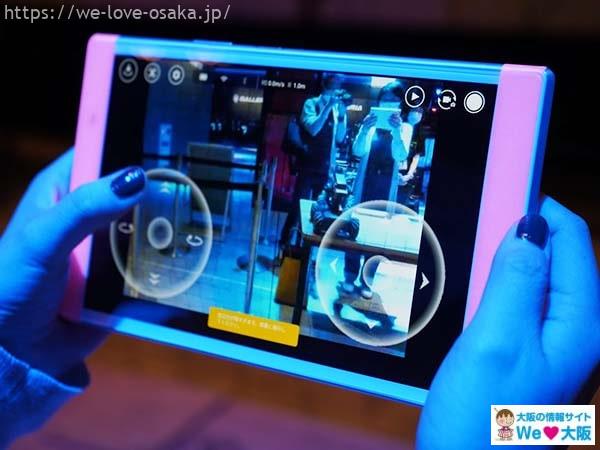 The left hand controls the up/down and left/right and the right hand controls the drone's direction.It was difficult, but interesting. By the way, here is a video of akiKEN piloting.
It didn't go through the hoop, but the miracle of getting caught in the hoop! I bet the kids will have a heck of a time!
2-4. Ultra-immersive VR experience area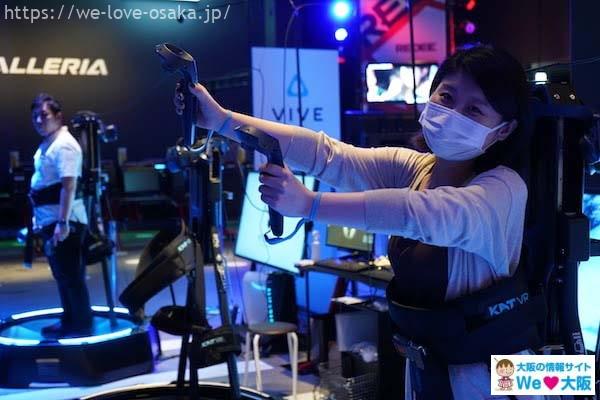 Personally, my crazy favorite is the "Super Immersive VR Experience Area"! The walking VR device "KATWALK" in this area blurs the boundaries between games and real life. The system detects "foot stomping" and "shuffling," giving the player the sensation of really walking in the game. Only REDEE has a permanent installation in Japan!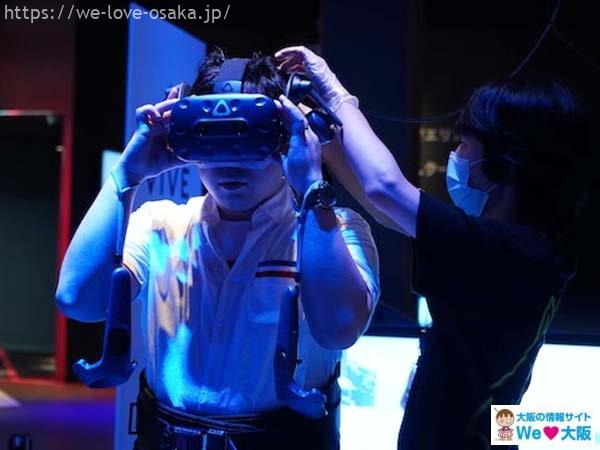 Get your goggles on and let's go!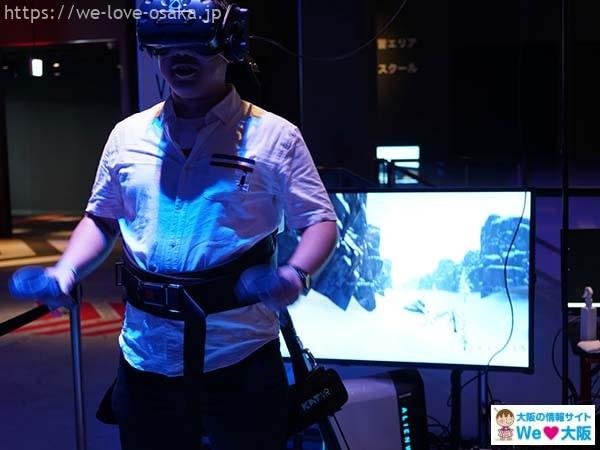 The ski game is what you can experience with this KATWALK. Using a controller that looks like a ski stick, you can experience skiing as if you were actually skiing! The view on the screen behind me appears to stretch out all around me. It was so realistic and exciting!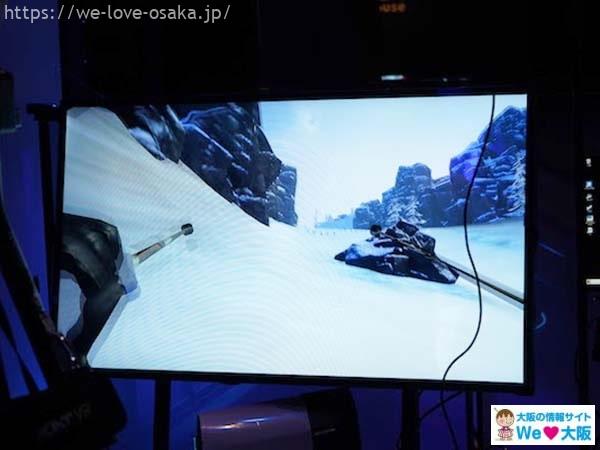 I couldn't help but yell at the deer running alongside and the big rocks! A must experience area if you ever come to REDEE!
2-5. Large-screen game video viewing area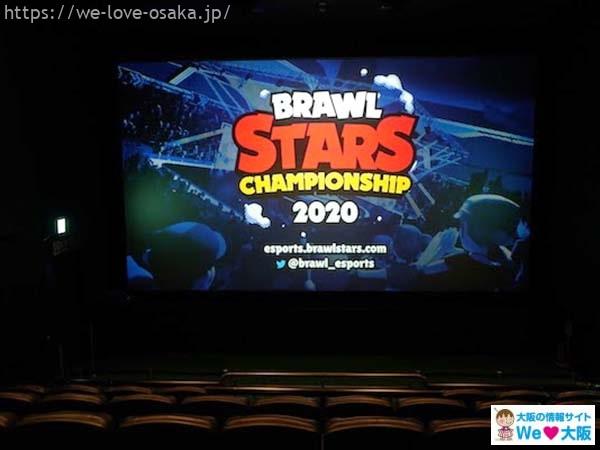 When you arrive at REDEE, the first place you should come is the "Large Screen Game Video Viewing Area". This area is a small cinema-like space where live e-sports videos are shown.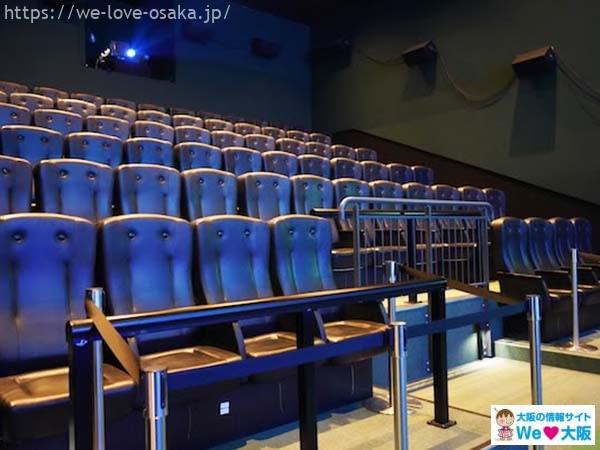 If you are wondering "What is eSports?", this is the place for you. You'll enjoy REDEE a lot more if you know a thing or two about eSports first!
2-6. Galleria Lounge PC Experience Area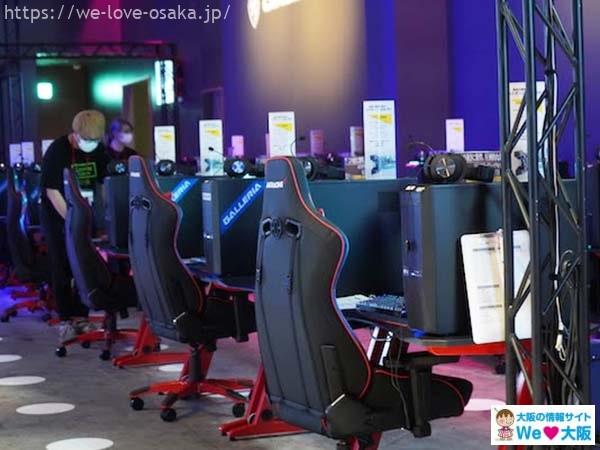 The Galleria Lounge PC Experience Area is located just outside the entrance. In this area, you can actually experience eSports!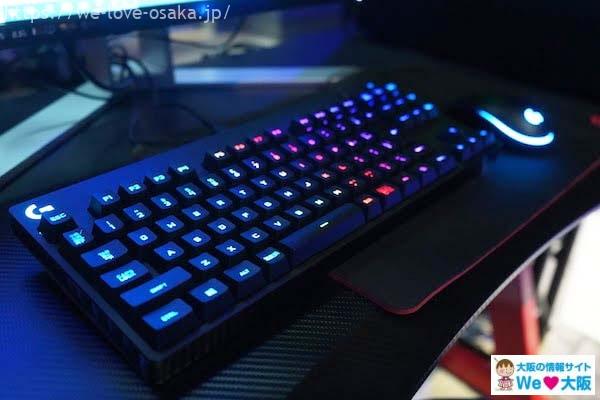 The computer and peripherals are all in black, keyboards glow in rainbow colors, and best of all, a comfortable chair! I was thrilled to feel like a real professional e-sports player!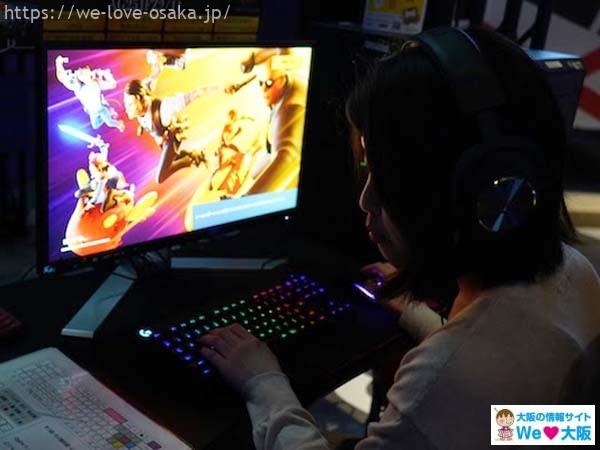 As an e-sports novice, I tried Fortnite, which is rumored to be all the rage. You also wear headphones, so you really feel like you're in the game! This was my first time playing a game on the computer, but I think I'm going to get hooked… Even an e-sports novice had a blast! The staff will gently teach you how to do it and operate it.
2-7. Sponsorship area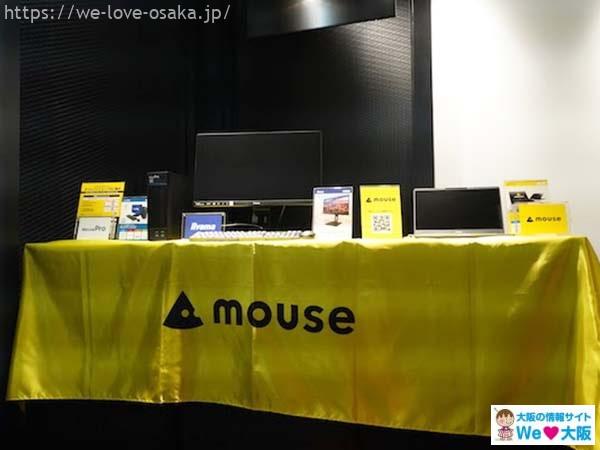 In this "Sponsors Area" you will find an array of products from companies that support REDEE. I've learned a lot about the e-sports industry and the world I didn't know before!
2-8. Professional Gamer Experience (Arena)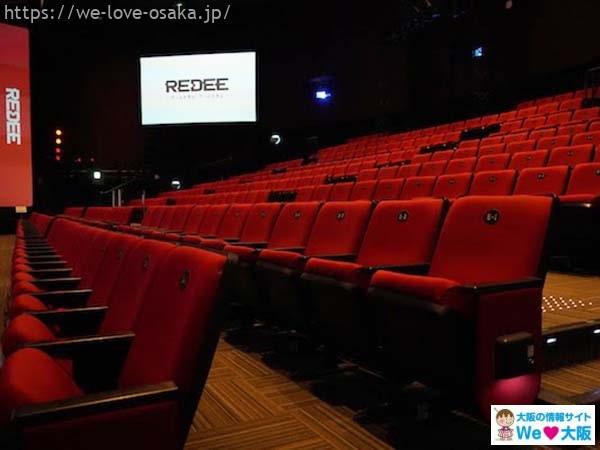 If you come to REDEE, you must visit the Pro Gamer Experience (Arena)! You can experience being a professional gamer in one of the largest e-sports arenas in Japan. You'll feel like you're really in the finals of an eSports tournament, with authentic play-by-play commentary!
The view from the contestants looks like this.  This area will become an important center for the e-sports industry in Japan, where actual e-sports tournaments can be held and public viewing can take place. By the way, akiKEN and kazunzun had a pro-gamer experience this time, and here's how it went!
This is so much fun to do with a group of friends, so please experience it! And of course, just looking around the halls can be fun!
2-9. Live Experience Area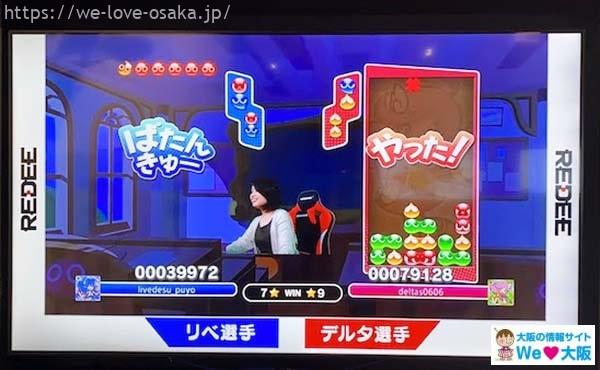 An integral part of eSports is live gaming. In the "Play-by-play Experience Area," visitors can choose a game of their choice and experience a play-by-play of the game.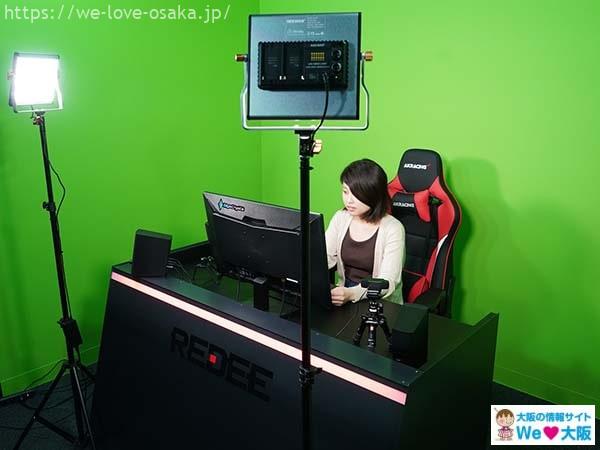 Try your hand at live action in a dedicated studio like this! It was so difficult that it broke my heart as an e-sports beginner (laughs).
For those who usually watch live games or are interested in working in live games, I think it will be a great experience, so please give it a try!
2-10. YouTuber Experience Area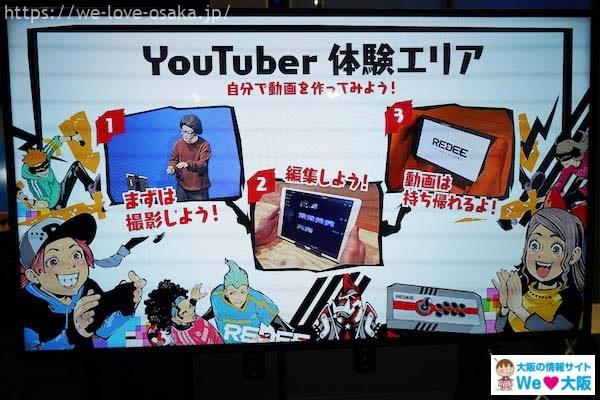 YouTubers are now the number one job elementary school boys want to be. So the "YouTuber Experience Area" is a place where children who want to become YouTubers and parents who do not know what YouTubers do can have fun together.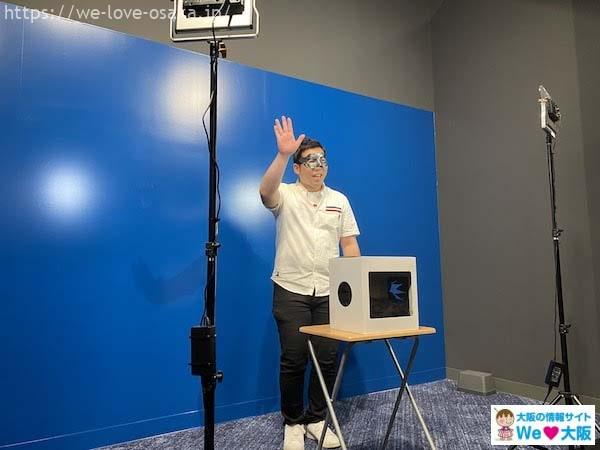 First, take a video in a dedicated spot. We've got all the props you need to make any video you want!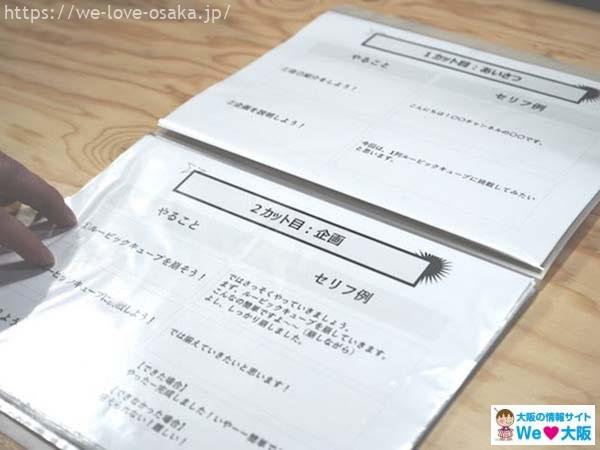 By the way, we have a plan for the video.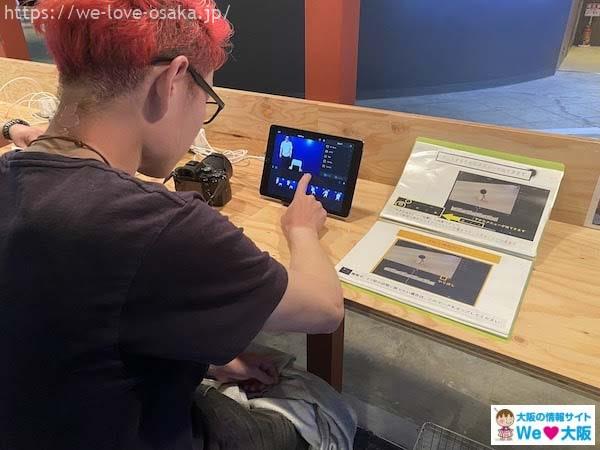 Once the video is shot, we will edit the video. This time akiKEN, who looks like a youtuber but isn't, edited the video for us! Now, let's take a look at our three YouTube videos!
2-11. Product sales area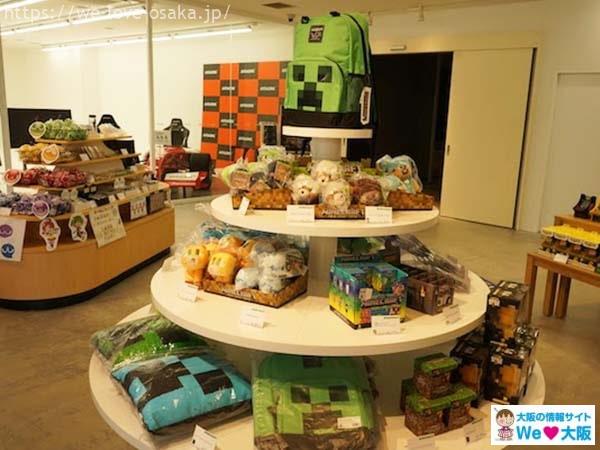 Once you've enjoyed the REDEE experience area, be sure to check out the souvenirs! The "merchandising area" offers a wide variety of items, including computer equipment used for e-sports and goods featuring popular video game characters.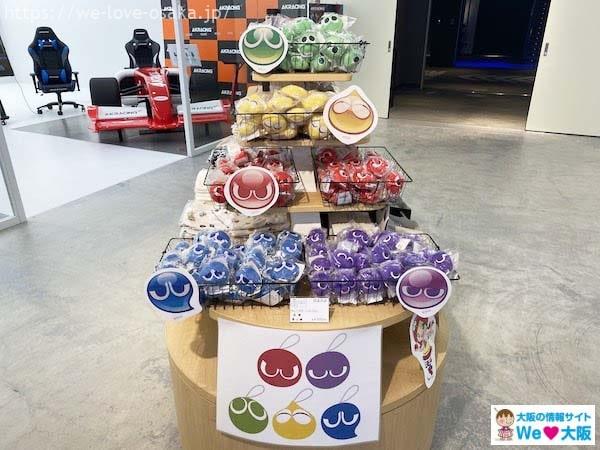 There were a lot of goods that we all know and love, miniature versions of old games, and other goods that you just can't resist!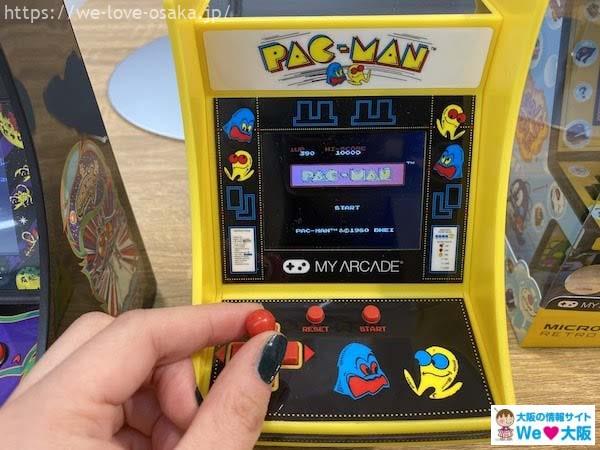 Definitely fun for adults and kids alike!
2-12. REDEE Cafe (Rest and recharge area)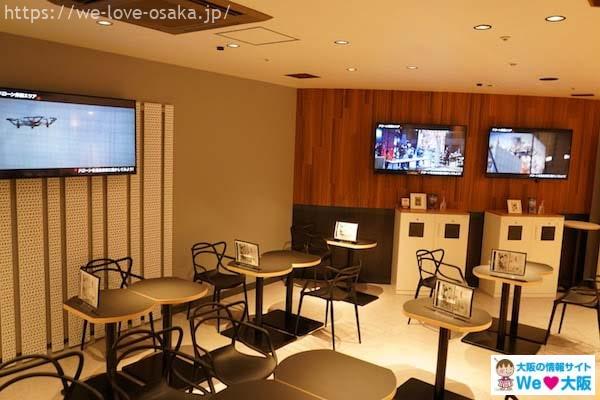 Circling REDEE is surprisingly tiring after so much play! In such a case, you may want to use the "Rest and Charge Area"! It also has a café, so you can enjoy lunch and desserts. It's a space where visitors can mingle, so when you come to watch an e-sports tournament, you can mingle with all kinds of people! And the ability to charge your phone is a nice touch!
2-13. FLOR (Gelato store)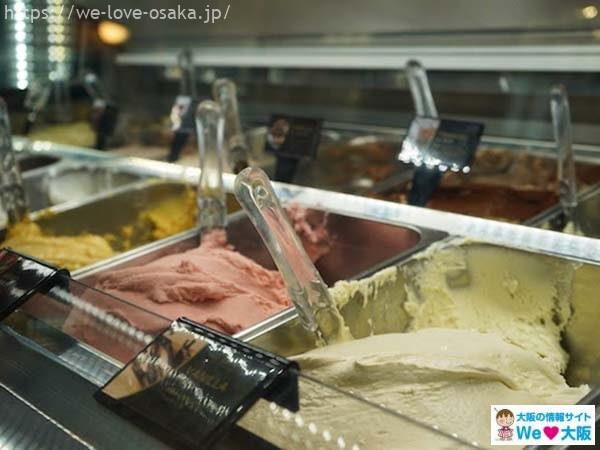 Last but not least is the gelato store FLOR. This is the first gelato store in Japan where you can enjoy gelato that is handmade in the kitchen every day according to the authentic Italian recipe! No synthetic colors, and only natural ingredients are used!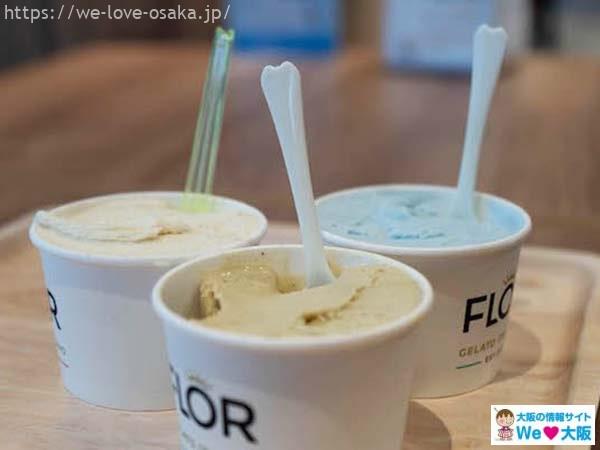 Three flavors are especially popular: pistachio, vanilla and yogurt. It's just so rich and full of exquisite flavors that you can only find here, so it's a must-try when you come to REDEE! And of course, you can order from their lunch menu, coffee, etc.!
3. [REDEE] Basic information and fees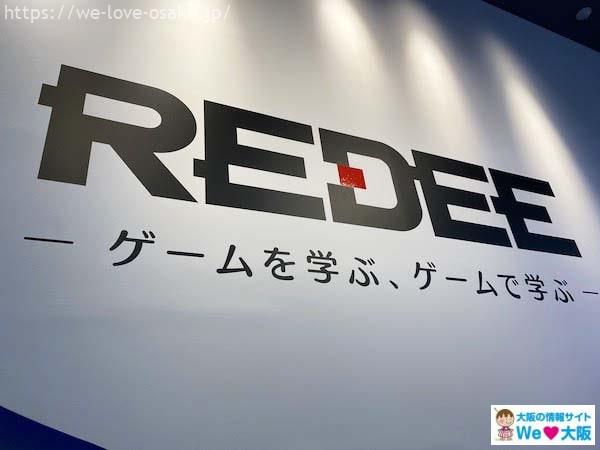 3-1. Address, telephone number and business hours
Name of facility:
REDEE (REDEE WORLD)
Address:
EXPOCITY, 2-1 Senri Banpaku Koen, Suita, Osaka, Japan
⇒
View Map
TEL:
06-6155-7299
Opening hours:
Weekdays: 11:00-21:00
Sat., Sun. and holidays: 10:00-21:00
Open all year round (except when EXPOCITY is closed as a whole)
3-2. Fees
| | | | |
| --- | --- | --- | --- |
| | Normal | Person with disabilities | Groups (20 or more people) |
| Adults (high school students and older) | 2,000 yen | 1,800 yen | 1,800 yen |
| Elementary and Junior High School Students | 1,500 yen | 1,350 yen | 1,350 yen |
| Preschooler | Free | Free | Free |
Re-entry is possible on the same day. If you wish to re-enter, please ask a staff member before leaving the exit gate.
*Ticket prices, sales hours and operating hours are subject to change without notice.
At REDEE, you can experience all areas of the museum with just the admission fee!
4. [REDEE] Directions
Finally, here are some instructions on how to get to REDEE.
4-1. Trains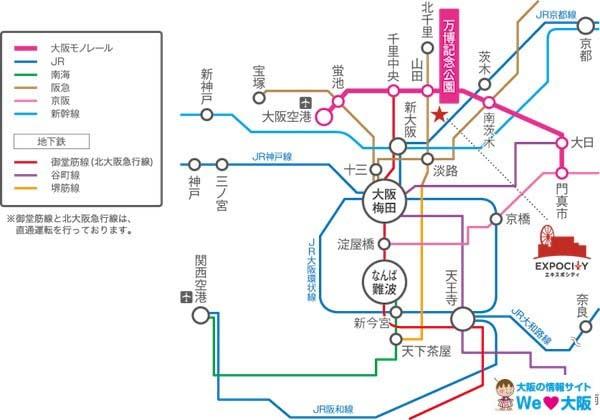 If you are coming to REDEE by train, the nearest station is the Osaka Monorail Expo Park Station. It is about a 2-minute walk from the station.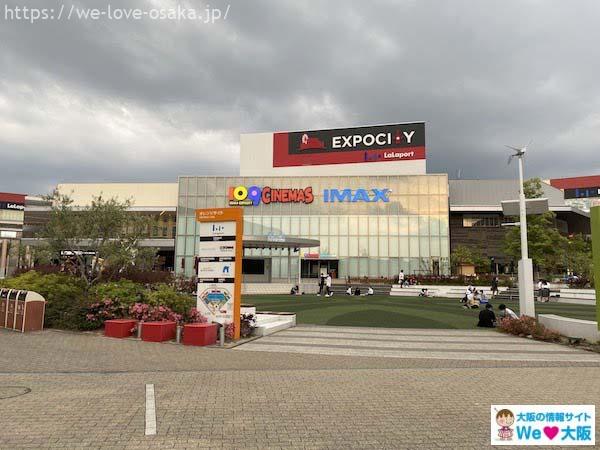 Walk towards EXPOCITY from the station and you will see 109CINEMAS in front of you. There are paths to the left and right, so please proceed to the right. When you climb the stairs, you will see the entrance to REDEE on your right.
4-2. Car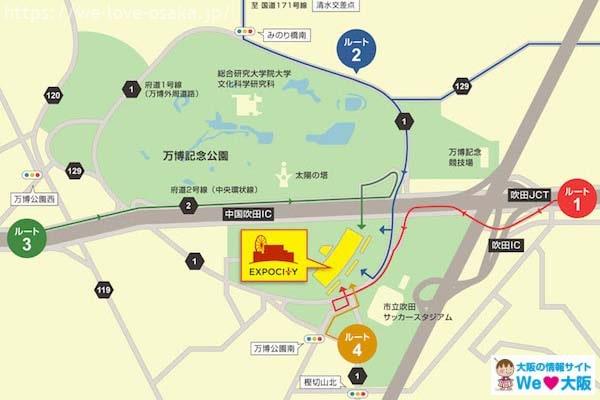 If you are coming by car, there are four main routes. Please check the official EXPOCITY website for detailed directions to each.
General Roads and Expressways How to get to EXPOCITY from.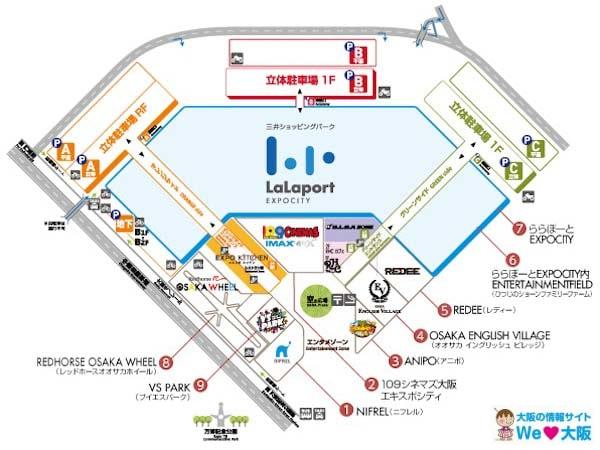 There are three parking lots, but Parking Lot C is the most convenient if you are going to REDEE.
4-3. Buses
REDEE can be reached by bus from Hankyu Umeda. The one-way trip costs 650 yen for adults and 330 yen for children, and takes about 40 minutes, making it convenient for families. Please check the official EXPOCITY website for the timetable.
Hankyu Osaka Umeda Station to Expo Commemorative Park Station Bus Schedule.
In addition, a free shuttle bus is available on weekdays only from Senrioka Station, Kitasenri Station, and Minami-Senri Station. Please also use this free bus if you are in the neighborhood.
Free weekdays only Shuttle Bus Timetable.
5. Summary
What did you think of REDEE, one of the largest e-sports facilities in Japan? REDEE is a facility for everyone, from children to adults.
For someone new to eSports, it's a great experience! In the future, e-sports will become more and more popular. That's why we invite all adults who have never heard of e-sports, and all children of the generation that will carry e-sports, to come and play at REDEE! A unique experience awaits you that you won't find anywhere else in the world!
Click here for lots of other information about the Expo City area.
Related article
Namba area, the center of Osak……

2023.03.17

When one thinks of sightseeing……

2023.02.14

This article is the third part……

2023.02.14
Introduction of writer

Kururun
This is the mascot character "Kururun"of "we love Osaka ". He likes the local specialty of Osaka "Takoyaki"and "Kui aore taro" Kukurun offer fun and useful information to everyone!
Instagram
#ういらぶ大阪
  Please introduce your "we love Osaka" (Only gourmet of Osaka and spot of Osaka)