Edge the Harukas – Panoramic View from Abeno Harukas 60th Floor Observation Deck
Edge the Harukas – Panoramic View from Abeno Harukas 60th Floor Observation Deck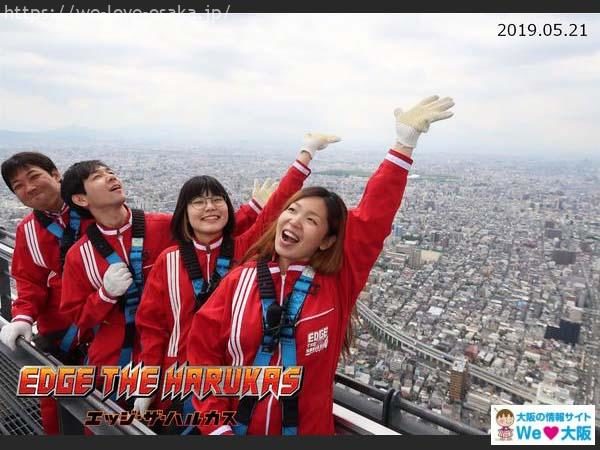 Let's check out a thrilling attraction, Edge the Harukas at the top of Osaka's tallest building, Abeno Harukas!
1. On the observation deck 300 meters above ground!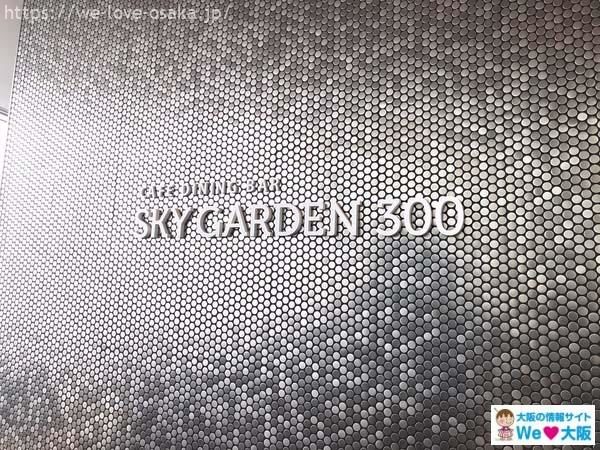 On arrival at Abeno Harukas, first head for the elevator hall on the 16th floor!
In fact, the Edge the Harukas attraction is located in Harukas 300, the Abeno Harukas observation deck.
So, we will climb up to this HARUKAS 300 observation deck first!
Honestly, am I the only one who feels that just going up to the 16th floor is expensive?
*For more information about Harukas 300, click here
[Abeno Harukas Observation Deck] A spectacular spot for sightseeing in Osaka! Harukas 300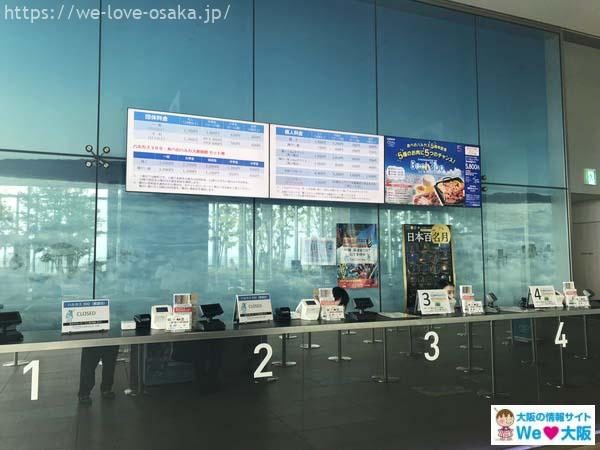 Ahead on the 16th floor is the Abeno Harukas Museum of Art, but that's not what we're here for today, so let's pass by it with a sideways glance and head to the ticket counter right next to the elevator hall leading to the observation deck!
So buy tickets to the observatory!
With this ticket, we'll first head for the observation deck!
You can get tickets for Edge the Harukas at the dedicated reception desk on the 60th floor observation deck.
Here, suppress your impatience and put on a calm face, saying, "I'm just here for the building observation deck."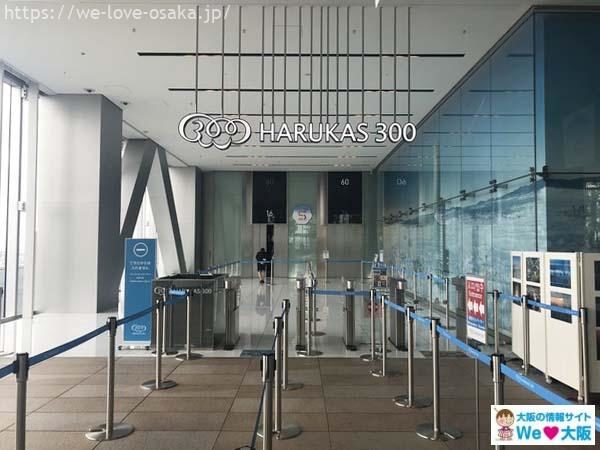 After purchasing your ticket, let's take the elevator up from the 16th floor to the 60th floor!
A staff member will greet you in front of the elevator.
Do you see him bowing in this picture?
This person. He bowed until the door was fully closed.
That's what I'd expect from a professional.
I am really impressed by the attention to detail in this area in Japan.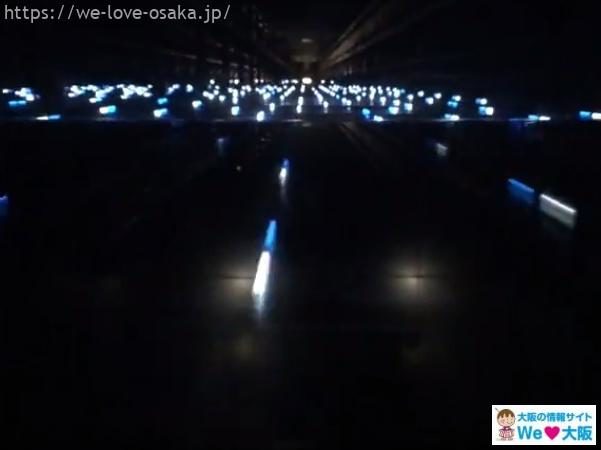 By the way, this elevator is also awesome!
Not only does it soar, but the LED illumination makes you feel like you're traveling through space among the stars!
While I was intoxicated by such a mood, I found myself on the 60th floor.
And finally! The observatory, 300 meters above ground!
2. How is the view from the observation deck?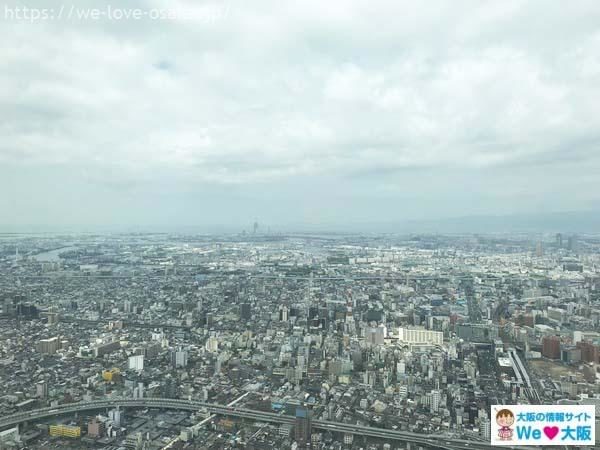 Unfortunately, it was overcast, but the view was so spectacular, that it still blew me away!
You can see all of Osaka, not just Abeno!
This is really amazing that it is a building and not a tower.
For the old-timers, what the heck! I guess they can't even say "What the hell!
With this in mind, I was going around the observatory when I looked inward and saw…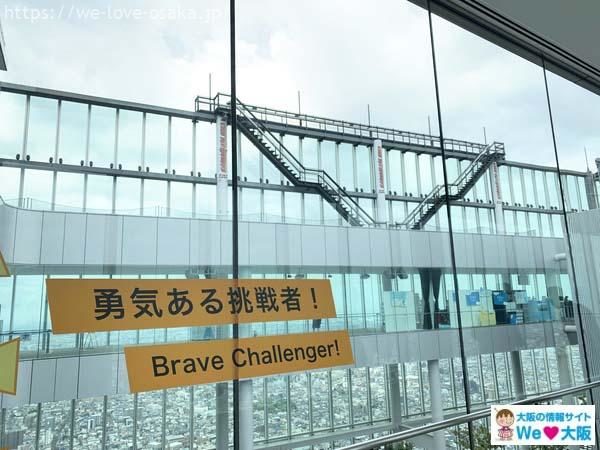 You can see the private deck of Edge the Harukas
And even higher up on the observation deck where you are now!
Abeno Harukas top…who came up with such a stupid idea to build it at the top end of a skyscraper?
3. First check in at reception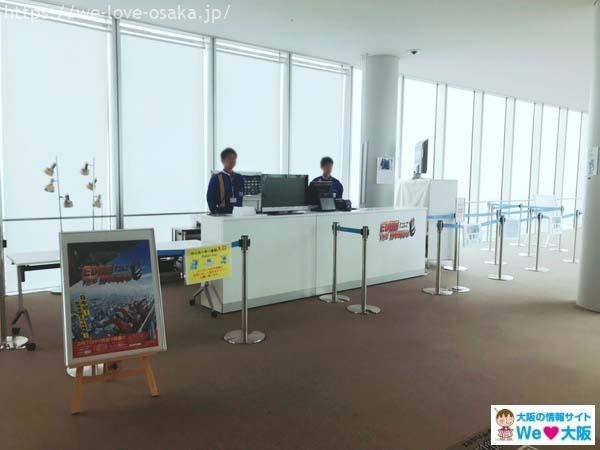 In the meantime, we arrived at the Edge the Harukas reception.
Unlike the luxurious reception desk at the observatory, the simple reception desk is conversely exciting.
By the way, the recommended time is right after it opens!
Since there are few people, you can enjoy the observatory at your leisure before trying it.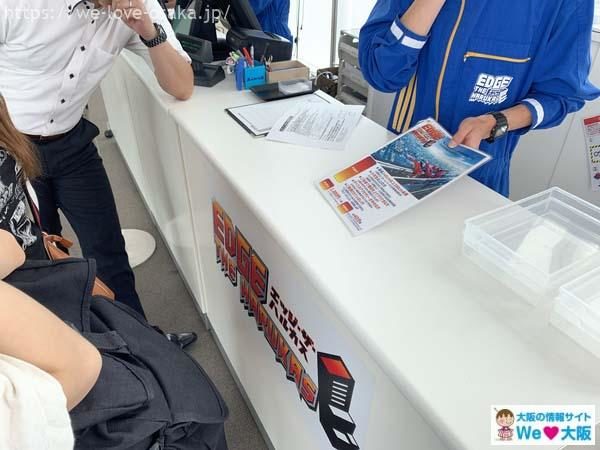 Now it's time to get excited and let's go!
I'd like to go on and on, but…
Careful precautions are explained at the reception:
It takes at least 10-15 minutes from the start of reception to the attraction experience, so it is best not to start the engine yet.
If you build up too much tension ahead of time, it will fade away in these 10 minutes.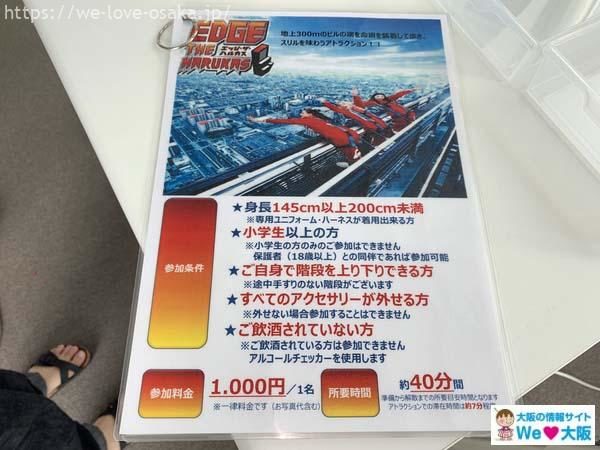 *Click on the photo to enlarge.
By the way, there are requirements to participate! Anyone thinking of taking the challenge better check that out beforehand!
Especially watch out for height restrictions, age restrictions, body type restrictions, and alcohol consumption status!
They will be checked quite properly.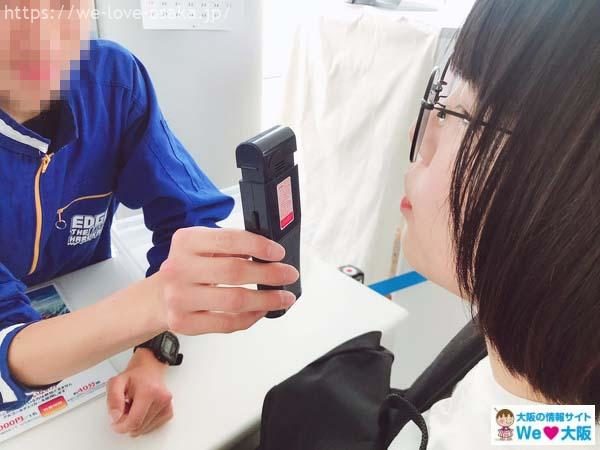 The drinking status is also checked using a checker like this.
I'm nervous for some reason, even though I haven't been drinking.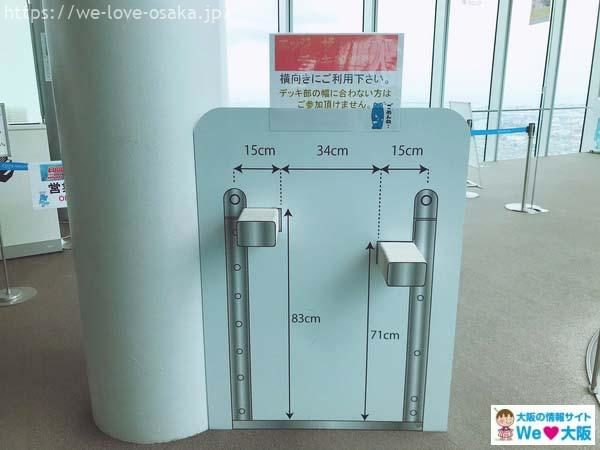 There is also a body size limit check panel, which will be checked for safety as well.
That's how dangerous it is.
I'm getting a little freaked out.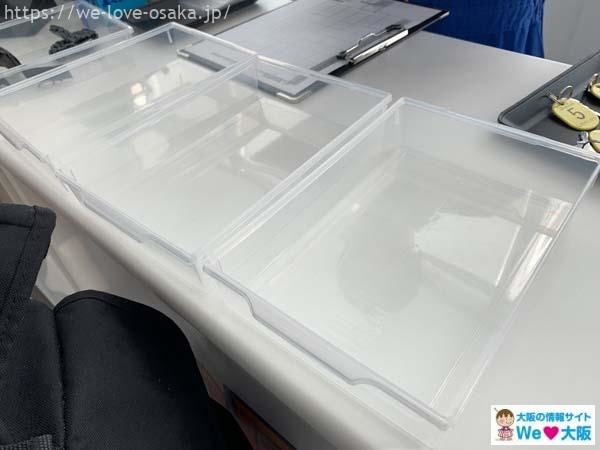 To prevent falling objects, you will be asked to remove all accessories and place them in a clear box and put them in a locker. Do as the staff tells you to do here and complete the mission.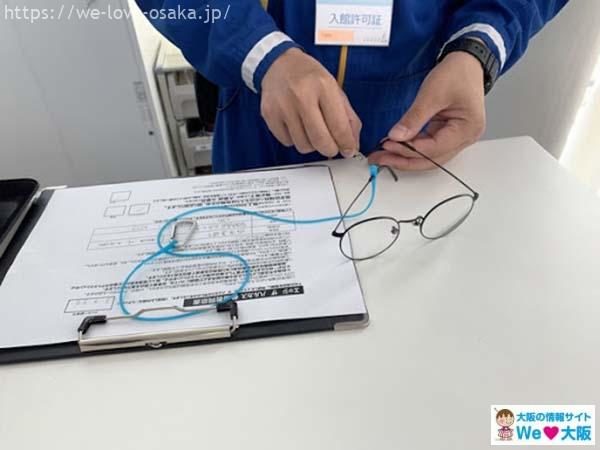 By the way, don't worry, you can participate with your glasses on as long as you get a string attached to keep them from falling off your body like in the picture!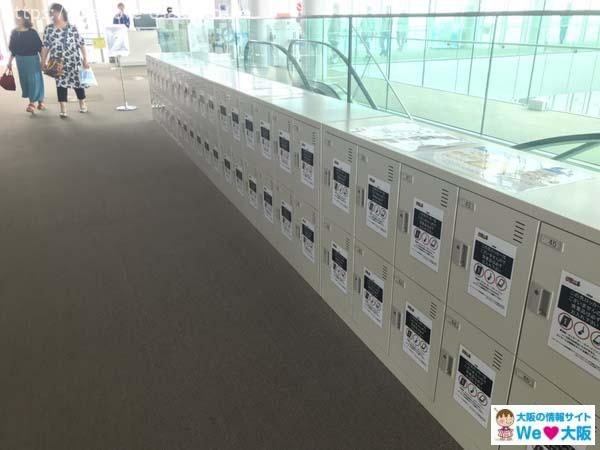 Lockers are located next to the escalator in front of the reception desk.
Each person will receive one key, so you can put your things in your own locker, but be careful!
Better keep your phone with you, not in a locker!
Because after this, you can shoot up to the point where you get to pick out your exclusive uniform!
It would be an explosion of sadness if I had to put it in a locker and not be able to take pictures….
4. What should you wear to Edge the Harukas?
Once you have put your accessories and luggage in your locker, it is time to get ready for the attraction in earnest.
I start to get a little nervous at this point.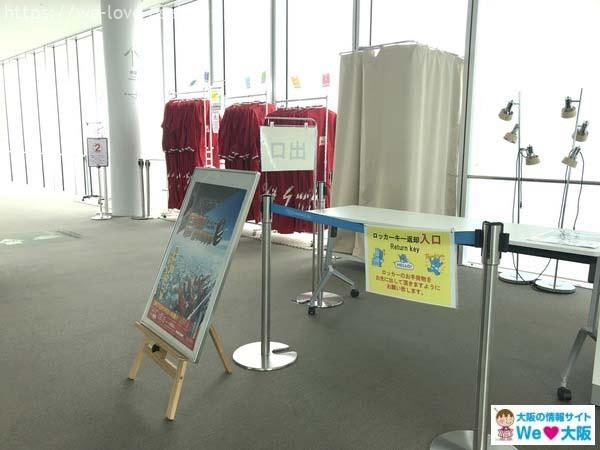 First, choose your uniform.
Again, take note!
For the Edge the Harukas-specific uniforms, be sure to choose two to three sizes larger than you normally wear!
Since it is worn over clothes, it has to be very large to fit.
I am originally a size S, but I actually chose size XL.
Plus, you can't change the size later, which leaves me worried, but be sure to pick a bigger and bigger size!
Well…from here, I can't take pictures due to security issues.
But don't worry, the staff will take pictures with a digital camera during the attraction and share the data with you later.
Once you have chosen your uniform, take the fire escape two floors up and out…
There is a shelf and the phone will be placed there.
Then change into your uniform.
Uniforms are worn over current clothes, so women can change without hesitation.
but since the uniforms are pants-type, it is safer to avoid skirts.
Even if you're on a date and you want to dress the part, if you're going to try Edge the Harukas, I suggest you go with a style that's easy on your uniform on top!
By the way, if you come in slippers, sandals, high heels, or other shoes that are easy to slip off or difficult to walk in, you can also rent shoes here!
The next step is to install the harness.
It is sturdy as if it were bungee jumping.
Safety belts are also double-locked with ties to prevent them from coming off in case they do, and we're ready to go!
But!
When the harness is attached, the heart beats instantly…
I'm not a fan of heights.
'Are you sure this kind of safety gear is all you need?'
'I wonder if this safety gear is a little loose.
"Double locks with ties?"
I was already in a whirlpool of nervousness. I was already caught in a whirlpool of tension….
I was so unaware of my feelings that everyone else had finished getting ready…
They will move to the attractions in single file.
This time we were in a group of 7 people.
This attraction is experienced by walking through a narrow corridor, perhaps for safety reasons in case it is difficult to hear the voice of the lead staff? A staff member accompanied us at the very end of the line as well.
Now, on to the attractions!
First, on the up stairs, a roller connected by a sturdy-looking strap that could be called a safety harness and a lifeline, is set to the side of the stairs!
The stairs are reticulated, but you can't see all the way to the ground, and it doesn't feel high yet, so we're in the clear here! However, it is a walk in the air…
I thought the view would be spectacular up there, but the attraction requires everyone to turn around at the same time, so the spectacular view is put on hold for now and we proceed backward.
Then, when we're all here, we turn around at the same time as the call!
What you see there is a spectacular view, no glass, nothing, 300 meters above the ground!
From the observation deck, it is difficult to see clearly through the glass, the window frame, or the many people when you turn your head to the side…
Not here!
The only place with a clear 360° view!
Same view, totally different!
And not only is it high, but it's outside, so the winds are crazy!
And since it's the edge of a building, this is no longer a precipice.
A true cliffside attraction!
I feel like I'm floating on my feet.
The view from the highest point of this building is thrilling!
This is definitely a challenge for locals, not just tourists!
After enjoying the scenery, there is a rather interesting plan for everyone to shout together.
Of course I screamed from a high place, so of course I didn't hesitate.
I was happy enough with that.
This seems to be the main project of this attraction…
One word from the staff…
'Now let's lean out from the aisle with our hands in a banzai!
Well…we are 300 meters above the ground, right?
Of course I've got my safety gear on, but I'm just not sure where to hold it…
It's been a long time since I've sat back.
I managed to hang on with a hunched back and…
I looked down.
It's still expensive!
Heights you don't usually experience!
Buildings we normally only see from below, but now we can see them from above!
My interest in the unusual scenery overcame my fear, and I watched it for a bit….
I am glad I tried.
Then again, the staff had a few words to say…
Then I think I'm getting used to it, so let's lean forward, facing the other way, upward!"
No, I'm not used to it!
Sorry, I couldn't do this…
Everyone was enjoying themselves and leaning forward except me, so all I could say was that it was awesome to see that.
Soon after, we moved on to the photo shoot.
We moved a little further ahead and took a commemorative photo together.
There are enough shots for the number of people in the group, so it seems that you can choose whether to take pictures as a group or individually, but this time, since we were going to the trouble, we took pictures of all the members of the experience.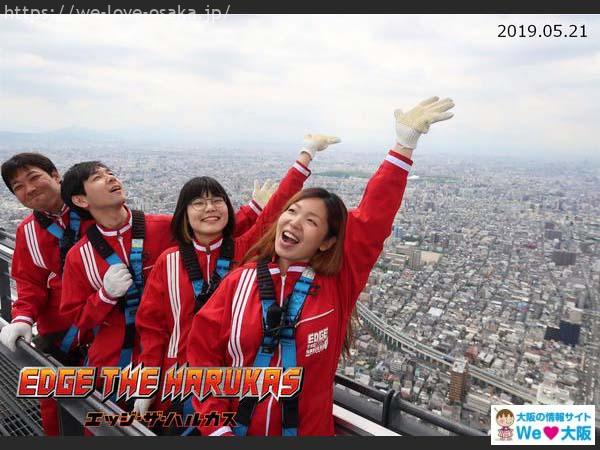 Here's a picture taken by the staff!
And it has a logo.
After the photos are taken, the experience ends with a descent down the stairs.
Return to the space where you changed clothes in order from the person who got off, and go to the reception desk once you have changed.
As a result, I was scared, of course, but when I finished, I thought, "It feels so good! I was so happy."
In the case of a daytime experience like this one, he said, the visual overview is larger, allowing the viewer to experience more of the height.
On the other hand, during nighttime business hours, they say it is very romantic because of the night view of the city all around.
Next time I'm in the evening, I'm gonna try the attractions experience!!!
I mean, I will try soon.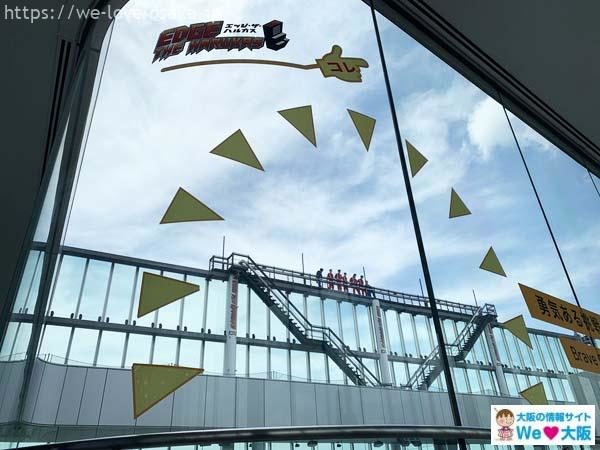 By the way, at the observation deck
Through the glass, perimeter glass–you can take a souvenir photo!
You can take pictures of the walk on the topmost deck, so if you go with 4 or more people, you can split up with your friends and take a picture of each other to commemorate reaching the topmost deck.
I urge you all to give it a shot!
5. Edge the Harukas Basic Information
① 10:00-12:00 (last admission 11:20)
② 13:00-17:00 (Last admission at 16:20)
③ 18:00-21:00 (last admission at 20:20)
*Closing date may be earlier due to weather, congestion, etc.
*Registration will be closed as soon as the number of applicants reaches the limit.
*Since the business may be suspended depending on the schedule
Please check our business schedule below.
Edge the Harukas Schedule
Observation deck admission fee + ¥1,000
(flat fee regardless of age)
◆ Observation deck admission fee
Adults 1,500 yen
Junior high and high school students 1,200 yen
Elementary school students 700 yen
Infants 500 yen (4 years old and up)
*Disabled, general group, and school group rates are available
① Age limit
Children under elementary school age must be accompanied by a parent or guardian.
(1 person over 18 years old per person)
② Height limit
Not available for persons under 145 cm in height and over 200 cm in height
③ Other restrictions
Not available for those who meet the following conditions
・High blood pressure, heart disease, pregnancy
・Those who need assistance getting in and out of the stairway.
・Those who cannot wear uniforms or safety belts
・Those who are not able to fill out the pledge form
・ Alcoholic beverages
・If the staff determines that you cannot safely participate in the event
The tour will be cancelled in case of rain, snow or stormy weather.
Advance reservations are not available, as it may be closed due to weather conditions.
It will be canceled in rainy weather, snowfall, or stormy weather.
Also, be sure to check the business calendar in advance, as it may be suspended due to cleaning the exterior glass.
Time required and crowded
The waiting time in the standby space is about 20 minutes, and the experience time is about 7 minutes. If it is busy, you will need to wait for a while.
From the Tennoji Station on the JR Line, Tennoji Subway Station, and Tennoji Station in front of the Hankai Denki Uemachi Line,
Abeno Harukas has a Kintetsu Main Store and the Osaka Marriott Miyako Hotel.
It is a perfect base for sightseeing in Tennoji!
Attraction Name:
Edge the Harukas
Application Counter:
Abeno Harukas 60th Floor Application Counter
Contact TEL:
Harukas 300 Information
06-6621-0300 (10:00-17:00)
Harukas 300 Group Reservation Center
06-6621-0319 (10:00-17:00)
▼Click here for information on the Tennoji area
▼If you want to go sightseeing in Osaka
[Osaka Sightseeing] Thorough explanation by a local. Sightseeing spots in Osaka and recommended food information
▼If you want to date in Osaka
An Osakaite's Guide! Recommended spots for couples
Related article
Let's check out a thrilling at……

2023.03.20

I wasn't able to go fishing fo……

2023.01.18
Introduction of writer

Noa
Selling T-shirts while designing or WEB,Enliven Yao City.Management, events, secretariat,I also do cat parents while fishing occasionally.
Instagram
#ういらぶ大阪
  Please introduce your "we love Osaka" (Only gourmet of Osaka and spot of Osaka)